by
Evan Brune, Executive Editor
posted on March 14, 2020
Support NRA American Rifleman
DONATE
It is amazing to think that the
lever-action rifle
continues to thrive, largely unchanged, in the firearm world more than 160 years after it first emerged. Of course, there were early variations of the concept in the form of
Colt's
Ring Lever rifles and the Volition Repeater, but the gun that most point to as the first true-lever action rifle as we know it is Benjamin Tyler Henry's Model 1860 repeating rifle.
Throughout the years, there have been advancements and improvements, and famous designs such as the
Winchester Model 1873
and
Model 1894
and
Savage Model 99
have emerged as popular options that still see use today. However, the market certainly has changed in some respects, and today's manufacturers have adjusted to accommodate consumer wants and needs.
In the modern firearm market, "tactical" is the name of the game, and we certainly see a proliferation of blacked-out guns covered with rails and sporting optics, suppressors and other modern accessories. There are a number of modern lever-action rifles on the market for the discerning shooter, and here are the ones you can buy today: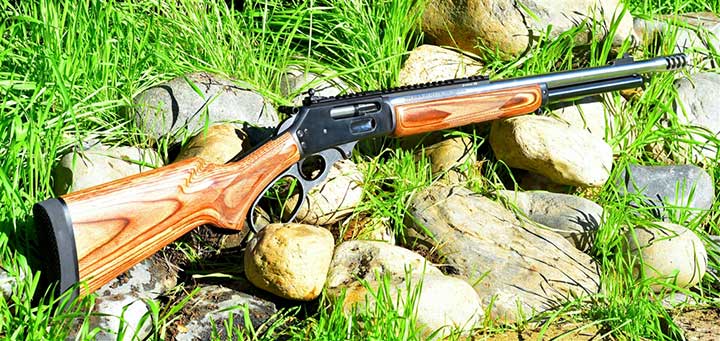 Bishop Firearms 1895 GBL
At first glance, the Bishop Firearms 1895 GBL doesn't appear "tactical." Of course, I'm defining "tactical" here as something that's all-black, outfitted with polymer furniture and sprouting Picatinny rails off every surface, which doesn't necessarily have to be the case. In this instance, it's not the look that makes this gun "tactical." It's the chambering.
That's because Bishop Firearms managed to do the impossible. The company managed to figure out how to chamber a Marlin 1895 GBL in
458 SOCOM
, which, I'd say, qualifies as a "tactical" caliber. Why? Well, the company offers all kinds of legitimate reasons, such as for hunting where an AR isn't allowed or having a slim, trim field gun for hog hunting. Personally, I just think it's badass, and that's reason enough in America.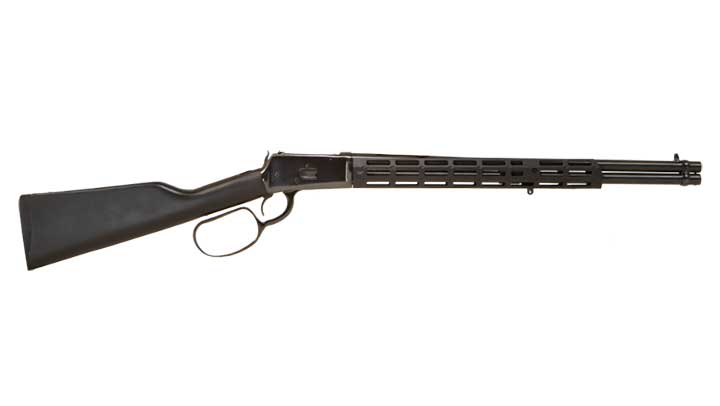 Citadel LEVTAC-92
Now we've moved onto another Marlin offshoot, though this model from Citadel Firearms takes inspiration from the pistol-caliber Model 1892 instead of the big-bore 1895 chambered in
45-70 Gov't.
Citadel announced this model for its 2020 catalog, and the gun will be offered in .357 Mag., .44 Mag. and .454 Casull.
The gun features an 18" barrel, a polymer buttstock with a traditional profile, a large-loop lever and a skeletonized fore-end loaded with M-LOK attachment points. It's pretty close to a true tactical lever gun, but for me, without a threaded muzzle and an extended Picatinny rail running across the top, it's not quite there. It's still pretty cool, though.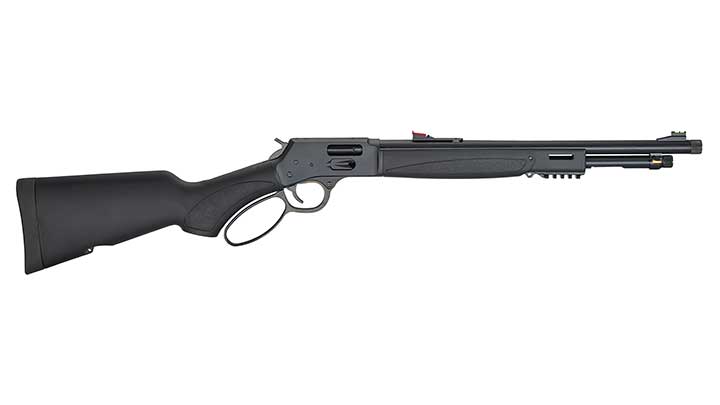 Henry Model X Series
Henry has quite an expansive lineup of lever-action guns, but with the exception of some all-weather models, most of the rifles and shotguns in the company's lineup are pretty traditional, featuring blued steel, wood furniture and steel or brass receivers. The Model X Series released in 2020 changed the game.
The company went all-in on the tactical lever-action concept this year, releasing not one but three blacked-out, tactical lever guns in one fell swoop. There's the Big Boy X Model, chambered in .357 Mag. or .44 Mag., and .45 Colt and two Lever Action X Models chambered in either .45-70 Gov't or .410-Bore. All of the guns include polymer furniture, an enlarged loop, threaded muzzle and a section of Picatinny rail on the fore-end for accessories.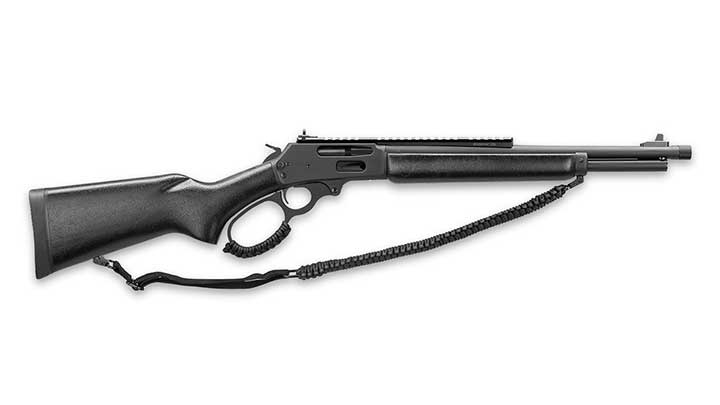 Marlin Dark Series
Marlin caused a sensation when it expanded its Model 336 and Model 1895 rifle lineups with new Dark Series options that edged the company's traditional lever-action lineup into the tactical realm. Models are available in .30-30 Win. or .45-70 Gov't, and they feature an all-black finish. If you'd like something different, Marlin's Custom Shop offers a range of different accessories and Cerakote finish.
Other features include an extended XS Sights Picatinny optics rail, a 5/8"-24 TPI threaded muzzle, enlarged lever loop and a braided paracord sling. However, the furniture isn't exactly weatherproof since Marlin elected to go with black-painted wood instead of polymer for the stock and fore-end. There are few options for attaching accessories, though that can be rectified through the addition of a Midwest Industries M-LOK handguard available for the rifles.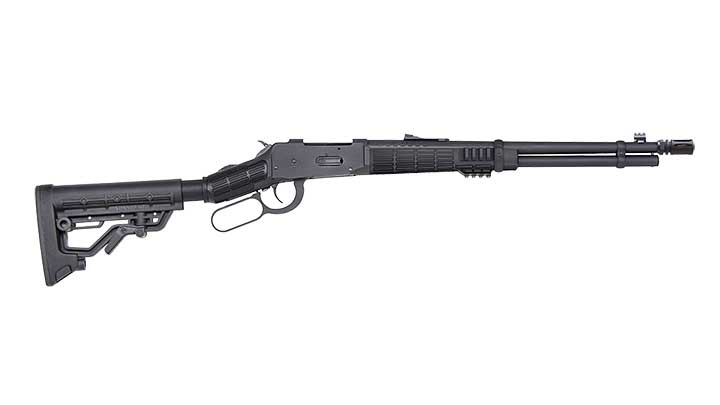 Mossberg 464 SPX
Mossberg was one of the first companies to offer a tactical-style, lever-action rifle with the introduction of its Model 464 SPX back in 2012. Chambered in .30-30 Win., This lever gun is unique, in that it's the only one of the bunch to offer an AR-style adjustable stock, which is attached to the receiver with a rather disjointed-looking assembly. However, the nice part about this is that it's compatible with any AR-style stock on the market.
Other features found in the 464 SPX include all-polymer furniture, a fiber-optic front sight and Picatinny accessory rails at three points along the fore-end. The gun even features a threaded muzzle, which is topped with an AR-style birdcage flash suppressor.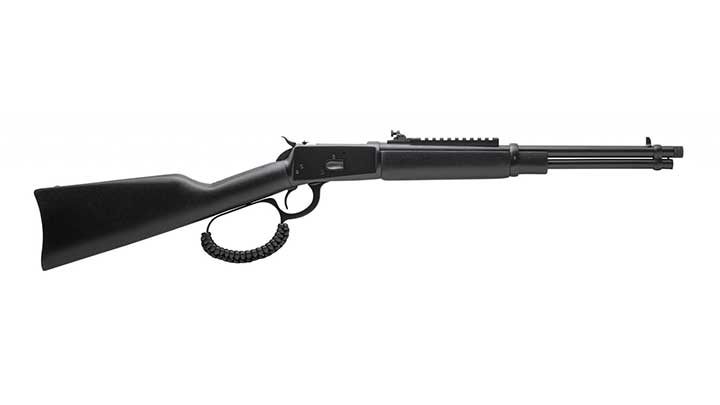 Rossi USA Triple Black
One of the most affordable options on this list comes from Rossi, which offers an R92 Series model called its "Triple Black" that's loaded with lots of tactical features. First, the gun is blacked-out with a Cerakote finish and features a paracord-wrapped, large-loop lever. The gun is also outfitted with a short 16.5" barrel that makes it light, handy and nimble, all necessary qualities for a tactical lever gun.
The sight arrangement on the Rossi R92 is also solid, featuring a forward-mounted Picatinny rail that's perfect for mounting a long-eye-relief optic. There's a blade front sight and a peephole rear sight that's attached to the forward-mounted rail.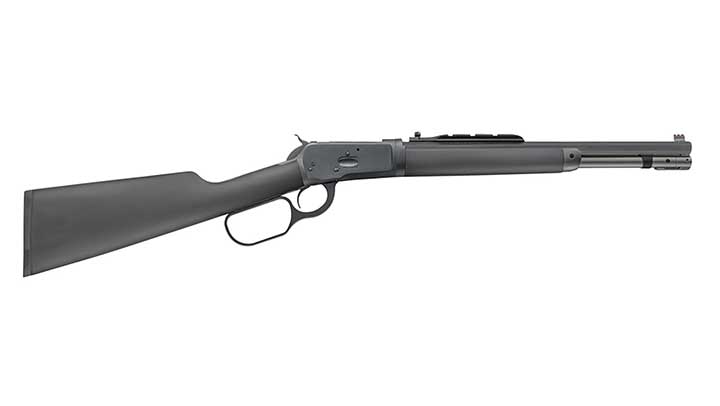 Taylor's 1892 Alaskan Takedown
Though Chiappa makes this and other takedown lever-action models, this Model 1892 lever-action rifle is an exclusive option available only through Taylor's & Co. out of Virginia. What separates this model from similar options available straight from Chiappa are several elements, including the all-black finish and the shortened barrel measuring just 16" long.
Consumers will also find a forward-mounted rail designed for use with a scout scope, and the rail features a rear peep sight that pairs with the fiber-optic front sight. Possibly the coolest feature of this Model 1892, though, is its takedown feature, which separates the gun into two halves just forward of the receiver. Since the iron sights and any mounted optic are attached to the forward half of the gun, this platform will maintain zero when reassembled.
You might think that the perfect lever gun doesn't really exist on this list. Personally, I'd love to see a gun that blends many of the features found on these six models. To me, the ideal tactical lever gun would have the matte finish of the Marlin Dark Series with the M-LOK handguard of the Citadel LEVTAC-92, a polymer stock and the forward-mounted optics and takedown capability of the Taylor's 1892 Alaskan. What does your perfect lever gun look like?