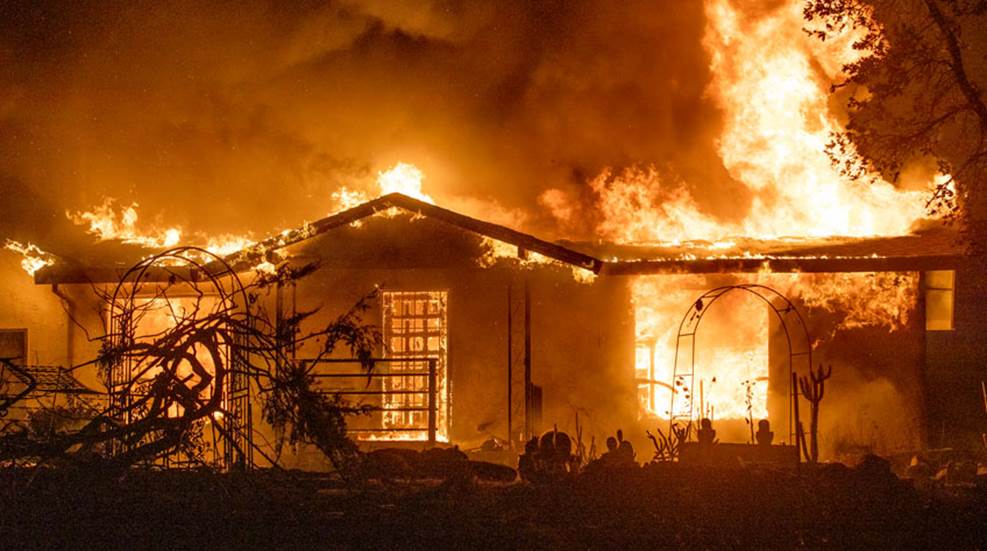 Fire-rated gun safes represent the most secure storage option available to the average gun owner. The heavy-gauge steel of the outer box, the complex locking mechanism and security features of the door all work together to frustrate the efforts of burglars and to keep firearms tucked away from those who are not authorized to use them. Many models are designed to be bolted to the surfaces on which they rest, making them much more difficult to carry away. They also provide dedicated rifle racks, handgun storage shelves and lined interiors, which keep collections well organized while protecting gun finishes from dings and scratches.
But gun safes with welded, one-piece outer boxes can be bulky, heavy and quite difficult to move, which presents a real problem for those gun owners who want to install a safe on the second floor or navigate a narrow stairway in an older home. Using a locking steel gun cabinet is an option, since they are often light enough to be moved and installed by just one or two people; however, they provide less theft deterrence than a safe and no protection in case of a fire.
SnapSafe (snapsafe.com), a Hornady company, offers a more portable and easier-to-install option, compared to traditional welded-body safes, with its Titan Series of modular, fire-rated gun safes. The Titan is designed to provide the security of a conventional welded safe, but it is shipped in separate sections that can be moved by one or two people and assembled on site.
Models are available in three sizes, including the Titan (12-plus long guns), Super Titan (15 to 24 long guns) and Super Titan Double Door (36 to 56 long guns). The overall toughness of a gun safe is generally quantified by the thickness of the steel used in its construction. However, the thicker the material, the more it costs. Steel is gauged using a reverse scale, meaning the smaller the number, the thicker the metal. This means 10-ga. steel is thicker than 11, 12 or 14 gauge. The Titan is outfitted with two-ply 9-ga. (5/32") steel exterior walls. The all-steel door is thicker—7 gauge (3/16")—to resist damage from sledgehammers and crowbars.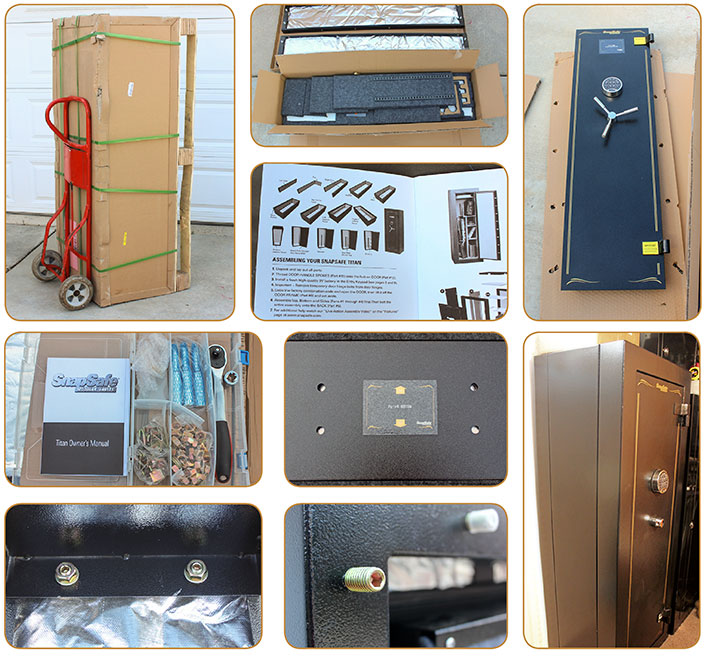 Because fires in the home are far more common than we would like them to be, some gun safes are sold with a fire rating. This rating is determined by measuring the internal temperatures maintained within an insulated safe as it is exposed to a range of elevated temperatures over a measured period of time. There is no federal or industry-regulated standard for conducting temperature tests, however, so there is no minimum standard for what a fire rating should be. This means it's up to the buyer to pay close attention to the numbers quoted by the manufacturers.
For example, the average American house will burn to the ground in approximately 60 minutes without emergency service intervention. Let's suppose firefighters can arrive on site within 10 to 15 minutes of a fire being reported. This means the fire will likely be cooling off, or even extinguished, within the 60-minute window. The temperature of a burning house can reach as high as 1,300° F. So, if the contents of a safe can survive an hour at 1,300° F, then the safe in question has a useful level of fire protection. The Titan's Fire Shield protection system consists of internal panels made of magnesium oxide (MgO) that resist moisture, mold and insects, as well as fire and heat-activated door seals. The Titan safe is rated for up to 2,300° F for one hour, which exceeds a good minimum level of protection by 1,000° F.
The safe ships with a SecuRam digital lock that can be programmed by the owner. Some folks worry about the electronics getting knocked out by moisture or electrical interference, such as an EMP blast, and the company provides a back-up key that will unlock the safe in case the digital lock is damaged.
I checked in with the good folks at SnapSafe and requested the 12-gun (smallest) model of the Titan to check out the features and to see if I really could install it by myself. The safe is delivered directly to your home or business. It arrives in a heavy-duty pasteboard crate with an integrated wood pallet that supports and protects the contents. The model I assembled weighs in at 375 lbs., which means, with the tough crate and packaging, the shipping weight was somewhere north of 400 lbs. Having a furniture dolly on hand that can handle that much weight is a good idea if you plan to move the unopened crate from the delivery point.
Some companies don't give as much thought as they should to how their weighty products are packaged. This results in dents, scratches and damage to the product itself and, in some cases, other items riding in the same delivery van. SnapSafe does an excellent job of professionally packaging its safes to ensure they arrive ding-free, while being easy to unpack once delivered. With the crate laying down, the shipping straps can be cut and the lid lifted off.
The first items out of the crate were the four 9-ga. steel exterior wall plates (the same thickness of steel is used for the front frame, back wall and two sides). Each panel is treated with a corrosion-resistant powder-coated finish and labeled with a removable decal that describes the location and orientation of the plate. These are followed by a box containing the lined interior walls, shelves and a tool kit containing most of the tools and all of the small parts required to complete the build. The Fire Shield protection is contained in flexible silver insulation packs tucked into hollows of the exterior safe walls. The floor plate is pre-drilled so that it can be bolted to the floor.
The provided tool kit items include the door handles, shelf supports, nuts, washers and an honest-to-goodness socket wrench with the appropriately sized socket. Providing a fullsize, reversible wrench (instead of the useless stamped sheet metal wrenches so often found in furniture kits) was another professional touch that simplified and sped up the assembly process immensely. The two items you'll need that are not included are a Phillips head screwdriver and a 9-volt battery to power the digital lock.
The instructions provided with the safe are clear and easy to understand. The assembly process is straightforward and uncomplicated, but the order of the steps does matter at key points. It's important to read all of the instructions before starting the assembly process.
Half-way down into the crate was the front frame, along with the safe's solid-steel door that features a spring-loaded relocker and eight 1" chrome steel locking bolts. The door alone weighs 92 lbs., so there's no practical way to lift it and the frame up out of the crate. Instead, I used a hammer to knock out the walls of the crate and tip the door frame up onto its bottom edge. Last, but not least, the bottom of the crate contained the safe's rear wall.
A look at the interior of the door frame reveals a felt-lined panel, more fire insulation packs and the locking bolts. The interior edge of the door frame is fitted with 16 of the 40 bolts that hold the safe together. The door must be removed from the front frame before the safe is assembled. This is where the screwdriver and battery come into play. A pair of screws used to secure the hinges for shipping need to be removed from the hinges and the battery installed in the digital lock to release the 1" locking bolts. The door will then swing out to be lifted up and off the frame. The hinges provide about 1.5" of space between the door and the frame to help avoid fingers getting pinched when the door is lifted into or out of the frame.
With the door removed, the instructions read and all the parts laid out, it was time to assemble the safe. An assembly trick my dad taught me as a kid, which has served me well over the years, came in handy: When tightening the nuts into place over the provided washers, don't torque them down all the way. Instead, leave them a little loose so that there's some room to maneuver the sections into place. When all the bolts are properly positioned and all 40 nuts are in place, then go to work cinching them all down nice and tight.
SnapSafe recommends assembling the safe in a horizontal position, since this is the easiest way to align the bolts and holes while allowing gravity to do some of the work for you. But the safe can be put together in the upright position if your situation requires it. Just be aware that when the sections are vertical they will rock back and forth making lining the bolts up a bit more challenging.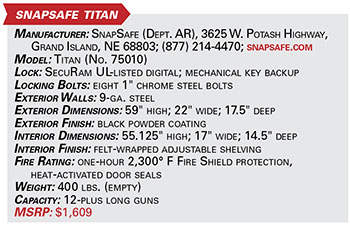 The felted shelving shipped with the Titan allows for two primary configurations. Use a divider to set up three small shelves with a rack for up to six long guns and an additional storage shelf up above. Or set aside the divider and shelves and use the fullsize rack to accommodate up to 12 long guns.
SnapSafe advertises that the Titan, "assembles in minutes," which I'm going to agree is true once everything is in place and ready to assemble. If you can break down a semi-automatic pistol, clean it and put it back together again then you have the mechanical acumen required for building this sturdy, secure gun-storage system. I set the three major sections together horizontally and vertically to see which was easier. If you can work horizontally, do it. It's more challenging to align the bolts properly in the vertical position. Nevertheless, it can be done in either position in less than an hour.
I've sold gun safes at retail stores, moved them and visited a factory to see welded safes roll off the assembly line. Based on my experience, I'm impressed with what the SnapSafe Titan has to offer. It provides the quality and security of a full-featured, fire-rated gun safe and the portability of a locking gun cabinet. Welded safes of the same size can cost anywhere from $800 to $1,800 depending on the features. This Titan has a suggested retail price of $1,609, placing it, pricewise, in the middle of the market. But to borrow a line from Star Trek, it can boldly go where no safe has gone before. That certainly makes it a worthwhile investment. SnapSafe's Titan series ship with a lifetime warranty.
---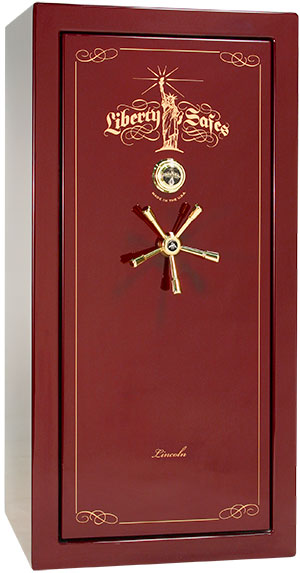 A Host Of Options Liberty Safe
By Rick Hacker, Field Editor

"Safe" and "fire" are two commands most of us are familiar with. But those two words took on an even greater and more personal meaning for me recently. Like most responsible firearm owners, my guns had been securely locked away, out of sight and out of reach from unauthorized individuals, whether family, guests or anyone else entering my home—invited or uninvited. But recent events in California have caused me to re-evaluate the safeguards I had taken to protect my guns.
Beginning in the late summer and early fall of 2019, a calamitous series of raging wildfires, caused by events both man-made and natural, and fueled by tinder-dry vegetation as the result of years of drought, erupted throughout Northern and Southern California. Compounded by airborne sparks that burst into new blazes miles away from the main fires, red-hot walls of flames, pushed by violent 60-m.p.h., heat-generated winds raged throughout Ventura, Riverside and Los Angeles counties in the southern part of the state where I live.
One morning, as I stepped out onto my front porch, I saw a thick gray haze rolling down the street and smelled the pungent smoke from a fire that had started minutes before due to an illegal campsite in the Santa Monica Mountains near my home. The fire spread through the foothills and eventually caused the closure of a portion of Interstate 405, one of the busiest traffic corridors in L.A. But thanks to the fast action of the city's firefighters, the flames never reached my neighborhood.
Meanwhile, in the northern part of the state, tens of thousands of people had been evacuated from their homes as more than 76,000 acres were turned into scorched earth and the blacked skeletons of charred trees by the same deadly combination of fierce winds and dry vegetation. The town of Paradise was completely destroyed, and almost a million people were left without electricity when the utility companies shut down their aging power lines to prevent them from igniting even more dry brush. Overall, three people were killed, thousands of homes throughout the state were destroyed and hundreds of families literally lost everything they had.
All of this caused me to re-think the precautions I had taken regarding the storage of my firearms. Keeping them safe from theft and securing them from unauthorized use may no longer be enough. What about their destruction from natural disasters that included not only fires, but also the hurricanes, tornadoes and floods that are so prevalent in other parts of the country? After all, when it comes to guns, we're talking about items made of wood and metal, which char and burn; even polymers can warp and melt under the intense heat of a house fire.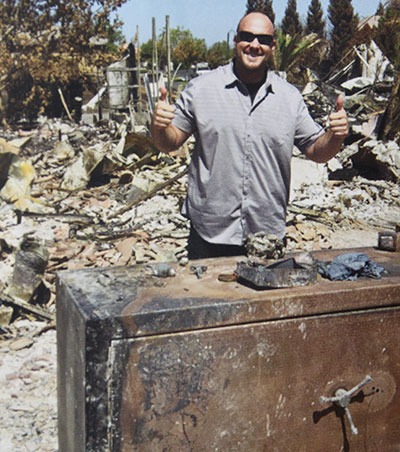 Obviously, a gun safe is one of the most logical solutions to safeguard your firearms, but it's no longer enough to simply say, "Yeah, I have my guns locked in a safe." Given the omnipresent natural disasters that seem to be occurring with greater frequency, it can't be just any gun safe, and, in my case, I wanted one that would withstand the raging heat of a firestorm. But it wasn't just for my guns. A safe that is both secure and fireproof also means it's an ideal storage place for important documents such as birth certificates, photos and passports, not to mention those invaluable authenticating letters from Colt and Smith & Wesson and other pieces of paper provenance that can add to a firearm's value.
After doing some online research, I soon discovered that not all gun safes are equal. In addition to the number of options offered and varying degrees of protection, there are size considerations, along with the reputation of the safe company itself. Plus, cost is a major factor. Unfortunately, most of us have a tendency to go with the cheapest model we can find, rather than purchasing the highest quality we can afford. My advice? Go for the greatest level of security you can obtain. Also, consider what guns you are going to store in the safe. I wanted one that would handle both long guns and handguns, so I immediately discounted small, semi-portable desktop or medium-size closet floor safes. Besides, I've heard too many stories about homes being robbed for just their safes by "smash and grab" punks, who quickly carry them off still containing their contents. No, I wanted a large, heavy, fireproof safe that couldn't be readily transported and, as an added precaution, could be bolted to the floor, because, besides the threat of fires, California is earthquake country.
But weight is equal to size, and herein was my problem, for I only had a specific area where I could put a safe. However, within those confines, I used the same rationale for selecting the size of a safe as I do when buying a cigar humidor—buy one bigger than you think you'll need, because sooner or later, you're going to fill it up. And as another consideration, when having the safe installed, make sure there's enough room to open the door completely, as some door interiors can be used for additional gun storage.

Also, do you want your safe to be attractive or discreetly plain? In today's world, you may not want it to be obvious that you have a gun safe in the house. But then, why not have something pleasing to look at whenever you walk into your den or when you pull your car into the garage? All of these factors helped me narrow my choices considerably. I finally decided to go with Liberty Safe (libertysafe.com), which by no small coincidence, also happens to be the top-selling, fullsize residential safe company in the country. Not only are Liberty's safes made in America (not all safes are), but the company also manufactures safes for Cabela's, Colt and NRA. Plus Liberty safes come with a lifetime warranty, which even covers repairing or replacing (and that includes installing) any Liberty Safe that is damaged by fire or an attempted robbery.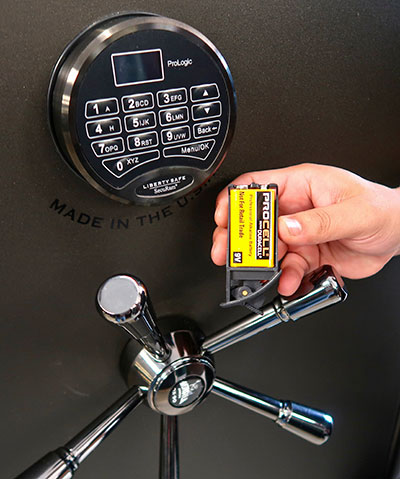 Due to my space limitations, I went with Liberty's 25-gun Lincoln Series, which fit my allocated area perfectly, and has a relatively affordable starting price of $2,699. But just as importantly, in answer to my concern about fire protection for my guns, the Lincoln Series is designed to withstand 1,200o F of intense heat for 110 minutes, and has an all-important heat-activated door seal that expands up to seven times its size during a fire, thus further sealing out heat and smoke.
As for security, the Lincoln Series is constructed of 11-ga. steel and has up to (depending on size) 15 solid steel locking bars that measure 4" wide by 3/8" thick along with anti-pry, single-sheet construction. Although a traditional five-spoke mechanical locking wheel is standard, I opted for the back-lit electronic E-Lock, which I found to be easier to use, with a numbered combination that you set and its own long-lasting replaceable internal battery, which alleviated my concerns about a power failure. The carpeted interior shelves are adjustable, and the safe even comes with built-in LED lighting, a Dry Rod dehumidifier and a jewelry drawer which, of course, can be used for other objects, such as military medals and rare coins.
Finally, Liberty has great customer service that can assist with everything from obtaining extra shelving to helping you open your safe should you forget your combination. It takes about seven weeks to construct each Liberty safe, and 24 different color choices are available, along with other options (although the Lincoln Series came with practically everything I wanted as standard features). Of course, there are other sizes and models of Liberty safes, just as there are other reputable safe brands, but, for me, given the size, fire protection, theft-proof construction and price, the Liberty Lincoln Series was my optimum choice, and has now provided me with a whole new appreciation of the words "safe" and "fire" when it comes to my firearms.