by
posted on September 18, 2020
Support NRA American Rifleman
DONATE
Strum, Ruger & Co., Inc.
, engineered a striker-fired semi-automatic pistol in response to a Request for Proposals by the U.S. military in September 2015. As a result of the MHS program, the American consumer has access to an entirely new pistol line from Ruger—the American Pistol—that has since expanded with an offering designed for competition use.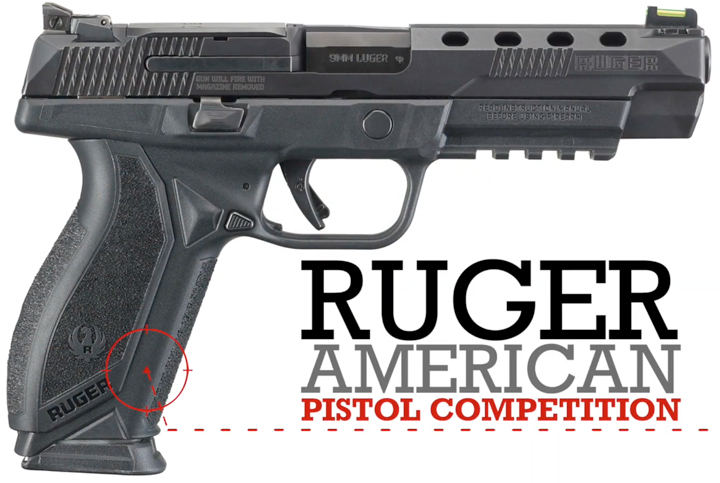 The Ruger American Pistol Competition is a striker-fired design based on a one-piece, glass-filled nylon frame that features a user-customizable grip. Three modules are provided with Ruger's competition texturing treatment. Fitted to the synthetic frame is a stainless-steel slide tailored to provide competitors with features that enhances the range and target-acquisition experience. Ruger's American Pistol Competition is designed to accommodate optics—the slide is drilled and tapped for direct mounting of Vortex, Burris, Sightmark, Docter, MeoRed, MRDS or similar footprint optics.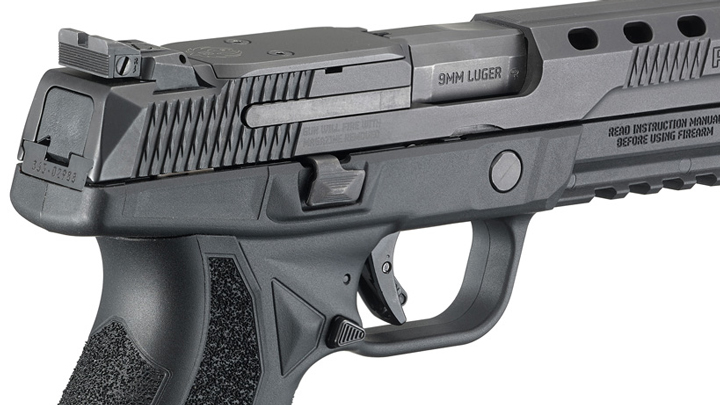 Running with the theme of competition use, Ruger provides a 5" stainless steel, competition-grade barrel. The forward part of the slide incorporates porting to reduce overall weight. Atop the Competition model are target sights, with a fully adjustable, serrated rear and a front fiber-optic pipe held within a post.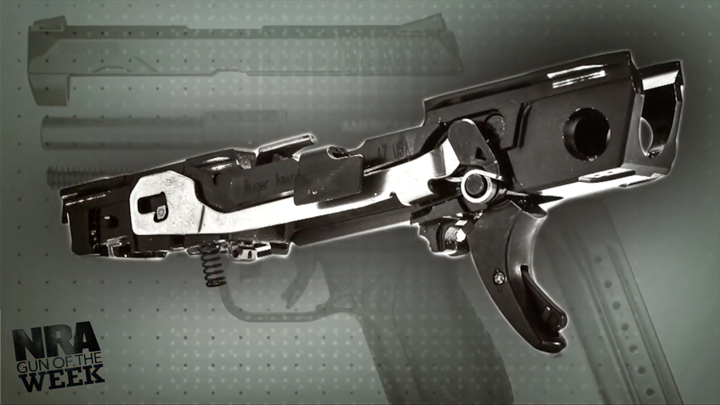 Ruger chose to include a preloaded striker assembly in its American Pistol Competition that increases strike force while reducing the necessary pull weight required to break sear engagement. A chassis manufactured from stainless steel is included within the frame and provides the fire-control group as well as slide rails. Steel components are nitride-treated black for durability.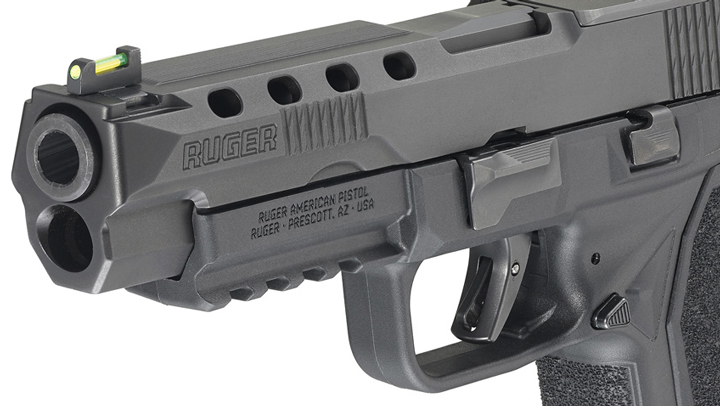 Watch our
NRA Gun of the Week
video above to learn more about Ruger's American Pistol Competition chambered for 9 mm Luger.
Ruger American Pistol Competition SpecificationsManufacturer
:
Strum, Ruger & Co., Inc.
Action
Type
: striker-fired, semi-automatic, center-fire pistol
Chambering
: 9 mm Luger
Frame
: glass-filled black nylon
Slide
: stainless steel

Barrel
: 5" stainless steel
Finish
: black nitride
Magazine
: 17-round detachable box
Sights
: fully adjustable rear, fiber-optic front
Height
: 5.6"
Length
: 8.31"
Slide
Width
: 1.05"
Weight
: 34 ozs.
MSRP
: $579
Further Reading:Ruger American Ranch 7.62x39 mm
Ruger-57 Pistol Review
The Ruger American Rifle
The Keefe Report: U.S. XM17 MHS—It's the Hollow Points, Stupid
Five Reasons To Reconsider The Ruger Mini-14
Ruger Reinvents the Mini-14
---
Extras
: