Support NRA American Rifleman
DONATE
While thinking about the topic of the "general-purpose" rifle, I began to consider what a corollary handgun setup might look like—something useful for everything from target shooting to self-defense to game hunting, along with protection in black bear or big-cat country.

It didn't take long to realize that, for such a versatile role, the revolver still has a lot to recommend it. A good example will typically address the aforementioned requirements with an excellent single-action trigger, good mechanical reliability, vast ammunition options and greater power than semi-automatics of comparable size. Granted, that's not to suggest that a semi-automatic couldn't fill the general-purpose-handgun role, but that, for some, a revolver could be preferable.
Specifically, the project I envisioned involved starting with a tough, easy-to-maintain, medium-frame revolver chambered in .357 Mag. and featuring a fully adjustable rear sight, a "compromise" barrel length of about 4" and, preferably, stainless steel construction—all carried in one of two practical belt holsters depending on the circumstances.

As I thought about those preferences, I settled on a platform with which I was quite familiar: Ruger's long-discontinued Security-Six. I had owned several through the years, but eventually traded them in for sleeker, more capacious semi-automatics. Still, the Six series (including the fixed-sight Service and round-butt Speed) remains highly regarded even today for several reasons: durability, even with the steady use of heavy loads; maintainability, by way of a solid frame that can be fieldstripped without tools; and shootability, thanks to a smooth trigger of moderate weight.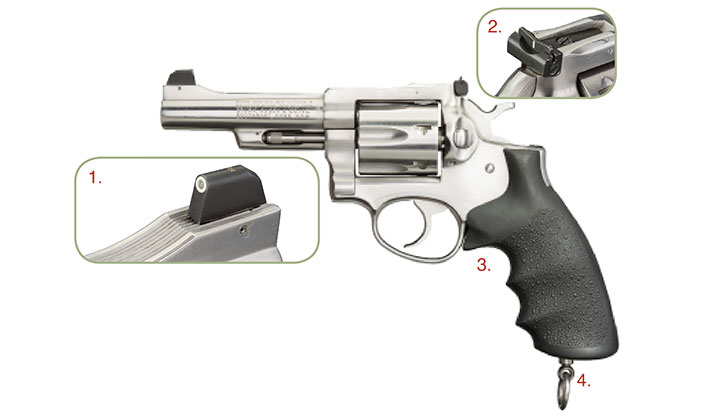 As good as the Security-Six is, though, I still felt it could benefit from some carefully chosen enhancements. The first was a DXW tritium Standard Dot front sight (1.) and V-style, white-stripe rear sight (2.) ($110) from XS Sights (xssights.com). They make it easier to get the gun on target quickly and still allow for fairly precise shooting at longer ranges. There is a bit of handwork required to file the front sight base to fit into the factory recess and then drill it through to fit the factory roll pin, but the result is well worth the effort.
I also decided that a textured rubber Monogrip (3.) ($30) from Hogue (hogueinc.com) would be more hand-filling than the factory stocks and allow for a much more secure purchase on the gun. Its rubberized exterior also mitigates the recoil of heavy magnum loads and minimizes movement of the gun in the hand as the trigger is pulled through its long double-action arc. I secured the Monogrip to the frame with a Ruger/Hogue Lanyard Ring (4.) ($50) from custom revolver icon Hamilton Bowen (bowenclassicarms.com).

Its stud threaded directly into the grip's factory mounting stirrup threads. Why a lanyard ring? On that I have to agree with Bowen's website, which states, "Gun retention is a vital concern for hand gunners in risky environments. Lanyards and lanyard rings are still the best way to keep control of your sidearm when on horseback, around water or in hostile circumstances." The lanyard itself came from a box of military surplus gear at a gunshow, and its free-spinning snap clips directly onto the silver-soldered, stainless steel ring.


After thinking about holsters for the Ruger, I settled on two options—one for concealed carry and one for field use. The first is a Thumb Break Scabbard (5.) ($79) from Desantis (desantisholster.com), along with two of the company's Second Six Speedloader pouches (6.) ($52 each). Made of vegetable-tanned cowhide with detailed boning, the set carries the revolver and two MK3A polymer and aluminum speedloaders (7.) ($11) by HKS (hksspeedloaders.com) in a secure, low-profile manner on a good-quality 1 1/2" gun belt.

The second rig was a flea market find UM84R military-style ballistic nylon flap holster (8.) by Bianchi (safariland.com) that I paired with a nylon HKS double speedloader holder (9.) ($15). It complements the gun and speedloaders' weather-resistant qualities, keeping them protected and accessible on a nylon belt, even if worn outside a parka in the foulest weather.
Swapping out ammunition types—or even alternating them within the same cylinder—makes this a versatile rig that can address a wide range of scenarios using everything from personal defense loads to hunting types, such as shot and hardcast.

While the entire outfit may not be as compact or offer as many rounds onboard as one based on a semi-automatic, it nonetheless serves quite well for "general-purpose" use and is a fine-shooting, dependable, versatile and powerful workhorse that has never let me down.