by
posted on July 17, 2020
Support NRA American Rifleman
DONATE
European Armory Corp (EAA Corp)
has imported the Girsan Regard Gen 4, a Turkish-built semi-automatic pistol chambered for 9 mm. The Florida-based EAA Corp. is importer to many well-regarded firearm designs the world has to offer, including the famed CZ-75 of the Czech Republic.
The U.S. importer's line of Girsan pistols extends beyond those built from the blueprints of Beretta's Model 92 clone, like the company's Regard Gen 4 pistol discussed here. The company also brings to the U.S. striker-fired designs along with Browning-inspired M1911 iterations.
EAA Corp. doesn't limit sales to pistols; the company supplies shotguns to Americans designed for myriad tasks, from clay target shooting to hunting and personal defense, all while keeping its consumer's budget in mind.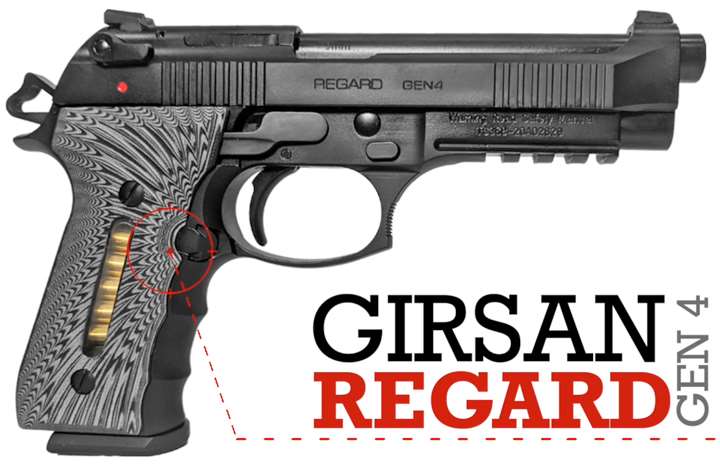 Even though it's manufactured in Turkey, Girsan's Regard Gen 4 has its roots in Italian design. The double-action, single-action pistol is a copy of Beretta's Model 92, with a few changes. Most noticeable are the gun's G10 stocks.
A machined vertical cutout in the stocks provides the user with a view of the ammunition stored within the magazine. The G10 material is sculpted to provide solid adhesion to the shooter's hands. A contoured forged-aluminum front strap helps with additional control of the 9 mm Luger-chambered pistol.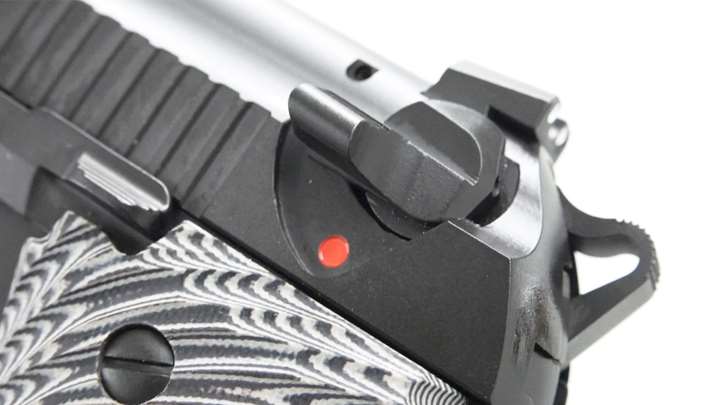 The Girsan Regard Gen 4 weighs in at just over 34 ozs. and measures 8.6" long and 5.5" tall, which puts this duty-sized sidearm within the category of full-size pistol. Barrel length measures 4.9". Front and rear serrations adorn the steel slide that is topped drift-adjustable three-dot sights. Magazines provide up to 18 rounds stored within, which adds considerably to the factory-stated 34-oz. weight.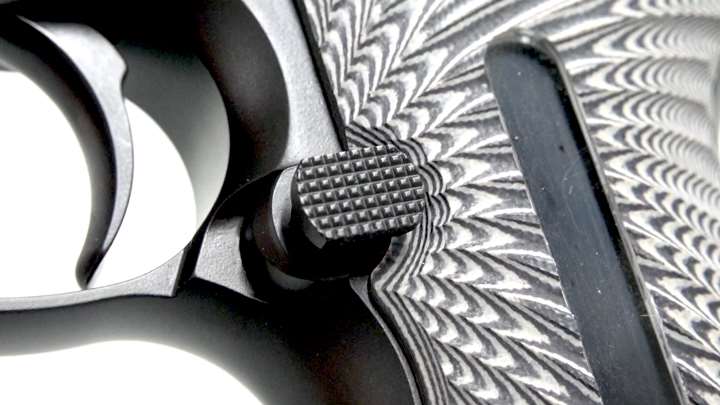 Our testers found the Girsan Regard Gen 4 to provide an enjoyable experience on the range. The aggressive stock panels may be a hindrance to some, so gloves will aid extended range sessions. EAA Corp. does offer MC Regard threaded barrels through its parts store, so those looking to suppress the Gen 4 Regard will have to upgrade.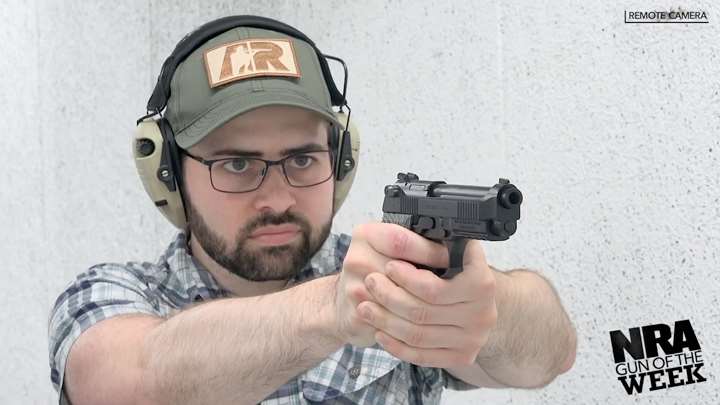 To learn more about the
EAA Corp. Girsan Regard Gen 4
pistol, watch our
NRA Gun of the Week
video above. Check us out on social media (
FACEBOOK
,
INSTAGRAM
&
TWITTER
) for additional coverage, including behind-the-scenes footage of our range experiences.
Girsan Regard Gen 4 SpecificationsManufacturer
: GiRSAN
Importer
:
European American Armory Corp.
Action
Type
: double-action, semi-automatic, center-fire pistol
Chambering
: 9 mm Luger
Receiver
: aluminum alloy
Slide
: steel
Barrel
: 4.9"
Trigger
: double-action, single-action
Sights
: drift-adjustable three-dot
Magazine
: 18-round detachable box
Height
: 5.5"
Length
: 8.6"
Width
: 1.375"
Weight
: 2.15 lbs.
MSRP
: $510
https://eaacorp.com/
Further Reading
:
Editor's Choice: EAA Corp. Churchill 812 and 512 Series Shotguns
EAA Corp. Girsan MC28 Pistol Field Test
EAA Corp Girsan MC1911 Match Elite Field Test
EAA Corp. MKA 1923 Bullpup Shotgun Review
EAA Corp. MC312 Shotgun Review
---
Extras
:
I Have This Old Gun: Gas Trap Garand
EAA Witness P Match Pro in 9 mm Luger
NRA Gun of the Week: EAA Girsan MC312
2012 NRA Annual Meetings: EAA Corp Windicator Revolver