Support NRA American Rifleman
DONATE
Brugger & Thomet (B&T)
, a Swiss-based firearms manufacturer, is importing a collection of firearm accessories, suppressors, carbines and pistols to the U.S. market, one of which is the company's GHM9 Gen 2 pistol. As noticed by police agencies and militaries around the globe, B&T is known for providing modularity, and the GHM9 pistol represents the Swiss manufacturer and its ability to provide the consumer with options.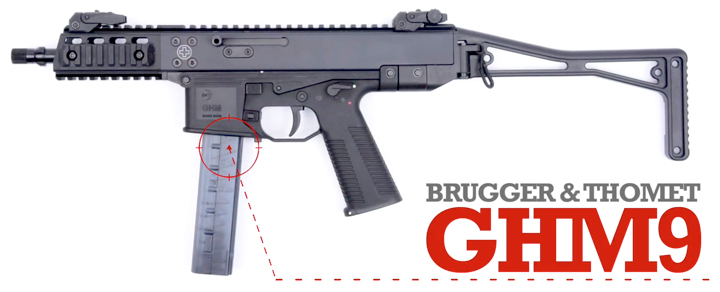 Chambered for 9 mm Luger, the B&T GHM9 is a straight-blowback-operated semi-automatic and includes features that cater to left- and right-handed shooters. Additionally, a reciprocating charging handle affixed to the GHM9's bolt is accommodating for left- and right-hand operation.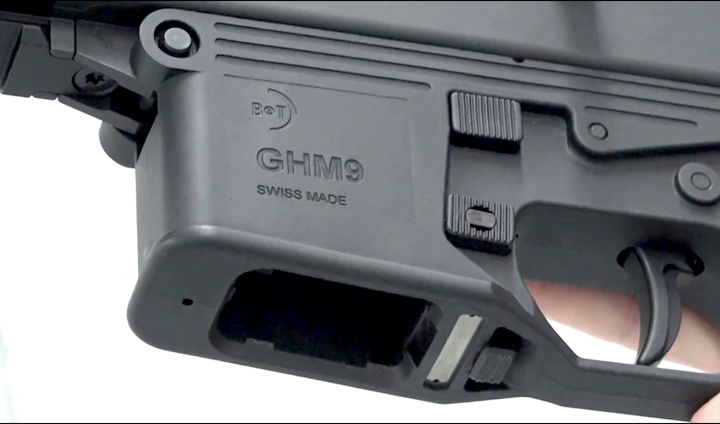 The sample sent to
American Rifleman
for testing includes a 6.9" barrel capped with a knurled protector over 1/2"x28 TPI muzzle threads and an H&K-style three-lug muzzle adapter designed to mate with compensators, flash hiders and suppressors. A ventilated handguard protects the barrel and the shooter's support hand. A Picatinny rail is supplied top and bottom, and Magpul's M-Lok-style slots are provided on the left and right sides.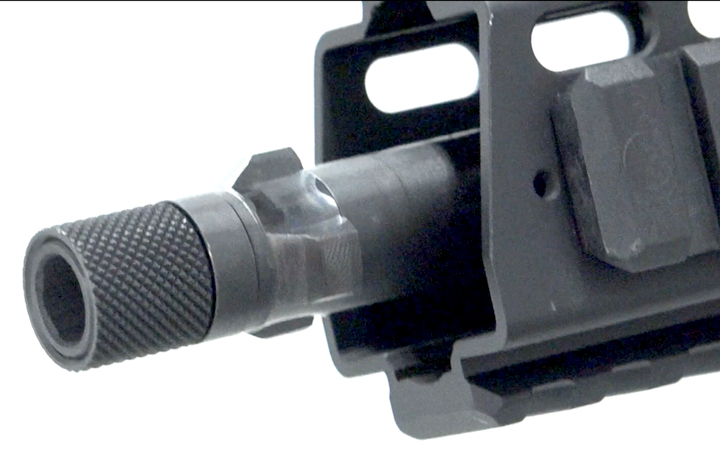 An angled pistol grip is provided with the gun's lower unit and provides wide-gap serrations along the front- and backstrap to help control what little recoil is imparted on the shooter's hand. To mitigate recoil and provide reliable function of the pistol, the company installed a hydraulic buffer system to further lighten the recoil, allowing for precise follow-up shots.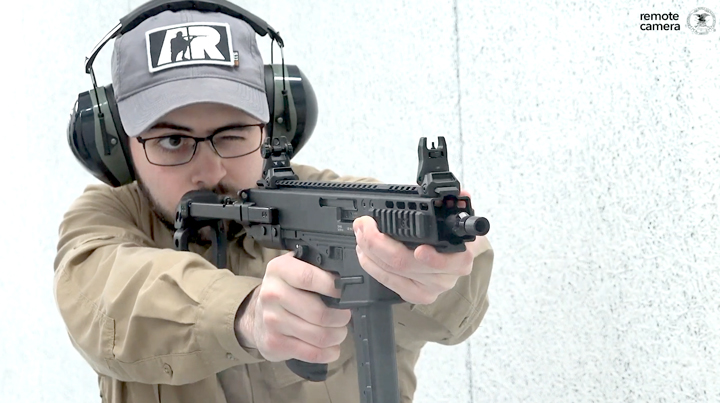 Putting rounds on target is aided by the supplied
Gear Head Works
Tailhook stabilizing pistol brace. The brace is attached to a telescoping twin-arm unit supplied by B&T. Additional accessories of the GHM9 include sling attachment points and flip-up adjustable sights. Overall weight comes to 4-lbs., 10-ozs. empty and a trigger pull requiring 6 lbs., 14 ozs. to break sear engagement.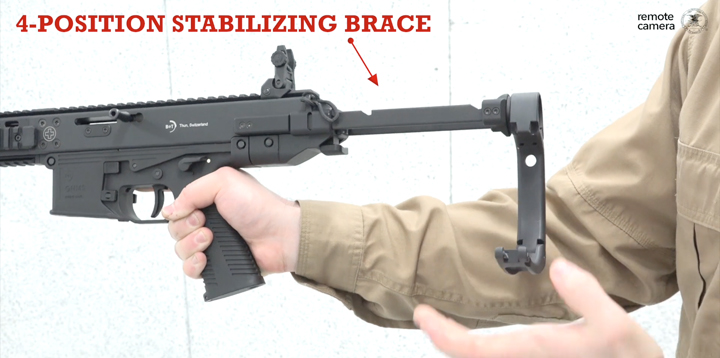 Watch our
NRA Gun of the Week
video above to learn more about the B&T GHM9 Gen 2 pistol.
B&T GHM9 Gen 2 SpecificationsManufacturer
: B&T AG
Importer
: B&T USA
Model
: GHM9 Gen 2
Action
Type
: blowback-operated, semi-automatic, center-fire pistol
Chambering
: 9 mm Luger
Barrel
: 6.9"
Trigger
: 6-lb., 14-oz. pull
Magazine
: 30-round detachable box
Sights
: adjustable, flip-up
Stock
:
Gear Head Works
Tailhook
MSRP
: $1,649
Further Reading:
DS Arms B&T TP9 Pistol
Switzerland's B &T Introduces USW-A1 to U.S. Market
8 Reasons to Invest in a 9 mm Pistol-Caliber Carbine
10 Low-Recoil Defensive Handguns
Firearms For Lefties
---
Extras
:
ARTV: 1914—Guns of August, Part 1
The SP5K: An HK MP5 in Civilian Clothes
NRA Gun of the Week: Ruger Hawkeye Long-Range Target Rifle
NRA Gun of the Week: Mossberg 500 ATI Scorpion Shotgun