Designed for the rigors of all-weather hunting, the Savage Model 110 Storm is a modern rendition of one of the longest continuously-produced bolt-action, center-fire rifles in the United States. Since its debut in 1958, there have been many innovations in the world of rifles and firearms manufacture, and the 110 Storm is equipped with the latest features from the Massachusetts-based maker.

Savage​ is known for delivering excellent accuracy and value from its rifles, and one of its most popular components is the Accutrigger system. User-adjustable for pull weight, the Accutrigger enhances safety thanks to the Accurelease blade, and is capable of providing a very crisp, clean break that facilitates precise shot placement. The 110 Storm is also build for consistent accuracy, and utilizes Savage's Accustock to ensure the action is firmly and securely bedded. The Accustock is an aluminum chassis that is molded into the Storm's polymer stock, and it provides traditional vertical tension via the action screws, but its sidewalls also cradle the action to reduce any side-to-side play.
Speaking of the polymer stock, the 110 Storm wears Savage's Accufit stock, which was introduced in 2018. Adjustable for comb height and length of pull, the Accufit can be customized to an individual shooter by way of replaceable combs and stock spacers. In all, four spacers (plus the butt pad) and five combs of varying heights are included, providing five options each for length of pull—1/4" increments—and comb height—1/8" increments.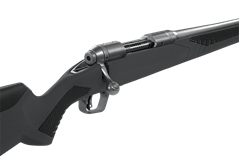 The 110 family of rifles is also well-regarded for their reliability, provided by the bolt action, itself. As we've come to expect in 110s, the Storm model uses a floating-head, dual-lug bolt. Lock up is firm and repeatable. The action is a push-feed design, meaning the bolt pushes a cartridge into the chamber, but the 110's sliding-plate extractor does not engage the cartridge until the bolt is rotated and locked into battery. When opened, the extractor pulls the cartridge case out of the chamber, and a plunger-style ejector kicks the case loose. In testing, I found the jeweled bolt body to ride smoothly within the receiver.


Savage​ currently offers the 110 Storm in 17 chamberings, from .223 Rem. up to .338 Win. Mag. My evaluation rifle was in 6.5 mm Creedmoor, a favorite of mine, and it performed well at the range. I found it to be light, handy and accurate—just what I'm looking for in an all-weather sporter.
All in all, the Model 110 Storm is a durable and customizable rendition of Savage's classic rifle, and would be at home in even the toughest of hunting locales.

For more, visit savagearms.com.