Support NRA American Rifleman
DONATE
Once upon a time, American gun manufacturers, including Marlin, Remington and Winchester, offered sub-caliber smooth-bore shotguns that were commonly known as "garden guns." They were configured to dispatch small pests (mice, rats, voles, snakes, etc.) at close range using tiny lead shot packed into diminutive cartridge cases like the 9 mm Flobert and .22 Long Rifle cartridge.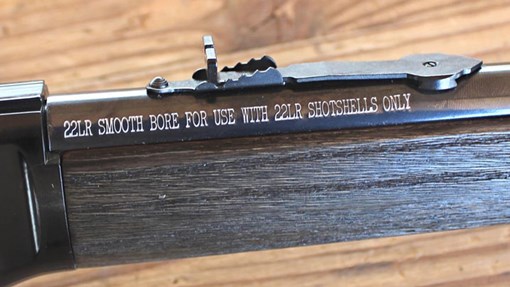 While garden guns are handy to have around a vegetable patch, they're also useful inside barns, sheds and warehouse spaces because the light shot loads are less noisy and they don't blow holes through roofs and walls. The shot pellets spread out and lose energy quickly so as to significantly reduce the chances of ricochet that come with firing solid rimfire bullets under these same conditions.



But over time, the demand for small caliber garden guns dropped enough that companies stopped making them. By 2002, they were all out of production. Nevertheless, pests persist and Henry Repeating Arms received reports from distributors that customers were on the lookout for rimfire garden guns to protect their homesteads from little nibbling teeth. With this information in hand, the company decided to resurrect the concept this year, and did so with its usual blend of utility, quality and good looks.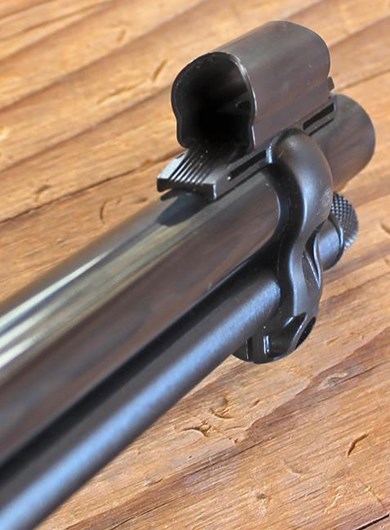 In the past, it was a common practice of gun makers to convert an existing rimfire bolt-action or break-action rifle platform into a garden gun. All they had to do was swap the rifled barrel for a smooth-bore barrel. It was cost efficient and customers received compact scatterguns that handled and operated just like the .22 rifles with which they were already familiar.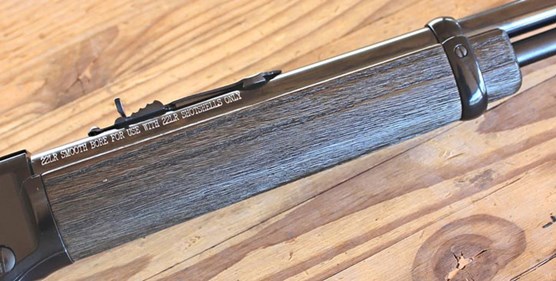 Henry opted to follow this same manufacturing approach with its garden gun. They traded out the rifled barrel of the H001 .22 LR lever-action platform for a smooth bore, and that was about it. They also used a different type of wood and finish for the stocks in order to give this model a distinctive appearance. Otherwise, it's just the same as the more than 1 million Classic H001 .22s the company has already sold. As a result, this little pest perforator is just as enjoyable to operate as the rifles that came before it.


Like other H001 models, the Garden Gun is built around a lightweight aluminum receiver with a 3/8" groove along the top for mounting optics, and a right-side ejection port. The barrel band, which secures the fore-end, is also aluminum. The rest of the exterior appointments are constructed of blued carbon steel, including the barrel, magazine, sight system, controls and the various screws that hold the gun together.



To ensure the Garden Gun does not get confused for an H001 rifle, the smooth American walnut fore-end and shoulder stock have been replaced with blackened ash. It has been sanded to remove the softer portions of the wood resulting in a grooved grain texturing that looks great and provides improved grip purchase. The shoulder stock provides a 14" length of pull (LOP) with a textured black polymer butt plate.



The 18.5" round profile barrel is topped with a hooded front sight blade and a fully adjustable rear sight. The tubular magazine holds up to 15 rounds of .22-cal. shot shells. The brass magazine liner is topped with a knurled knob and a rubber gasket to keep it locked in place. Twisting and pulling the liner out most of the way exposes the loading port cut into the magazine.



The steel lever loop is the company's standard size. Both the exposed hammer and the trigger have been grooved for improved purchase. The external safety feature of this rifle is the hammer's half-cock position, which locks the trigger until the hammer is fully cocked by the shooter's thumb or by cycling the lever.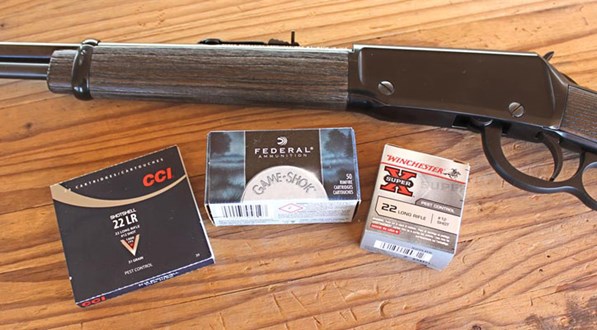 Two distinct advantages the Henry Garden gun has when compared to the models of yesteryear is its speed of operation and ammunition capacity. Other garden guns were single-shot break-actions or bolt-actions with 8-round magazines. This gun's magazine holds 15 rounds that can be touched off just as quickly as you can work the lever making for faster follow-up shots when needed. Throughout the testing process there were no malfunctions either mechanical or ammunition related. But understanding what this platform can and can't do calls for a closer look at the ammunition for which it's chambered.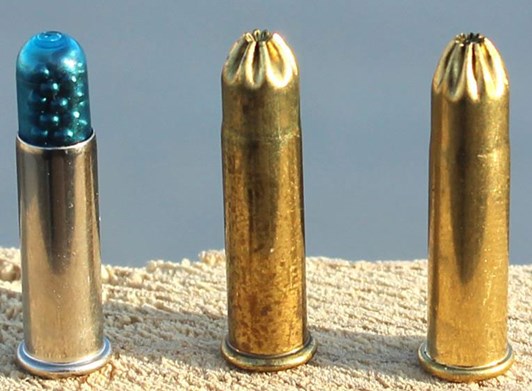 I was able to lay hands on three .22-cal. shotshells to test, all of which launch #12 lead pest shot. The smallest size of shot pellet used for sporting clays and fowls is #9½ bird shot which consists of lead pellets with a diameter of 0.075" and an individual pellet weight of about 0.63 grains. Any shot smaller than #9½, including #10, #11 and #12 shot are strictly for pest control. Pellets in the #12 size range weigh 0.19 grains with a 0.05" diameter. The only shot size smaller than #12 is called Dust. So in practical terms, #12 pellets are the smallest lead pellets available.



CCI Ammunition makes the #0039 Pest Control shell as part of its extensive pistol-caliber pest control lineup. The business end of the cartridge is fitted with a clear blue plastic capsule filled with 31 grains (~163 pellets) of #12 lead shot with a listed velocity of 1000 f.p.s. These rimfire cartridge cases have a bright nickel finish and are sold in 20-round trays for about $0.34 per round (based on the average list price of five online dealers).



Federal Premium offers the Game Shok .22 cal. shotshell and Winchester has a Super X option. These shells feature 25 grains of #12 lead shot (~132 pellets) packed into star-crimped brass cartridge cases. I couldn't find a listed velocity for either one. Both of these loads are sold in 50-round boxes for about $0.22 per shot. By comparison, 2.5" .410 bore birdshot loads run about $0.45 per round. So in terms of ammunition costs, keeping this particular garden gun fed won't break the bank.



Because there's not much in the way of established procedures for evaluating short-range .22-cal. garden gun patterns these days, I turned to the testing protocols I've used with .45 Colt/.410 bore handguns. Each load was fired into Birchwood Casey 12"x18" Dirty Bird silhouette targets from distances of 5, 10, 15 and 20 feet. That's right, feet, not yards. Changes in pattern density were measured by counting the pellet marks within a 4" diameter circle drawn around the center of each pattern. Here are the results: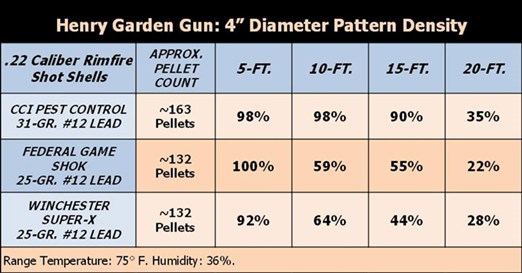 It was interesting to discover that even though these shells performed differently from each other, all three of them exhibited a pattern density sweet spot between 10 ft. to 15 ft. But by the time the pellets reach the 20-ft. mark the pattern density dropped significantly. The CCI load produced the densest patterns at all four distances. The patterns of the Federal Game Shok and Winchester Super-X shells open up more quickly from 5 to 10 ft. The pattern is not as dense at 15 ft, but it does create a wider cone of impact. So which is better, more pellets in a small strike zone or a wider pattern that covers a larger area? You'll have to decide which pattern qualities are the best fit for your needs.
Some readers may be asking why not just load these .22 shotshells into a .22 LR rifle and be done with it? You can, and some folks do for exceptionally short range use. But firing shot shells through rifled barrels causes the payload to spin which causes the pellets to spread very quickly.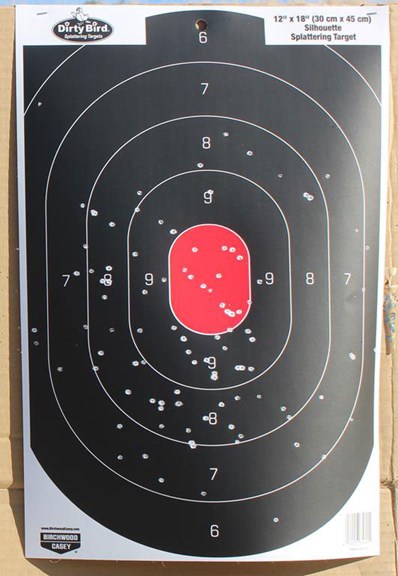 Looking back at the table, you'll see that the CCI load landed 90 percent of its pellets within the 4" strike zone at 15 ft. I set up another target (black/red instead of blue/orange) at 15 feet and fired the CCI cartridge from an H001 .22 LR rifle with a 20" barrel. At that distance, the rifled barrel caused the pattern density to drop from 90 percent to 16 percent. Based on results, using a smooth-bore barrel makes a significant difference in performance with these little shells. And the reverse is true as well. You can fire .22 LR cartridges from this particular garden gun but the accuracy is going to be abysmal since there's no rifling to stabilize the bullet.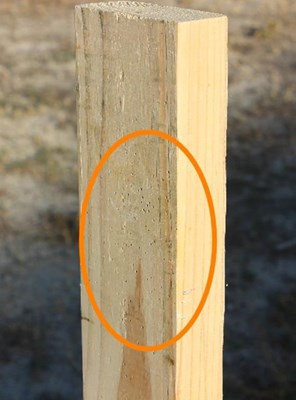 With the paper targets properly punctured, I moved on to some additional testing to learn more about what to expect in regards to field performance from this gun and ammunition combination in the pursuit of small pests. These test shots were fired at 15 ft., which seems to be the optimum maximum distance based on the pattern results, using the Winchester Super-X shell which had the lowest pattern density (~44 percent) at this range.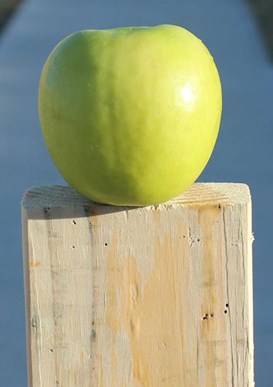 To start with, I peppered a relatively soft pine 2x4 stud to see what kind of damage a garden gun might cause to common structural materials found in barns or sheds. The penetration depths of the #12 pellets ranged from stuck to the surface of the stud to about 1/16th". In other words, you'll need your reading glasses to see the impact.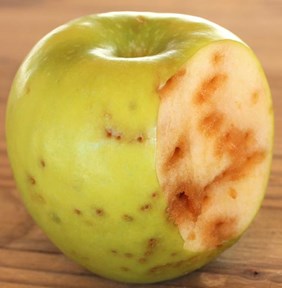 Next, a piece of my lunch was sacrificed in the name of research. Several pellets penetrated the front of the apple, but no pellets passed all the way through. Cutting away some of the side, and giving the pellet marks a few minutes to brown up a little, showed that several pellets had penetrated right to, and even past, the core.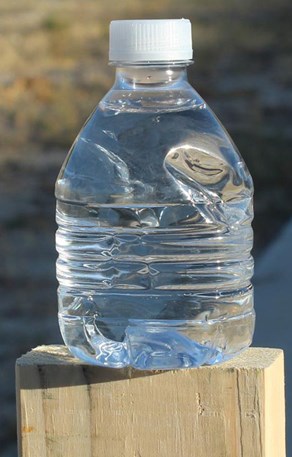 Last up on the line was a small 8-oz. water bottle, which was about the same size as the apple. Using a bottle this size was something of a performance coin toss. Yes, it's roughly pest size but the curvature of the sides was likely to deflect some shot pellets (much like automotive windshields). After the shot knocked the bottle off the stand, it was leaking but I couldn't see the pellet marks. Giving the bottle a squeeze definitely answered the question in the style of an old Warner Bros. cartoon. There were 17 pellets inside the bottle that had penetrated through the front and no holes through the back of the bottle. In short, that's just enough to get the job done without causing serious damage to your property.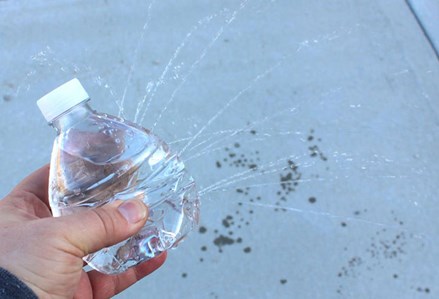 The new Henry Repeating Arms Garden Gun has the buttery smooth action and utterly reliable operation that make Henry products so popular. Like the rifled H001 models, this smooth bore exhibits the same level of attention to detail and quality craftsmanship that folks have come to expect from this company. It's light, handy and points with ease. The report when firing .22-cal. shotshells is mild (you should still wear hearing protection) and the felt recoil is on par with a BB gun. This is a niche firearm intended specifically for up-close pest control. But those who do need a garden gun will find plenty of reasons to like this one.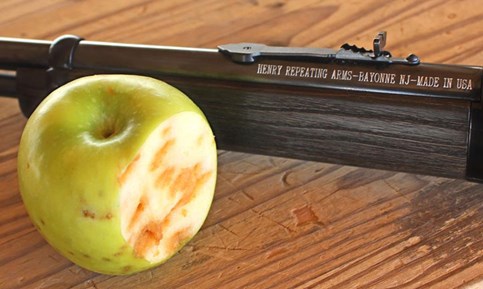 Specifications:
Manufacturer: Henry Repeating Arms 
Model: Garden Gun Smoothbore .22
Model Number: H001GG
Action: Lever Action
Caliber: .22 Cal. Shotshells
Receiver: Aluminum with 3/8" Groove Optics Rail
Barrel: Smooth Bore Round Profile, Blued Carbon Steel
Magazine: 15-Round Tubular
Stocks: Black Ash
Buttplate: Checkered Black Polymer
Length of Pull: 14"
Trigger Pull: 3 lbs. 1 oz. (As Tested)
Front Sight: Hooded Blade
Rear Sight: Fully Adjustable
Barrel Length: 18.5"
Overall Length: 36.5"
Weight: 5 lbs. 10 oz.
Accessories: Owner's Manual, Lock
MSRP: $421