posted on January 3, 2019
Support NRA American Rifleman
DONATE
Now in its 100th year, Mossberg is bringing its firearm building tradition full circle with the introduction of the Mossberg Carry 1 Subcompact, designated the MC1sc. As one of our country's oldest, continuously family-owned manufacturers, Mossberg is no stranger to the spotlight. Headquartered in North Haven, Conn., the company enjoys well-earned reputation as a trendsetter and innovative firm, bolstered most recently with the introduction of the non-shotgun—but nevertheless a 12-ga. pump-action—590 Shockwave. This year, though, Mossberg is likely to turn heads not for doing something new, but rather for doing it right, and providing a very sound product at an exceptionally reasonable price.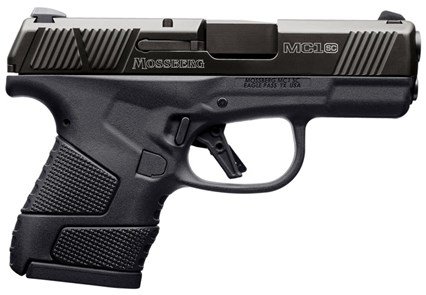 The MC1sc addresses what is perhaps the hottest segment in the modern firearms market—compact, semi-automatic pistols for concealed carry and personal defense. The new gun ticks all the boxes: It is chambered for 9 mm Luger; it has a 3.4" barrel and a subcompact frame; and it feeds from a single-stack magazine, two of which are included—a flush-fitting six-rounder or a grip-extending seven-round unit. The standard sight configuration will be a white three-dot arrangement, and despite some striking similarities to products offered by a certain Austrian gunmaker, the MC1sc's sights are steel components fit to the slide via SIG-pattern dovetail cuts.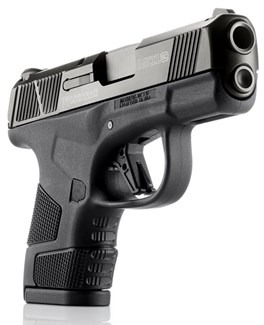 The MC1sc also displays refinement, both in its ergonomics, which are excellent, and in the utility of its design—the gun is fully dehorned for snag-free manipulation, and the forward slide serrations are a nice touch. It's also a very safe design, with a simple yet innovative disassembly sequence. In my initial testing, the gun ran flawlessly to the tune of nearly 1,000 rounds over two days at Gunsite Academy, and proved to be accurate, despite its compact dimensions, from 3 yds. all the way out to 50. It was a very impressive performance for a gun that will carry an MSRP of, likely, just over $400, and will probably sell at prices below that mark.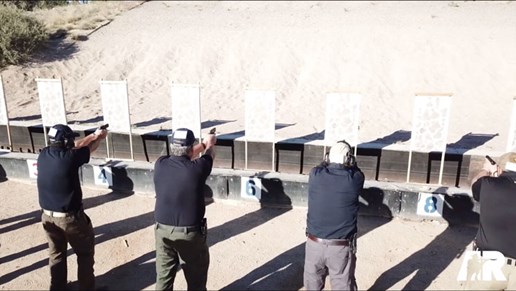 For those thinking the MC1sc is Mossberg's first-ever handgun, think again. In fact, the company's very first firearm was the four-barreled, .22-cal. Brownie (below) introduced in 1919—a handgun designed for trappers to dispatch game, but one that also found favor as a concealable, vest-pocket defensive gun. Welcome back, Mossberg, and bravo.

Watch this video (filmed by Richard Mann) to see the Mossberg MC1sc fired by a group of gun writers during a recent Gunsite special event.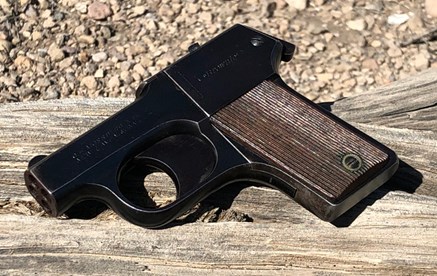 Specifications:
Model: MC1SC
Chambering: 9 mm Luger
Action Type: recoil-operated, semi-automatic center-fire pistol
Barrel: 3.4", stainless steel
Frame: reinforced black polymer
Slide: stainless steel
Finish: DLC black
Sights: dovetailed; three white-dot configuration (Truglo Tritium Pro available)
Trigger: 5-6 lbs.
Magazine: 6- and 7-round detachable box
Weight: 19 ozs.
Length: 6.45"
Height: 4.25"
Width: 1:06"
MSRP: $425