by
posted on October 25, 2018
Support NRA American Rifleman
DONATE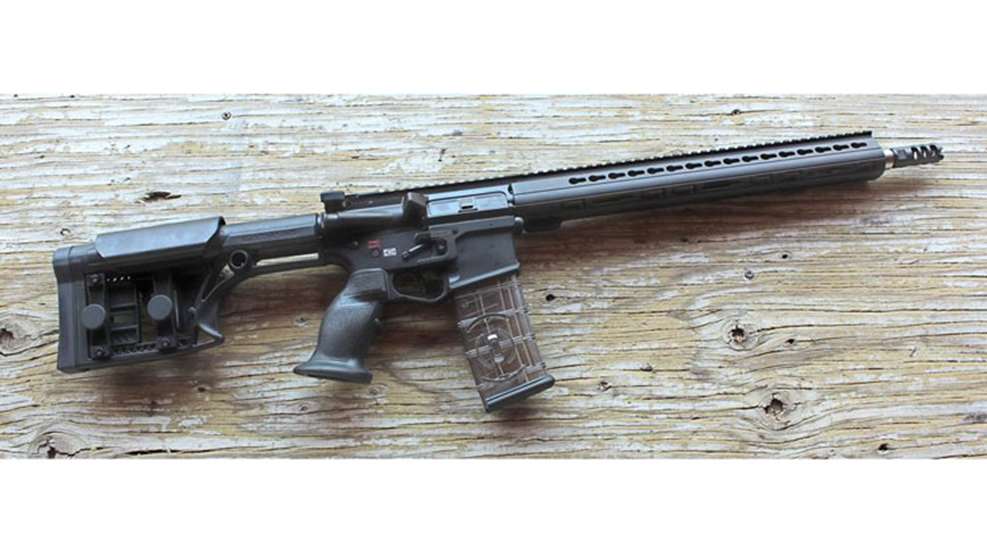 If you are new to the AR scene, you may not be familiar with the name Randy Luth, but you should be. Starting out as a machinist more than 40 years ago, Luth has been a key player in the growth of the AR's popularity in the U.S. market. In 1986 he founded D.P.M.S./Panther Arms, a company he led to become one of the top providers of complete ARs and components, until it was sold in 2007.
Luth's drive and creative problem solving has made him a frontrunner in designing and developing platforms, processes and components that are now in regular use throughout the industry. He has traveled around the world pioneering the use of AR-pattern platforms for hunting game of all sizes, as well as supporting the conservation of these animals to preserve them for future generations.
I had the pleasure of meeting Randy and the team that supports his latest venture, Luth-AR, at the 2016 SHOT Show in Las Vegas, Nev. There I learned about the company's then-new series of MBA AR stocks (of which I quickly became a fan). Since that time, the Luth-AR catalog has steadily grown to include a variety of high-quality components intended for hunting, competition and enthusiasts who want custom upgrades for their rifles that don't cost an arm and a leg.
           



After looking through the Luth-AR catalog earlier this year, it seemed like the easiest way to provide a glimpse into what Luth-AR has to offer would be to build a rifle using the company's components, and conduct a range test. Luth-AR does not, as of yet, offer all of the parts required to build a complete rifle from scratch, so Patriot Ordnance Factory, Inc. (POF) was called upon to fill in the gaps, while adding a few extras of their own.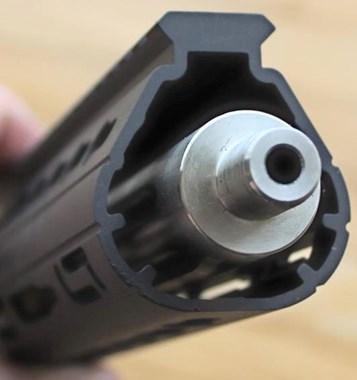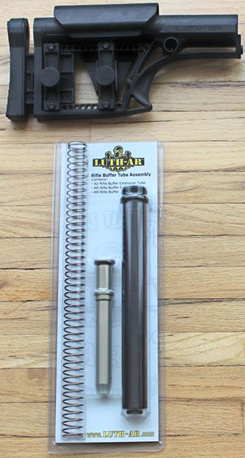 Customers have the option of mixing and matching upper-assembly components, or purchasing complete, ready-to-use gas impingement operated uppers with bolt carrier groups (BCG) included. This rifle was assembled using a factory complete upper. The Mil-Spec A3 flat-top upper receiver is forged from 7075-T6 Aluminum, with a matte-black hard-coat anodized finish. A dust cover, forward-assist button, Mil-Spec charging handle and a fully-assembled BCG are included. 
The 16" long fluted 416 stainless-steel bull barrel with M4 feed ramps is fitted with a carbine-length gas tube using a low profile 0.936 " gas block. The button-broached bore is cut with six grooves at a 1:9 right-handed twist. The muzzle is threaded at 1/2x28 TPI to accept a wide variety of 5.56-compatible muzzle devices. The 15" free-float aluminum Palm Handguard features a full-length top rail and a triangular profile to provide a more comfortable gripping surface for the support hand. This particular handguard features M-Lok accessory slots with cartridge-shaped vents.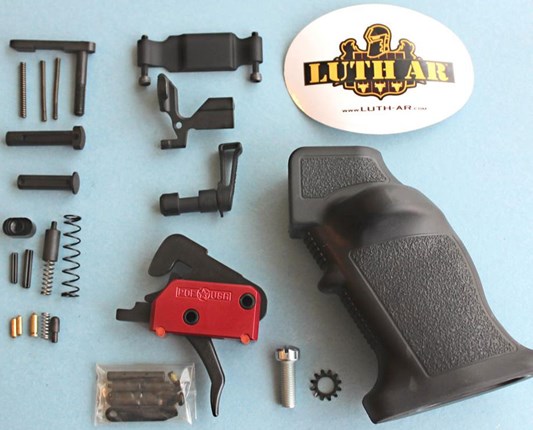 Luth-AR offers complete shoulder-stock assemblies including the stock, buffer tube, buffer, spring and mounting hardware. For this build I opted for the sturdy, ambidextrous, glass-filled nylon A2-type MBA-1 assembly, which weighs about half as much as competitors' adjustable stocks. The textured-rubber recoil pad can be extended for an additional 1.0625". The reversible cheek rest provides up to 1" of extra height, with a support post that can be moved forward or back on the stock. QD-sling swivel ports are located on the left and right side.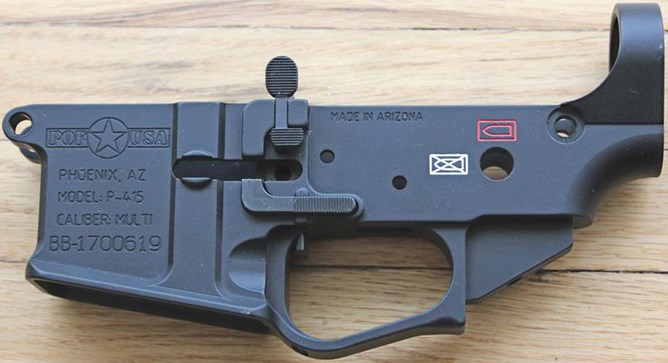 The lower receiver was populated using components from Luth-AR's Mil-Spec Builder Lower Parts Kit, a Switch extended safety selector from the Lower Enhancement Kit and The Chubby Grip. I often find myself avoiding target grips because they tend to be too large to fit my somewhat smaller hands. Despite its name, the polymer Chubby Grip provided a custom-fit feel that I liked so well, I'm thinking of adding it to some of the other target lowers I use.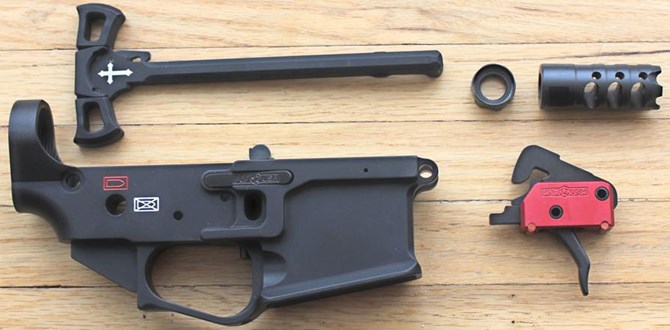 One of the concerns that the folks at Luth-AR share with other quality AR component providers, is that home builders will all too often mix top-notch parts with bargain-basement bits and pieces in an effort to reduce costs. Then, when the 'Franken-gun' fails to meet expectations, the quality parts are written off as being subpar.
           



To avoid mixing apples with lemons, Mr. Luth and I agreed beforehand that Patriot Ordnance Factory (POF) provides excellent components, including the lower receiver, trigger group, charging handle upgrade and muzzle device that went into this build. POF's milled billet 7075 Aluminum Gen4 P-415 lower receiver sports an oversized integral trigger guard, nylon tension screws and a Type 3 hard-coat anodized finish. Additional control levers are mounted alongside traditional Mil-Spec controls so that the bolt catch and magazine release can be operated left- or right- handed. A third ambidextrous bolt hold-open button is located in the trigger guard. This lower arrives with the bolt catch and ambidextrous controls already installed.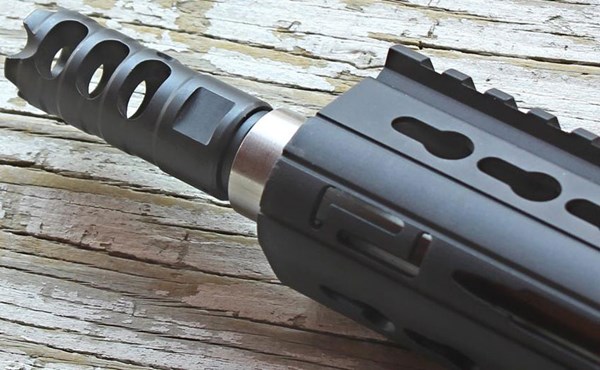 POF's Enhanced Finger Placement (EFP) drop-in, single-stage trigger group has a shortened trigger face which has been pushed forward in order to guide the trigger finger tip to the same resting place for more consistent shot placement. Intended for hunting, tactical, and competition applications, this non-adjustable trigger group arrives fully assembled in a hard-coat anodized aluminum housing, with rubber urethane feet.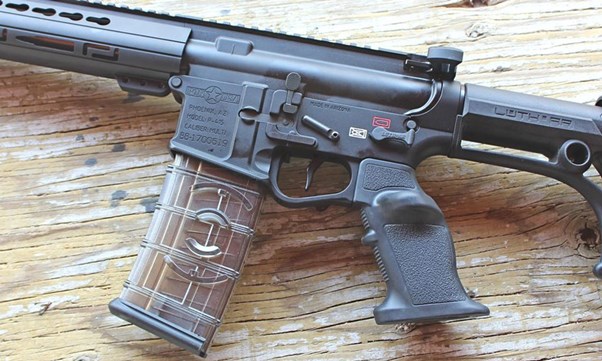 The trigger, disconnect and hammer are all cut from American A2 tool steel and nitride heat-treated to 70 Rockwell case hardness for strength and corrosion resistance. This version of the EFP is listed with a 4 lbs. trigger-pull weight. The unit tested for this review exhibited a trigger pull of 3 lbs. 7 oz. It shipped with custom fit stainless-steel KNS Precision anti-walk pins which, proved to be easy to install.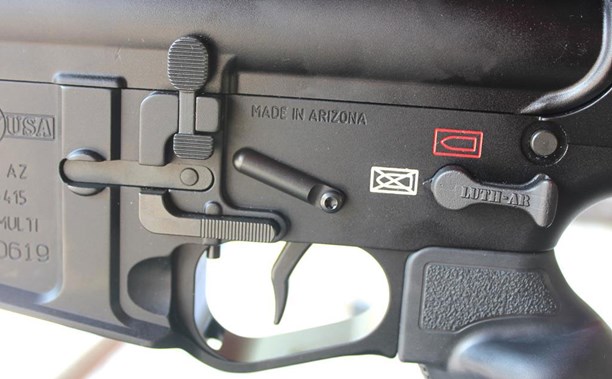 POF's 7075 billet-aluminum Tomahawk ambidextrous charging handle, with its over-sized skeletonized release levers, facilitates charging the gun by grasping, palming or hooking the charging handle with the support hand. The five-prong nitride heat-treated steel Triple Port muzzle brake proved to be effective at reducing muzzle rise and felt recoil. The nut provided with the muzzle device was not compatible with the larger profile of the bull barrel, so it was replaced with a crush washer.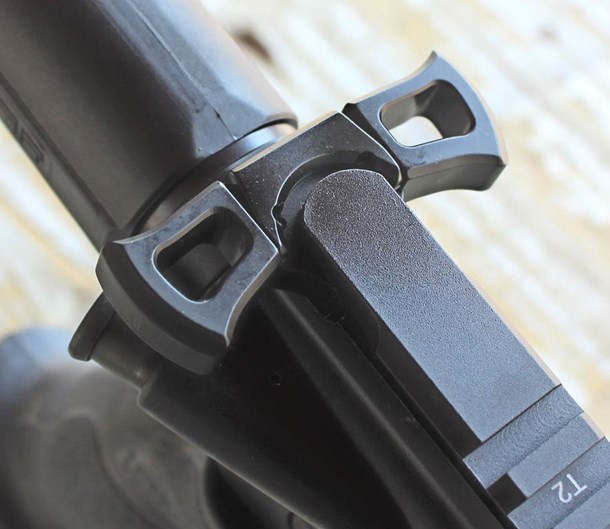 The overall fit and finish of the completed rifle is so impressive that the gun itself looks like an image that's been Photoshopped. The off-the-bench balance was better than I expected from a bull barrel configuration. With an unloaded weight of 8 lbs. 6 oz., this rifle can certainly be put to work on or off of a bench rest.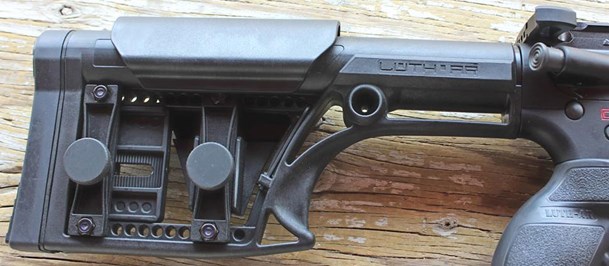 For all testing, the carbine was topped with Bushnell's excellent Elite Tactcial XRS II-i 4.5-30x50 mm long-range scope using a set of Weaver Tactical 34 mm High 6-Hole rings. The carbine ran reliably with all ammunition and magazines tested, without any malfunctions throughout the course of testing. While it was tested with a variety of magazines, it was the Elite Tactical System's AR15-30 magazine, with its built-in coupler and transparent body, which seemed best suited to cap off the sleek appearance of this top-notch rifle.



AR enthusiasts hope to lay their hands on the often-elusive sub-MOA platform. The Luth-AR/POF build's largest 5-shot groups were right around an inch in size at 100 yards, and got smaller from there. Velocity was measured using a Labradar chronograph. Hornady Superformance 55-gr. GMX jacketed hollow points left the muzzle traveling at 2938 f.p.s. for 1054 ft.-lbs. of muzzle energy with a best single 5-shot group of 1.06" with a five group average of 1.19".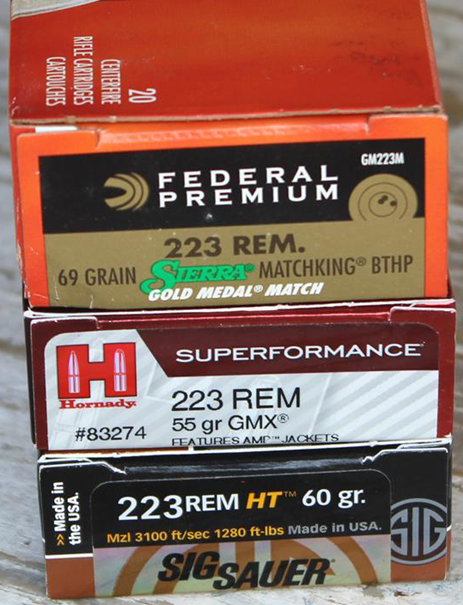 Sig Sauer's Elite Performance 60-gr. HT (Hunting) all-copper hollow point flew at 2535 f.p.s. for 856 ft.-lbs. of energy. It yielded a best group of 0.83" with an average of 0.98". Federal Premium's Gold Medal 69-gr. Sierra Match King boat-tail hollow point launched at 2663 f.p.s. for 1087 ft.-lbs. of energy. It produced the tightest groups of the test set, with a best group of 0.64" and an average of 0.76"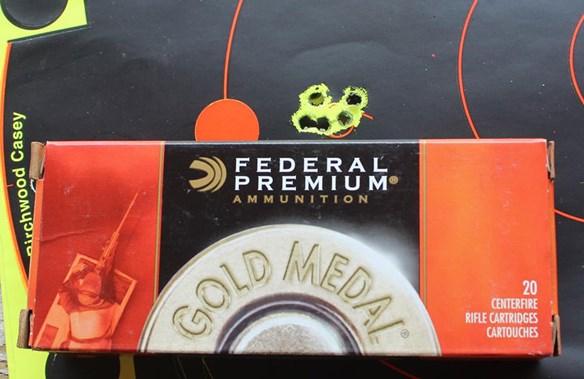 Randy Luth's ongoing pursuit of excellence is clearly evident throughout the design and finish of the components included in this at-home rifle build. I'm impressed both by the gear and the Luth-AR team producing it. Patriot Ordnance Factory is clearly meeting the same high standards. The fair pricing for Luth-AR components provides plenty of bang for the buck. That combined with a bit of the do-it-yourself sweat equity shaved hundreds of dollars off of what would be a significantly more expensive factory-assembled AR Carbine. For more, visit luth-ar.com and pof-usa.com.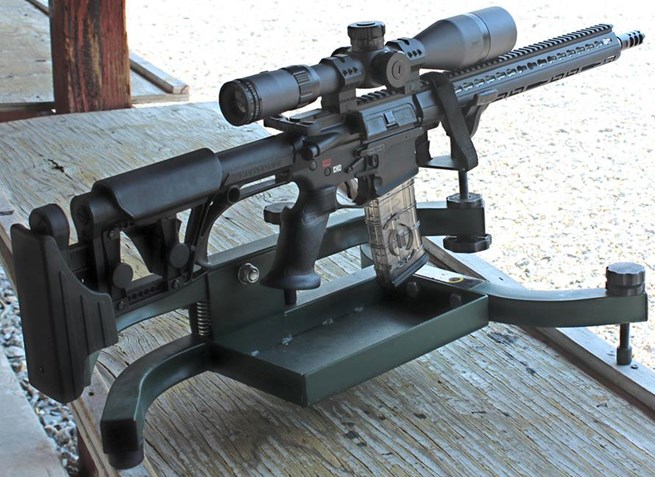 Specifications:
Component Provider: Luth-AR
Component Provider: Patriot Ordnance Factory, Inc. (POF)
Manufacturer: At-Home Build
Action: Gas-Impingement Semi-Automatic
Caliber: 5.56 NATO/ .223 Rem.
Factory Complete Upper Assembly: Luth AR 16″ Bull Barrel (FTBL-B16) $484.95
Upper Receiver: Forged 7075-T6 Aluminum A3 Flat Top, Mil-Spec, Hard-Coat Anodized
Ejection Port Cover: Yes
Forward Assist: Yes
Factory Charging Handle: Mil-Spec
Bolt Carrier Group (BCG): Complete AR Auto
Barrel: 16″ 416 SST Bull Barrel, Fluted with Threaded Muzzle (BL-B16FT)
Rifling: 1:9" RH
Grooves: 6
Muzzle Threading: 1/2x28 TPI
Factory Muzzle Device: A2 Flash Hider
Gas Block: .936 Low Profile (GB-LP936)
Gas Tube: Carbine-Length
Handguard: Luth AR 15″ Vented Palm Handguard (HG-V-15K)
Handguard Slots: KeyMod
Charging Handle Upgrade: POF Tomahawk Ambidextrous $74.99
Muzzle Device Upgrade: POF Triple Port Muzzle Brake (00308) $57.99
Lower Receiver: POF Gen4 P-415, Milled 7075 Aluminum, Hard Coat Anodized $349.99
Lower Parts Kit: Luth AR Builder Kit $36.99
Lower Parts Upgrade: Luth-AR Enhancement Kit $49.95
Trigger Group: POF EFP Drop-In, Single Stage
Trigger Pull: 4 lbs. Listed, 3 lbs. 7 oz. As Tested
Length of Pull (LOP): 14" - 15.0625"
Pistol Grip: Luth AR 'The Chubby Grip' with Hardware (PG-01) $23.95
Complete Shoulder Stock Assembly: Luth AR MBA-1 (MBA-1K) $185.90
Shoulder Stock: Fixed with Adjustable Butt Pad and Check Riser
Cheek Riser Adjustment: Up To 1"
Buffer Tube, Buffer and Spring: A2
Sights: None
Magazine: Accepts AR-15 Standard Removable Box Magazines
Overall Length: 36.25" (Collapsed)
Weight: 8 lbs. 6 oz. Unloaded with No Magazine
MSRP: $1264.71 (Not Including Shipping, Labor or Sales Tax)
Optic: Bushnell Elite Tactical XRS II-i 4.5-30x50 mm (ET46305GI) $3,289.95
Scope Mount: Weaver Tactical 34 mm High 6-Hole Picatinny Rings (99684) $109.95