Support NRA American Rifleman
DONATE
To do this job right, one has to keep secrets. And Colt dropped the biggest secret of 2017 on me, then told me to keep my yap shut—until now. Finally, the biggest news in new gun introductions is out. Colt is back in the double-action revolver business. The new gun, harkening back to a "snake" name (ever heard of a Python?), is called the Colt Cobra. I was able to examine the prototype at Colt's offices while filming for "American Rifleman Television" last year. First, they handed me the plastic model, then the engineers surprised Colt Vice President Paul Spitale by having a metal working sample. I put the gun in my hands and, needless to say, I was impressed.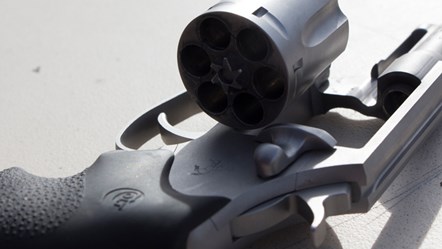 I was also fortunate enough to attend the Colt Writer Seminar at the Gunsite Academy in Paulden, Ariz., and there we had a serious peek behind the wizard's curtain that included the Cobra revolver.
The matte stainless steel, six–shot, double-action Cobra has a fully lugged 2" barrel, and it is rifled with a six-groove, 1:14" left-hand twist. It is 7.2" long, 4.9" high and 1.4" wide. Yes, there is a transfer-bar safety. It comes with Hogue over-molded stocks and weighs 25 ozs.
If you haunt gunbroker.com, odds are you have seen the prices of Colt revolvers skyrocket. Anything with a snake name has been going for big money—sometimes ridiculous money. My friend Steve Fjestad from Blue Book of Gun Values recently wrote about this. While some of the lunacy has subsided, it is clear that the guns Colt used to make still have tremendous power in the consciousness of American shooters.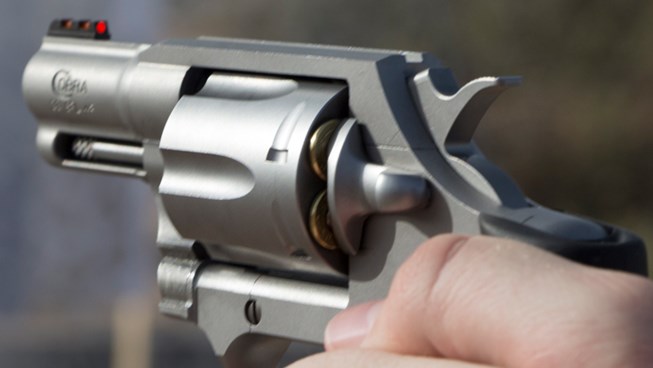 Even though double-action revolver manufacture has been dormant in West Hartford since the 1990s, there are still some guys who worked on double-action revolver projects in the engineering department. And one of the last double-action revolvers to come out of Colt in the mid-1990s was the SF–VI. Ask anyone who owns one, and they will tell you it was and is a nice little revolver. It was intended to replace the Detective Special once the cost of Detective Special manufacture was judged too high and not worth it anymore. The last DS-IIs (they changed the SF-VI's name) were made in 1998. Thankfully, Colt went with Cobra (made from 1950 until about 1980) name for the new gun, not DS-3. The latter sounds like where I last lost my truck in the parking garage of Dulles Airport.
They used the SF-VI as the starting point for the Cobra. But thanks to modern engineering software they were able to make some improvements. The things that one wants in a Colt double-action revolver are there. There are six holes in the cylinder of this .38 Spl. And, of course, it is rated up to +P. And with the materials Colt is using, modern matte finish stainless steel, I imagine that a .357 Mag. would probably be something to look for in the future. Be patient.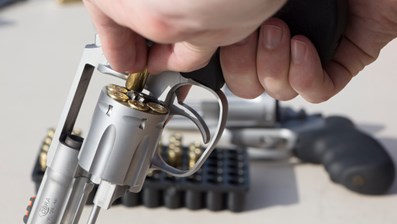 But this gun locks up like a Colt. And its cylinder goes clockwise, like, well, a Colt. This is no copy of someone else's revolver with a Rampant Colt slapped on it. Also the cylinder release is that of the old-school Colt's in that it is drawn rearward to unlock the cylinder.
This is a modern gun, and Spitale likes to use the new Ford Mustang when explaining it. No, it's not like the original in every way but captures the spirit and essence of what made the original so good. As an aside, every time the Mustang II analogy comes out, I cannot get the abysmal image of the 1970s Ford Mustang II obediently rusting in my neighbor's driveway out of my head. This gun is no Mustang II.
Colt spent some serious time trying to get this gun right. They knew they only had one shot after a decades-long double-action hiatus. Some changes include trigger geometry. When you look at the new cobra you can see that the trigger rides on a pin more centrally located in the frame. And it is straighter than one might expect. Colt wanted to use the trigger of the Python as the baseline for what it wanted in the new Cobra. They have graphs, charts other tests that resemble a pathological liar's polygraph test saying that they have determined this revolver's trigger is right in there with the well-regarded Pythons. I would add, perhaps, that looking at how the bolt and hand are put in, there may just be less chance of this gun going out of time like a Python.

As expected, the Cobra single-action trigger pull was absolutely superb. The double-action pull, while smooth, was still a double-action pull. I was able to easily keep the sights aligned while drawing that trigger back. But, then again, I've shot some revolvers. I think that when this gun gets into shooters' hands, one of the most immediate things that will be noticed is the re-contoured frame. Essentially Colt's engineers changed the frame's backstrap so that the trigger finger moves more in a straight line. It is not a radical change, but a useful one, I believe.
Another very useful feature is the fact that the front sight is not machined integrally with the barrel. It is an insert that can be set into a recess then secured by an Allen screw through the front. The stock front sight is a red fiber-optic unit, while the rear is groove integral to the frame.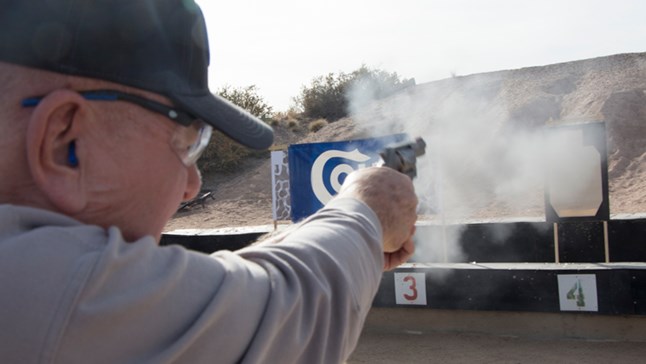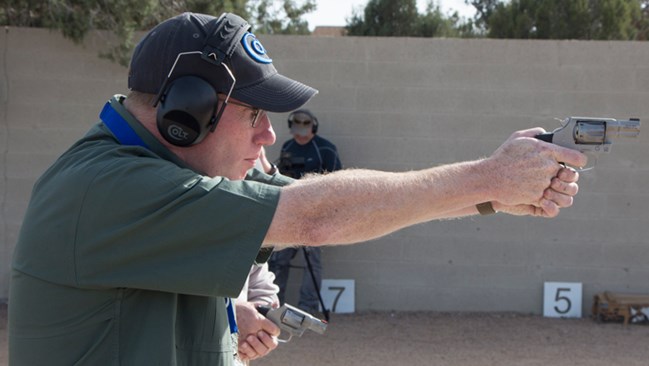 Field Editor Wiley Clapp and I spent some serious time with the Cobra, shooting cylinder after cylinder. And we both really liked what we saw and shot. At this writing we are waiting on the first production revolvers to come off the line in West Hartford. As compelling story as the new Cobra revolver is, we are waiting for actual factory production guns before testing the Cobra in the magazine. Incidentally, the new Cobra has an MSRP of $699.
As the firearm industry learned with the Remington R51, sometimes there are gaps between pre-production and what comes off the factory floor months later. As a matter fact, I told Spitale, "Don't R51 me, bro."
For the readers of American Rifleman, when we go to do a test we want to be sure that what we are testing is what actually is going to be available to them. And we've also learned the lesson of devoting the cover of the magazine to a gun that is not on the shelves. Each time, it results in mail bags full of less-than-pleasant notes.
The thing you have to remember is this revolver is a bold first step. Colt, no doubt, will be inundated with requests for additional models, barrel lengths, configurations and chamberings. I would suggest in the words of famous rockers BTO, "You ain't seen nothing yet."