by
posted on August 16, 2021
Support NRA American Rifleman
DONATE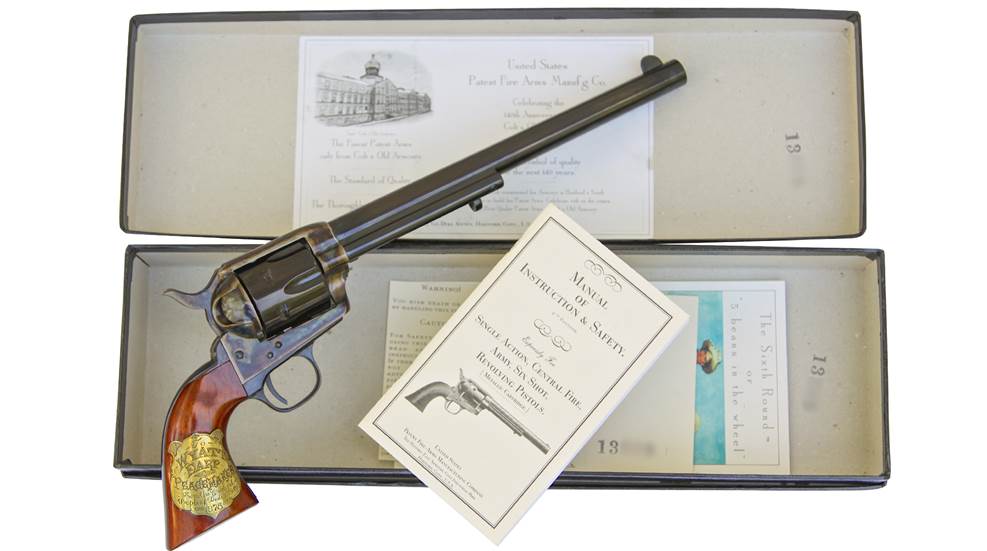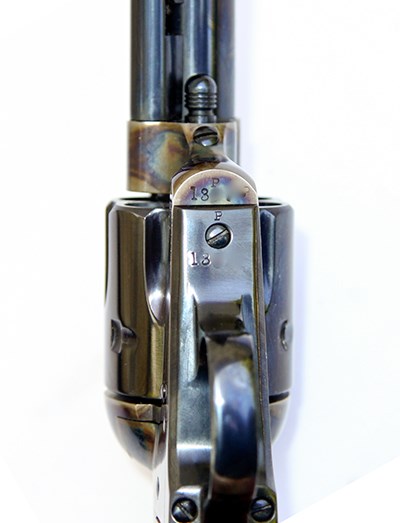 Normally, 19th century firearm replicas never come close to achieving the value of the originals they emulate. One of the few exceptions is the Single Action Army replicas built by the United States Fire Arms Mfg. Co.
Founded in 1993 as the United States Patent Fire Arms Mfg. Co. (USPFA), it was the creation of Douglas F. Donnelly, an entrepreneurial Californian who was its sole owner until the company folded in 2011. As a former member of the U.S. Shooting Team, Donnelly envisioned getting into the firearm business, even though he had no experience in that endeavor. Undeterred, he rented 5,000 sq. ft. in the historic 1855 Hartford, Conn., Colt factory, which had become Colt Industrial Park after the company relocated its operations.
Donnelly obtained a federal license as a firearm importer and dealer, and later, as a manufacturer. Purchasing parts from Aldo Uberti in Italy, USPFA assembled and marketed replicas ranging from 1847 Walkers to versions of the 1873 Peacemaker, and offered "Old Armory Custom Shop" engraving, all performed "Under the Blue Dome," referring to the factory's celebrated architectural feature. With no shortage of skilled labor in Hartford, the guns were superbly crafted, with Turnbull Restoration Co. (turnbullrestoration.com) doing the casehardening, charcoal bluing and black-oxide finishes.
To prevent confusion among its customers, in 1995, Colt requested that Donnelly stop using "Patent" in his company's name. Donnelly responded by suing Colt for false advertising, as its guns were no longer made in Hartford. Nonetheless, by 1997, Donnelly had re-named his company the United States Fire Arms Mfg. Co. (USFA) and was stamping his guns accordingly.
By 2001, USFA was crafting all of its firearms in-house and was touting a wide range of single-actions, early semi-automatics and Lightning slide-action rifles. Unfortunately, many of these guns were never seen outside of trade-show exhibits. Non-delivery of promised products, coupled with mismanagement, eventually forced USFA out of business.
Today, the single-actions in particular are highly coveted, with many favoring those with the "Patent" trademark—which were only produced for two years—while others prefer the later guns, which used all U.S.-made parts. Quality-wise, there is little difference, as exemplified by this 98-percent condition, blackpowder-frame "U.S.Pt.F.A." Buntline made in 1996 as a duplicate of the gun used by Wyatt Earp (Kurt Russell) in the 1993 movie "Tombstone." Even the stock medallion was engraved and inset by John Ennis, who did the movie originals. With its custom 10" barrel, honed action, original box and paperwork, it is worth $2,750 to $3,500.
Gun: United States Patent Fire Arms Single Action Army (Buntline)
Chambering: .45 Colt
Serial No: 13XXX
Manufactured: 1995-1996
Condition: NRA Excellent (Modern Gun Standards)
Value: $2,750 to $3,500
(Standard B&CH 4¾", 5½" and 7½" barrel length versions in this condition typically sell in the $2,000 to $2,250 range)
Note: A limited supply of USFA cylinders, barrels and stocks are still available from Ten-Ring Precision (tenring.com).