by
Brian C. Sheetz, Editor In Chief
posted on December 24, 2021
Support NRA American Rifleman
DONATE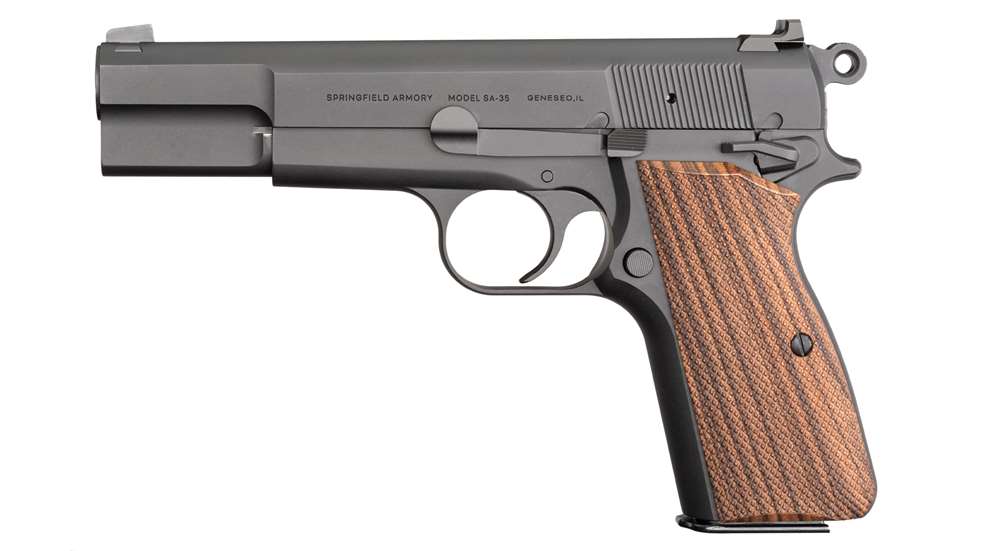 Technological innovation has been the driver of the American experience—and the American firearm industry—since the days of the frontier longrifle. And even with the usual—and, increasingly, not-so-usual—stresses bearing down on our society today, it continues to result in products that stand as examples of hope that the American spirit is alive and well.
In our latest issue, we were pleased to report that "the oldest name in American firearms"—Springfield Armory, the commercial company located in Geneseo, Illinois—is also one of its most vibrant and growing. In recent years, it has expanded into a variety of market segments in which it quickly demonstrated strong leadership in response to consumer demand. So it may seem a bit curious that its latest offering, pictured on this month's cover, is a retro rendition of an all-time favorite handgun—albeit with a few carefully considered enhancements. In his story, "Classic, Modern, American: Springfield's SA-35 High Power," Field Editor Justin Dyal explains why the 86-year-old, John Browning-inspired design never entirely lost its appeal, and why the latest iteration from Springfield may be the best one to date.
Even such re-envisioned legacy platforms, when manufactured using advanced, multi-axis machining centers, stand as evidence that the firearm industry is constantly engaged in forward-thinking solutions to the needs and desires of our growing universe of shooters. That group is younger and more diverse than ever, and it is not only at ease with modern technology but increasingly appreciative of innovation and quality in firearms.
Another example of the retro theme comes from a partnership between Traditions Firearms and Federal Ammunition. The NitroFire muzzleloading rifle and FireStick propellant capsule, while entirely modern in conception, is a system that recalls our rich American heritage of subsistence hunting and wilderness exploration in the era of front-loading muskets and rifles. The new system's use is explained and field-tested by NRA Publications Editor Emeritus John Zent and American Rifleman Managing Editor Christopher Olsen, respectively, in the story, "Into The Breech … Or Not: The NitroFire/FireStick System." In yet another ammunition innovation, we mentioned recently that a company called True Velocity had developed polymer-composite-cased cartridges as part of the U.S. military's Next Generation Squad Weapons program. Advantages are said to include extended barrel life and greater round-to-round consistency. Civilian offerings in several popular chamberings are already available.
That brings us to a rather unusual letter in this issue from member Bill Strickland—an actual rocket scientist, no less—whose father once headed the ballistics lab at Redstone Arsenal in Huntsville, Ala. Strickland noticed a reference in "The Story Of The Modern Weatherby" in which Field Editor Jeff Johnston mentioned that, in 1959, the government requested from Roy Weatherby a cartridge that could propel a bullet to 6,000 f.p.s.! Strickland's recollections of his father's near-daily stories are more than a bit entertaining.
Such collaborations between the firearm industry and our country's military-industrial complex are nothing new and speak to the long-standing place of honor that the gun industry and firearm inventors have occupied throughout American history. Those technological roots go back at least to President George Washington's approval, in 1777, of a site for America's first arsenal: the original Springfield Armory in Massachusetts. Indeed, firearm technology and the history of America are inextricably intertwined, which is why they are subjects of much of this magazine's coverage each month.
I look forward to a future in which that relationship is preserved, along with our role in reporting on it.