by
Mark A. Keefe, IV, Editorial Director
posted on December 26, 2019
Support NRA American Rifleman
DONATE
Today, we take for granted the fact that a semi-automatic shotgun is simply going to work. Whether it be gas-operated or inertia-driven, even the most affordable of guns are expected to fire and cycle every time the trigger is pulled.
But this was not always the case. In 1900, John Moses Browning, America's greatest firearm inventor, was awarded a patent for the semi-automatic shotgun. He regarded it as probably his most significant accomplishment. Considering he had just recently perfected the principle of gas operation with the Model 1895 Colt "potato digger" machine gun, that tells you something of what he thought of this design. But getting it manufactured was not the issue. For nearly two decades Browning would invent a rifle or shotgun, then sell it outright to Winchester. The company's engineers would then take that gun from prototype to production, and everyone seemed happy. That was until Browning cracked the code on a semi-automatic shotgun. No, this time Browning wanted a bigger piece of the action, meaning a royalty for each gun. No deal. Winchester's Thomas Bennett turned him down flat.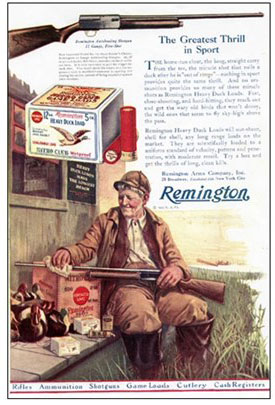 Browning had started a relationship with Fabrique Nationale in Herstal, Belgium, with his Model 1899 pistol. Rights to the gun in Europe would go to FN, but if Winchester wasn't to be the maker in the United States, where do you go if Colt's wasn't interested? The answer was Remington. In 1902, Browning and his brother Matt traveled to meet with Marcellus Hartley, then president of Remington. But before they could see him, Hartley died, thus short-stopping the beginning of Browning's relationship with Remington Arms.
Eventually Browning made a deal with Marcellus Hartley Dodge, who took over Remington after his grandfather's death. And the gun that we know as the Remington Model 11 began production in 1905. The name, of course, changed in 1911, and it became a bestseller—more than 850,000 by 1947—and it would remain the only semi-automatic that actually worked well for about a half-century, be it marked "Browning" and made in Belgium or "Remington" and made in Ilion, N.Y.
The Model 11 was made in a host of configurations, including riot and police versions, until 1948. And even then, the sleek and modern-looking Model 11-48 was little more than a Model 11 without the square-back receiver. But the 1950s was the era when gas-operated semi-automatics started to not only emerge, but work pretty well, including guns from High Standard, Winchester and Remington.



While the Browning-designed long-recoil-operated shotguns were king until the gas guns arrived, there were other designs. Swede Carl Sjörgen's was the first inertia-driven gun, even though manufacture was somewhat short-lived. But its operation eventually challenged the gas guns from the big American manufacturers. An Italian named Bruno Civolani developed an inertia-operated system—really a form of delayed blowback operation—with a rotating bolt head. It was made by an offshoot of an Italian motorcycle company we know today as Benelli.
Those patents have long since expired, and some features, such as the rotating bolt head, have proliferated among other manufacturers, including Remington. Regardless, we now celebrate 115 years of Remington autoloading shotguns, and you can get the full scoop beginning by reading Field Editor Jeff Johnston's engaging, and dare I say, epic, story.