by
Mark A. Keefe, IV, Editorial Director
posted on January 25, 2019
Support NRA American Rifleman
DONATE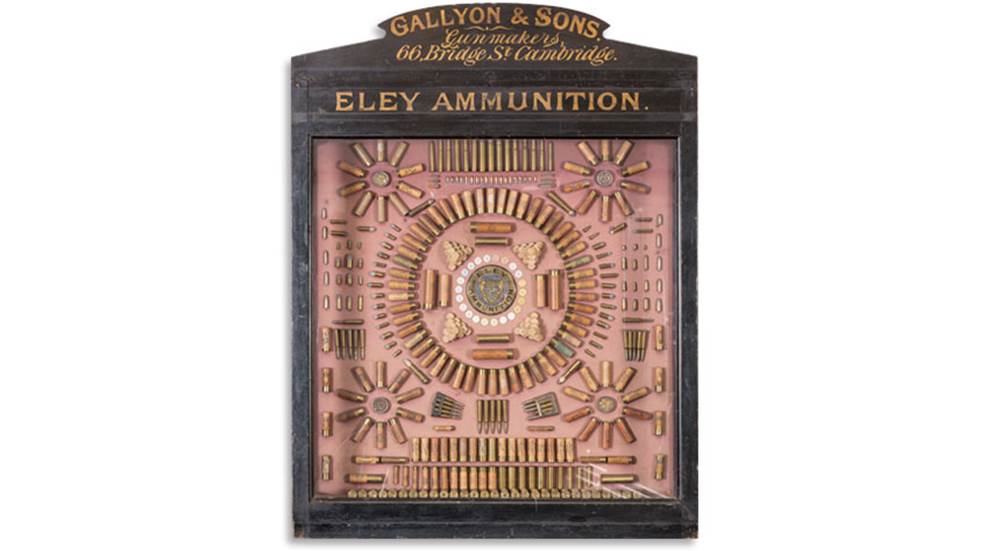 "Please Hang in a Prominent Place." Those words appear on the back of a circa-1890 Winchester cartridge board on display in the Robert E. Petersen Gallery of NRA's National Firearms Museum in Fairfax, Va. We take it for granted that if you want information on cartridges, or even to see what one looks like, you merely hit a few keystrokes on a computer. Or, if you are more analog, you flip open a catalog or crack open a copy of Cartridges Of The World.
There was a time when even catalogs as we know them today were either nonexistent or few and far between. In the center of this magazine, courtesy of winfieldgalleries.com, is a vintage cartridge board displaying the ammunition wares of the Winchester Repeating Arms Co. Such boards were made as an early form of storefront advertising. "Presented with compliments / Winchester Repeating Arms Co. / Please Hang in a Prominent Place."
In an article for The Winchester Collector, Paul Wells of the NRA-affiliated Winchester Arms Collectors Ass'n gives 1874 as the release date of the company's first cartridge board. Grander, more elaborate and colorful boards followed in 1884, 1886, 1888, 1890 and 1897. According to Wells, a lithograph with drawn cartridges came in 1902 in lieu of actual cartridges affixed in place. Of course, Winchester has used images of these original boards for calendars, prints and other marketing materials for decades.
For Americans, the most well-known cartridge boards are from Winchester and Remington-UMC. But they were made by most major ammunition makers around the turn of the century—and some even later. Especially if complete, originals have gaveled for upward of $30,000 according to some recent auctions, but those without such means can enjoy them today through lithographs, posters and even tin signs.
Also in the Petersen Gallery is the finest display of Gatling guns on public view. "Pete," as he was known to his friends, loved Gatling guns, and in the museum they stretch all the way from an 1870 Colt-made Gatling in .50-70 Gov't up through a 10-barrel Model 1895 Gatling chambered in .30 U.S. (.30-40 Krag) that was under the command of Lt. John Parker. This was one of four guns that supported the attack of the 1st U.S. Volunteer Cavalry—"Roosevelt's Rough Riders"—as well as the "Buffalo soldiers" of the U.S. 10th Cavalry in Cuba on July 1, 1898.
But if you look past the Gatlings, you will see the walls are adorned with original cartridge boards from Petersen's private collection. They include boards from Cartoucherie Belge, Dynamit Nobel, Eley, Holland & Holland, Kynoch, Remington–UMC and, of course, Winchester. One of the most impressive is from Eley and made for display at "Gallyon & Sons. Gunmakers, 66, Bridge St. Cambridge." The Petersen Gallery has been called "the finest single room of guns anywhere in the world," with masterpieces of firearms engraving, exquisite British double rifles and shotguns, and it is just a fraction of the more than 3,000 guns on display in Fairfax. If you can visit in person, it is worth your time. If not, many of the exhibits and much of the collection can be seen at nramuseums.org.
By the way, Gallyon & Sons, "Fine Gun & Rifle Specialists since 1784," is still in business, despite Great Britain's draconian gun control laws, though it has long since moved from Cambridge to Norfolk.
Sincerely, Mark A. Keefe