by
posted on January 29, 2022
Support NRA American Rifleman
DONATE
When I was a boy, I often asked my dad if I could get out his .22 LR to rid the range of "unwanted paper invaders." Fast-forward a few years, and my enthusiasm grew to include center-fire cartridges. My passion only grew when my dad became the owner of a sporting-goods establishment in 1986. Gun racks were filled with both modern sporting guns and tired battle rifles of past wars.
Often, the gun in question was an M1 carbine, Lee-Enfield or the highly touted Mauser 98. Not knowing at the time of the Mauser's treasured value in function, my young eyes tended to hang on the M1 carbine. Somewhere along the way, though, my interest in rifles began to mature, and my eyes turned the elegance, beauty and function of the Mauser 98 action. On one of my fateful trips to a local gunsmith, a seed was planted to build a modernized Mauser.
An Action To Be Envied
Paul Mauser, in 1898, started a revolution in rifle design that would influence rifle designer across the globe for more than a century. The Gewehr 98 had attributes that made it modern and provided reliable function. Designed to be used with stripper clips, an infantryman could quickly load five rounds into its internal magazine. Using a controlled-round-feed bolt, it smoothly stripped off the top round and guided the unfired cartridge into the chamber.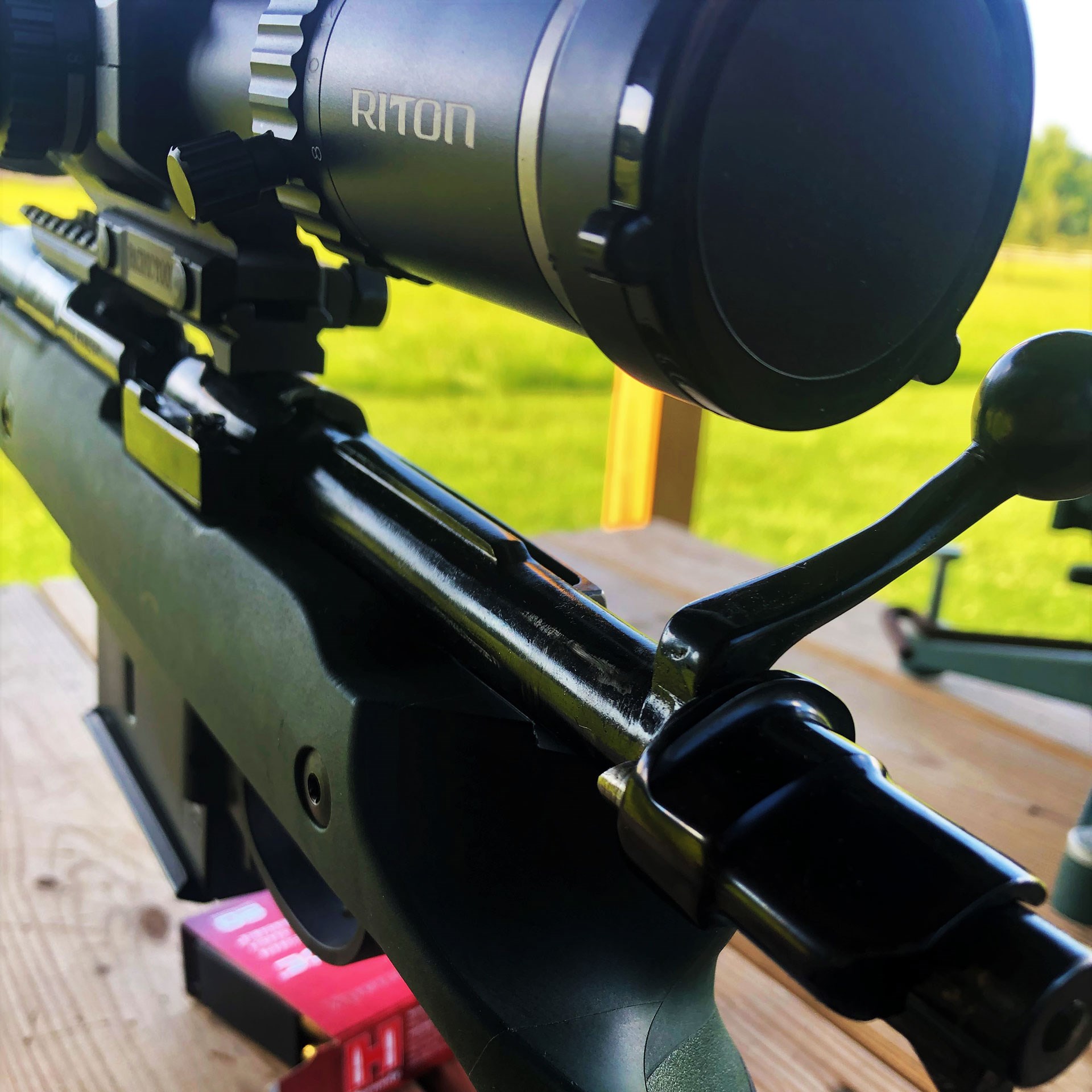 You can see the bolt takedown button just in front of the bolt shroud. Designed to be easily taken apart and cleaned in the field.
This style of feeding system has the unique distinction of being able to feed a round from almost any position. A large claw extractor grabs onto the rim of the cartridge, gripping it with confidence. This ensured that the rifleman had his next round ready to go. This German engineering marvel was built strongly and to last.
The Mauser In The Modern World
Should we have moved on from Paul Mauser's legacy? In many ways, we actually haven't. Mauser actions are the basis for many rifles still produced today. Ruger, Remington and Winchester were the earliest adopters of the Mauser design. All have since moved to push-feed-style actions. But this is my rifle, and there will be no other like it.
With my having access to a modified M98, the time has come to see what a modernized Mauser can do. Hornady, Lapua, Federal, CCI, and Lyman pulled together to help find components for this new adventure, with Hornady and Lapua providing some factory ammunition for testing.
The action is an unmarked M98 receiver (some speculation for another day). This particular action had already been modified for sporting purposes and fitted with a Timney trigger that breaks right around 1 lb., 14 ozs. using a Wheeler digital trigger gauge.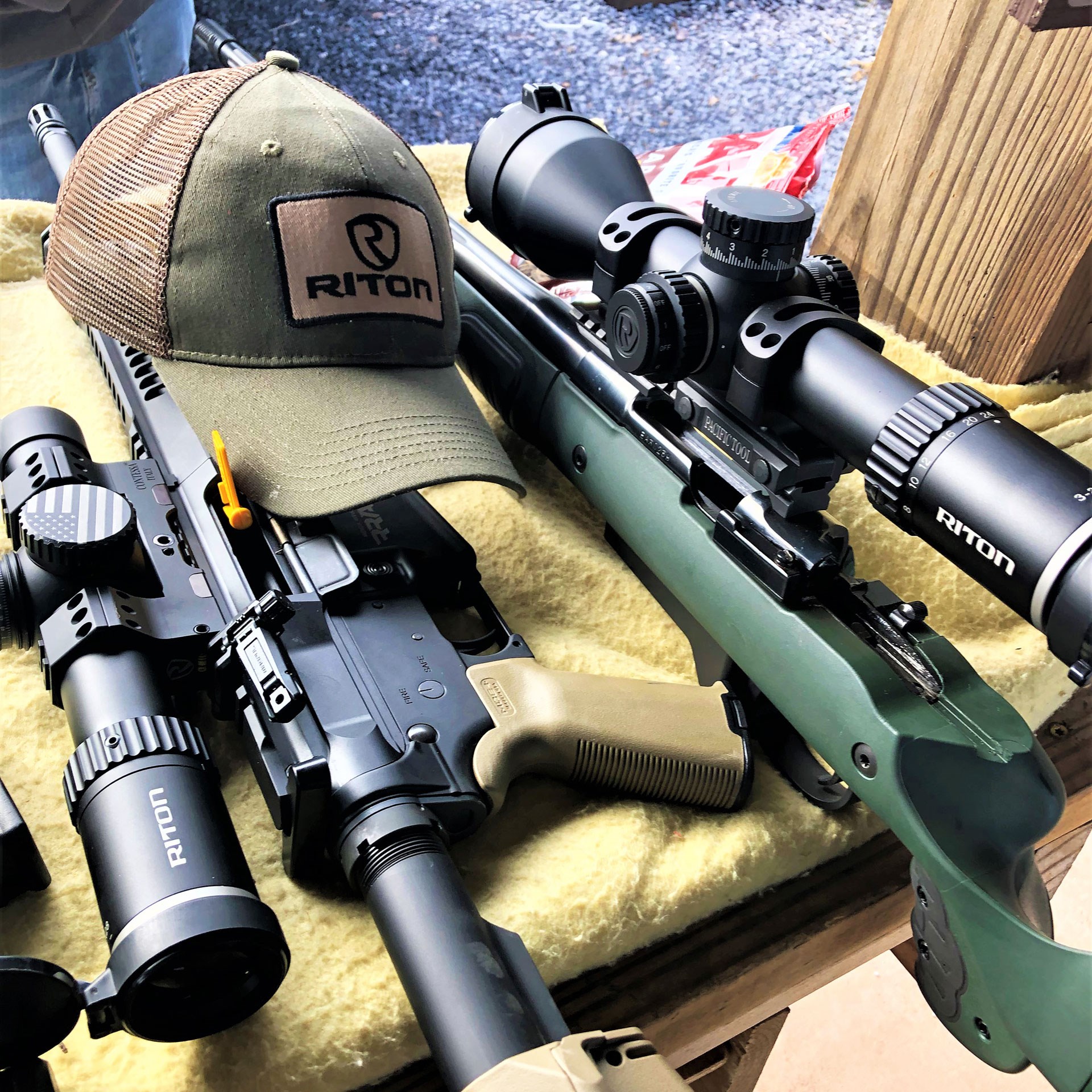 A great picture of the sporting rifle from more than a century ago next to today's modern sporting rifle.
An email to an American legend, McGowen Barrel company, resulted in a requested light-varmint-contour, chromoly barrel with four external flutes, and 5/8"x24 TPI threads for a muzzle brake. My "modern" Mauser has been chambered in an equally old caliber. The 6.5x55 mm Swedish Mauser was developed in 1891. Desiring to use the heaviest of production bullets, I opted for a 1:7" twist barrel measuring 24" long. These dimensions and twist rate are not too far off of the original specifications.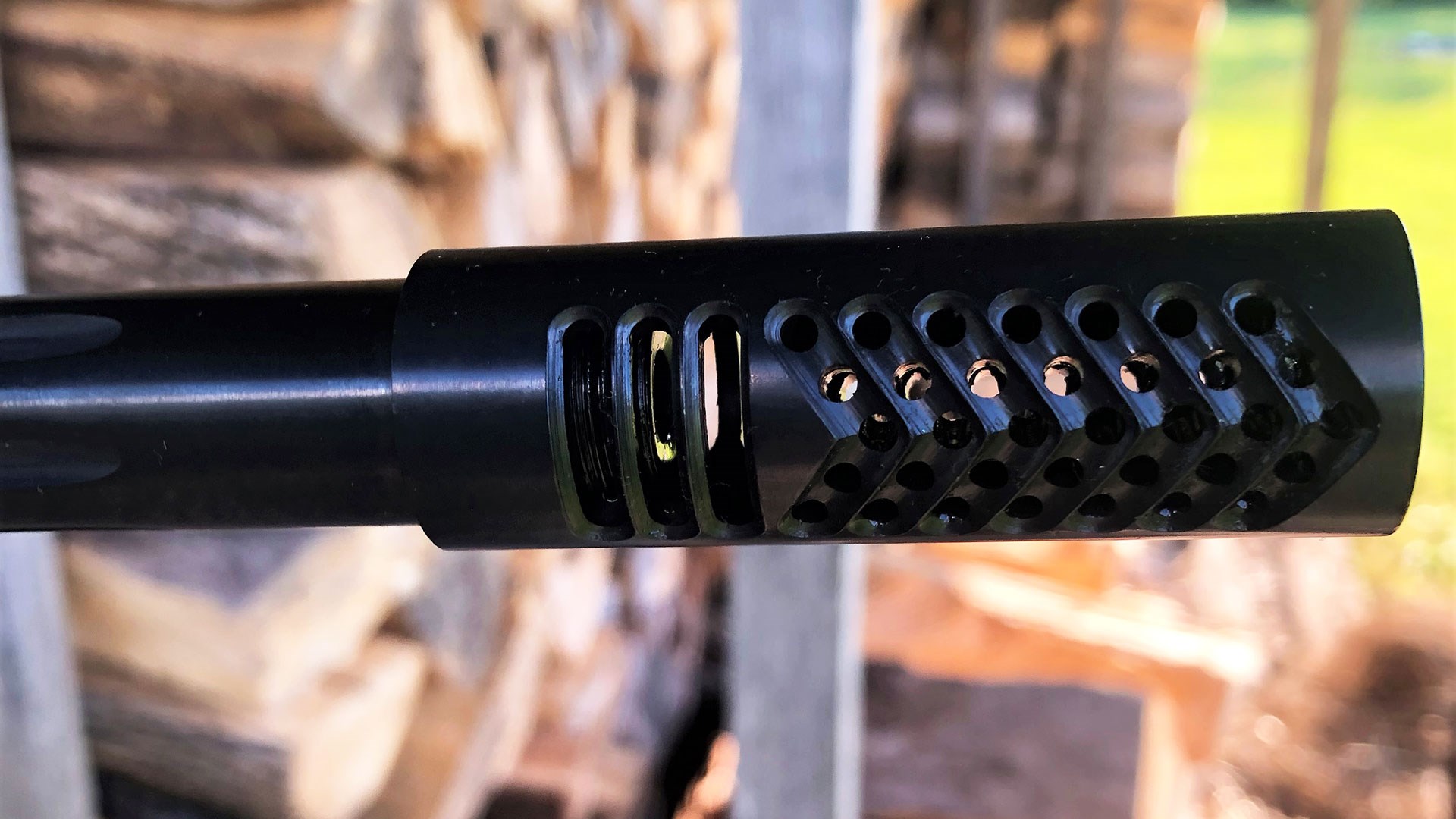 The PT&G muzzle brake is a great addition. This brake works well enough that I was able to recover quick enough from recoil at 100 yards to see impacts in the dirt while zeroing the rifle.
Searching for a stock was a little more difficult. More popular in yesteryear, many stock manufacturers have pretty much eliminated this inlet from their lineup. Having to think outside the box, GRS Stock Manufacturing of Grodas, Norway, were all too happy to help out. This was a great option, and I'm glad I found them. Choosing the Bifrost synthetic stock was just the ticket.
The action fits like the proverbial glove after the perfunctory adjustments needed in the aftermarket world. Choosing a stock option is easy on the company's website. Each model comes with a couple paragraphs showing versatility, function and options.
The Builder
Searching for a willing gunsmith was harder to find than what I thought it would be. Making a call to Pacific Tool and Gauge was the ticket. Dave Kiff, the owner, was grateful for the opportunity and jumped in with both feet. Fate was on my side. Dave had just taken in a shipment of M98 and K98 actions for custom builds or original reproductions.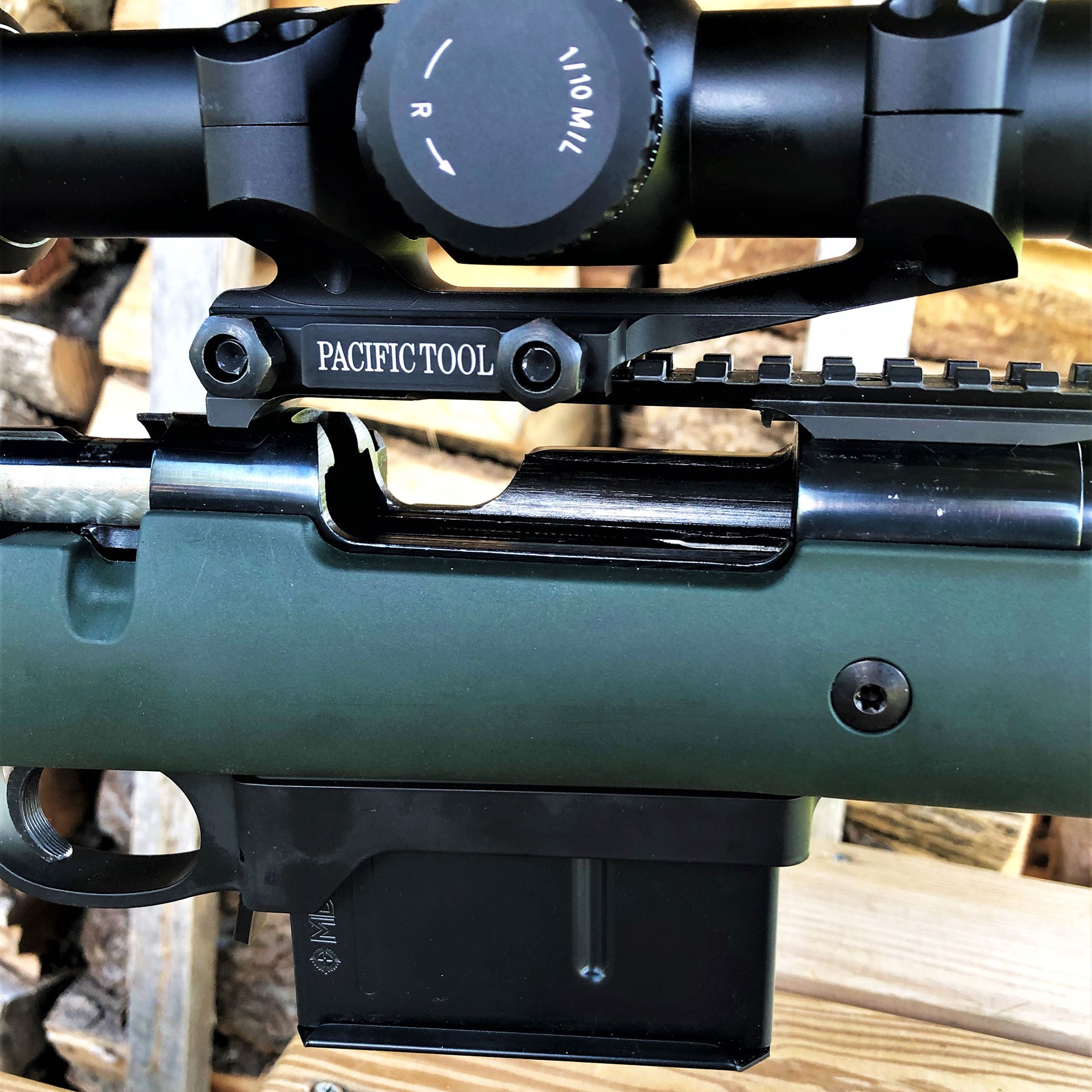 A new optics mounting option is the PT&G QD mount. You can also see the bottom metal with an MDT 30-06 AICS-pattern magazine.
Dave said he pulled parts to help move this action into the 21st century. Dave developed bottom metal for this very action that accepts AICS-pattern magazines. He also provided a 20-m.o.a. Picatinny optics base and muzzle brake of his own design. Having fitted the barrel, the bolt body was blued black, and the bottom metal was Cerakoted black as well.
PT&G machining has a variety of gunsmith tools, headspace gauges and rifle accessories for a large variety of firearms in the industry. The irony of the barrel selection is that PT&G make the chamber reamers for McGowen barrel manufacturing. This all coming together as it did was a thing of beauty.
Performance
This modernized Mauser wants to shoot. During barrel break-in, it started coming together after only 20 rounds down the barrel, producing a 0.685" four-shot group using Hornady 140-grain SST Superformance ammunition. The McGowen barrel is shooting true and cleaned up quick using Real Avid barrel foam and gun oil. A Tipton cleaning rod topped with Real Avid's cleaning jag made it all the easier. Using a Caldwell G2 chronograph and GRS rear bag with bag rider, off to the range I went. An optic was provided by Riton in the form of its X7 Conquer 3-24x56 mm scope mounted in a Pacific Tool and Gauge QD 34 mm ring mount.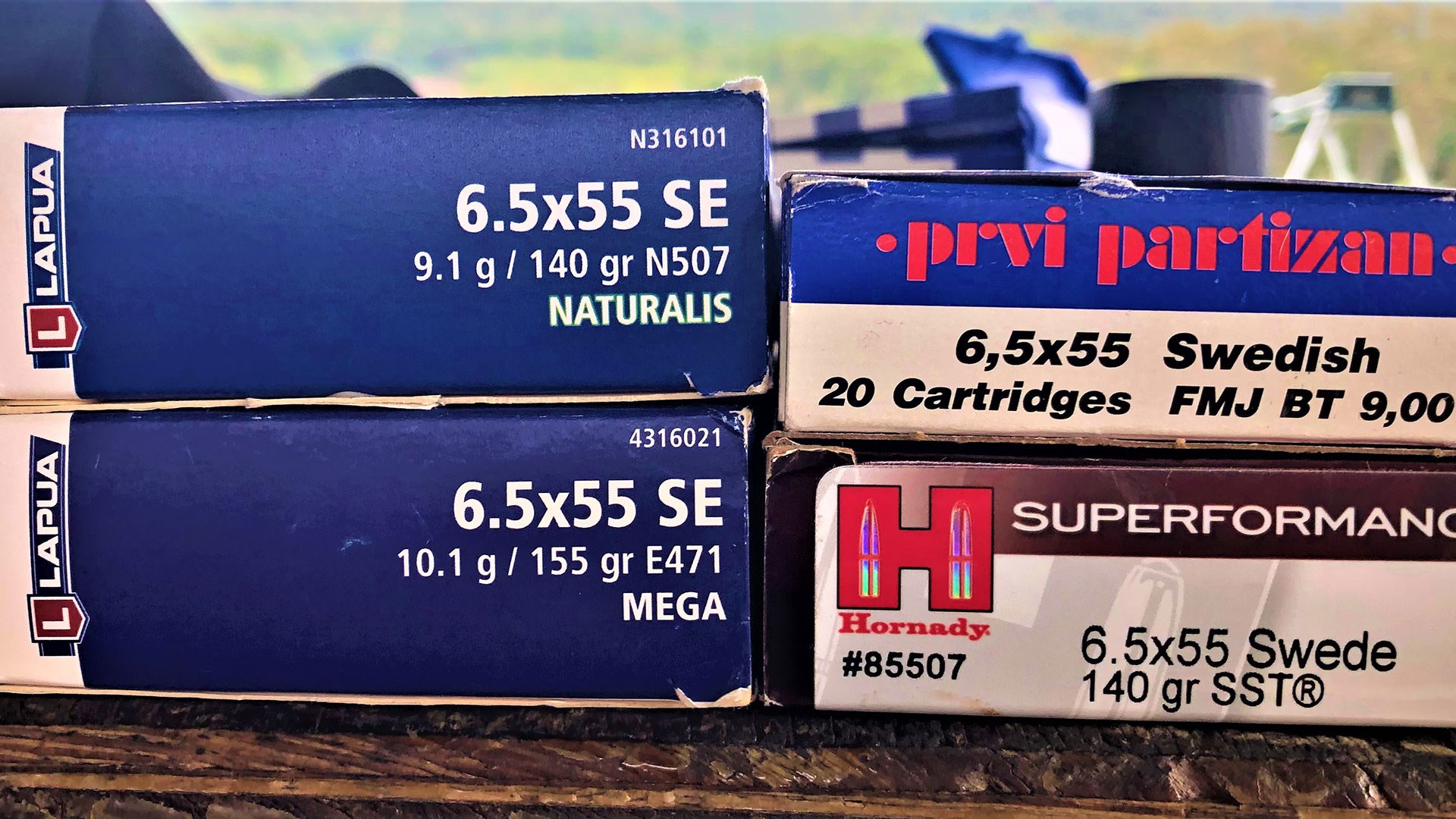 Ammunition provided for the testing. Lapua- Mega 155grn, Naturalis all copper 140grn, Prvi Partizan 139grn FMJBT, and the Hornady 140 SST Superformance. Both the Mega and SST offering were particularly frustrating. 4 or 5 rounds would always group .75" or less then give a flier.
The gun's performance was a visceral event. The Mauser is sloppy and yet nice and tight when you run the bolt shut. You can feel the lugs rotate and seal. Simplicity in motion. The bolt easily strips away a cartridge from the magazine, controlling it into battery. After firing, the large extractor promptly removes the spent casing, hurling it into open space, and making the gun ready for the next round. It's an experience every young shooter should have the privilege to do once in their lifetime.
Final Thoughts     
Marrying old-world design to new-world materials creates a thing of beauty. German engineering wrapped in a synthetic 21st-century stock from Norway. Barreled with American precision. Topped with glass designed through military experience. It looks new and shiny, but underneath the bluing and Cerakote is a mechanical machine more than 100 years old, and the old girl still has a lot to give. Some time to have it completely blueprinted will do wonders for this action.
The Mauser design may not hold up in some ways to the sleek rifle actions of today, but it sure can make the younger generation appreciate design excellence from another time when computers were nothing more than paper, pencil and a brilliant mind. A time when real craftsman made things with their hands.