Support NRA American Rifleman
DONATE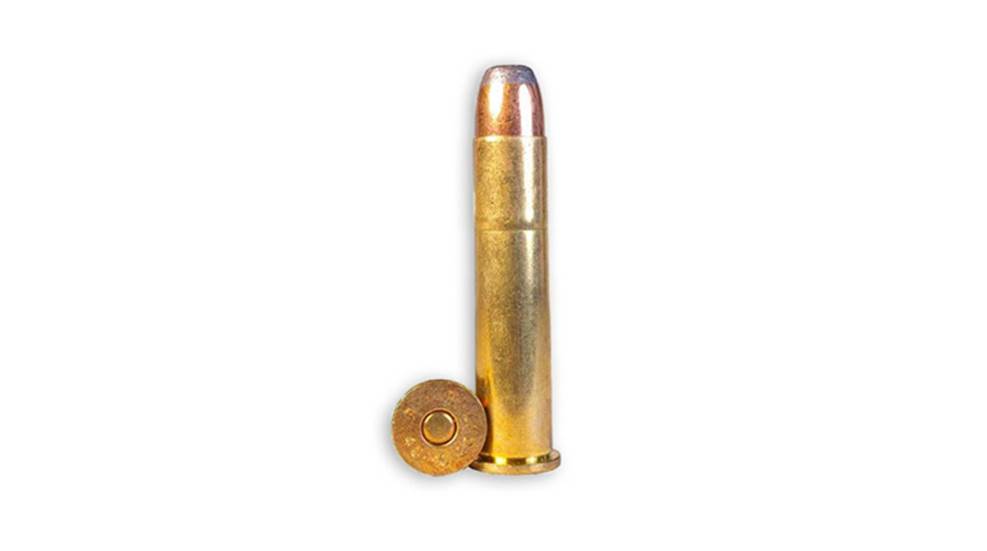 The .45-70 Gov't cartridge was introduced in 1873, the same year as the typewriter. Typewriters are pretty much extinct; however, the .45-70 Gov't remains very much in use. Reasons for that longevity include its link to the settlement of the American West, a satisfying bellow of black-powder smoke on the target range and perhaps most importantly its versatility for shooting easy-going loads or serious loads for hunting. The oldest .45-70 Gov't I've shot is a Springfield Model 1873 "Trapdoor" Carbine with "US/MODEL/1873" stamped on its breechblock. This Trapdoor wears a Buffington rear sight with a folding leaf and a "C" stamped on the upper right side, which stands for "carbine."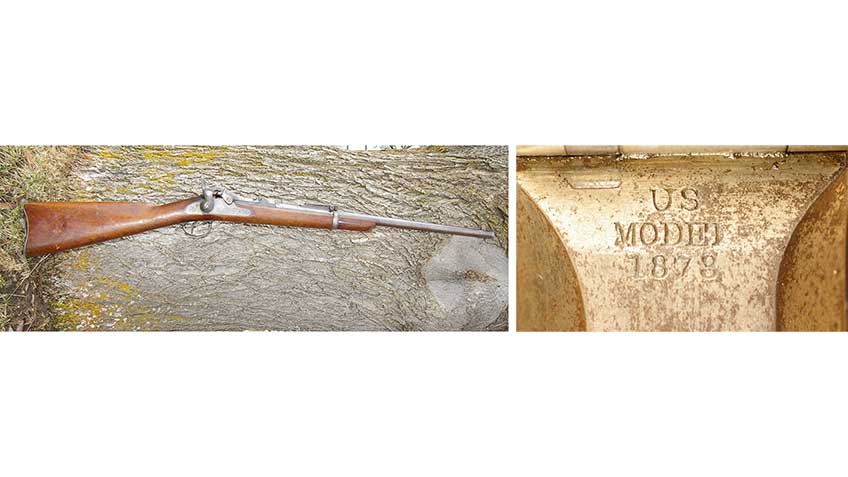 Bullets cast from a
Lyman
457124 mold produce 400-gr. round nose plain-base bullets, which are similar to 405-gr. bullets originally loaded in the .45-70 Gov't.  Loaded with 28.5 grs. of H4198 propellant, velocity of the Lyman bullets were 1,041 f.p.s. The handload's velocity was a perfect match for the open sight notch visible with the rear leaf folded down. The hammer falling on the breechblock is hard like a hammer striking an anvil. Cocking the hammer and flipping open the breechblock sends a fired case flying out of the chamber. Time after time, five bullets landed in a 3" circle right on aim at 100 yds. After some shooting and adjusting with the sight slide, the carbine put its bullets close to the point-of-aim at 200 yds. and a five-shot group measured 5.25."  
Holding a Trapdoor like this, it brings thoughts of the history guns like it were involved in, like the 1876 Battle of Little Bighorn in the hands of a U.S. 7th Calvary trooper under the command of Lt. Col. Custer. They weathered the dust of summer horse trails and winter blizzards of forsaken prairies. Like some military rifle cartridges, the .45-70 Gov't transitioned to civilian use and gained popularity.  Rifles of the time included the Remington Rolling Block, Winchester Model 1885, Winchester Model 1886, Marlin Model 1881 and the original Marlin Model 1895. Users rode horses at the time carrying such heavy rifles that weigh up to 9 lbs. The crescent steel buttplate on these rifles also did little to dampen recoil.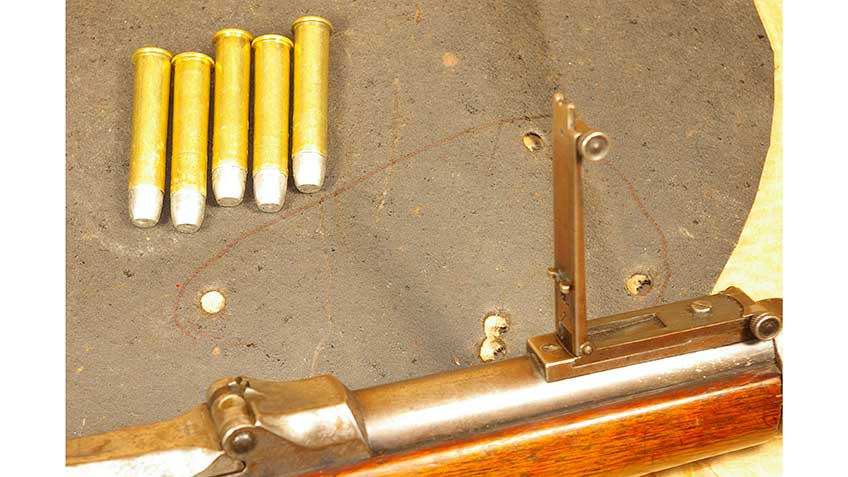 These old rifles and the .45-70 Gov't began fading from use as hunters switched to bolt-action rifles chambered in cartridges with higher velocities and spitzer bullets. The .45-70 Gov't experienced a revival though, when its centennial approached and Harrington & Richardson started making a replica Trapdoor.
Ruger
followed suit chambering its No.1 single-shot in .45-70 Gov't.
Marlin,
too, quickly responded with a new Model 1895 lever-action based off its Model 336. Black Powder Cartridge Rifle Silhouette matches started in 1985, and the .45-70 Gov't remains the most popular cartridge in that target game.
The number of factory loads still available demonstrate the .45-70 Gov't's popularity.
MidwayUSA's
website alone lists 44 different .45-70 Gov't factory loads. Those loads vary from
Buffalo Bore
405-gr. bullets with a muzzle velocity of 2,000 f.p.s. for modern rifles only, to
Remington
Express cartridges loaded on the mild side for safe use in the old and new.  Remington states a velocity of 1,810 f.p.s. for its 300-gr. bullet and 1,440 f.p.s. for its 405-gr. bullet.  Those speeds are nearly 400 f.p.s. slower from the 18.5" barrel of my Marlin Model 1895 Guide Gun. Still, I fired one of the 300-gr. bullets into a black bear, and it was dead before it hit the ground.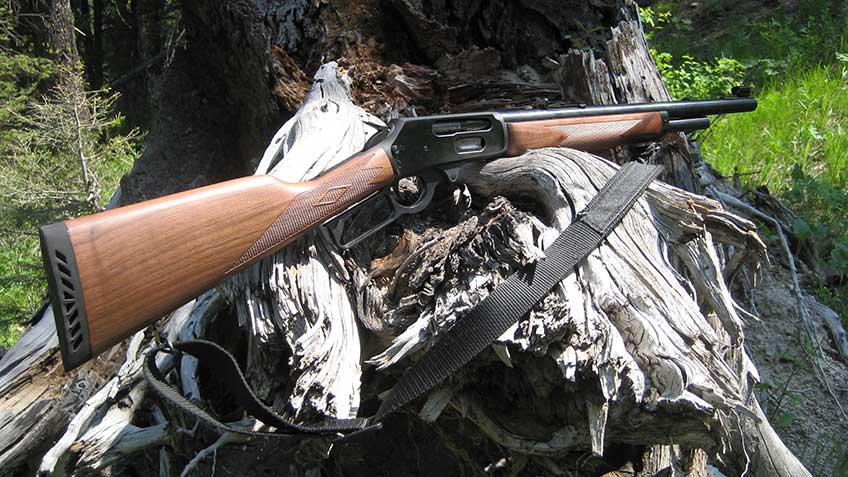 Handloading expands the .45-70's versatility even further. With the adjustment of propellant weight, pressure levels can be set to match a rifle. The breech of the Springfield Trapdoor is relatively weak with a maximum pressure threshold of 19,000 pounds per square inch (p.s.i.). for the originals and replicas. For modern rifles, like the Marlin New Model 1895, the maximum pressure threshold is 28,000 p.s.i. The highest pressure of 40,000 p.s.i. is reserved for specialty rifles, notably the Ruger No.1. Most handloaders seem to disregard the cost of jacketed bullets for the convenience of taking them from a box and loading them. A 300-gr. jacketed bullet fired at 2,100 f.p.s. provides a relatively flat trajectory. A Northern Precision 400 gr. bonded bullet at 1,600 f.p.s. is great for deer and elk. A 400-gr. solid
Barnes Buster
or
Belt Mountain
Big Game Punch bullet will silence anything that growls in the night.
A favorite cast lead-alloy bullet for handloading is the Gould .45-70 Gov't 330-gr. Express hollow-point bullet that has been around since at least the 1880s. The Ideal Hand Book No.11 published in the 1890s states the purpose of this relatively lightweight .45-cal. bullet is to fire it with a heavy charge of powder "…thus securing a high rate of velocity, with a very flat trajectory and increased striking power." Cast from a
Lyman
457122 mold, bullets weigh 336-grs. When cast from wheel weights with two percent tin added and a hundred bullets varied only 1.4-grs. in weight. Accuracy begins to suffer at speeds faster than 1,500 f.p.s. because the higher pressure distorts the plain base. Fired from my Marlin Guide Gun, several three-shot groups at 100 yds. measured 1.9." This was with the bullets traveling at 1,473 f.p.s. with 46-grs. of IMR 3031. The grouped 1.69" at 1,471 f.p.s. loaded with 52-grs. of Varget.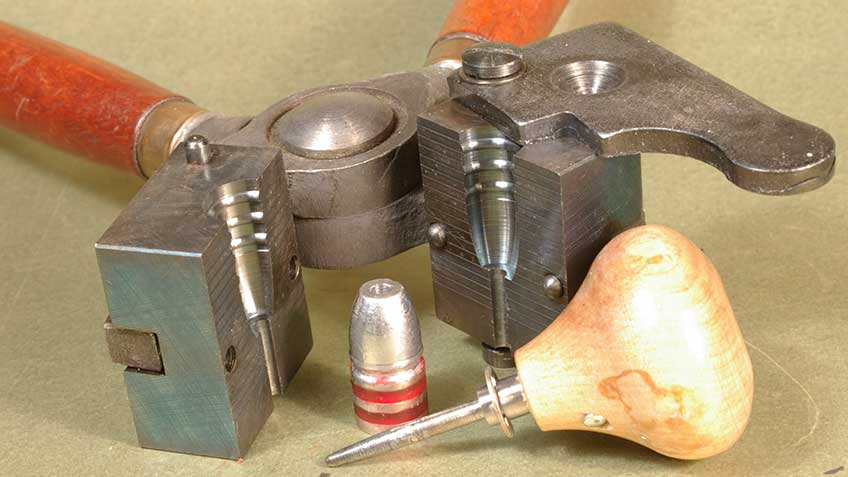 The Gould bullet is responsible for several whitetails I've bagged. One was a big buck that requiring some crawling to close within distance. The buck saw my movement and stood up from its bed. A second later, it fell down from the impact of the bullet. Another was a lone doe that required a mile of tracking to close the distance. The doe browsed along under the forest and I looped ahead in hopes of intercepting it, but the doe had already passed so I followed its tracks in the new snow.
The doe was only moving at a walking pace, but I couldn't catch up to it.  As the morning warmed, clumps of snow fell off the spruce branches. I jerked around, expecting to see the deer. The forest turned quiet and I knew the end of the trail was near. The doe wandered into an opening with its head down. At the shot, the deer struggled for a moment then fell. That moment hunting with the .45-70 Gov't. brought the past alive, as if we were still in the frontier days with a forest of towering trees and bright sky.