by
posted on March 28, 2019
Support NRA American Rifleman
DONATE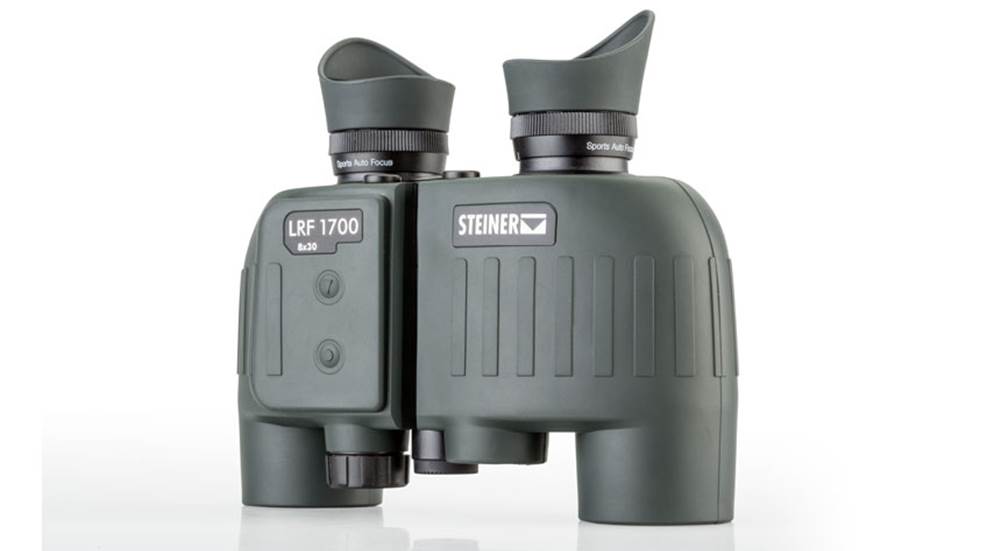 Laser rangefinding technology affords shooters one of the greatest advantages since the riflescope. Trouble is, a handheld rangefinder is another piece of gear that must be purchased, carried and deployed afield. Shot opportunities can be lost as a rifleman transitions from his binocular to the rangefinder then to the rifle. So why not skip a step and consolidate gear by choosing a binocular that houses an integral rangefinder? Steiner's LRF 1700 binocular/rangefinder unit is not only one of the smallest top-end units on the market, but its design is also unique.
Steiner's 8X 30 mm LRF 1700 is a Porro-prism design, but you wouldn't know it at first glance. Due to the two right angles made by the prisms within, Porro-prism designs are typically wider than roof prisms. Overall, however, Steiner's LRF 1700 doesn't amount to a net gain in size because its compact barrels make the unit shorter—at 4.7"—than comparable roof-prism units. The wider distance between the objective lenses increases depth perception slightly.
The Steiner features a Makrolon (polymer) chassis and ribbed rubber armor that make it exceedingly durable. Indeed, the German firm is known for producing optics that withstand the hellish environments of warships and tanks across the globe. In fact, Steiner invented the Nitrogen-purging technique in 1973 to guard against internal fogging, and the LRF 1700 is purged with nitrogen to 14 p.s.i., then sealed to withstand dunking in up to 16 ft. of water, which—considering its onboard electronics—is an impressive feat. The unit survived our freeze, dunk and drop tests without issue.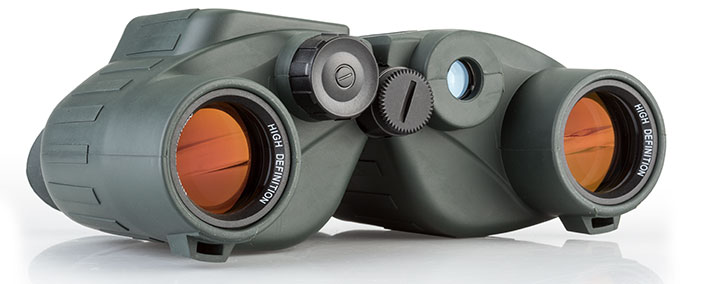 The LRF 1700 employs a "Sports-Auto Focus" system that forgoes a central focus knob. Rather, both ocular lenses are set to the user's individual eyes and do not need re-focusing regardless of the target's distance. The downside is that this system makes the unit unfit for ultra-close-range viewing that one might employ for watching butterflies.
We found that anything less than 10 yds. was out of focus. From 10 to 20 yds. our eyes could bring the object into decent focus, and anything greater than 20 yds.—all the way to the horizon—was sharply rendered. For hunters and soldiers there is perhaps no better design; simply raise the glass and view distant targets without adjustment.
Optically, this unit compared favorably with elite models in terms of resolution and low-light performance. We tested it in daytime on a 1,500-yd. range and on a moonlit night to 400 yds. The Steiner was brighter and as clear as every other 8X 30 mm optic we had on hand to compare it against.
The Steiner's laser rangefinding capabilities extend out to 1,860 yds., and we successfully tested it out to 1,523 yds. under the bright, noon-day sun using steel targets placed at known distances. It returned accurate readings almost instantaneously with the push of the button located on the top right side. The secondary mode button toggles between yards and meters.
On the negative side, the binocular's winged eyecups, which guard against glare by sealing out light, can twist unintentionally. The unit's lens covers also sometimes popped loose of their own accord.
Some may find the price tag to be something of a hurdle to ownership, but when you consider that the LRF 1700 is pulling double-duty as both a binocular and a handheld rangefinder—and performing exceedingly well in both capacities—it brings the value presented by the Steiner into much sharper focus.