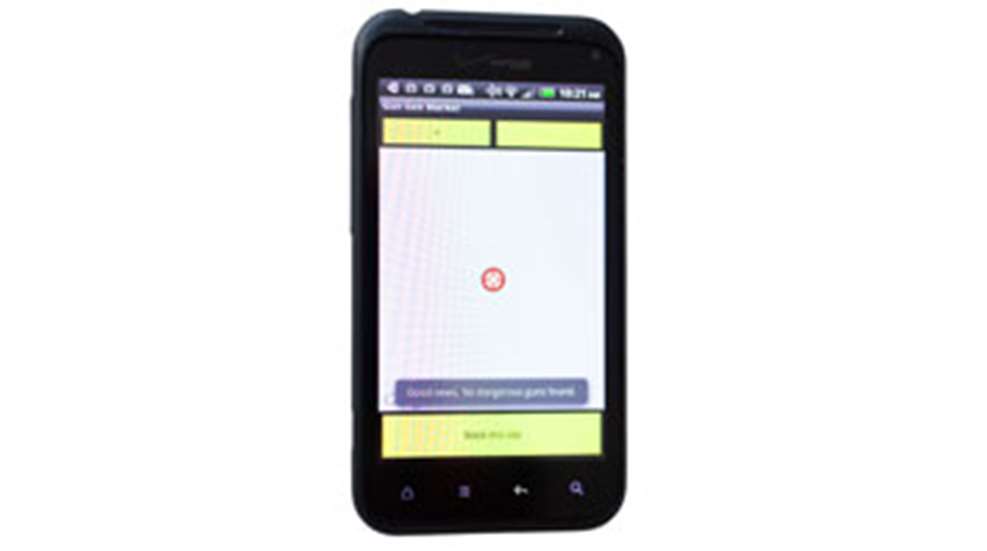 "Gun Geo Marker," a free app that went live on July 4, runs on Android smartphones and allows people to "Geolocate Dangerous Guns and Owners." The creator's blog indicates the holiday launch date was deliberate.
Less than 1,000 people have downloaded the app at the Google store, although the system is simple enough developers hope it will catch on. Open the app and the phone's GPS determines your location. A crosshair then plots your position on a map and you're asked to wait while it determines if there are any guns that have been geotagged nearby. If not, a "Good News" screen appears.
A yellow bar at the bottom allows users to anonymously mark any site they're at, but there is a one-tag-a-day limit enforced by an encrypted code sent back to the phone. The device ID stays on servers for only that day and secrecy is doubly ensured because, "…should anyone ever subpoena our records they would only gain access to the data that existed on the particular day the subpoena was honored…." The group's full privacy/anonymity explanation has more details.
Mark a spot, provide a description of the gun or activity and a yellow marker will appear to "warn" other users. Some of the reasons suggested in the instructions for tagging a location include loaded firearms, unsecured firearms, first-time gun owners, a large collection, so-called "assault weapons" and I quote, "Neighborhood talk, unsafe."
Even the brains behind the program admits it's "tattle ware," but the lecturer at the University of California, San Diego, stands behind the app. When one article compared his software to religious persecution, the website response was, "True enough, if your religion requires live child sacrifices to appease a cold, tubular god." The main developer's bio notes include a reference in regard to the software he developed in 1998 for the Electronic Disturbance Theater that, according to Forbes Magazine, was used by the Zapatistas to, "Perhaps launch the first electronic attack against a target on U.S. soil..." Partnering in the new app is Walking Tools Project, developers of software that includes the Transborder Immigrant Tool, a self-professed response to immigration policy.
I didn't violate someone else's rights by tagging someplace, but in function testing, the map appeared rudimentary, at best, response when moving was lethargic and with the app open the Droid crashed twice. Users must also be on the property they wish to tag, although the satellite-based GPS system works at night, which could be a concern in regard to trespassing or theft.
The download site had only three comments registered as of press time, with the possibility for abuse a common theme. One Droid user summarized the reactions best by posting, "Some idiot went and marked my granny's grave. I mean, how in the world did they know that I had ol' granny cremated so I could use the grave to hide all my weapons? That was a total secret."