by
posted on March 24, 2019
Support NRA American Rifleman
DONATE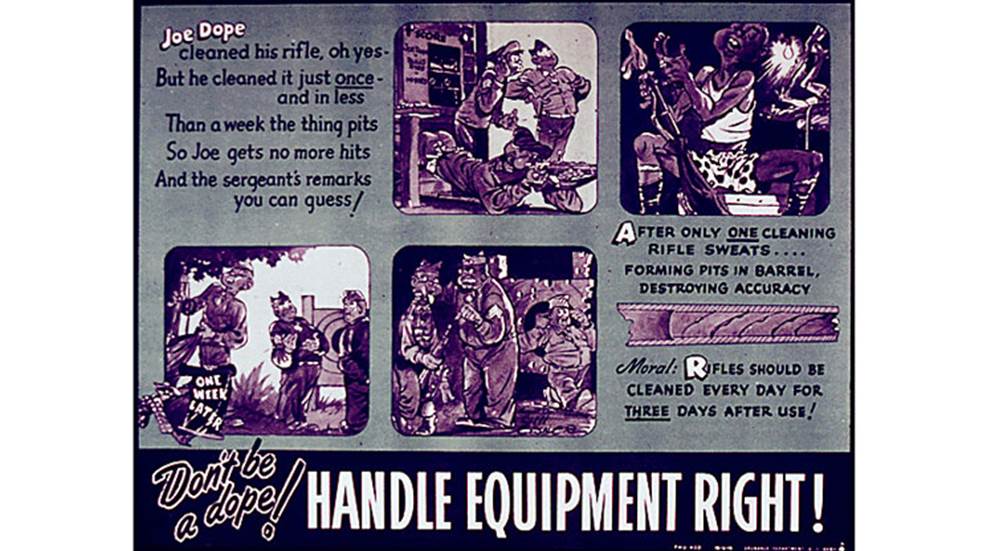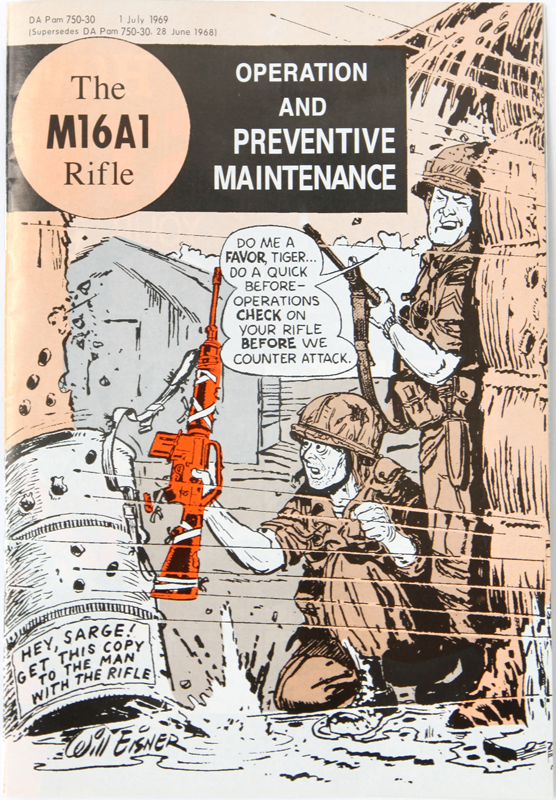 The widespread issue of the M16 rifle to troops in Vietnam, beginning in the mid-1960s, was fraught with problems. As reports of M16s failing in combat began to filter in, the U.S. Army scrambled to address the crisis. They found part of that solution in the most American of places—the world of comic books. The M16A1 Rifle: Operation and Preventive Maintenancewas the title of Pamphlet (PAM) 750-30. Combining comic book-like illustrations and humor with invaluable technical information and tips, the pamphlet sought to use a format with which G.I.s were familiar to teach them how to properly maintain their M16s. It would go on to become a classic part of the M16's story and a contributor to the design's ultimate success.
Early problems with the M16 had two sources—the propellant specified in the original technical data package for the 5.56x45 mm NATO cartridge was changed, and there was a lack of training and cleaning materials provided for proper maintenance.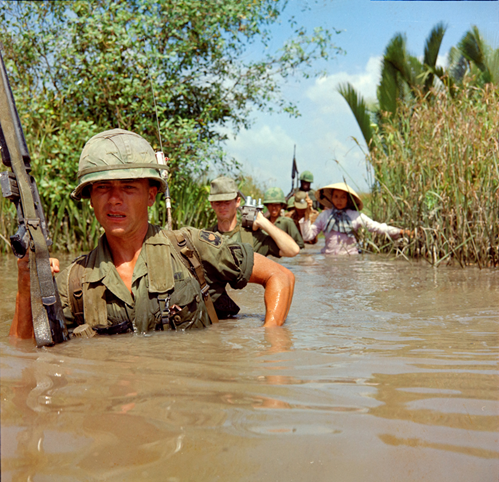 Operation "Bang Dong"—PFC Fred L. Greenleaf, Co "C", 3rd Bn, 7th Inf, 199th Light Inf Bde, crosses a deep irrigation canal along with other members of the company who are enroute to a Viet Cong controlled village. The field conditions that soldiers encountered in Vietnam made daily maintenance of their M16 rifles a life or death necessity. PAM 750-30, the comic book-style M16 manual, gave tips about things like how to drain the water out of one's rifle. Photo credit: National Archives 17331472.

" ... these troops started going overseas, that were trained with another rifle, and suddenly given this new rifle with no equipment, no training manuals or anything, just said 'Go get 'em, fellows,' " Eugene Stoner said in his 1988 interview with small-arms expert Edward Ezell. " … when you put lack of training, lack of maintenance equipment, and the new propellant, pour them into the same situation all at one time, that's what caused the big problem."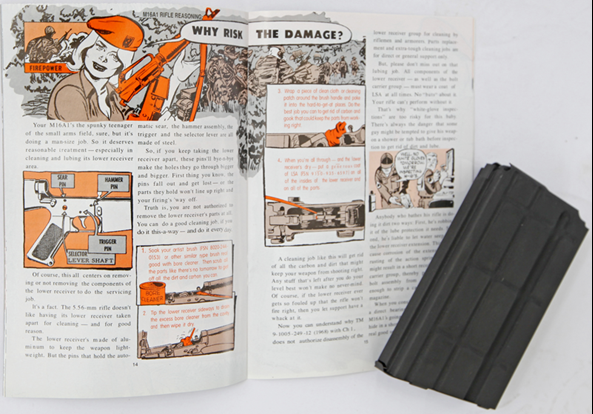 A reprint of the classic M16 comic book manual (PAM 750-30), included with each of the  rifles in Brownells' Retro line, is as authentic as the waffle-type magazine that comes with the Brownells BRN-601 pictured. Photo by Holly Marcus. Photo by Holly Marcus.

The June 1968 report of the U.S. Army M16 Review Panel concluded, "The lack of cleaning materials and the lack of proper training contributed heavily to the high M16A1 malfunction rates experienced in Vietnam in late 1966 and early 1967." PAM 750-30 sought to remedy this.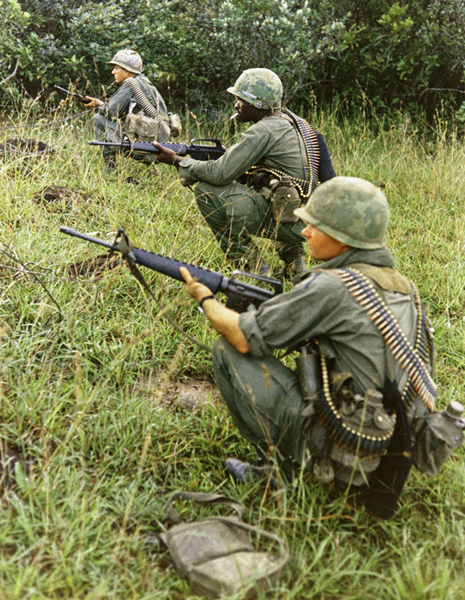 Members of Co D, 2nd Bn, 35th Inf, 3rd Bde, 4th Inf Div, who came in on the first wave of helicopters secure the landing zone for the remainder of company during a helicopter combat assault and a one day search and destroy mission in the Quang Nagi Province, 8km west of Duc Pho, 10/26/1967. Photo credit: National Archives 66956835. 
The 1960s were a period of time that aficionados call the "Silver Age of Comic Books." That decade saw the introduction of such characters as Daredevil, Spider Man, Iron Man, the X-Men and the Fantastic Four. Most American boys of that generation had grown up reading comic books. The average U.S. infantryman in Vietnam was in his early 20s … and still reading comics. What better way to get him to learn about maintenance than to make a manual in the form of a comic book?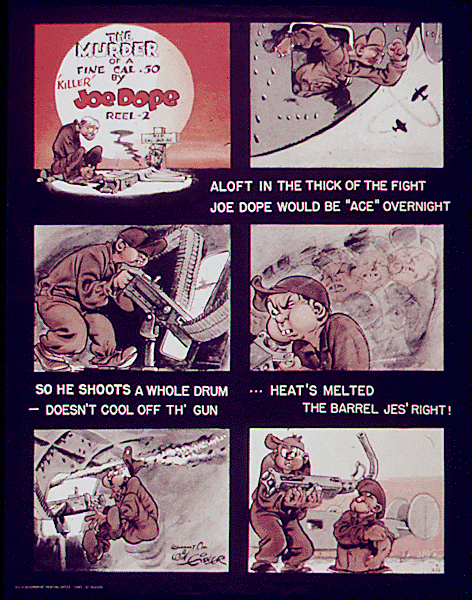 The artistic talent behind PAM 750-30 was Will Eisner. No stranger to the world of comic books, Eisner had gotten his start as an author and illustrator in the earliest days of American comics in the 1930s, and was the creator of the urban crime fighting character, "The Spirit." During World War II, Eisner was drafted into the U.S. Army, which quickly found a use for his skills in the production of training manuals. Eisner was assigned to Holabird Ordnance Depot in Baltimore where Army Motors, a preventive maintenance magazine, was being printed. 

"Together with the people there … I helped develop its format. I began doing cartoons—and we began fashioning a magazine that had the ability to talk to the G.I.s in their language," Eisner said in a 1978 interview in Comics Journal. "So I began to use comics as a teaching tool, and when I got to Washington, they assigned me to the business of teaching—or selling—preventive maintenance. Preventive maintenance required voluntary cooperation on the part of the readers—the G.I.s. The military was faced with the problem of getting voluntary performance from its troops, so I proposed that one teaching tool that would be very viable would be comics—and they allowed me to try it."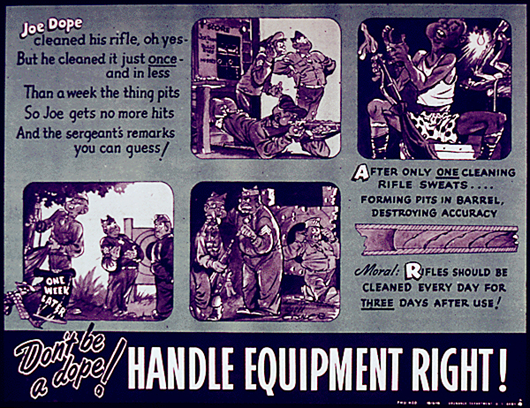 A World War II poster illustrated by Will Eisner that encouraged soldiers to keep their rifles cleaned. Eisner worked on "Army Motors," a monthly preventative maintenance magazine, that would later evolve into "PS Magazine, The Preventive Maintenance Monthly." Photo credit: National Archives 514702.
Following the war, Eisner established American Visuals Corporation (AVC), a business focusing on what he called "the commercial application of comics." When the Korean War started, the Army asked AVC to make a successor to Army Motors. Called PS Magazine, The Preventive Maintenance Monthly, Eisner and AVC would produce it for the U.S. Army from 1951 to 1972. An archive of all of Eisner's issues of PS Magazine is available online through the Virginia Commonwealth University Library.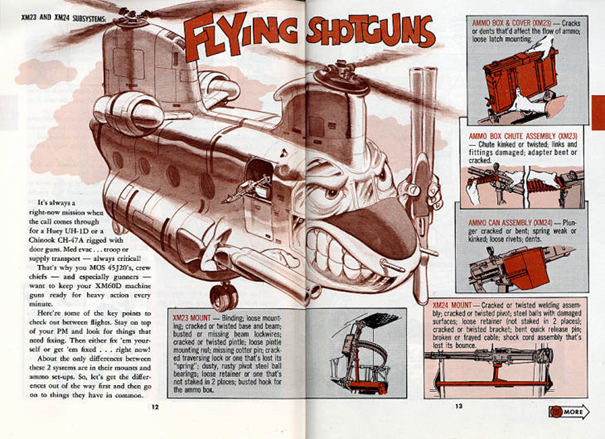 An article on using the M60 machine gun in helicopters from Issue 172 in 1967 of "PS Magazine, The Preventive Maintenance Monthly," a series of U.S. Army technical bulletins that used comic book-style illustrations by Will Eisner from 1951 to 1972. Photo credit: Virginia Commonwealth University Libraries

"WE HAVE THE WORLD'S BEST EQUIPMENT … Take care of it," PS Magazine declared. It covered topics that ranged from adjusting the headspace on 155 mm howitzers to sample checking aircraft oil. As a "post script" to official Army technical manuals it also gave tips on making field expedient fixes or constructing improvised tools. Many of the articles focused on small arms care, with titles like "Don't Double Cross Your BAR" and "Winterize Your Shooter When You Anti-Freeze Your Scooter." A 1965 issue (#150) introduced maintenance for the rifle the magazine called the "Sweet 16." "There 're not too many 5.56x45 mm NATO M16 and XM16E1 rifles around as yet," it stated. "But they're where they do the most good."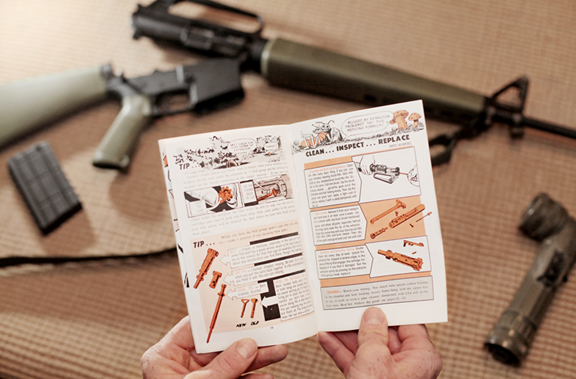 A reprint of the classic M16 comic book manual (PAM 750-30) is included with retro-style AR-15 rifles from companies like Troy Industries and Brownells (the Brownells BRN-601 pictures). Photo by Holly Marcus.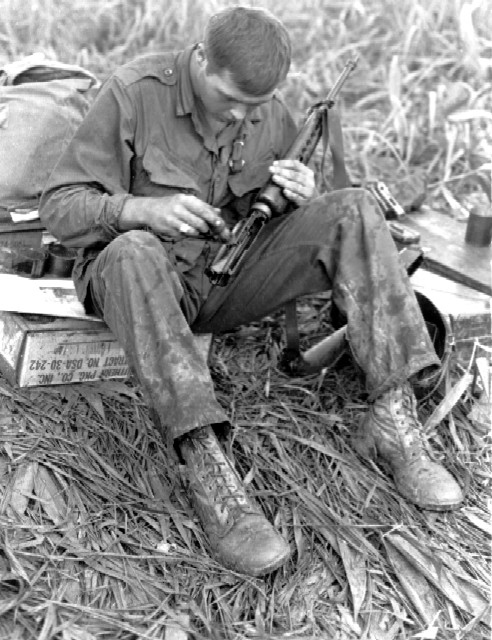 In 1968, in response to the problems the M16 was having in Vietnam, Eisner was called upon to produce a standalone maintenance manual specifically for the M16. The result was PAM 750-30.  Like PS Magazine of that time period, the modern reader will find the illustrations and innuendo used in the manual hardly PC. It started out with detailed instructions for disassembly and reassembly ("How to Strip Your Baby"), then on to immediate action drills in case of a stoppage ("What to Do in a Jam") and on to detailed instructions on everything from magazine maintenance ("Putting Maggie Together") to clearing out a water logged M16 ("Drain Before Shooting"). The result was invaluable information presented in a format that appealed to the 20-something 1960s male. Was Eisner's comic book M16 manual a success? Over 50 years later the M16 design still soldiers on in the U.S. military.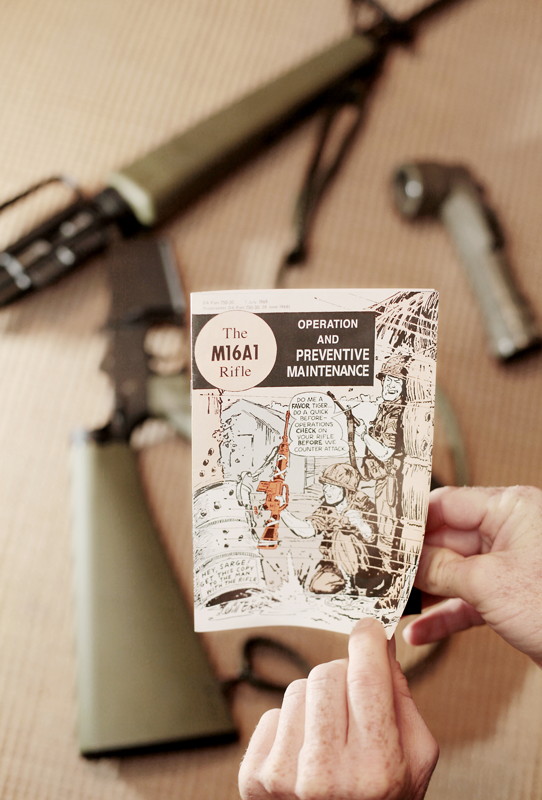 After his work with PS Magazine ended in 1972, Eisner returned to the world of traditional comics. He continued to write and illustrate comic books, helped establish the modern graphic novel genre, and served as a teacher and comic book historian until his death in 2005. His M16 comic book manual ranks up there with "The Spirit" as one of his most lasting and well-known achievements. An entire generation of American G.I.s were familiar with it and, recently, it has been introduced to a whole new generation of M16/AR-15 users. Long out of copyright, the manual has been placed back in print, with manufacturers like Brownells and Troy Industries supplying one with each of the retro-style rifles that they sell.
Though its style and language are dated, the technical advice and tips given in PAM 750-30 are still some of the best preventive maintenance information you can get on the M16/AR-15 series of rifles. The comic book manual was a uniquely American solution to a serious crisis and contributed a small part to the success of the design now considered "America's Rifle."