by
Mark A. Keefe, IV, Editorial Director
posted on September 11, 2014
Support NRA American Rifleman
DONATE
During a recent trip to Florida I was fortunate enough to stop by the Cocoa Beach manufacturing facilities of Kel-Tec CNC. From the road, the buildings are non-descript. They could make anything in the series of sprawling, metal-sided sky blue buildings. As a matter of fact, I wasn't sure I was in the right place until a forklift passed me in the parking lot. Resting on the forks were about 100 Kel-Tec KSG receivers waiting to be turned into the most in-demand shotgun in country. I turned to my colleague and said, "Yep. I think we are in the right place."
While there I had the opportunity to meet with company founder and President George Kelgren, who is one of the most brilliant firearms engineers and designers working in the United States today. He has designed guns that bear the Kel-Tec name as well as others, including the Grendel P13. And Kelgren's company is one that also invests heavily in engineers. It shows through the innovation of its products.
One of the most interesting new guns in the past several years has been the pump-action 12-ga. Kel-Tec KSG bullpup, which feeds from dual tubular magazines mounted above the bore. It has a very radical lines, and you can even see it in "Call of Duty."
This is a family business. I spent a considerable amount of time with Derek Kelgren, who handles the firm's marketing. At one point during our tour he very excitedly pointed to a UPS truck backed up to the loading dock. He said, "Look! Report this please! We are sending as many guns as we can and we are making more every day."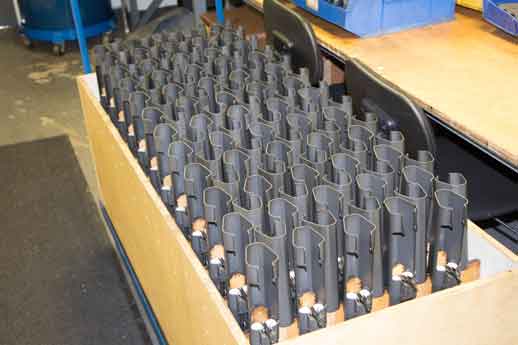 Kel-Tec has taken a lot of heat from consumers due to the lack of product being on the shelves. The reason its guns are not on the shelves is because other folks are buying them before you do. I saw the guns. I saw the production lines humming. And, yes, I saw the UPS truck. Kel-Tec produced more guns last year than ever before in its history. And, although recent production figures are proprietary, the company has grown exponentially.
Although not flashy, Kel-Tec is one of the largest gunmakers in the United States. Buildings that formerly housed other business have been taken over by Kel-Tec. And the signs of this meteoric growth are obvious. In one building there are modern machines, state-of-the art robots, then in another older machines are doing jobs that, frankly, older machines do best. Operations such as rifling are done by machines that look like they could have been made in the 1950s. There is an almost Dickens-like quality to watching skilled workers make gun parts on such machines. Go to the next room and a machine that looks like Will Robinson's Robot is making KSG action bars.
In an entirely different building (I think they once fixed marine motors in it) it is clean, bright and filled with brand-new CNC machines. Moving from building to building, it is obvious that this company is interesting in producing as many firearms as its workers and machines possibly can. Through crowded hallways there are carts and boxes stacked up simply because the employees are too busy making guns to figure out where to put them. It's not dangerous or unsafe, but simply a symptom of a company that is putting production ahead of all else.
While production of the KSG may have been a little slow to start, I can assure you that Kel-Tec's American workers, literally, are making them as fast as they can.