by
posted on June 3, 2013
Support NRA American Rifleman
DONATE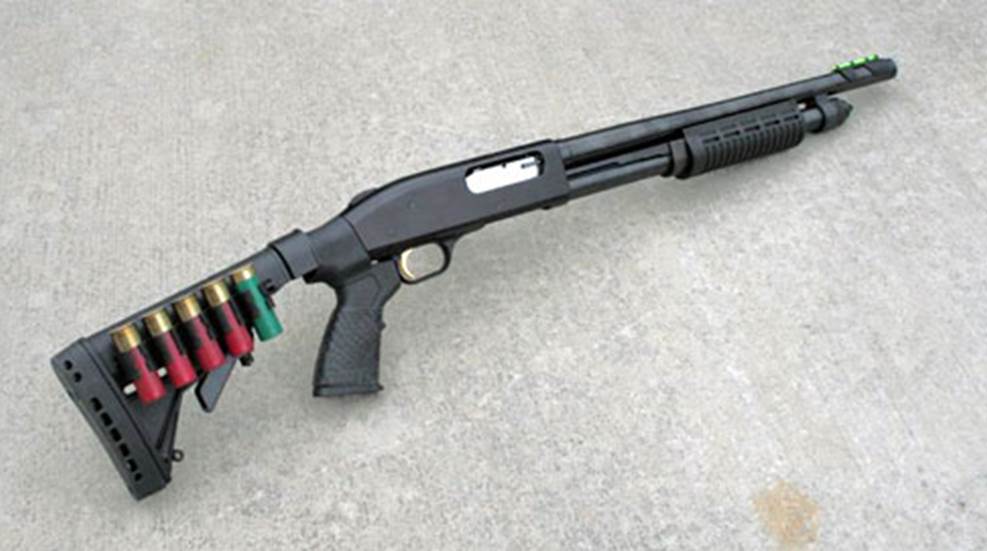 Gun owners may run into the situation of needing a firearm to fill a particular shooting requirement at a time when money for a new gun isn't readily available. Recently I found myself in need of a tactical 12 gauge with an 18.5-inch cylinder bore barrel. This wasn't the first time a tactical pump would have come in handy, and it wasn't going to be the last. It was time to make the investment, but I wasn't ready to throw down more cash than I had to. So I turned to an idea that had crossed my mind before, namely, to see what it would cost to convert a sporting shotgun I already had into a tactical model using aftermarket accessories.
The base gun for the project would be a Mossberg 835 Ulti-Mag Waterfowl model I picked up several years ago. For those who are unfamiliar with this gun, it's a serious piece of artillery. Designed to mimic the patterning properties of a 10-gauge shotgun, this version of the 835 is fitted with a 28-inch ribbed dual-bead barrel with a vented expansion chamber and oversized choke. This gun chambers 2 ¾-, 3- or 3 ½-inch 12-gauge shot shells. It's the 3 ½-inch shells that provide payloads comparable to the potent 10-gauge. The magazine tube, designed to hold four 3 ½-inch shells, will hold up to five 2 ¾-inch shells for a total of six rounds.
So for exactly what did I need this kind of firepower? The 835 was discounted as part of a seasonal sale at a local big-box store. It was priced for less than some of the 3-inch chambered plain-Jane 12 gauges I had under consideration as an all-purpose field gun. With the extra features and chamber cut for three shell lengths instead of two, the Mossberg 835 followed me home. Since then it has proved to be a reliable sporting shotgun. It certainly qualifies as over built for the light skeet loads that have made up most of its regular diet. With my shooting preferences leaning more toward handguns, this shotgun is broken in, but is far from worn out.
The conversion of the 835 for tactical applications was stymied before now because I was unable to locate a shorter barrel for this model. A search of the Mossberg catalog and website did not turn up factory-made, drop-in 18.5-inch cylinder bore barrels for the 835, although they are commonly available for Model 500 shotguns. Cutting the 28-inch barrel down to 18.5 inches was impractical, expensive and wasteful. I finally called the Mossberg service center and asked. To my surprise, I learned there was a plain (un-ribbed) blued 18.5-inch cylinder-bore barrel for the 835. Not only was it priced about the same as the Model 500 barrels, but it was designed to handle 3 ½-inch shells. When the barrel arrived it was easily swapped out with no gunsmithing required.
The next components installed were replacements for the wooden shoulder stock and forearm. Several tactical aftermarket shotgun stock options are available for the Mossberg, but not all of them are affordable. After doing a bit of homework, the Phoenix Technology Kicklite upgrade was selected.
The Phoenix kit includes a six-position AR-style shoulder stock with pistol grip, a stock mounted five-round shell holder and a matching polymer forearm replacement. The shoulder stock is fitted with a heavy-duty internal recoil reduction spring and a vented soft-rubber buttpad. Examining the stock reveals a shrouded ¾-inch gap between the pistol grip and shoulder stock to allow for stock movement along a steel support rod. The six-position adjustment allows the length of pull (LOP) to shift between 11.5 inches to 15 inches, which should successfully accommodate shooters of all sizes. The company thoughtfully included the tool required to remove the forearm retention ring, which made installing the forearm a painless experience.
The stock's slim polymer pistol grip was a good fit in the shooting hand, but it felt even better with a Tuff 1 grip sleeve installed. These universal grip covers are designed to mold themselves to just about any firearm grip style available and they provide an excellent no-slip hold.
The last addition to the shotgun was a Hi Viz Shooting Systems MPB-TAC Tactical shotgun sight. This snap-on fiber-optic sight arrives with a choice of four colors of light pipe to meet the user's preferences. Having used Hi Viz fiber-optic sights on other shotguns, this sight was simply too effective and affordable not to have one on board.
At the range, the newly assembled tactical 835 was both reliable and comfortable to work with. The accessories operated properly without any failures or breakages. The shorter barrel fit the receiver perfectly, and there were no ammunition related malfunctions. But would the 3½-inch chamber affect the tactical barrel's performance down range?
Most 18.5-inch unchoked shotguns, with 3-inch chambers, cause shot pellets to spread apart at a rate of about 1-inch-per-yard of distance traveled. In other words, shells fired at 7 yards will usually produce patterns about 7-inches across on average. This is not a universal truth, but it's a good rule of thumb. Would an extra 1/2-inch cause a measurable pattern change? Formal pattern testing was conducted with 12x18-inch targets posted at 7 yards using 2 3/4-inch shotshells. Winchester Super Target No. 8 birdshot loads yielded 11-inch patterns, with Federal Premium Heavy Game No. 4 birdshot producing 10-inch patterns. Federal's standard velocity and Winchester's WinLite nine-pellet 00 buckshot loads both produced 4-inch patterns.
Pattern testing also allowed for an evaluation of the Phoenix Technology recoil-reduction stock, which the company says will reduce recoil by up to 50 percent. It proved to be quite effective with 2 ¾-inch shells. Birdshot loads, which tend to be the most comfortable of the 12-gauge shells to fire, produced modest levels of felt recoil with the Phoenix stock. Shooting the standard velocity buckshot load felt like a reduced velocity load. But the sweet spot for both stopping power and recoil reduction was produced using reduced velocity buckshot loads like the WinLite round. This stock and ammunition combination felt like firing a 20-gauge loaded with bird shot, which is a low and manageable amount of recoil for a 12 gauge. Was there a shell with enough punch to defeat the recoil reduction system? Yes, but it was a 3-inch hunting shell with a 2-ounce payload fired at 1,100 fps. That would be a stout round in any gun, so stick to the standard defense loads and the Phoenix system will do nicely.
So in the end, was the Mossberg 835 At-Home Tactical Conversion worth the expense? It depends on how you slice the money invested over time and your current needs. If the project was started with a brand new Model 835 purchased at the current suggested retail price ($497), and the accessories tacked on at their retail value ($340), then the answer would be no, it's not the best option. If you have more than $800 dollars to spend on a tactical shotgun, then you have the resources to look into some very nice models with extended magazines, advanced sight systems and additional features.
In this situation, the cost savings were found in starting the project with a base gun that was already paid for. The 835 was purchased for about 40 percent of today's new gun price, and it's already provided years of casual shooting service. Shopping around to find the best prices for the accessories shaved off $20 dollars more for a final out-of-pocket expense of about $320 (before taxes and shipping).
Using $320 dollars as a comparison point made the conversion a worthwhile endeavor. The one off-the-shelf tactical shotgun I could find in the current Mossberg catalog with the most similar features set to this conversion was a six-shot tactical Model 500, sporting a six-position stock and pistol grip, with the suggested retail price of $593. The conversion came close to about half the cost of that new defensive shotgun, plus it has a recoil-reductions stock, fiber-optic sight and a three-shell-size chamber instead of two. Best of all, the 835 can be converted back into a top-notch field piece in under a minute by simply switching out the barrels. With all of the accessories working as advertized, this is an at-home project that will continue to provide a solid shooting value for years to come. The only problem I see with this shotgun is if I take it to a tactical shooting class, some smart-aleck is going to make fun of the shiny gold trigger.