by
posted on November 21, 2013
Support NRA American Rifleman
DONATE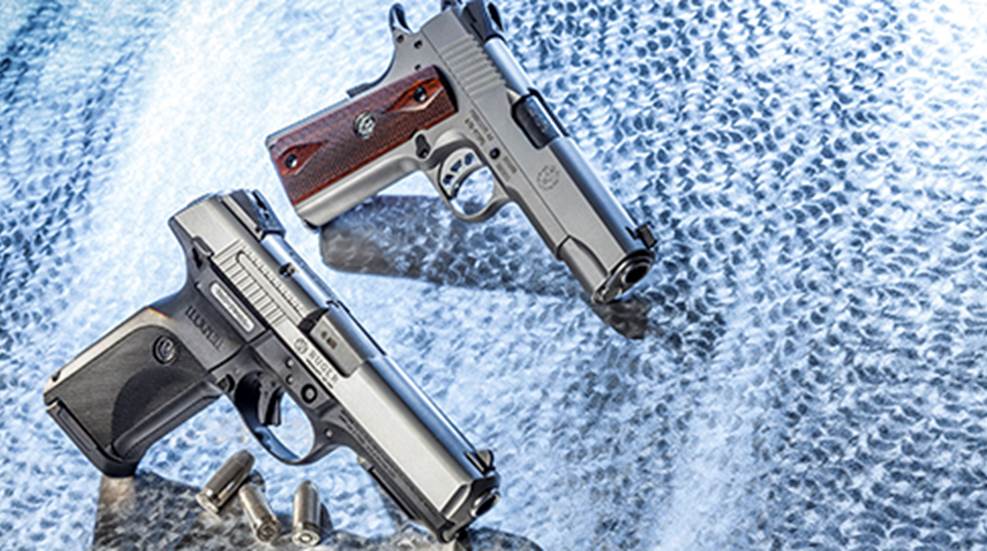 It may be a paradox of sorts, but the popularity of certain cartridges for police, military and civilian defensive uses remains strongest with cartridge designs that are a century old. The ammunition companies will tell you that they sell more 9 mm Luger than anything else. Also, the demand for .45 ACP ammunition remains very strong. If there is a demand, there will be a supply, and that is true as much for guns as it is for ammunition. Sturm, Ruger & Co. has made .45 ACP pistols since the late 1980s, but the company didn't enter the M1911 .45 market until a couple of years ago. Its basic pistol was the SR1911, a gun warmly received by the shooting public. This year, it introduced two new .45s, one of which is a short-slide M1911 variant called the SR1911CMD. I'll address that model in an adjacent sidebar, and here examine in detail a radically new .45 called the SR45. It's a 30-oz., 10-round-capacity, double-action-only (DAO) pistol that measures 8.0 inches by 5.75 inches by 1.27 inches.
No doubt about it, the SR45 is a service-size handgun, intended for carry in a proper holster. A fully modern gun, it has a polymer receiver topped with a steel slide, and it is of locked-breech, recoil operation. In this system, the barrel is locked to the slide when the pistol fires and remains so for a short amount of recoil travel. Internal cams drop the rear end of the barrel to unlock from the slide. It is by far the most popular system used in modern pistols. The trigger system is also commonly used these days. It is a double-action-only, wherein the internal striker is partially cocked when the slide is cycled. Trigger pressure completes cocking, then releases the striker to fire. The essence of using the SR45 trigger system well is mastering the trigger reset. A skilled shooter only allows the trigger to move forward to the point where the trigger resets.
Ruger has gone to considerable effort to make the SR45 an easy pistol to handle and shoot. It is essentially ambidextrous. With a thumb safety and magazine catch on each side of the frame, the major tactical controls are available for either right or left-handed shooting. Also, the three-dot sights are adjustable for elevation and windage. For those shooters who want a light or laser on their pistols, the SR45 has a rail built into the dust cover, but so unobtrusively that you hardly notice it until you need it. There's a loaded-chamber indicator built into the top of the slide. You can see it under most light conditions and feel it without any light at all. All things considered, the SR45 is a handy semi-automatic pistol to use. It is in another area of its design that it really shines-ergonomics.
Ergonomics is the science of making a tool efficient in the hand of the user. In the case of a semi-automatic pistol-which is a tool-good ergonomics make the trigger action easy and the recoil controllable. Both are critically important in the case of a .45 ACP pistol and absolutely crucial when the gun has lightweight polymer construction to make it easy to carry. The SR45 is a somewhat scaled-up version of the earlier SR9 and SR40. Both of those pistols were heralded as ergonomic successes, so the slightly larger .45 version starts ahead of the game.
First, looking at a profile shot of the SR45, note that the high pocket for the web of the hand is positioned very close to the slide and above the mid-point of the trigger. Since the trigger is pivoted from the top of the trigger guard, this demands a back-and-up movement of the trigger. The gun is almost perfectly shaped for proper trigger action. Further note that the hand is close to the slide and barrel. In pistol design, it is very desirable to have a high grip in order to keep the pistol from pivoting muzzle up when fired. I cannot think of another series of guns that are so well-shaped as these.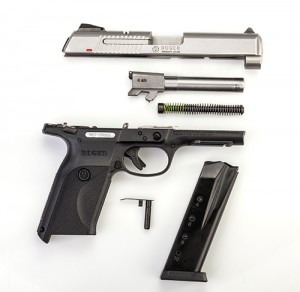 Ruger also fitted the SR45 with a reversible backstrap insert, that is flat on one side and slightly arched on the other. With the arched insert in place, the SR45 feels very good in my medium to large hands. It also points pretty well for a big pistol. When you consider that a double-column magazine is inside that grip frame, it is amazing that the gun has such a good feel, heft and balance. I spent some time examining the SR45 before I went to the range with it. All the hefting and pointing brought up memories of another gun that is widely regarded as being very good in the ergonomics sense. That is the old Remington Model 51, an early pocket semi-automatic. It is much smaller and lighter than this new Ruger pistol, but the feel is much the same.
Shooting the new Ruger gave me more of an idea about how well the gun is likely to be received. Consider that about two-thirds of the pistol's weight is in the recoiling parts-the barrel and slide. Recoil of some of the +P loads is enough to noticeably move the gun in your hand. You need to shoot with an aggressive grip. That is a little easier because of the slightly dished-out front edges of the grip section, but it remains a problem for shooters with smaller hands and shorter fingers. Ruger also needs to look at the rear sight. It is adjustable for both windage and elevation, which means there is a movable element inside an outer case. On the sample gun, you could see daylight on one side of the movable portion which contains the rear sight notch. I found it to be distraction. Accuracy is as reported in the adjacent table. It is on a par with other service type semi-automatics and good enough for the work the gun is designed to do. As noted, the recoil is very strong and may be a problem for some shooters. There were no malfunctions, even with magazines loaded with several different cartridges of varied bullet weight and design.

Consider what you get in this new model from Ruger: It is a .45 ACP with 10-round capacity. It would ride well in a policeman's duty holster, but would also be well-suited for a home-defense handgun. Shooters have wanted a high-capacity semi-automatic in .45 for decades, but nearly every attempt to provide one resulted in a rather clunky pistol too big for many in the handgunning population. The superb ergonomics of the Ruger SR45 fill the demand of shooters who want such a pistol. It is a gun that is here to stay. And yes, a compact version of the gun is "in the works."
Ruger SR45 Pistol
Manufacturer: Sturm, Ruger & Co., Inc., 411 Sunapee St., Newport, N.H. 03773; (603) 865-2442.
Caliber: .45 ACP
Action Type: recoil-operated, center-fire semi-automatic pistol
Frame: glass-filled nylon
Barrel: 4.50"
Rifling: six-groove, 1:16" RH twist
Magazine: 10-round-capacity detachable box
Sights: three-dot; windage and elevation adjustable rear
Trigger: double-action-only; 8-lb., 14-oz. pull
Overall Length: 8"
Width: 1.27"
Height: 5.75"
Weight: 30 ozs.
Accessories: lock, manual, lockable hard case
Suggested Retail: $529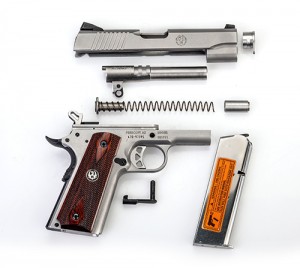 It's an accepted truth that a well-made version of the classic M1911 pistol is a viable product in today's American handgun marketplace. Certainly Ruger's management was aware of that when it developed and introduced the SR1911 pistol in .45 ACP. It is also true that the most popular variation of the full-size, 5-inch barreled service pistol is one with a slide shortened by almost an inch. The original maker was Colt, and the company introduced it some six decades past, calling the gun the Commander. Ruger has chosen to introduce a similar pistol and calls it the SR1911CMD. For ease of description, we'll shorten that to CMD.
The gun is an all-stainless steel M1911 pistol with typical single-action trigger, external hammer and single-column magazine. As a matter of fact, the CMD is essentially the same gun as the original SR1911, with the exception of a barrel and slide that are shorter by 3/4 inches. That shortens the sight radius and lowers velocity a slight amount but is more than made up for with better handling and concealability. The shorter gun simply handles better. Since the CMD is all-steel, it is heavier than other aluminum-frame M1911 variants. Most M1911 shooters like the all-steel gun better when actually shooting. It is within Ruger's manufacturing capability to produce a lightweight model, but I have no knowledge of whether or not the firm will do this.
Ruger's CMD measures 7.79 inches by 5.45 inches by 1.34 inches. It weighs 36 ounces. The pistol is made of Ruger's stainless steel and is finished in a dull silver color that seems very businesslike. Interestingly, Ruger chose to finish some parts of the pistol in a dull black. They are the mainspring housing, grip safety, safety lock, slide lock, magazine catch and the pins that position critical action parts. The silver-to-black contrast is attractive. I also note that the thumb safety is extended slightly and the beavertail grip safety has been slimmed down. One of my pet peeves is a slide lock with a squared front edge, because such corners tend to eat holsters alive. This one has been evenly beveled. There are a couple of attractive features on the CMD, and the first to mention is the stocks. They are made of a wood laminate checkered in the so-called "double-diamond" pattern. They're topped off with embedded Ruger medallions-nice touch. Further, Ruger used its licensed version of the Novak sight system with three-dot sights.

At the range, I found the CMD to be an easy shooting M1911, even when fired with several kinds of +P ammunition. I used a variety of different loads left over from earlier range sessions for informal shooting, before getting into the standard American Rifleman protocol. One thing is certain; the CMD digested everything I used in it without a bobble or misfire. Where accuracy is concerned, the gun performed as tabulated below. While not as accurate as other models, the pistol is entirely adequate for defensive shooting. All things considered, Ruger's new SR1911CMD shows great promise as a serious defensive handgun.
Ruger SR1911 CMD Pistol
Manufacturer: Sturm, Ruger & Co., Inc., 411 Sunapee St., Newport, N.H. 03773; (603) 865-2442; ruger.com.
Caliber: .45 ACP
Action Type: recoil-operated, center-fire, semi-automatic pistol
Frame: stainless steel
Barrel: 4.25"
Rifling: six-groove, 1:16" RH twist
Magazine: seven-round capacity detachable box
Sights: Novak adjustable rear, ramp front
Trigger: single-action; 4-lb., 1-oz. pull
Overall Length: 7.75"
Width: 1.34"
Height: 5.45"
Weight: 36.4 ozs.
Accessories: lock, manual, pistol rug
Suggested Retail: $829