by
Brian C. Sheetz, Editor In Chief
posted on July 25, 2023
Support NRA American Rifleman
DONATE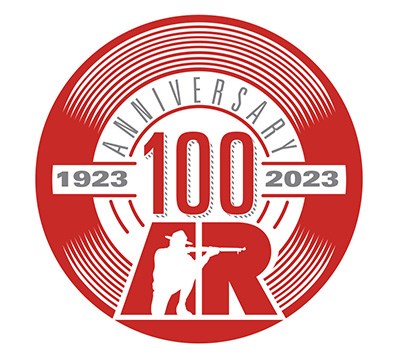 Although we will continue to celebrate the 100th anniversary of American Rifleman throughout this year, the collectible issue now in your hands marks the official commemoration of our centenary (p. 46). You'll find it full of glimpses back into the history of your NRA and the firearms and gear—along with the people who invented, manufactured and employed them for noble, life-saving purposes—covered herein during the past 10 decades.
You're likely to notice the nameplate on the cover of this issue. It is the same one used in 1923, refreshed by Senior Art Director David Labrozzi, a talented artist who has been responsible for the brand design and creative direction of this magazine for the past 27 years.
Then there is the story, "A Century Of Service: American Rifleman Turns 100" by my predecessor, Mark A. Keefe, IV, who was editor in chief for 24 years before I took over that role two years ago. As for my own time on this staff, it has now been a bit more than 25 years, and during that period I've worked with a wide variety of capable staffers. Those with whom I am privileged to serve today—Senior Executive Editor Kelly Young, Executive Editor Evan Brune, Managing Editor Christopher Olsen, Senior Editorial Assistant Maureen Denfeld and Senior Photographer Forrest MacCormack—are among the finest ever, with a combined total service of more than 40 years. Each month, they help me ensure that American Rifleman is held to the same high standard on which it was founded a century ago.
All of that staff experience adds up to a considerable amount of institutional knowledge and subject-matter expertise. Of course, we wouldn't be able to produce the magazine were it not for the work of the field and contributing editors listed on the masthead (p. 4). Each of us—along with you, the NRA member—is committed to the cause of a freedom that can and must be defended, every day, by our nation's oldest civil-rights organization.
And though we value looking back and appreciating history, we also realize that as "The World's Oldest And Largest Firearm Authority," we have just as much responsibility to the present and the future of firearm coverage. Indeed, with a greater readership, by far, than any other gun magazine, we strive for a mix of content that integrates the old, the current and the coming trends so that we can fully understand how firearms have influenced history and preserved liberty.
In this month's "Classy Companion: Henry's Homesteader 9 mm PCC," Field Editor B. Gil Horman takes a look at a new twist on the pistol-caliber carbine—one that is as pleasing to the eye as it is on the shoulder. Henry has done a remarkable job in bringing highly desirable lever-actions and other designs to market that feature exemplary fit and finish. This time, the platform is different, but the high quality and distinctive style remain.
In "FN Reflex: A Micro-Compact For The Masses," author Brune had the chance to run the new pistol hard at an event in which it proved itself both reliable and remarkably accurate. It is yet another sign of the times in which eminently capable pistols of convenient size are, in some circles at least, as ubiquitous as cellphones.
The M1 Garand is, by now, well-known to most readers as a result of its stellar service throughout all theaters of World War II and the Korean War. And while its detractors are few and far between, it has, on occasion, been criticized for its weight and its feed mechanism. In "The En Bloc Clip: Don't Blame John Garand" Field Editor Bruce N. Canfield, who knows a thing or two about Garand's masterpiece, explains how the inventor's original intention was not to use the now-familiar en bloc clip.
We hope that as you peruse this issue, you'll be reminded that only you can ensure that NRA remains strong in an increasingly uncertain world and that our uniquely American right to keep and bear arms—the key to genuine individual liberty—is preserved well into the future.
Thanks for celebrating our past century of service to you—it's been a fascinating journey and our honor.
Here's to 100 more!