by
posted on October 6, 2021
Support NRA American Rifleman
DONATE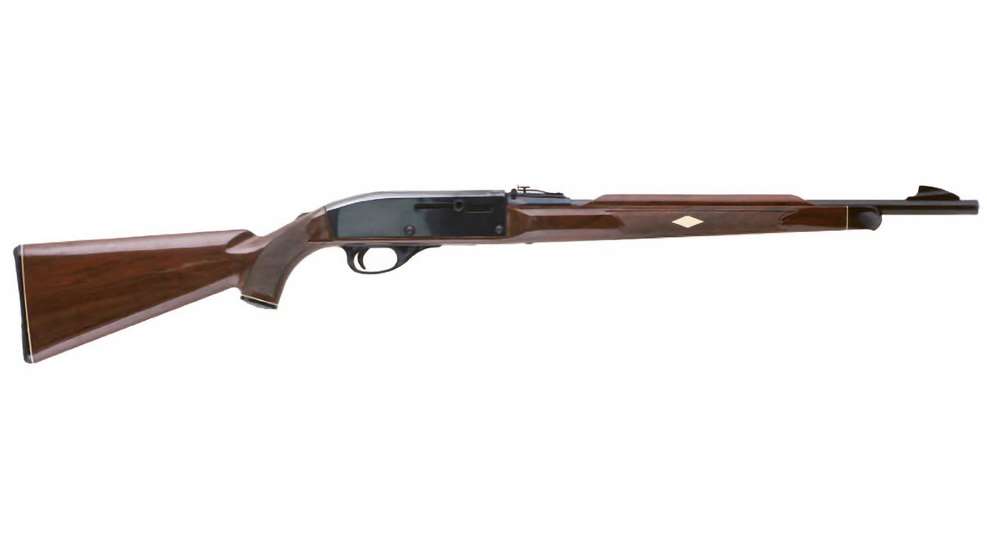 Polymer stocks, grips and frames are common on firearms today, but that wasn't the case back in 1959, when Remington introduced the Nylon 66. Roughly 4,500 became available for sale in January of that year with a price tag of just under $50.
The design was radical and marketed as "The gun of the future." The stock and receiver were constructed from a synthetic mix that DuPont—which assumed ownership of Remington in 1933—created in 1935. The concoction was actually known as Fiber 66 at the time, a name subsequently swept up in a large family of mixtures often simply referred to as Nylon.
DuPont's encyclopedic knowledge of chemistry, along with injection-molding expertise, and Remington's renowned reputation for crafting fine firearms were a historically timed collision of industries in this rifle. An American Rifleman article that covers the gun's development and summarizes, "The end result was that it became the most successful .22-cal. rifle Remington has ever made, with total production of more than 1,000,000 by 1991 when the Nylon 66 was discontinued."
First year sales for the blowback-operated semi-auto were so good that the company couldn't keep up with orders. That demand wasn't just because enthusiasts wanted to be the first on their block to own a "plastic" firearm, either. The self-lubricating polymer receiver was one attraction. Then there was the rugged stock. It wore a 19.5" barrel and had a 38.5" overall length, but managed to remain light—coming in at roughly 4 lbs. 8 ozs. More than likely, though, the torture testing Remington widely publicized to showcase reliability and fast-growing reputation for accuracy sealed the deal.
The Nylon 66 featured a tubular magazine that held fourteen .22 LR cartridges. It had to be removed from the side of the buttstock to be reloaded. The exterior of the polymer receiver wore a steel shell that was also home to the rear leaf sights, although it was grooved for mounting a scope.
Today, you can expect to pay around $300 for a lightly used, cosmetically solid Nylon 66. As condition drops, of course, so does the price on this groundbreaking rifle.