Where Can I Get ... ?
U.S.-Made, MultiFit Hard Case
Whether needed for travel or simply home storage, a lockable case with internal padding and external protection is essential equipment for handgun owners. More and more manufacturers are providing such cases with purchased firearms, however those examples are far from minimalist-often containing large compartments for starter-level accessories such as holsters and speed loaders-and are designed only to fit the original firearm, making them less than ideal for owners of multiple handguns, especially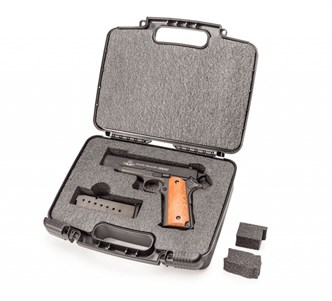 those desiring a slim travel case. Quick Fire Cases, a division of California-based MEI Research Corp., offers a solution with its QF200 MultiFit Pistol Case. The molded polymer case provides protection from external elements and has integral padlock holes that will accept most standard size locks. Inside, the case features the multi-fit inserts made from micro closed-cell foam. With a universal cavity and two foam "peanuts"-for firearms with abbreviated barrels and stocks-the QF200 will secure pistols ranging in size from a 5" M1911, to the 3.3" Springfield XD(S). There is also a compartment for storing magazines. Similar products are certainly available, but with prices often around the $50 mark, the QF200 ($29 suggested price) represents utility and value.
Contact: MEI Research Corp.,41187 Sandalwood Circle, Murrieta, CA 92562; (800) 819-4245; quickfirecases.com.