Top image courtesy NRAOutdoors.com.

A Texas star, 10 stand-alone steel plates and a propeller plate rack beckoned. The 23 targets in that array made up just the first part of the course. If I dispensed them with a shotgun, eight long-range rifle targets awaited across the hollow.
The problem is, shotgun shooting was not—and still is not—my strong suit. And when it comes to trying to reload on the fly? Well, let's just say I dropped enough shells that a true 3-gunner probably could have made those 23 hits without using one of their own rounds.
The end result was that I timed out, failing to neutralize three of the shotgun targets and, since I was all thumbs when it came to reloading, I didn't even engage all of the long-range rifle ones. So, all in all, it was a self-described disastrous result on my part. But here's one of the cool things about shooting 3-Gun: If you mess up one course, it's pretty much a "no harm, no foul" type of situation. Case in point: I had placed first among my group on an earlier set-up that was predominantly a test of handgun competency (though rifle and shotgun use was optional), and I didn't do too badly on the second set-up, which included eight stationary shotgun targets and one popper, because I didn't have to fumble around much with reloading. I just saved my worst performance for last.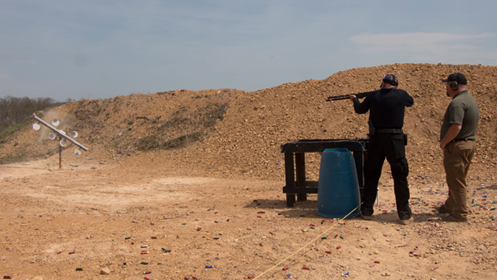 The idea of shooting 3-Gun might justifiably be daunting for a casual shooter. First, it can be expensive, not just in terms of the ammunition you run through during practice, but also in terms of outfitting yourself at the outset. Second, with its variety of stages in the match, it will reveal your weaknesses, especially when you're just starting out. So perfectionist-types, who like to kick themselves when they don't perform as well as they think they should, will undoubtedly spend some time muttering unspeakables now and then. But, these are just a couple of reasons why NRA Outdoors offers an introductory 3-Gun school.
The sport of 3-Gun—and, consequently, the scope of the course—has changed in recent years.
"When I got into 3-Gun, there were no classes or good recommendations on equipment, belts, holsters, firearms, etc., " said Peter Churchbourne, the NRA's director of hunter services. "This school was developed to allow shooters who were interested in getting into 3-Gun to get acquainted with it, without having to potentially buy all the wrong equipment—which is what I did."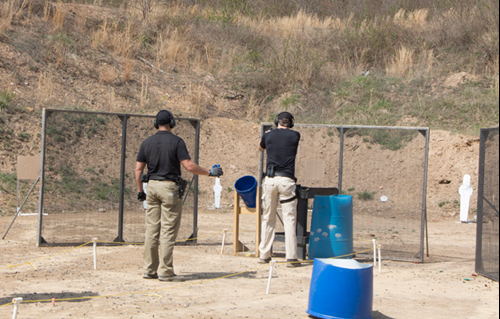 Currently, NRA Outdoors has partnered with Peacemaker National Training Center, Armalite, Benelli, SIG Sauer and Vortex to offer the two-day course monthly through August, in conjunction with Peacemaker's regularly scheduled seasonal 3-Gun competitions at the range near Martinsburg, W.Va. The set-up allows for students to get their instruction while a real match is going on around them. Then, on the second day, when the competitors are gone, the students get to run through a couple of stages, complete with timers being dinged for infractions and getting a heady whiff of competition among classmates.
"Because of the generous support of our sponsors, we can offer a great class taught by 3-gun shooters and introduce people to not only the best gear, but tactics and tips," Churchbourne said.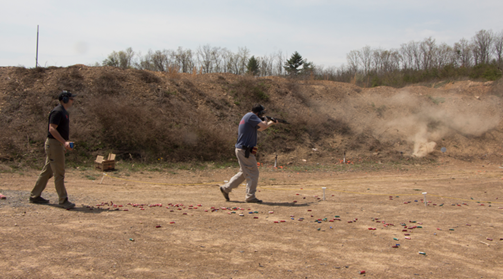 The weekend I attended was great for shooting. Temperatures were moderate, the sun was shining and the range bays offered hard-packed, dry ground—kind of called to mind the image of walking the dusty streets of a western town a century or so ago, if you let your imagination go. Thus, the geography at Peacemaker allows for a good mix of set-ups, from tactical shoots that require navigating wooded areas to the aforementioned long-range rifle targets set up across a draw, each piece of swinging steel at a different elevation, providing an adequate opportunity to make height and distance adjustments during the shoot.


The two-day course is offered at $1,600, but don't be put off by the price. That includes all guns, gear, ammunition and lunches, so the only things you really need to bring are safety glasses and hearing protection. And, when you consider that it would cost about $5,000 ($2,500 for a Benelli 3-Gun shotgun, $1,700 for an Armalite 3-Gun AR-style rifle, $675 for a SIG Sauer P320, then add in a few hundred bucks for a competition belt, extra magazines, shotgun caddies and such) to equip yourself for a match, the course is a great way to test the waters and see if you have the mettle to move forward.
It's called an introductory course, but don't take that to mean it's for a total novice. While firearm safety is always paramount with any NRA-sanctioned event, you will be reminded of the basic rules about guns, like keeping the muzzle downrange and keeping your finger off the trigger. But if you've never shot a shotgun—as was my case—don't expect to come out of the class a master shotgunner. That said, you will pick up tips on speed loading (quad loading was discussed, though we didn't experiment with it on the course-of-fire—not that I would have fared any better at that) and advice from the pros about strategy and practice. Still, the instructors will tailor the class to the students, so beginners won't be shooed away.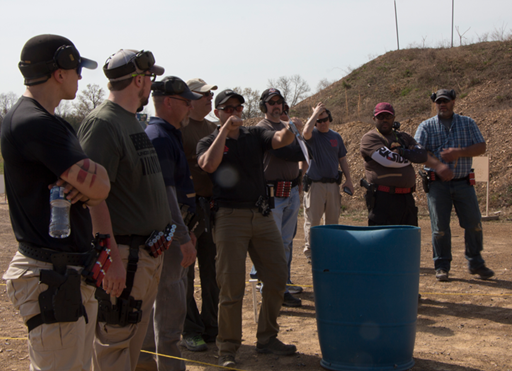 The class size tops out at 14, and when the class is near capacity, the instructors break the participants into three groups for the practical training, and the teaching cadre will include at least one individual who is highly proficient with each type of gun. The class I took was smaller than usual because it was on a holiday weekend, so we had a smaller complement of teachers: one primary instructor, one who was along for logistics help and an instructor's wife—who is also an instructor, but was there as a volunteer to offer keen insights and tips. The small class size worked out to our advantage when it came time to shoot the actual match set-up, because we got to run through three courses as opposed to the usual two.
No matter where you rate on the scale of shooting experience, though, if you've never competed at a 3-Gun match, you'll get some solid takeaways from the course.
The most practical advice, for me, about shotgun loading came when they recommended taking off the extension tube's end cap and practicing with dummy rounds while sitting at home watching television. Going through the physical process of loading builds muscle memory, the instructors said, and removing the end cap lets you load countless rounds without having to unload the tube manually. Being relatively unfamiliar with shotguns, I never would have thought of such a training strategy.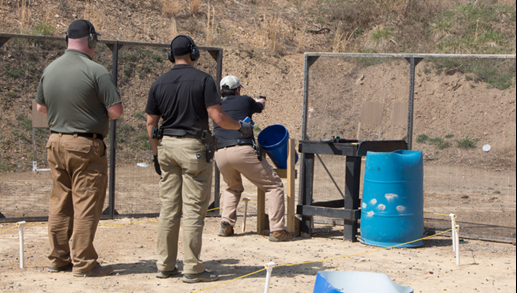 With respect to handgun shooting, the best tip I picked up concerned how to shoot better around cover—it's hard to imagine that something as simple as foot placement or upper body maneuvering gives you an edge on accuracy and time, but it does.
Now, have I been haunted by nightmares of a Texas star with one steel plate that just won't fall? Or a propeller plate rack that mocks me by spinning at an unfathomable rate with two targets standing in defiance? Well, yes, to a degree. But I've figured the cure is simple: Keep up my 3-Gun practice and go back and master the course.
To sign up for this class, or to check out the other offerings, go online to nraoutdoors.com.