by
posted on February 28, 2017
Support NRA American Rifleman
DONATE
About two years ago I had the opportunity to assemble an affordable survival rifle using a little Savage Arms Rascal single-shot .22 LR as the base gun. Overall I was quite happy with the results. It's lightweight, self-contained and fun to shoot. I still have it tucked away where I can get to it.
But Savage is not a company that rests on its laurels. Last year, it added a new version of the Model 42 combo gun to its lineup, the Takedown. The rifled top barrel can be chambered in either .22 Long Rifle or .22 WMR (magnum) with the lower cylinder choke smooth-bore barrel chambered for .410 bore shotgun shells up to 3" long.

The 20" blued-steel barrels are fitted with polymer sights and textured black polymer stocks. A lever mounted in front of the trigger guard allows the action to swing open for loading. A manual extractor can be used to help remove spent shell cases. This gun is a single-action, meaning the hammer must be manually cocked for each shot. A selector lever on top of the rebounding hammer allows the shooter to pick which barrel will fire.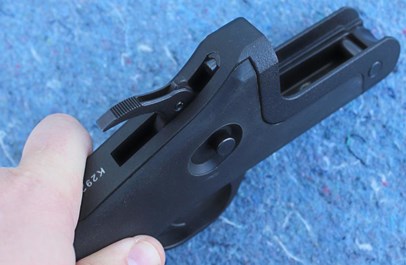 The single-action trigger on this particular gun is much better than that of a Model 42 I tested a few years ago when it first arrived on the market. With a clean break at 3 lbs. 8 oz., with some takeup after the break, it's just over 2 lbs. lighter than the earlier model. Other features include a cross-bolt safety, sling-swivel studs and a rubber recoil pad.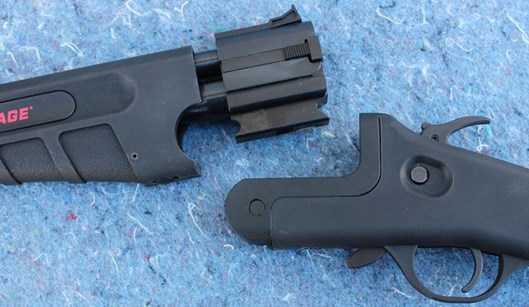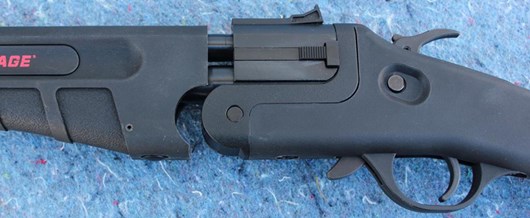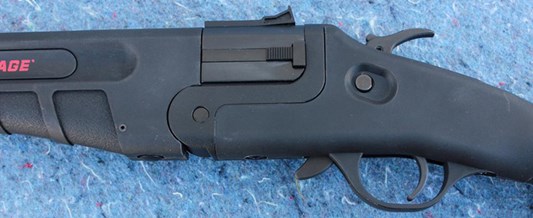 Pressing the round polymer fore-end release button allows it to slide forward, away from the receiver, allowing the gun to quickly split in half for easy storage (much like a traditional over/under shotgun). This version of the Model 42 ships with a relatively roomy Uncle Mikes zippered storage case. It has carry handles, a shoulder strap, an external pocket and an internal pocket opposite a set of Molle-style adjustable straps.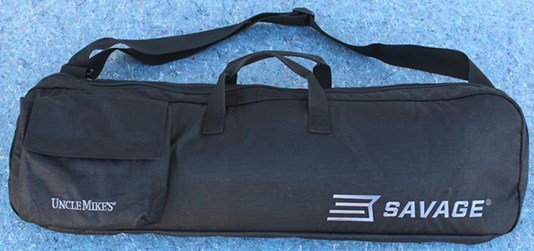 After looking over the Takedown and its case at a trade show, it was clear that Savage now has another product that easily lends itself to forming the foundation of a more flexible and powerful survival kit than the one I had previously assembled. The combination of .22 Mag. and .410 shotshells provides a substantial performance boost compared to a .22 LR only rifle. Instead of using micro-sized supplies capable of fitting within the limited interior space of a hollow shoulder stock, the Model 42 tool set could include larger and easier-to-use options.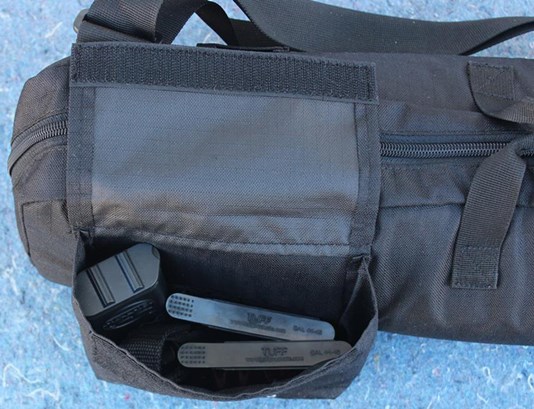 With all of that interior bag space to work with, it was tempting to stuff the bag to capacity with every gismo and gadget I could think of. But that choice could lead to problems in the field. The Takedown's storage case is designed to hold a 4 lbs. 13 oz. gun and some ammo. Too much extra gear could cause the case to tear or fall apart in the field. Even though this kit configuration lends itself to being used as a trunk gun than a hiking accessory, it shouldn't be too heavy to carry on foot in a pinch. So I kept the gear set simple to start with. A few of the products are ones I've used before but I also found some new ones that I think are a great fit at fair prices.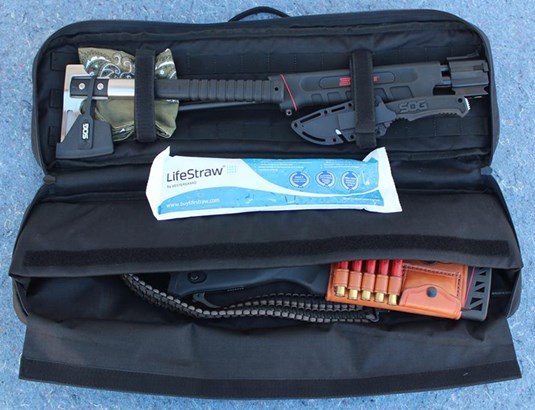 The smaller exterior pocket is designed for ammunition storage with a pouch to hold a single 50-round .22 rimfire ammunition box and four elastic loops for .410 shotgun shells. This is a good start but I wanted more ammunition stored in devices that would keep cartridges handy and portable. The first addition was a quality leather buttstock ammunition cuff from Simply Rugged Holsters. The company offers a cuff designed specifically for the Savage 42 as a regular catalog item with a button-flap pouch that holds up to 10 rounds of rimfire ammunition and five leather loops for .410 shells.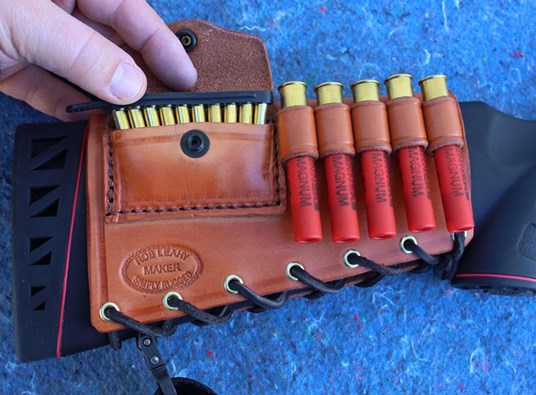 The cuff's rimfire pouch is large enough to accommodate .22 Mag. cartridges with or without a Tuff Products 10-round Quick Strip (#1017). I'm a fan of Quick Strips because they keep loose rounds in order and can be used to load rounds directly into the chamber one at a time. With a bit of practice it's faster and easier than fumbling loose rounds out of a pants or coat pocket and they don't get dropped in the dirt. Another handy option is the Marble Arms Catch .22 ammo box with its sliding top and belt clip. It holds 30 rounds of .22 Mag. (or 50 rounds of .22 LR) in 10 neat columns that allows rounds to be tipped out one at a time.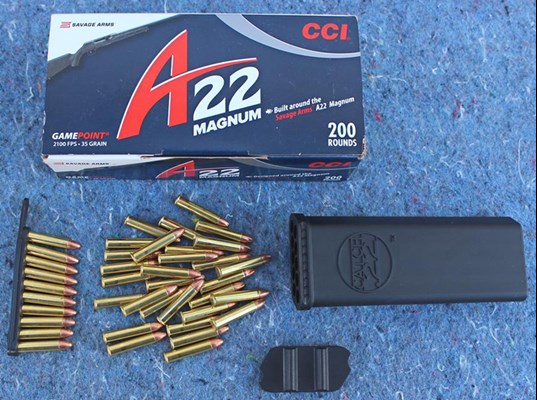 Some folks are going to prefer to have a top barrel chambered in .22 LR because it's less expensive to shoot and you can pack more rounds into less space. That being said, a .22 Mag. round like the Federal Premium A22 35-gr. soft point packs more punch while still being a compact, lightweight cartridge. With a listed velocity of 2100 fps. and 343 ft.-lbs. of energy, the increased powder charge allows it to sail right past high quality .22 LR hunting loads like Federal's new Hunter Match 40-gr. hollow points, which provide a respectable 1200 fps. with 128 ft.-lbs. of muzzle energy.
The .410 bore shotgun shell is often dismissed in favor of the much larger 12 gauge. And 20 gauge for sporting and defensive applications. There's no doubt that the slim .410 just can't launch the same size payload as its larger compatriots. Nevertheless, the .410 is still a useful survival option for several good reasons. Like rimfire cartridges, .410 shells are the most compact and lightweight in their class. Although their payloads are smaller, the projectiles fly at similar speeds. In a survival situation you might as well maximize this smaller, shell's potential by using the larger 3" high brass loads.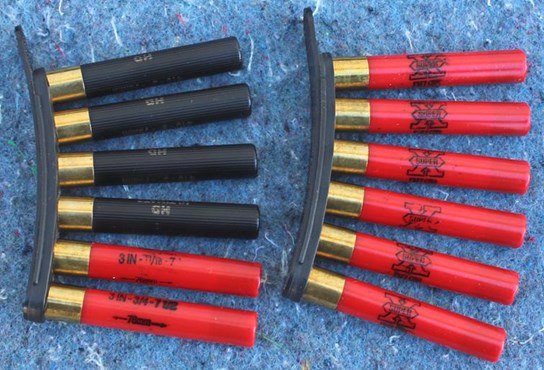 Finally, .410 shells can be found packed with the same kinds of projectiles as other shells. The Brenneke USA 3" Mag. (top) launches a stabilized ¼ oz. rifled slug at a listed velocity of 1755 fps. for 781 ft.-lbs. of energy at the muzzle. Remington's 3" HD Ultimate Home Defense load (center) lobs a total of five lead 000-Buck Shot pellets at 1125 fps. Winchester's 3" Super X Game load (bottom) pushes 11/16 oz. of 7 1/2 lead bird shot at a listed velocity of 1135 fps.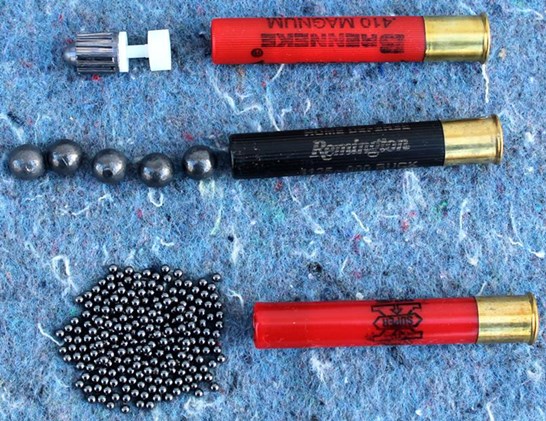 When searching for a set of camp and wilderness tools to include here, I wanted items that were both practical and affordable. SOG Knives & Tools provided just what I was looking for with three new-for-2017 offerings in its Outdoor product line. The Camp Ax is 11.5" long and weighs just 1 lb. thanks to the glass-reinforced nylon handle. The satin stainless steel ax head has a 3.1" chopping blade and a flat hammering surface. SOG could have made this ax a little lighter, but it chose instead to make it stronger with stainless steel screws and a 2" collar to protect the handle.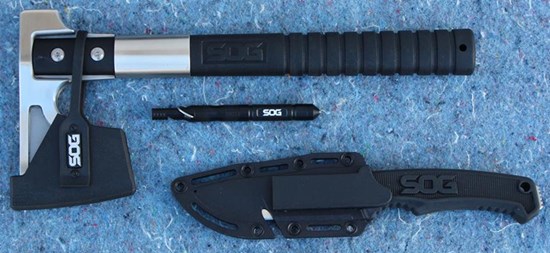 The 4" clip point blade of the all-purpose Field Knife is constructed of 7Cr17MoV stainless steel (Rc. 54-58) which extends all the way through the soft thermoplastic rubber handle to provide a hammer extension next to the lanyard hole. This knife ships with a black GRN synthetic sheath featuring an integral belt clip, additional attachment points and a notch that exposes a portion of the knife blade for safely cutting paracord or fishing line. The Field Knife and sheath together weigh 5.2 oz.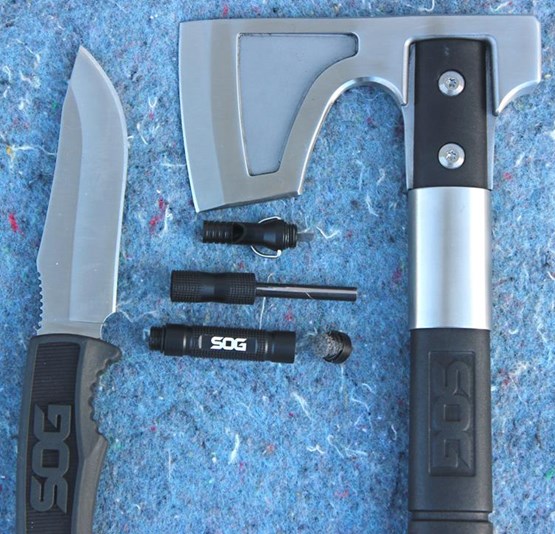 The new 0.7 oz. SOG Flint tool houses several functions in a compact aluminum housing that's about the same size as your average ball point pen. The Flint arrives ready to use with an emergency whistle at one end, a glass breaker at the other and a lanyard loop. Unscrewing the housing reveals a fire starter rod, a toothed striker and a ball of steel wool tinder.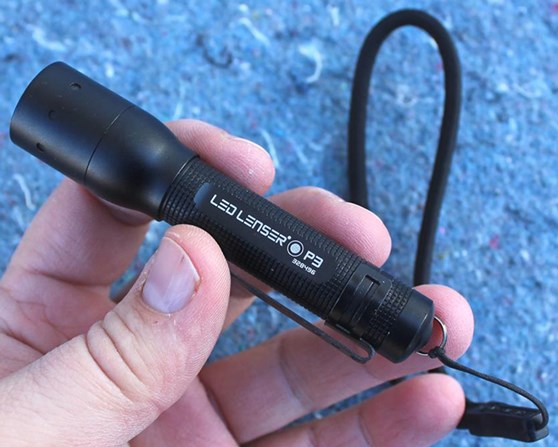 The kit's accessory set was rounded out with a few more handy favorites. An ordinary bandana, which is a very useful item to have in the great outdoors, was tucked between the ax head and barrels to prevent unwanted wear and scratches. The LED Lenser USA P3 adjustable focus micro flashlight pumps out 75 lumens of brightness up to 120 meters for an hour using a single AAA battery. The P3's lanyard, belt case and a couple of extra batteries were packed along with the light.
The 2 oz. LifeStraw water filter can remove waterborne bacteria, including E. coli, from up to 1,000 liters (264 gallons) of water. Its design allows it to be used to drink directly from a water source or a container without using iodine or iodinized resin. With a list price of $25, LifeStraws can be found at real world prices of less than $20. Last, but not least, I added a top-notch Sandstorm Custom Rifle Slings 2-point adjustable hunting rifle sling made primarily of braided paracord. It provides a comfortable and convenient way to keep several yards of cord within reach while keeping it out of the way.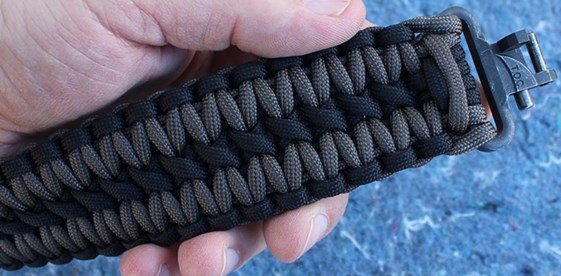 The Savage Arms Model 42 Takedown combo gun chambered for .22 Mag. and 3" .410 bore shotgun shells provides for a flexible range of ammunition options in a light, dependable configuration. The finished kit, with all of the ammunition and accessories tucked securely into the case, weighs in at 9 lbs. 8 oz. There's definitely enough room and weight allowance to squeeze in another 8 oz. of supplies, such as a little compass, some first-aid supplies and so on. The carry case's spacious, open interior means the kit can be configured to meet a variety of needs.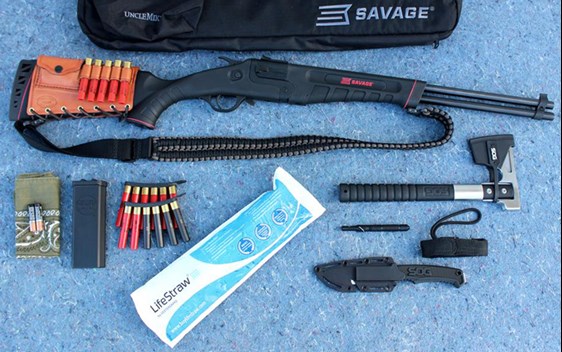 NRA Specifications
Firearm Manufacturer: Savage Arms
Model: 42 Takedown Combo Gun
Action: Break Action Over/Under Double-Barrel
Upper Barrel: .22 WMR (magnum), 6-Groove Rifling, 1:16" RH Twist
Lower Barrel: 3" Chamber .410, Smooth Bore, Cylinder Choke
Barrels: Matte-Black Carbon Steel
Stock: Black polymer
Front Sight: Fixed polymer
Rear Sight: Adjustable polymer
Trigger Pull: 3 lbs. 8 oz. (Tested)
Barrel Length: 20"
Overall Length: 35.75"
Length of Pull: 13.5"
Capacity: 2 Rounds
Rifle Weight: 4 lbs. 13 oz.
Accessories: Soft Carry Case, Lock, Owner's Manual
MSRP: $500
LED Lenser USA P3 AFS P Flashlight $40
LifeStraw Personal Water Filter $24.95
Marble Arms Catch .22 Ammo Box $14.95
Sandstorm Custom Rifle Slings 2-Point Sling $40-$65
Simply Rugged Holsters Ammunition Cuff $100
SOG Outdoor Camp Ax (CH1001-CP) $54, Field Knife (FK1001-CP) $40, Flint Tool (FT1001-CP) $20
Tuff Products Quick Strip 2-Packs $9.45