posted on November 14, 2017
Support NRA American Rifleman
DONATE
In the spring of 2017, I attended the first-ever ELEY Practical Rimfire Challenge (PRC) at the Peacemaker National Training Center (the largest shooting sports complex on the east coast) located in Gerrardstown, W. Va. This debut match for a new discipline was developed through a collaboration between Peacemaker and ELEY in response to the growing popularity of the Precision Rifle Series (PRS), a competition that involves long-range precision shooting with an AR-10/15 in practical, real-world field conditions. Considered a "light" version of PRS, PRC is designed to push the limits of the .22 LR cartridge, and is intended for men and women of all ages and skill sets who own or have access to a .22 bolt-action or semi-automatic rifle. 
The ELEY match consists of nine stages designed to test not only a shooter's marksmanship skills, but his or her ability to overcome physical and mental stress, making it anyone's game. After observing the all-day competition—even in the rainy and unusually cool conditions for the month of May—I was intrigued. 
When I was offered the opportunity to return to the follow-up match in September—this time as a competitor—I jumped at the chance. I had shot competitively in Collegiate smallbore and air rifle on the Virginia Military Institute rifle team, but I soon found out that precision rifle shooting was a bit different than this competition in which there was a lot of movement and ballistics involved. I certainly had my work cut out for me.
Preparation
About a month out from the date of the competition, I began to prepare in earnest. I needed a rifle, scope, gear, ammunition, but most of all, practice.



Recalling the guns and gear of the competitors from the debut match, I had an idea of what to assemble. Lucky for me, our NRA Publications vault contained a Volquartsen VG-1 rifle in .22 LR—a semi-automatic rifle that was perfect for this event. I had seen this same rifle used by a few competitors in the May match. Even luckier for me, this Volquartsen featured the Titan 10/22 fiberglass composite precision stock, which was easily adjusted to fit me perfectly. 
After selecting my rifle, the optic was next. Having had to rely only on iron sights in my collegiate precision shooting days, scopes were a new concept for me. With help from an experienced co-worker, we rummaged through a selection of available scopes for one with the appropriate height, weight and a reticle easy enough for a novice to use. I settled on the Nikon Monarch 7 BDC 2.5-10x50 mm, which would allow me to easily zero in at 50 yards and use the BDC holdover points to aim at varying distances without getting too complicated. 
Next came the ammunition. This match would push the limits of the .22 LR cartridge, so I knew a high-velocity semi-automatic round would do the trick to get me out to 300 yards. A common strategy with precision rimfire shooters is to use faster loads to beat the wind, and after hearing about the ELEY Force ammunition at the first match, I knew that was my ammo. ELEY Force ammunition has a unique black oxidized case finish, which increases friction between the case and projectile. This regulates and controls the force required to release the bullet, stabilizing the projectile and increasing ballistic consistency and accuracy. In the earlier match, I noted that this supersonic rimfire round was highly accurate. Rated at 1,250 f.p.s., my results came in at about 1,160 f.p.s. on average.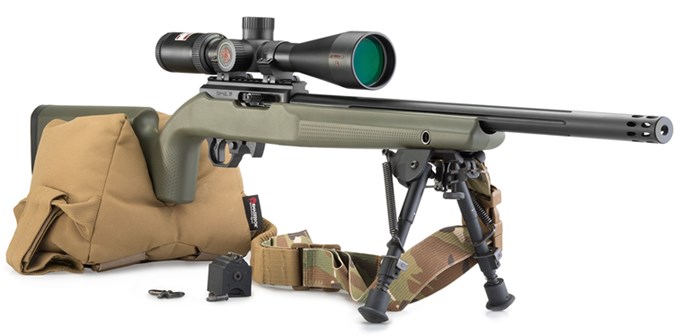 With rifle, optic and ammo checked off the list, I moved on to accessories. According to the rules, a bipod, sling, pack rest, rear bags and a suppressor were permitted. For my first match of this type (or a match that had so many accessory possibilities to consider, for that matter), I immediately eliminated the idea of a suppressor. I wanted to keep the overall rifle weight down and keep things simple. I did, however, choose other essentials: a Precision Rifle sling from Armageddon Gear (with the quick-detach sling mounts for easy mating with the Titan stock); the Game Changer pack rest from Armageddon Gear; a simple folding Harris-style bi-pod (borrowed); and a range bag in which to carry it all, (also borrowed). I threw in some ear and eye protection, some Ruger BX-1 10-round magazines, a notepad and pen, and I was set.
Range Time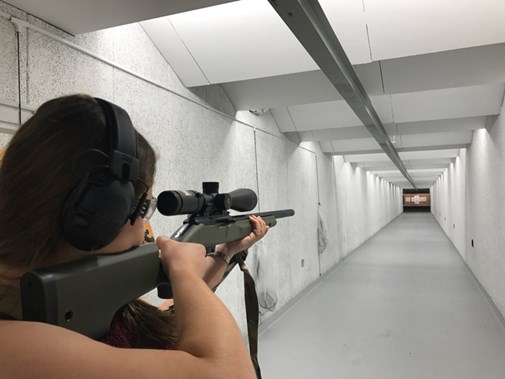 My rifle was finally set up, and it was time for some long-overdue practice. At first, I was surprised at how heavy the rifle felt when I tried shooting it off-hand—not my strongest position anyway. With the 22.8 oz. Nikon scope mounted on the 5-lb. 11-oz. rifle, it was a bit of a struggle. It felt nothing like the light .177-cal. air rifle I shot in college. Perhaps I was just out of practice? In the following weeks, and with frequent practice, I was finally able to stabilize myself in off-hand, and felt much stronger with the rifle. I could see a definite improvement in my shot groups since the first time I shot the rifle to the day before the match. I was happy with my results.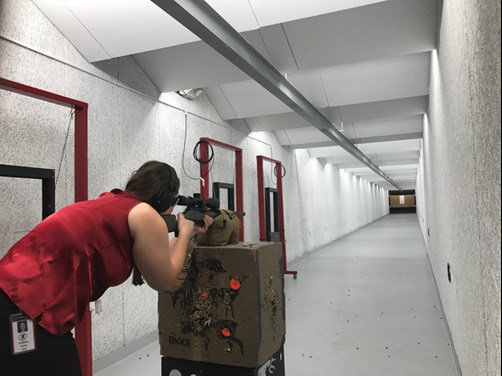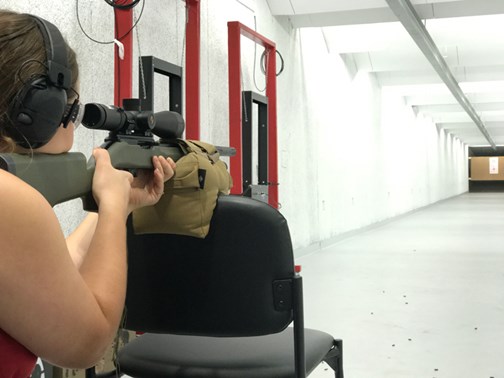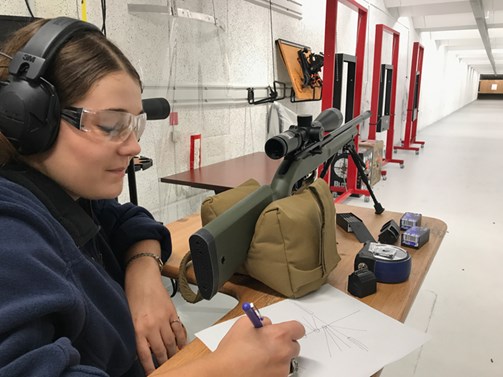 But my practice regimen was not limited to shooting off-hand. I incorporated positions I would need to employ during the match—prone, standing, kneeling—along with trying to mimic possible stages, since they change them for every match. I practiced getting in and out of the gun, manipulating the firearm, and chronographing the rifle in order to determine the holdovers on the scope. Having been accustomed to shooting distances of 50 feet, I knew the farther distances were going to be a bit of a challenge. From the chronograph data, I was able to use a ballistics calculator to help me determine the flight trajectory out to 300 yards. Also, figuring out the BDC subtensions was equally important, especially since my experience running scope turrets was limited. From there I was able to distinguish at which distances each holdover bubble would pertain and made the correlating image below.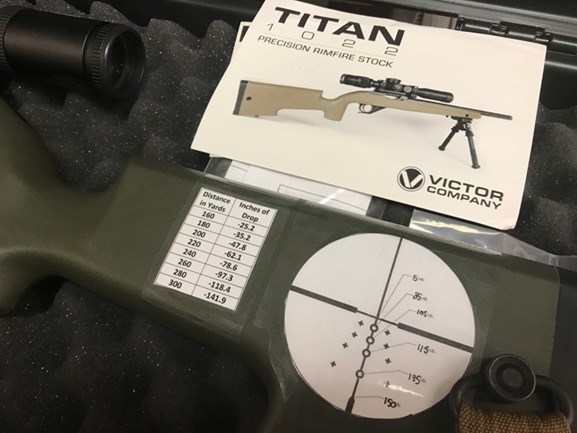 The Big Day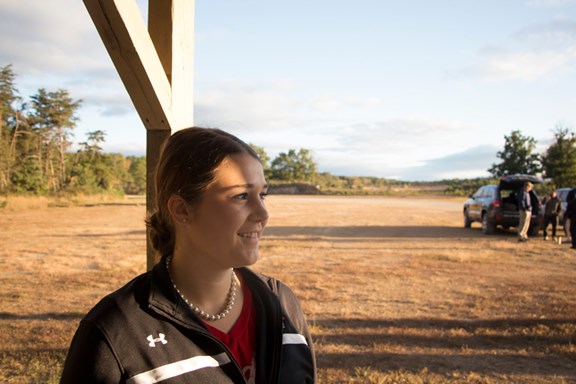 Match day finally arrived, and I admit I was a bit nervous. As the only female competitor, I donned my pearls—a signature style of mine—and drove to the range. The match briefing started at 8 a.m., during which we learned the match rules as well as the squadding order. My squad—Squad 1—was assigned to begin at Stage Two.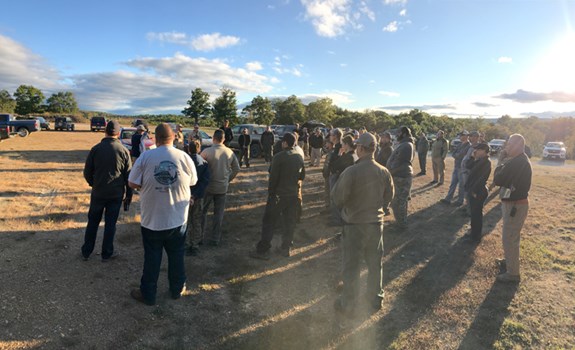 Squads rotated to each of the nine stages throughout the day, with all of the team members completing a stage before moving on to the next. Stages were all different in order to vary distances and types of targets, as well as the position they were to be engaged. All this in a time limit of two minutes with limited round count ... No pressure, right?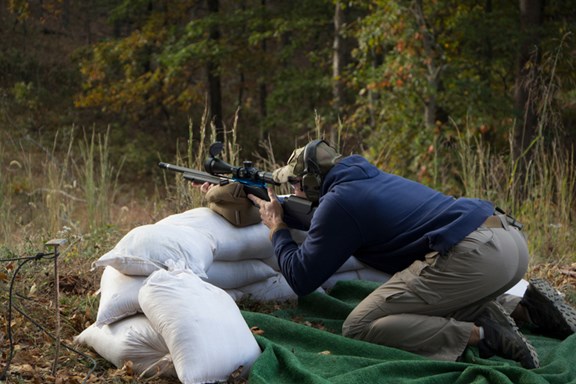 Unfortunately, my day didn't start off as I had hoped. At my first stage, I experienced a malfunction. I couldn't believe it. My rifle decided to get ahead of itself and double feed. It was definitely not the ideal way to begin, but lucky for me, the Range Officers allowed me to start over and I was able to score 10/12. The malfunction didn't deter me; I had a fun time and was eager to continue.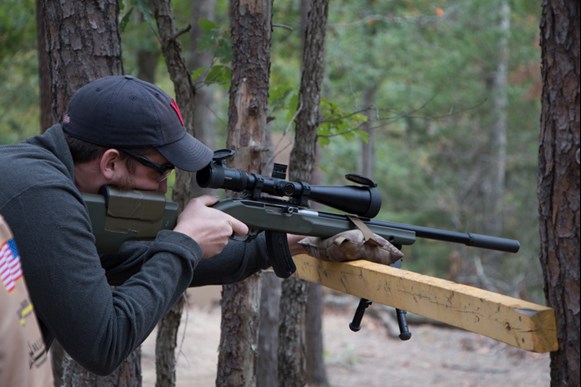 The next stage, firing from three locations in the allotted two minutes, offered a bit of a rush, with all the different variables coming into play. Not being a hunter or having had experience with this style of match, I had difficulty with expedient target acquisition. I found myself having to look up, breaking position between shots. Add the complexity of a magazine change and adjusting the focal settings for a clear sight picture while remaining calm enough to hit all of the targets was no easy task to accomplish in two minutes.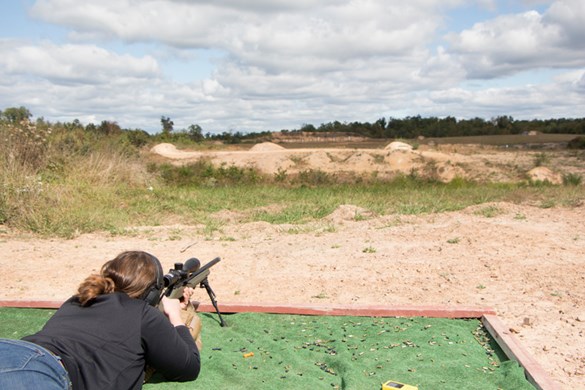 Each stage presented its own set of challenges, whether it was trying to hit a target the size of an egg; a skills test requiring movement on a barricade (similar to the skills stage in PRS); to the varied distances from 13 yards to 300 yards—all while moving quickly. Another big obstacle for even the seasoned shooters was the windy conditions, which sometimes threw the bullet off by a foot or more. The struggle was real, to say the least. Some of the competitors said they dialed for the windage while others did not. Either way, it definitely affected scores.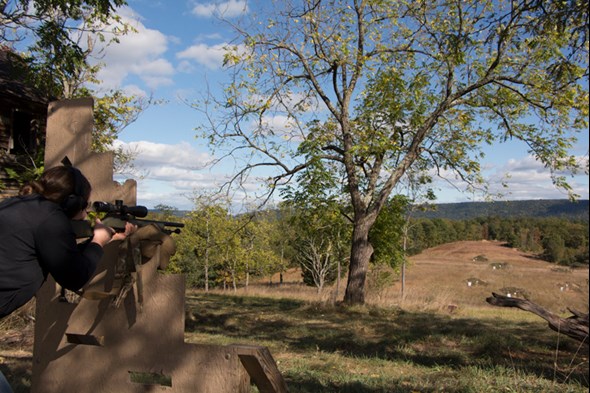 During a brief lunch break, I caught up with a competitor I had met at the match in May. Darren Fankhauser, from Denver, said he returned to compete in the match a second time because he enjoyed it so much. "It's a great overall test of marksmanship … and I will for sure come back next year," he promised. 
The final stage for my group, although the most exhausting, was probably my favorite—partly because I scored 10/10. With the rifle set up for prone, and the shooter behind the position by roughly 5 yards, the challenge was to dash back and forth between the starting line and the gun. To make matters more difficult, 10 chips were placed at the starting line and the shooter was required to throw the chip in the bucket next to the gun, assume a prone position, shoot and repeat—10 times. Needles to say, we all had to catch our breath when we finished.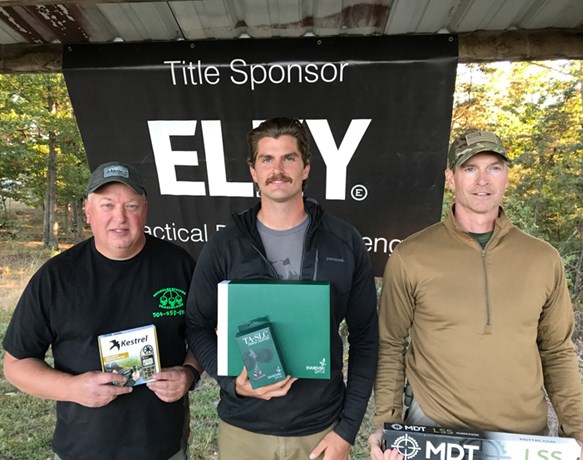 From left to right: Wade Shambaugh, Rhett Walters and Dave McIntyre
When the match was over, it was time to learn the winners. The top three, all from my squad, were Rhett Walters, Wade Shambaugh and Dave McIntyre. The first-place winner, Rhett Walters, a PRS shooter for Accuracy International, said it was the most fun he had in a match in three years.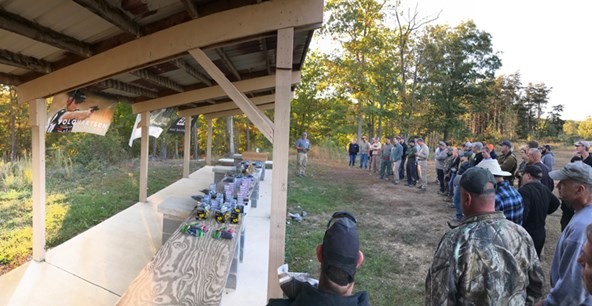 Amid the chatter, I heard my name called for 45th place, and I took home a prize of a brick of ELEY .22 LR ammunition. As a first-time competitor, I was content placing 45 out of 50. I had tremendous help from my squad mates, who were kind enough to give me pointers throughout the day, especially when the wind was super strong. It's undeniable that I learned a lot from this experience. 
Closing Thoughts
The popularity of this match is growing, evidenced by the fact that this year there were three matches with five such matches scheduled for 2018. Match Director Tom Pohuski said he is working with clubs in Utah as well as Florida and other states too for other locations that might wish to host the event.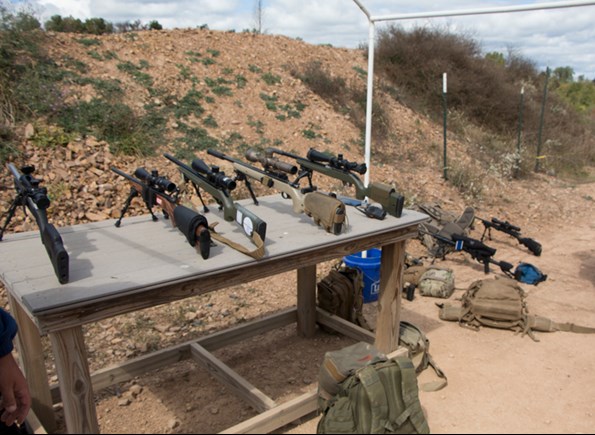 The ELEY Practical Rimfire Challenge offers excellent practice for those who hunt, as well as for those who compete in PRS. In fact, one competitor said he probably wouldn't compete in PRS next year because he liked the ELEY event more. Another appeal of this match is that the cost of entry was nominal ($95 to include lunch and a chance at the prize table), which leaves room for plenty of gear and accessories. In fact, it was apparent that many competitors spared no expense on their respective gear. One person even used a custom built Ruger 10/22 Takedown rifle. 
If I were to compete again in the ELEY event, I might try a different rifle, possibly a bolt-action. Also, I think learning how to dial for ballistics on a more advanced riflescope would give me a leg up. A simple approach worked for me as a first-timer, but with the wealth of knowledge I gained, and continue to gain, a few tweaks to my shooting system will help me improve my end score. Lastly, practicing outdoors at greater distances would be a great advantage too, as well as getting more comfortable with target acquisition and smooth movements. As for this first-time competition, I capitalized on my previous experience as a smallbore precision shooter. 
The ELEY Practical Rimfire Challenge allows anyone with access to a .22 LR rifle the chance to push the limits of the cartridge, as well as push personal limits by combining precision and action shooting with the added variables of uncertainty, adrenaline, camaraderie and a chance to compete in a rising discipline. There is really nothing quite like it. Since the event is still new, it remains relatively unknown, with most people discovering it through Facebook and Internet searches. No doubt, with additional marketing and publicity, it will attract more people. Give it a try. It might even become your new favorite discipline.