by
posted on December 9, 2014
Support NRA American Rifleman
DONATE
The American Spirit is alive and well near Smithfield, N.C., in a family-owned company that occupies a narrow vertical niche in the firearm industry. The owner, proprietor, chief bottle washer and janitor is Brack Wilson. If you call, the odds are good he'll pick up the phone, too. His wife takes care of the books when she isn't busy with their two small children.
Patriot Cases purchases quality gun cases by the pallet from familiar companies, like Boyt and SKB. Then it ditches the inferior foam we all curse because it rots and crumbles after a year of hard use, and replaces it with mil-spec material designed to thrive in harsh conditions-impervious to oils and solvents, won't hold moisture, and dense enough to protect your gun and optic when gorilla baggage handlers run it over.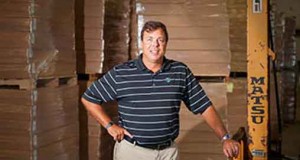 The bulk buying power reduces overhead, and the savings are passed onto consumers. Wilson pre-cuts the special foam in a variety of configurations, although he really specializes in ARs and pistols. A number of professional 3-Gun shooting teams rely on his gear, and if it survives those rigors, it will last years for the average enthusiast.
If you're thinking it's expensive, you're wrong. Here's one of the Patriot Case AR versions, with pre-cut, mil-spec foam on sale right now for $49. You're not going to find something this customized at the average big-box sporting goods store. Several manufacturers are also buying from the company, and shipping their guns in these cases.
Patriot Cases offers models that are more expensive, including the SKB Ultimate 3-Gun Storage/Travel Case for $269. It includes that tough foam, all the cutting, lifetime warrantee, exterior name label (that can be upgraded to include a logo) and strap kit for storing a soft-sided bag in the lid. If you've priced SKB cases, you know that's a great deal, even without the extras.
In addition, here's a service that has caught the eye of some of the industry's television shows. If the shape of the cuts in the foam don't fit your needs, the company can create a special pattern at your request. Videographers need to protect that expensive gear, and the day I visited the small plant, Student of the Gun's case was ready to go out the door.
I have no idea how much extra it costs (if anything), but I intend to find out soon. After I order, though, I'll pick it up in person at noon. Wilson's children deliver his lunch at about that time when they're not in school, and it's worth a two-hour drive to experience their youthful smiles and enthusiasm again.
Now that's what I call an American dream-thanks again, to the entrepreneurial spirit fostered by the firearms industry.