by
posted on December 4, 2012
Support NRA American Rifleman
DONATE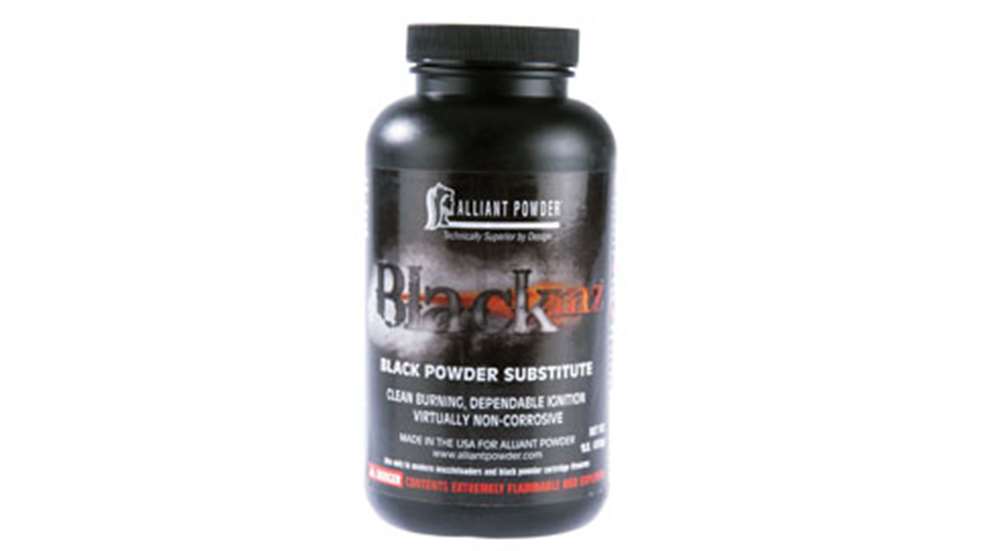 12/4/2012
Manufactured in the United States, Black MZ is Alliant Powder's recent entry into the blackpowder-substitute market, and is suitable for muzzleloaders and cartridge loads. According to the company, the FFg-size substitute is formulated to ignite easily (by No. 11 percussion caps, musket caps and 209 shotshell primers), provide excellent shot-to-shot consistency with regard to velocity, offer high velocities at lower pressures, be moisture-and humidity-resistant, be cleaner-burning and "virtually non-corrosive."
To test Alliant's claims, I employed two .50-cal. Thompson/Center muzzleloaders: a 209-ignited Impact and the NorthWest Explorer, which uses No. 11 percussion caps as the ignition source. The Impact, using 300-grain Fusion Sabots and 90 grain/volume Black MZ, and the NorthWest Explorer with 348-grain PowerBelt Copper Aerotip bullets and 80-grain/volume, both exhibited easy loading, flawless ignition and noteworthy accuracy. Cleanup was simple, too; it required a single moist cotton patch-with both sides being used-followed by single dry one with two caps or primers being fired to clear the breechplug and dry the bore.
The "virtually non-corrosive" assertion was tested by firing several shots from both rifles, then relegating the uncleaned muzzleloaders to a gun safe for several months. After 90 days, cleaning the Impact revealed a pristine bore; however, the NorthWest Explorer, ignored a full month longer, exhibited ever-so-slight bore damage. So, provided a firearm is cleaned within a reasonable timeframe, Black MZ is indeed "virtually non-corrosive." From what I've witnessed Black MZ lives up to Alliant's claims, and is an excellent choice for muzzleloading and blackpowder enthusiasts. Alliant Black MZ is sold in 1-pound canisters for $24.
Contact: Alliant Powder; (800) 276-9337; www.alliantpowder.com.