by
posted on June 16, 2022
Support NRA American Rifleman
DONATE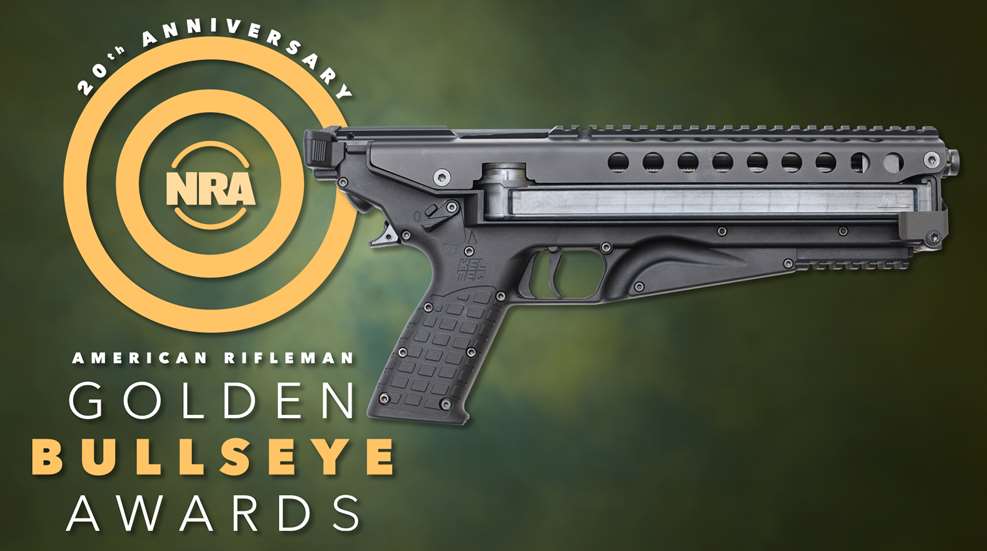 Now in their 20th year, the Golden Bullseye Awards are chosen annually to recognize the firearm industry's best new offerings. Here is this year's winner as selected by the editors of "The World's Oldest And Largest Firearm Authority."

A 56-oz., 15"-long pistol chambered in 5.7x28 mm FN that feeds from the quirky, horizontally mounted 50-round magazines used in FN's P90/PS90 platform, the P50 exemplifies Kel-Tec's penchant for creating novel and unorthodox firearm designs. But despite what an odd duck the P50 would seem to be, once he got his hands on one, Field Editor Jeremiah Knupp was impressed by its adaptability, and he expounded upon the pistol's qualities in "Kel-Tec's Radical P50."
"The P50's compact size, ease of use and capacity ... would certainly lend itself to home defense with the addition of an electronic optic and light," Knupp said. His testing revealed the P50's accuracy to be excellent—partly attributed to its barrel being fixed to its receiver and partly due to its crisp trigger—and also noted the pistol's potential as a close-range varmint-hunting tool. For thinking so far outside the box in creating a truly innovative gun capable of a broad range of applications, we determined that the Kel-Tec P50 was deserving of our Tactical Product Of The Year award.
keltecweapons.com
---
About the Golden Bullseye Award:
The Golden Bullseye Awards were created two decades ago to recognize quality, innovation and value within the firearm industry, with the editors of the NRA Publications Division convening annually to nominate and select the standout performers from the previous year's crop of new products. The discussions can get animated at times—as each year there are always more new guns, ammunition, optics and accessories worthy of accolade than we could possibly call out—but consensus eventually results in winners being selected, with the passionate back and forth serving as evidence of the firearm industry's health and innovative spirit.