Support NRA American Rifleman
DONATE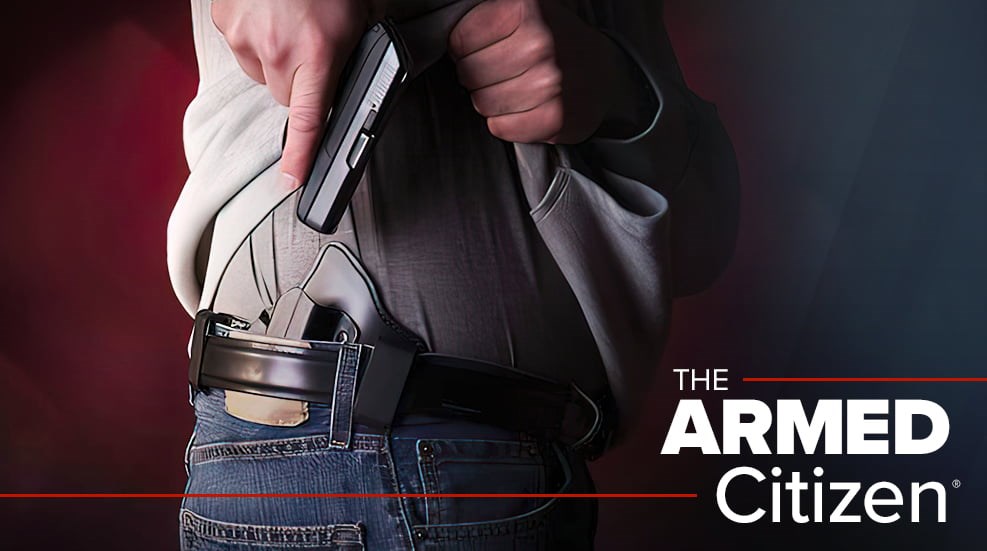 Armed Citizen® Today
An Escambia County, Fla., resident was forced to defend herself and others when a knife-wielding man forced his way into a home on May 4, 2021.
The incident happened just after 5 p.m. when a man kicked in the front door of the home. Once inside, the man armed himself with a knife and announced out loud that he was there to harm his children's mother. The armed intruder then went room to room, hunting and threatening the residents of the home, who retreated into a bedroom at the back of the house.
The intruder then confronted a woman in the back bedroom, who shot the intruder twice out of fear for her life. One of the shots struck the assailant in the head, subduing him. When police arrived to the scene, they discovered the intruder dead from his injuries. Police did not charge the woman for defending herself from the armed man, whose onslaught was recorded by a camera outside the front door.
The 54-year-old man had an active domestic violence injunction filed against him at the time. It was reported that he had even been on the way to anger-management treatment when the incident took place. (
wkrg.com
, Pensacola, Fla., 05/05/2021)
From the Armed Citizen® Archives August 1983

Newspaper carrier Farley Johnson had previously accommodated a local man by giving him
extra
papers, but 
when
he had none to
spare and
refused, the man assaulted him. The thug departed, then returned with a rifle to Johnson's house where he fired
several 
rounds through
th
e front
door.
Police 
came,
but unable to locate the gunman, left the Birmingham, Ala., neighborhood. Soon,
the
assailant resurfaced 
and shot at
Johnson, who was carrying 
his
fathe
r'
s shotgun.
The
young
man 
returned fire with a blast that critically injured the attacker.
(The
News
, 
Birmingham, Ala.)