by
posted on March 27, 2021
Support NRA American Rifleman
DONATE
With the persistent pursuit of all things semi-automatic during recent years, some other genuinely enjoyable action types seem to have fallen by the wayside. This is especially true with rimfire handguns. Don't get me wrong, I like .22 LR semi-automatic pistols just as much as the next guy, but the younger generation of shooting-sports enthusiasts may not know just how much fun and close-range utility there is to be found in compact rimfire revolvers.
One company that has offered a variety of affordable, small-size rimfire revolvers over the years is Taurus USA.  I'll admit, however, that the first time I picked up a Model 94 back in the mid-1990s, I wasn't terribly impressed. The factory fresh 4" blued model a dealer handed me was not as well-made as I would have liked, since there were dings and scratches in the finish. And the double-action trigger pull wasn't just bad, it was abysmal. It had to be somewhere north of 15 lbs. with a gritty feel to boot. Needless to say, that particular revolver didn't follow me home, and I found myself turning to other manufacturers for .22-cal. wheel guns for quite some time.
However, things have been looking up for Taurus recently. In 2019, the TX22 rimfire and G3 9mm pistols proved to be solid shooters, especially with their affordable price tags. The 856UL Ultra-Lite six-shot .38 Spl. demonstrated a clean trigger pull and markedly improved levels of quality control. For 2020, I took the Taurus 1911 Commander in 9 mm for a test drive, as well as new variations of the 856 and G3. They, too, operated reliably with the same degree of quality and consistency that I was hoping for. So, when I heard that Taurus would be discontinuing the Model 94 and replacing it with the new Model 942 series in 2020, I thought it was time to give these compact rimfires a second chance.
Like Taurus's other snub-nose pistols, the rimfire Model 942 is a double-action revolver which is strongly influenced by the classic Smith & Wesson design. As of this writing, there are a total of 11 models to choose from chambered in .22 LR or .22 WMR which is commonly known as .22 Mag. Options include 2" or 3" barrels with a choice of blued-steel, stainless-steel or reduced-weight models with aluminum-alloy frames.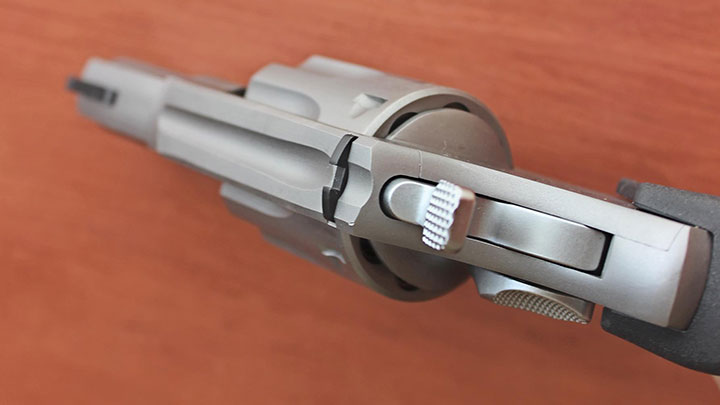 These guns are built using Taurus's Model 85 small-revolver frame with the same size cylinder, which makes them comparable in size to a Smith & Wesson J-Frame or Ruger SP101. The 1.34" diameter 8-shot cylinder and rounded trigger guard are the same as the centerfire models, as is the grip frame. This means the 942 line has the same external dimensions and grip frame configuration as its 5-shot and 6-shot .38 Spl. compatriots. As a result, it's compatible with an extensive selection of existing grip upgrades and holsters, including the Galco Gunleather Scout 3.0 IWB mentioned in a previous Model 856 review. 
For this review, the 942 model that caught my eye was the all-stainless-steel model chambered in .22 WMR. with a 2" barrel. The pinned, serrated ramp front sight is fairly typical for revolvers in this class, but the rear sight is a bit unusual. Instead of a milled-in square notch at the tail end of the top strap, Taurus opted to give the 942 a drift-adjustable rear sight blade. It has a no-snag low profile that's wholly unobtrusive with a tiny drift adjustment screw on the left side. I wouldn't mind seeing this sight configuration on more compact carry revolvers.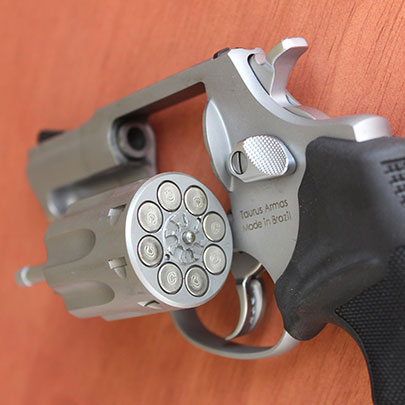 The barrel has a full underlug, which acts as a shroud for the short, knurled ejector rod. The ejector is .22 LR size, which means it won't clear the longer spent .22 WMR. cartridge cases from the cylinder unless you give it a firm tap with the ejector star pointed towards the ground. The fluted cylinder swings out to the left side of the frame and rotates counter-clockwise.
Although the frame has a matte bead-blasted finish, the ejector rod, smooth-faced trigger, wedge-shaped cylinder release and hammer have a more polished finish. This is a single-action and double action revolver, which means the short, checkered hammer spur can be used to manually cock the revolver for single-action fire. The compact rubber grip is designed to be comfortable in the hand and easy to hold onto.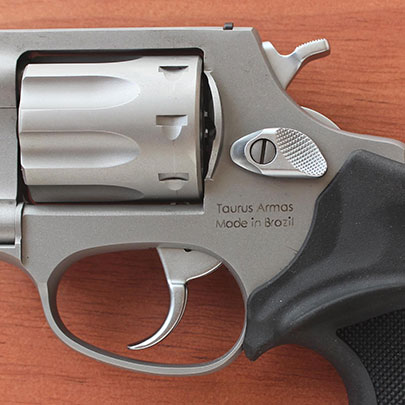 It has a slim profile with a more aggressively textured back strap that grabs on to the palm of the shooting hand. The sides have molded-in checkering with thumb-rest ridges and finger grooves along the front strap. It's an ideal fit for a variety of hand shapes, especially with a soft-shooting revolver like this one.
This .22 Mag. version of the 942 weighs in at 23 ozs. unloaded. Some folks may be wondering why I wouldn't go with a lighter 17.8-oz. aluminum frame model chambered in the less expensive .22 LR cartridge. I like .22 WMR. and I don't get as many opportunities to shoot it as I would like. This cartridge packs more of a punch than .22 LR, which can come in handy in the field, in case the revolver needs to be pressed into a defensive role in a pinch.  

As for the revolver's weight, I've shot some exceptionally light .22 LRs, like the feathery 11.7-oz. Smith & Wesson 317 Kit Gun. The reduced-weight models certainly carry more comfortably, but the weightier all-steel variants are more stable when working with the longer, heavier double-action trigger pull. It's a matter of personal preference, and in this case, I opted for the added weight.
Overall, the fit and finish of this particular 942 was a big step up from what I remember of the Model 94 I handled years before. No dings, no scratches, and all the components cleanly fit together. I couldn't find anything to complain about. At the shooting range, I was prepared to lean into a heavy trigger with a gritty feel, but that proved to not be the case.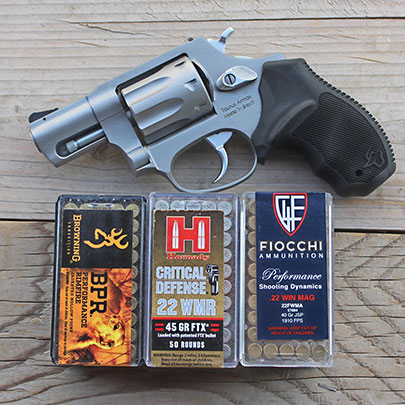 The trigger was smooth and clean a with double-action trigger pull that was just over 12 lbs. and a single-action pull of 4 lbs., 13 ozs. The trigger stroke is similar to that of the Model 856, making the 942 a suitable understudy for those centerfire snub-gun fans who want to work on their trigger control with less expensive ammunition. The revolver ran flawlessly throughout the testing process without any mechanical- or ammunition-related malfunctions.
With short-barrel .22 WMR. revolvers, I've seen better performance results with bullets in the 40-gr. or heavier weight range. Light-weight bullets are designed to fly fast from rifle barrels but a 2" revolver barrel just doesn't provide enough time for the bullets to build up much velocity. From this 23-oz. gun, the felt recoil produced by all of the .22 Mag. loads tested was mild and easy to control. But be prepared for a louder report and more muzzle flash than you would expect from a .22 LR.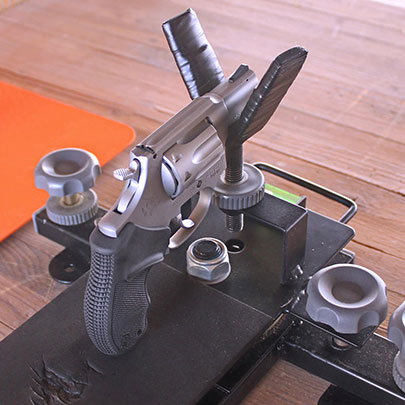 Formal benchrest five-shot group accuracy testing was conducted at 7 yards with a Lab Radar chronograph used to measure bullet velocity for 10-shot strings. Browning's 40-gr. BPR jacketed hollow point averaged at 1,064 f.p.s. of muzzle velocity with a best single group of 1.95" and a five-group average of 2.19". Fiocchi Performance Shooting Dynamics 40-gr. jacketed soft point load launched at 1,051 f.p.s. with a best group of 1.98" and an average of 2.14". Hornady's .45-gr. Critical Defense FTX is designed specifically for short barrel revolvers. It generated 1,079- .p.s. of velocity with a best group of 2.04" and an average of 2.15".
I'm glad to report that my hiatus from Taurus USA's compact-rimfire revolvers has come to an end. I was rooting for the 942 series to pass muster, because they sport suggested retail prices that are nearly 40- to 50-percent less than competing models. Real-world prices are even lower, bringing the cost of these revolvers in line with several popular semi-automatic .22 LR pistols.

The 942 is a handy companion piece to pair with your favorite rimfire rifle. It can be put to work for pest control using rimfire shot shells, tossed into a pack for casual plinking in the great outdoors or used as a low-recoil, back-up defensive option. And if you like compact rimfire revolvers just because they're fun to shoot, then the 942 deserves your consideration.
Specifications:
Manufacturer: Taurus USA
Model: 942 Rimfire (2-942M029)
Action: Double-Action/Single-Action Revolver
Chambering: .22 WMR (.22 Mag.)
Frame Size: Small
Frame Finish: Matte Stainless Steel
Barrel, Cylinder & Appointments: Matte Stainless Steel
Grip: Compact Textured Black Rubber
Front Sight: Pinned Serrated Ramp
Rear Sight: Drift Adjustable Square Notch Blade
Safety: Transfer Bar
Double-Action Trigger Pull: Over 12 lbs. (as tested)
Single-Action Trigger Pull: 4 lbs. 13 ozs. (as tested)
Barrel Length: 2.00"
Overall Length: 6.60"
Height: 4.64"
Cylinder Width: 1.34"
Weight: 23 ozs. unloaded
Capacity: 8 Rounds
Rifle Grooves: 6
Accessories: Cable Lock, Owner's Manual
MSRP: $408
Holster: Galco Gunleather Scout 3.0 IWB