by
Maj. John L. Plaster, U.S. Army (Ret.)
posted on March 20, 2019
Support NRA American Rifleman
DONATE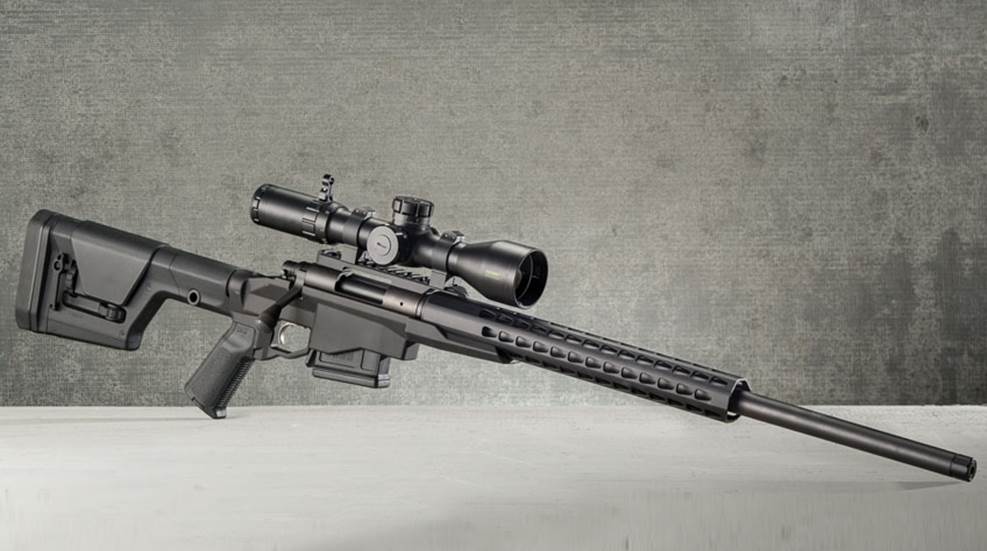 Custom chassis rifles have abounded during the past 20 years, and for good reason—their stocks offer firm, fitted bedding and excellent rigidity, are impervious to weather, and incorporate adaptable ergonomic features. Though these rifles have proved to be quite accurate, until recently they were hand-built affairs carrying a high price tag, from $2,500 to several times that—well beyond the budget of most rifle shooters.
That changed substantially a few years ago when major gunmakers—among them Savage, Mossberg and Winchester—added more affordable chassis-stocked rifles to their lines. Although less expensive than custom-made chassis guns, these factory-built rifles still commanded prices between $1,000 and $1,500—and sometimes even more.
Remington, with its long history in precision riflemaking for the military, considered such an environment an opportunity, and challenged its design engineers to produce an accurate, full-featured chassis rifle at a competitive price point. The result is Remington's Precision Chassis Rifle or PCR.
The Design
At the heart of any chassis rifle is a barreled action, and in this case it's the classic Remington Model 700 short-action, chambered in 6.5 mm Creedmoor, .260 Rem. or .308 Win. The PCR's 24" barrel is hammer-forged of carbon steel, a more economical choice than stainless steel. Of medium weight, the barrel tapers to 0.81" at the muzzle, which is threaded for a suppressor and is supplied with a muzzle cap. Rifling is in the five-land, 5R pattern, in which the lands' angled sides are said to reduce fowling and lessen bullet compression in the bore. The rate of barrel twist is 1:8" for the 6.5 mm Creedmoor and .260 Rem., and is 1:10" for .308. The barrel is fully free-floated inside the handguard.
Like all current Model 700s, the PCR incorporates Remington's X-Mark Pro trigger, externally adjustable from 2 to 5 lbs. Although shaped differently, the trigger guard is no larger than a standard Model 700's; at the guard's forward edge is an M14-style "pinch" magazine release. The PCR is supplied with a Magpul five-round magazine.
To increase riflescope elevation for long-distance shooting, the receiver is topped by a 20-minute-of-angle (m.o.a.) Picatinny rail mount. The rifle also includes an oversize bolt handle for rapid, positive operation.


Aluminum Chassis Frame And Handguard
Although Remington had already developed two expensive chassis rifles—the U.S. Army's M2010 Sniper System and Model 700 Tactical Chassis Rifle—the PCR's design is entirely new, according to Remington's Eric Suarez. The design engineers began with a "clean piece of paper," he reports, giving them the freedom to develop a chassis frame and handguard for in-house production. Thus, they chose fairly standard 6061 aircraft-grade aluminum that is anodized and Teflon-coated. This "spray and bake" finish added surface protection and lubricity, while being more economical than Cerakote.
Special effort was devoted to conforming the aluminum chassis frame to the action, resulting in what Remington calls a Custom Contoured fit. "The chassis frame was designed to hold the receiver in the optimum location to ensure the most solid bed possible," Suarez explained.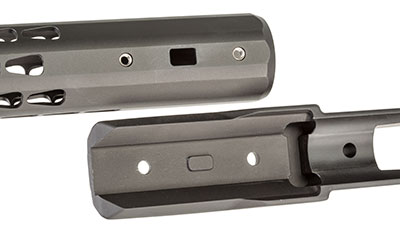 The aluminum handguard attaches underneath the chassis frame, held solidly in place by an interlocking tab and two hex screws. This spot is also the rifle's balance point and is flattened for comfortable carry in the field. The handguard contains eight rows of teardrop-shaped slots for diverse accessories—a light, laser, swivel stud, bipod or a Picatinny rail extension for mounting an in-line night vision device. The slots are compatible with both sister company AAC's proprietary SquareDrop and the more widely encountered KeyMod interfaces, but not with Magpul's M-Lok system.
Magpul Components
Rather than develop its own buttstock, Remington's designers selected an off-the-shelf, highly adjustable Magpul PRS GEN3. The stock is especially well-made, with length-of-pull adjustments from 13.25" to 15.25"—a full 2"—held snuggly in place by a machined aluminum detent knob. Cheek height can be raised up to 0.8", where it, too, is held fast by a similar detent knob. The rubber buttpad also is highly adjustable and can be raised, lowered or canted to conform to the shooter's body. The Magpul stock includes multiple sling attachment swivels and two Magpul M-Lok accessory slots on the underside for adding a rear monopod.
The PCR's final component is a Magpul pistol grip of similar angle to that of an AR-pattern rifle. It is generously textured and incorporates an arched backstrap for an ergonomic, positive grasp.
The fully assembled rifle weighs 10 lbs., 8 ozs., with an overall length between 44" and 46".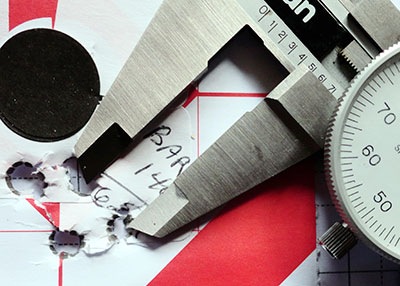 Performance
Remington provided a PCR chambered in 6.5 mm Creedmoor for my evaluation. Its X-Mark Pro adjustable trigger was factory-set to 3 lbs., 2 ozs., which I did not re-adjust. The trigger exhibited smooth take-up and a clean break.
Snapping home the Magpul magazine at first seemed a bit clumsy, but this improved with practice. The magazine release worked fine, allowing it to fall free. I experienced no feeding issues, and the 6.5 mm cartridges glided smoothly off the magazine and into the chamber. I encountered no problems with extraction or ejection.
Typical for a chassis rifle, the design somewhat mitigated felt recoil due to the rifle's straight push rearward, rather than the recoil focusing it up or sideways. This also enabled faster target reacquisition.
For live-fire testing I employed a Bushnell Elite Tactical HDMR scope, 3.5-21X 50 mm, with the scope set at its highest magnification. Since the PCR is a precision rifle I fired only match-grade ammunition, which included Barnes 140-gr. open tip match; Federal 130-gr. Gold Medal Berger; and Hornady 147-gr. ELD Match.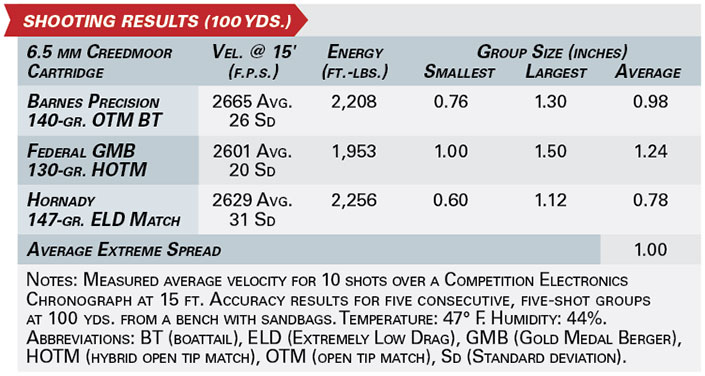 I fired five consecutive, five-shot groups of each type of ammunition for accuracy tests, shooting off a bench with sandbags at 100 yds. My full results, tabulated on p. 45, reveal that the Hornady ELD load yielded the best single group and five-group average, at 0.60" and 0.78", respectively.
Remington supplied its own test target with the PCR, displaying a 0.44" three-shot group, recorded at the plant on its CATS (Computer Aided Targeting System). Though somewhat tighter than my best group, note that I fired only five-shot groups. Reviewing my targets, it was clear that had I not been firing two additional rounds, many of the groups would have rivaled the factory results.
Conclusion
Considering the Precision Chassis Rifle's features and performance, Remington's design engineers met their challenge, producing an accurate chassis rifle at a notably affordable price—the suggested retail is $1,199 with the over-the-counter price likely below that. Although now produced only in short-action configuration with three available chamberings, Remington's Suarez hinted that there may be expanded offerings in the future.