by
posted on February 21, 2018
Support NRA American Rifleman
DONATE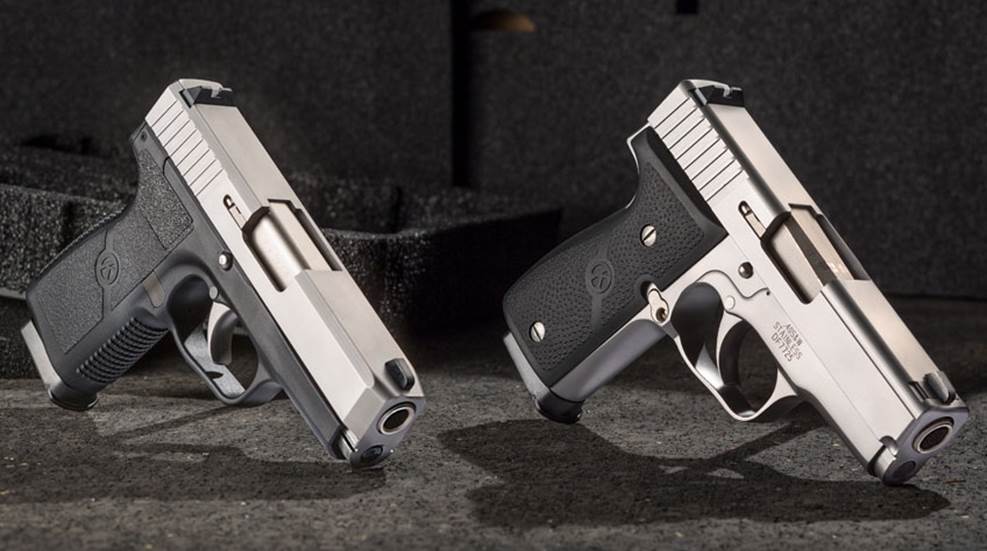 Kahr CW9 (left); Kahr K40 (right)
It all began at around age 14 when Justin Moon's older brother took him target shooting. Like most boys, the impressionable Moon naturally loved shooting and became infatuated. At 18, Moon, who was born in Korea, acquired his New York State concealed-carry permit, but, after gaining some practical experience with a handgun buried under his belt, he felt that most carry guns at the time were either too bulky to fully conceal or too slight of caliber to be effective. What separates guys like Moon from most firearm enthusiasts is that he decided to do something about it.
 "The best carry gun is one that you always carry with you," said Moon, a philosophy he still very much believes in today, and one that continues to steer Kahr's gun designs.
During college at Harvard, from which he'd soon graduate with a degree in economics, Moon began sketching designs for an ultra-compact handgun—a thin one that was a single-stack and chambered in 9 mm Luger rather than .380 ACP. Using his imagination, carry experience and pure tinkering talent, he designed a gun from the ground up by mimicking features of other guns he liked, discarding those he didn't and filling in the rest with a design that placed the hand as high as possible in relation to the bore line and felt good to shoot. His new gun delivered 9 mm Luger stopping power, yet was smaller than the typical double-stack autoloaders of the day. It was always intended as a carry gun, and not a full-size model that was merely chopped off.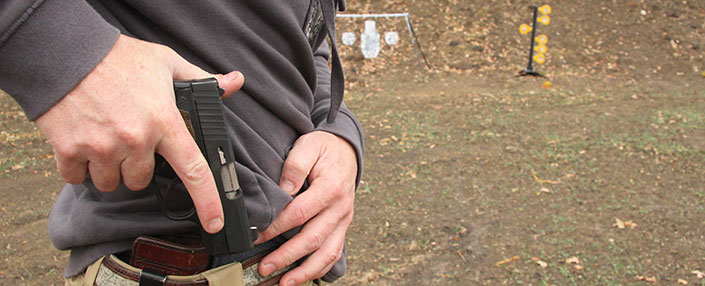 Striving for perfect machining quality and smoothness of function, Moon chose all-steel, CNC-machined construction. He was also dissatisfied with the triggers of striker-fired guns of the day, so he set out to design a better one, his lack of an engineering degree be darned.
Realizing that handguns meant for concealed carry are defensive tools rather than offensive ones, he dreamed up a trigger that felt similar to that of a double-action revolver. He reasoned it would be safer when the gun was drawn during the height of an adrenaline release.
Of out-of-the-box ideas he had plenty, but Moon was savvy enough to know his limitations. He needed a prototype, and for that he needed engineers, CAD designs and machining equipment. During his senior year at Harvard he began renting time at a local machining company. There he met his soon-to-be-longtime partner and his first employee, Frank Harris.
"One day in 1993 Justin said, 'Hey, I'm looking for someone to help me market and sell guns.' I thought that sounded good," said Harris, a military brat who'd moved to New York via North Carolina and knew his way around a machine shop. They agreed on key aspects of what the ideal concealed carry gun should be. So a few months later, the two set off for the SHOT Show and other places to find gun parts and develop their design ideas.
"At the time, Glock had its 26 and 27, but they were chunky," Harris recalled. "Justin's P9 prototype was single-stack and lightweight. We could see what the trend was in the concealed carry market, and the P9 was done well and was ahead of the trend. So, in 1994, we came out with a product that was a lot smaller and slimmer than other 9 mm-and-larger semi-autos at the time. Most of the big companies weren't even in this new sub-compact market yet."


Moon perfected Kahr's now-trademarked, simple-yet-safe "Safe Cam" double-action-only (DAO) trigger system that uses a rotating cam to push the spring-loaded striker back via a transfer bar, while also pushing the striker-block safety mechanism down and out of the way. The 5-lb., 8-oz., average pull weight that you feel when you press a Kahr trigger is the physical force used to compress the firing pin spring. As the cam rotates to the valley of the pull, it flattens so that the trigger sear slips off of it and the spring snaps the firing pin forward to strike the primer. The entire system is safe, effective and has only a few parts that could possibly ever break. Some shooters who are used to Glock-style two-stage triggers don't like it. Others do.
The K9, like all subsequent Kahr pistols, could be safely carried without a manual safety, fully loaded like a revolver—in a purse or pocket—and with more protection from an inadvertent trigger pull.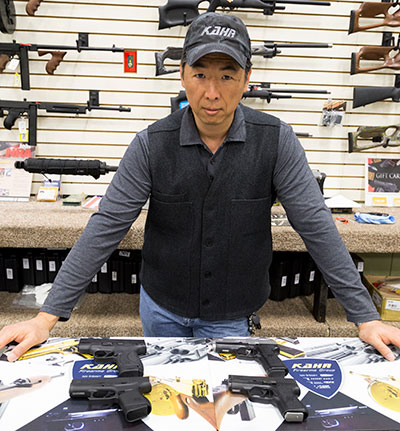 "In defensive shooting situations, when your adrenaline is pumping and you are under a great deal of stress, you lose fine motor control," Moon said. "The longer stroke of the double-action-only trigger helps to ensure that even under stress all shots are intentional. With a little bit of practice in learning how to stage the trigger under recoil, however, you can fire Kahr pistols as fast as you can fire a single-action trigger."
Keep in mind, designing micro-sized semi-automatics isn't easy; there's an acute lack of space with which to work. The trigger's transfer bar alone was an issue that had to be solved by shaping it perfectly around the magazine well and by slightly offsetting the feed ramp. But as a reward, the design placed the firing pin mechanism farther back in the slide than other similar striker-fired guns, and by doing so it reduced gas and shell grime impactions that could cause malfunctions. Moon was awarded multiple patents for the design, and today each Kahr contains seven such patented features, although a few of the patents have since expired.
Happy with the prototype, Moon named his new company Kahr Arms. I asked him the reasoning for such a European-sounding name.
"I believed that given Germany's reputation for engineering great products, whether guns or cars, using a German surname would be helpful in marketing my new pistol," Moon said. "And as an interesting side note, Gustav Von Kahr was the mayor of Munich who imprisoned Hitler after his failed Munich Putsch in 1923."
Kahr Arms shipped 100 of its first model, the 23.1-oz., 0.9" wide, all-steel, seven-round-capacity, 9 mm Kahr K9, in December 1994. The timing, for the company at least, was stellar.
If you recall, President Clinton imposed the so-called "assault weapons" ban that year that made the manufacture and importation of magazines capable of holding more than 10 rounds illegal. This made prospective carry gun purchasers ponder whether the common, double-stack semi-automatics that were wider and, therefore, tougher to conceal were worth their mandated maximum of three extra rounds. Savvy consumers did not believe so. However, these people also believed Kahrs could be made lighter by utilizing a polymer frame.
Moon was already on top of it. At the time, SIG Sauer offered its small-frame, single-stack P239, but it weighed 26 ozs.—there were a few other guns under the 25-oz. mark, but most either had dated controls (i.e., Colt's 1903) or were chambered in .380 ACP or smaller. So, in 1999, Kahr released its P (polymer) Series pistols that, at 17 ozs. in 9 mm Luger (with magazine), proved to be an industry changer.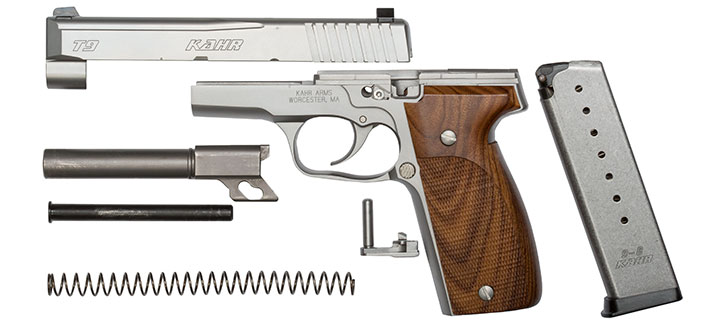 Kahr Rounds The Corner
Soon Kahr's brand took off, thanks in part to this ridiculous law but mainly due to its dehorned, hard-hitting and expertly machined guns that quickly developed a reputation for quality, reliability and accuracy out of their Walther-Lothar, polygonal-rifled barrels. Their size and quality placed Kahr handguns in a category all their own. Consumers ate them up, and Kahr was off to the races. Then the only question was: Could Moon's new ideas keep pace?
Looking to the future, in 1999 he purchased Auto-Ordnance Corp.—the company that makes Tommy Guns—from Numrich Gun Parts. But even while hedging for the future, he never let the company lose focus on the finish line. He wanted his Kahr offerings to go even smaller, perhaps into the front pocket of a pair of blue jeans.
Moon and company found they could simply shorten the barrels and slides of existing models to make them even lighter and more concealable. So, in 2001, Kahr released its PM (Polymer, Micro) Series. Chambered in 9 mm Luger—and later in .40 S&W and .45 ACP—the 3.1"-barreled gun held six or seven rounds in its extended magazine; it featured all the controls and sights of a full-size gun, yet weighed under 16 ozs., with its magazine.
By this time the Kahr brand had developed some mystique among the concealed carry crowd because it was different, felt good in the hand and on the waist, and it was priced higher than even the top brands of the day such as SIG and Heckler & Koch. It also became a favorite backup gun for New York policemen.
Meanwhile, fresh from my concealed carry class and with a new Virginia CCW permit in my wallet, I had to have one.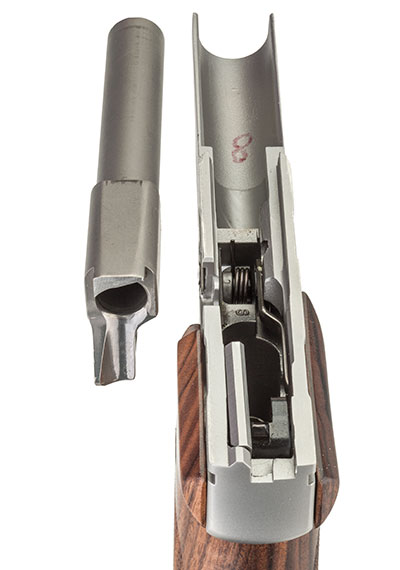 Setting The Pace
After purchasing a PM9, I replaced its factory sights with an XS Big Dot and then, to the chagrin of my "expert" friends, wrapped some cloth tape around its grip to lend my hand better purchase; the hard, thin polymer grip can get slippery with sweat. Since then, I've carried that gun nearly every day for 15 years, and I'm still doing so despite a host of top-end, albeit slightly bigger, handguns in my safe. Indeed, I also share Moon's philosophy on concealed carry, which is that if it's even slightly uncomfortable, it won't be carried all the time. The PM9 is so small that I can even drive with it in its inside-the-waistband leather Don Hume holster without it bothering me. I've bowled with it and worn it to weddings—dancing weddings! It's one of the only guns that I've ever actually been able to put on my waist, forget that I have it on—and still shoot it well when I draw. For appendix carry, where grip length and slide width is everything, I believe the PM9 is one of the best guns ever made. Obviously, I wasn't the only one to take notice.
These days most of the major handgun makers—including Smith & Wesson, Springfield, Glock, SIG, Beretta, etc.—produce a gun of similar size, although technically the PM Series is slightly smaller. Sure, Kel-Tec and Ruger produce true pocket pistols of under 10 ozs., but those guns fall into a whole new sub-micro class and, as such, are not easy to shoot well, nor are they fun to shoot. The PM's only downfall? In 2017, its MSRP was more than $800 with a real-world price over $600. While I don't think that paying top-dollar for a gun that you wear every day, lasts a lifetime and one on which you may stake your life is too much to ask, that pill is a little harder to swallow knowing you can now buy a similar-sized Glock 43 for around $450.
In response to the recent market swell with the introduction of S&W's excellent Shield and Walther's PPS, I can only speculate that Kahr may have been feeling sales slip. So it introduced a value line of guns that have fewer bells and whistles than its "premium" (original) lines. For example, its CW9 features a pinned front sight rather than a dovetailed one (its rear sight remains drift-adjustable), rolled lettering on the slide, regular rifling rather than polygonal, and it comes with only one magazine. Its slide and some of its parts are not made from 416 steel bar stock and are not coated like its premium lines. As such, the C Series has a suggested retail price of $487 but sells for around $350. I think it's a bargain at that.
At the 2017 NRA annual meetings in Atlanta, Kahr unveiled its latest guns, the S Series. Its S9 (like other models, it also comes in .40 S&W and .45 ACP) may be Kahr's best carry gun ever, considering it has updated features such as an integral accessory rail, yet stays slim with its single-stack, seven-round, updated magazine that's easier to grasp than Kahr's older flush-mount magazines, and also provides some purchase for the pinky. And I was onto something with my grip tape; the company now even offers a Hogue-made rubber grip that slides over its plastic to lend more purchase. At 16 ozs. and 0.9" wide (significantly thinner than even Glock's 43), it's an updated version of the original P Series that costs significantly less. The ST, on the other hand, features a 4" barrel, a longer grip that holds eight rounds in the magazine; at 19 ozs., it's a gun you can shoot at the range all day and then carry it all night. Both guns retail for $477, but both can be found in the mid-$300s.
Kahr also makes other lines, including its T Series and M Series pistols, and each model is offered in 9 mm, .40 and .45, in various barrel lengths. Recently Kahr even made a C Series pistol for the .380 crowd that weighs 11 ozs. Indeed, to date Kahr has a wide-ranging portfolio of pistols to suit all who desire a quality lightweight single-stack. Plenty of people do, and Moon's vision has paid off royally for him. But just like his products, it's easy to admire this American's principles.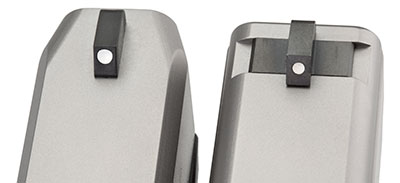 Expansion
In 2013, Moon purchased 620 acres in Greeley, Pa., and soon after began construction on a 40,000-sq.-ft. facility to include corporate offices, engineering, warehousing and manufacturing capabilities. In July 2015 Kahr moved there due to the passage of New York's SAFE Act.
 "We were looking for a friendlier environment for our business," Harris said, who is now Kahr's vice president of sales and marketing. "The way [New York] passed the SAFE Act bill left us feeling a lot of uncertainties going forward. Why take a chance when we can be in a state where they're not looking to cause us any problems?"
Currently, Kahr employs 180 workers in three states. Now called the Kahr Firearms Group, it owns the Auto-Ordnance "Tommy Gun" brand, as well as Magnum Research, which is most famous for its Desert Eagle handguns. Look for new products soon.
For example, Magnum Research just introduced a .22 rifle with an integrally suppressed, tensioned barrel called the Magnum Lite. Auto-Ordnance released its first AR-15-style rifle under its Thompson brand at the 2017 NRA Annual Meetings. I suspect Rifleman readers will be delighted to know there's talk of an M1 Garand.
 "Kahr's goal is to make as many guns and gun parts as possible in the United States, so we can create our own destiny and not be affected by the whims of the government," Moon said. "We currently produce guns in our Massachusetts and Minnesota plants, and we will continue to do so into the foreseeable future, but we can expand manufacturing into our Pennsylvania plant if we must. We hope to contribute in keeping Pennsylvania a pro-gun state into the future."
As for the American dream? Moon is the epitome. "I get to make a living doing something I love," he said.
"The great genius of the American Revolution was that our Founding Fathers enshrined in our Constitution a nation which protected the common man from the overreach of the federal government and lets us pursue our dreams and build our own businesses," Moon said. "Yet this freedom has been diluted as government at all levels has expanded during the last quarter century," he said. He feels its the responsibility of gun manufacturers—and consumers—to ensure that our unique American freedom rides into the future, and he's doing his part.
"Kahr Firearms Group is absolutely committed to providing the highest-quality guns and service in the firearms industry. We are also absolutely committed to protecting and expanding our Second Amendment rights and the restoration of our liberties enshrined in the original Bill of Rights," Moon said.
As for me, a few weeks prior to writing this article I attended NRA's new Carry Guard advanced concealed-carry class. We trained with full-size guns for instructional purposes, but at the end we were encouraged to run a timed course of fire, from the holster, with our carry gun of choice. I figured my score would drop off significantly when using my well-worn, 3.1"-barreled, double-action-only PM9 from distances up to 12 yds. … but I was mistaken. It was unbelievable how well the little gun stacked up against my Glock 19, S&W M&P and FNP-9, all considerably bigger, easier-to-shoot guns.
After leaving the range, I didn't case up my PM9, rather I reloaded it with hollow points and buried it under my belt where I nearly forgot about it during the long drive home.
---
UPDATE: GEN 2
Back in 2015, Kahr began working on a second generation of pistols that would feature slides with optic-mounting cuts, lighter double-action-only trigger pulls, extended barrels, muzzle brakes and other design changes to make its single-stack pistols more conducive to target shooting and competition. The project, however, has been put on hold. Company representatives report that they are not entirely happy with the new trigger design, and, in keeping with Kahr's culture of quality, the company wishes to release the Gen 2 guns only when they're perfect. We'll keep you updated.