by
posted on October 18, 2018
Support NRA American Rifleman
DONATE
The soaring popularity of long-range precision shooting has been the impetus behind a number of sporting rifle companies deciding to offer their existing bolt-action platforms re-dressed in chassis stocks. Mossberg is among the companies doing so, introducing its MVP Precision rifle in January 2018. Possessing a number of features to make the rifle compatible with long-range shooting, the newest Mossberg offers shooters an economical option for competition. For this evaluation, we received a sample of the MVP Precision rifle chambered for the 6.5 mm Creedmoor cartridge.
Based on Mossberg's proven MVP bolt-action design, the MVP Precision boasts a number of thoughtful features. The rifle feeds from multiple patterns of detachable box magazines and comes with a polymer Magpul 10-rounder. Besides PMAGs, it also accepts DPMS/SR25 and M14 magazines. There is an AR-15-style magazine release conveniently located where it can be reached by the trigger finger, simultaneously disengaging front- and side-mounted catches. The 24" barrel is free-floating, the trigger is adjustable, and the stock features adjustable comb height and length of pull. All of these features were designed to make the MVP Precision a viable competition rifle.


The MVP action has been the heart of Mossberg's sporting bolt-gun offerings for many years. It has a reputation for being a workhorse, and that made it a perfect candidate for an upgrade into a long-range precision rifle. The push-feed design cocks on opening and features a plunger ejector and a sliding-plate extractor. The bolt handle features a large and weighty knob for rapid manipulation. Scallops on the inner portion of the bolt handle facilitate unimpeded access for the operator's hand even when wearing gloves.
Mossberg attaches a railed top cover, secured via four screws to the MVP's receiver bridge, providing 7" of Picatinny rail for mounting optics. Its legs rest firmly on the lower portion of the chassis, making for a secure setup.
Mossberg's chassis utilizes an AR-style receiver extension, or buffer tube, to which a Luth-AR MBA-3 buttstock is attached. Not only can the stock be set to six positions along the buffer tube, but the MBA-3's length of pull, cast and comb height can all be adjusted. Adjustments are easy and repeatable, and require only loosening a knob to move the cheekpiece or buttplate. Because of the six-position receiver extension, the length of pull can be adjusted up to 4", making the rifle comfortable for just about any size shooter. To install or remove the bolt on the MVP Precision you must first remove the buttstock adapter assembly from the chassis.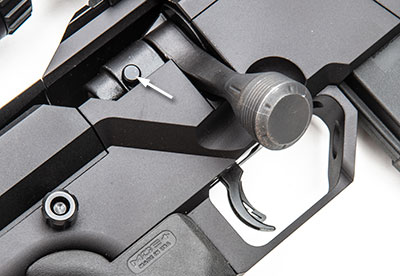 Mossberg outfits its MVP Precision with the excellent LBA adjustable trigger. While company literature states that the LBA's break can be adjusted from 3 to 7 lbs., our test sample's pull measured outside of that range, at a crisp 2 lbs., 4 ozs., and we saw no reason to alter it. Those who prefer a heavier pull will need to remove the action from the chassis. The Trigger Pull Adjusting Screw is located at the front of the trigger assembly, and turning it clockwise increases the trigger-pull weight. The lower features an integral winter trigger guard, along with a Magpul MOE AR-15 pistol grip.
The manufacturer offers the MVP Precision in either .308 Win. with a 20" barrel or 6.5 mm Creedmoor with a 24" barrel—both of which feature a medium bull contour. For suppressor or muzzle-brake use, Mossberg threads the end of the barrel 5/8x24 TPI, and a thread protector is included with the rifle. The 5R button-rifled barrel is 4140 carbon steel with a 1:8" right-hand twist.
A slim and trim 15" aluminum handguard covers the free-floating barrel and interfaces with the receiver for wobble-free mounting that provides plenty of rigidity for a bipod. The handguard is cut for M-Lok accessories, and we used a Magpul bipod adapter and Harris bipod during our testing. To maximize our accuracy potential we mounted a Trijicon 5-20X 50 mm AccuPoint scope on the MVP Precision and fired our groups with it set on maximum magnification. Our best five-shot group was produced by the Federal Premium Gold Medal Berger 130-gr. Hybrid Open Tip Match rounds and measured just 0.74". SIG Sauer's 140-gr. open tip match rounds produced the best five-group average at 0.88". All three ammunitions produced sub-m.o.a. groups. Despite temperatures over 100° F, we did not notice any shift in groups as the barrel warmed. Groups were round, and showed no evidence of vertical or horizontal stringing.
Chambered in 6.5 mm Creedmoor, the Mossberg MVP Precision is an extremely enjoyable gun to shoot; its mild recoil and great trigger made shooting from the bench a very pleasant experience. The bolt worked smoothly, and with some practice proved to be very quick. We encountered no problems with the rifle during our evaluation.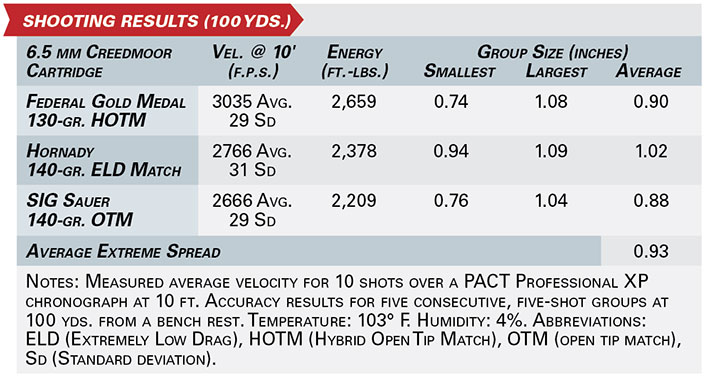 Our only criticism of this rifle is one that is common to nearly every other sporting bolt-action that has been adapted to chassis use—the location of its safety. The Mossberg MVP Precision uses a mechanical safety lever on the right side of the receiver near the rear of the bolt. Pushing it forward exposes a red dot and makes the rifle ready to fire. It cannot be disengaged by a right-handed shooter while maintaining a firing grip and is nearly impossible to disengage with the off hand. Again, this is not a problem unique to the Mossberg.
In our estimation, the Mossberg MVP Precision offers competitors a sensible and capable alternative to building a custom competition rifle for long-range precision shooting. With an MSRP of $1,407, the MVP Precision offers a great deal of value for the money.