by
posted on February 24, 2023
Support NRA American Rifleman
DONATE
Davidson's has been in the firearm industry for decades, having expanded from its early roots in the automotive industry. From 1980 until today, the company has established itself as one of the preeminent firearm distributors in the nation. Because of this, Davidson's can work with manufacturers to craft unique models of guns you can't find anywhere else. This Ruger-5.7 is one of those special offerings. Watch the video above to see the exclusive Ruger-5.7 on the range with American Rifleman staff.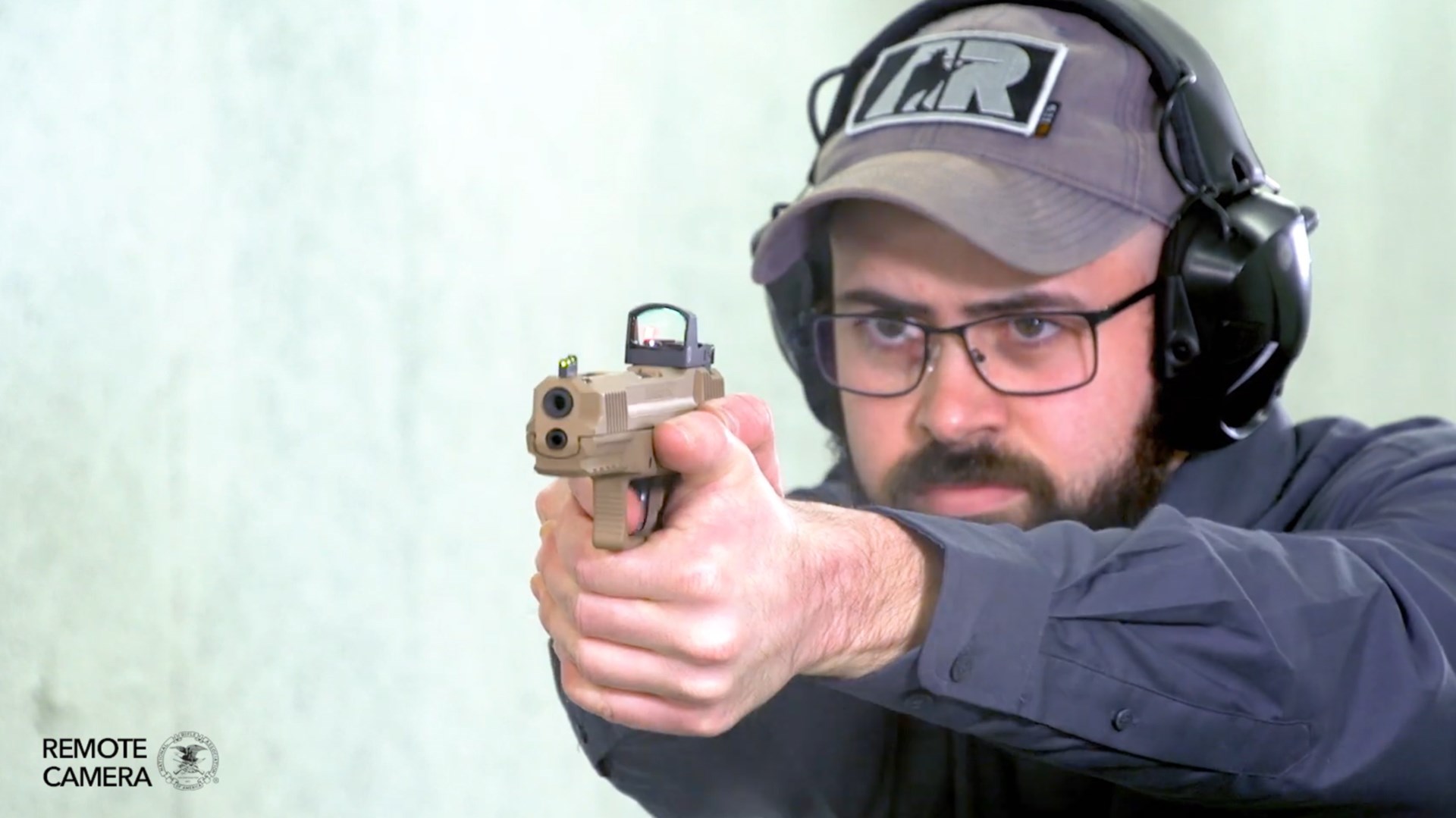 American Rifleman Senior Executive Editor Kelly Young, in his review of the Ruger-5.7, said that "if a major manufacturer were to introduce a 5.7x28 mm FN-chambered handgun, featuring conventional controls and sold at a reasonable price, it would sell like hotcakes." More than two years after its introduction, all of that appears to be true of Ruger's 5.7 design. The company took a different tack than FN did with its Five-seveN handgun, and despite a similar appearance between the two, Ruger employed more traditional thumb safeties and reduced the selling price significantly. The result is a handgun that's almost single-handedly revitalized interest in the 5.7 mm cartridge.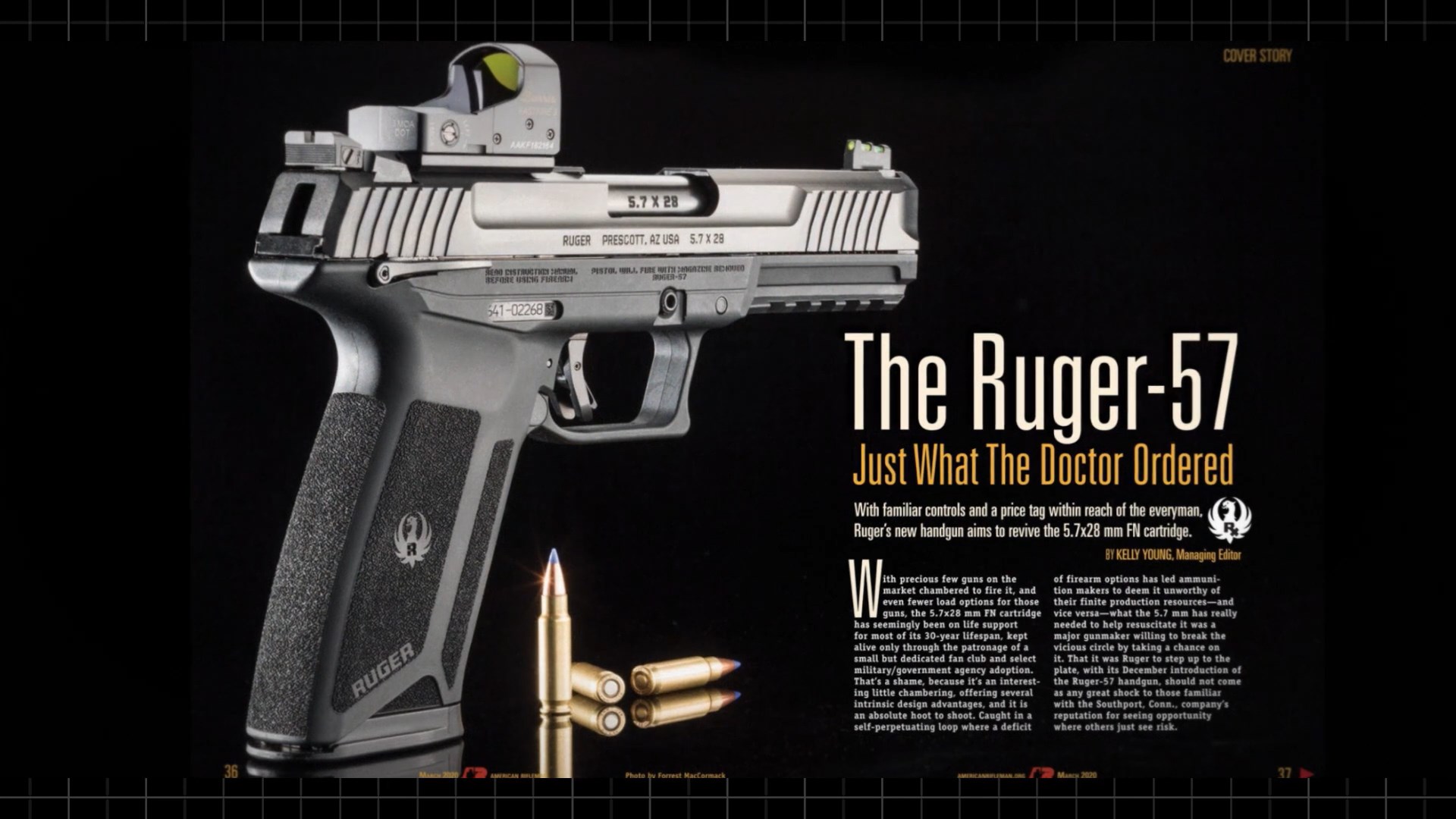 The large, polymer-frame handgun employs a 4.9" barrel and feeds from 20-round detachable box magazines. Due to the firearm's polymer construction and the small, light nature of the 5.7x28 mm FN cartridge, the gun weighs only 28.4 ozs. when fully loaded. The pistol employs a delayed-blowback operating system, with the slide and barrel held together by recoil spring tension, which is fairly strong. Ruger uses its Secure Action trigger system in the gun, which is partially pre-cocked, with the hammer-fired ignition system reaching the full tension required to set off a primer during the trigger pull. A blade-in-trigger safety also prevents the gun from going off without a pull of the trigger.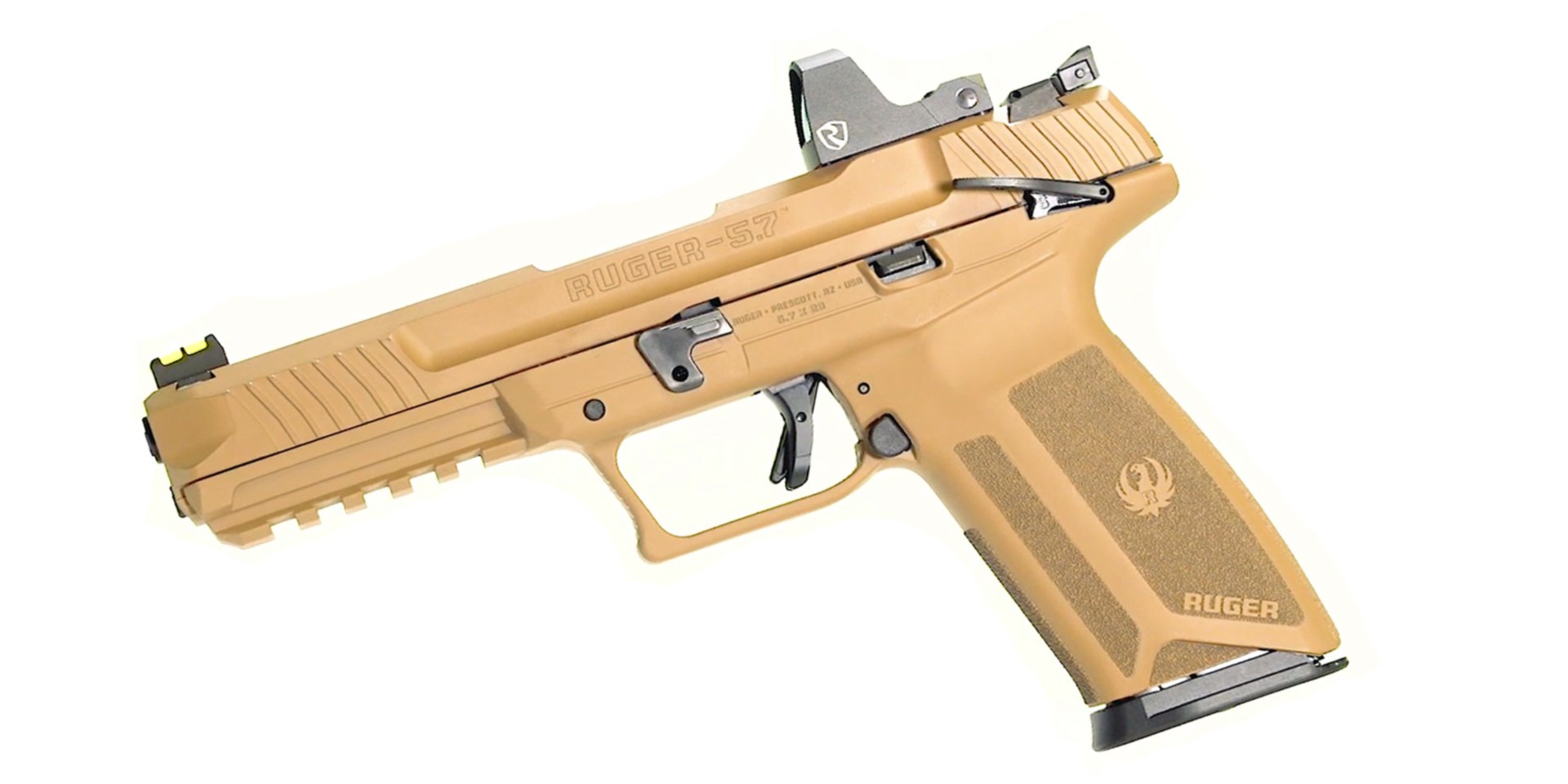 One of the other great benefits of Ruger's 5.7 pistol is its red-dot-ready slide, and Davidson's makes great use of that with its Exclusive package. A Riton Tactix MPRD red-dot sight comes standard on this platform, providing an easy-to-see sighting solution. Ruger's windage-adjustable open sights are also included, but they do not co-witness with the mounted red dot. One of the other obvious elements of this Exclusive offering is the Davidson's Dark Earth Cerakote finish applied to the slide and frame. Ruger doesn't offer any kind of dark-earth-finished 5.7 pistol, so if you're an FDE fan, this is the only way to get one.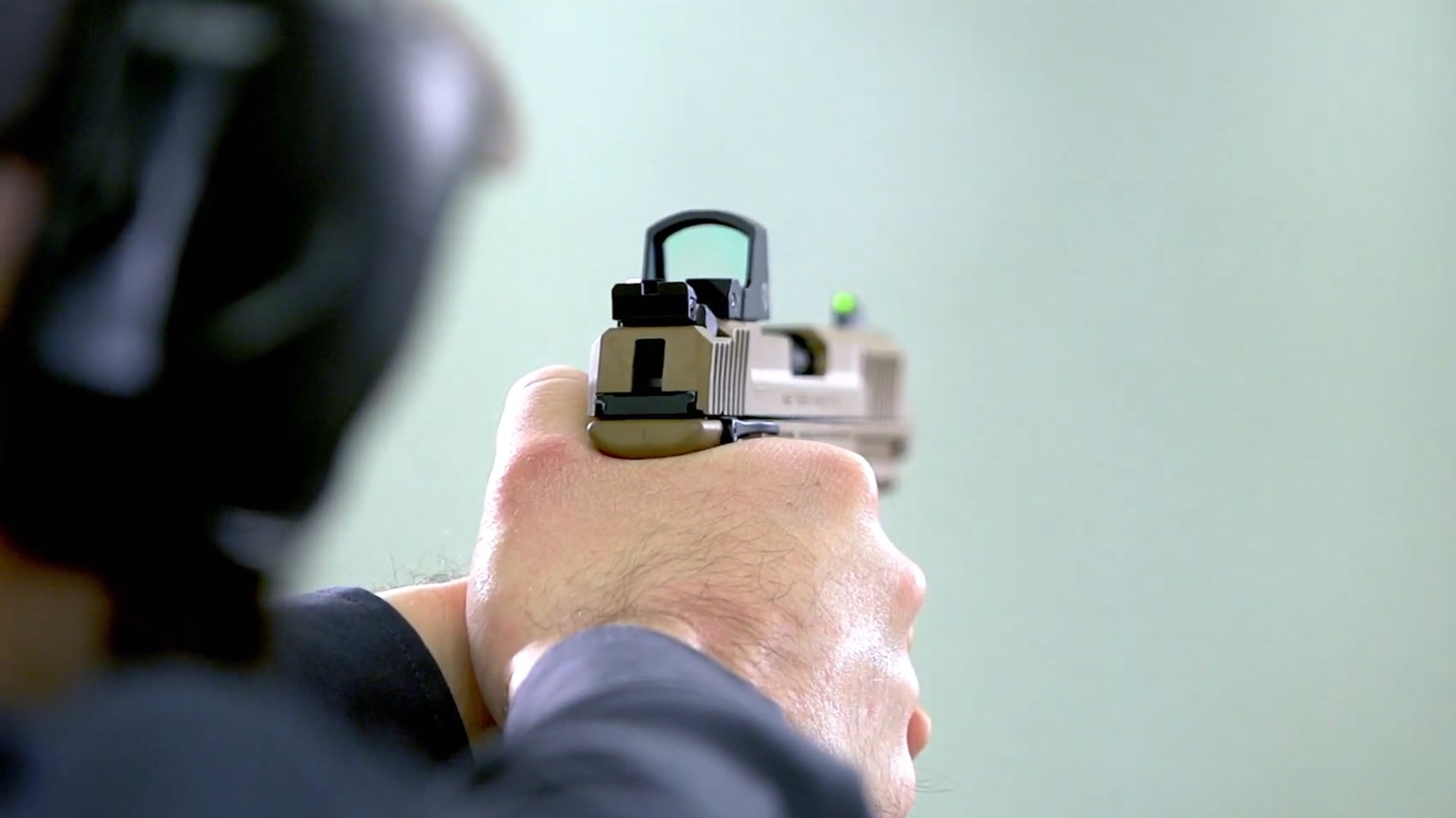 Shooting the Davidson's Exclusive Ruger-5.7 pistol is an absolute joy, thanks to the flat-shooting, soft-recoiling 5.7 mm cartridge. It's also remarkable to note how the gun just seems to keep right on going, thanks to the 20-round magazine capacity, which is quite a bit more than we're used to seeing in handguns. One of the other benefits of the magazine is its double-stack, double-feed design, which makes it easy to load rounds into the mag. All told, the Davidson's Exclusive Ruger-5.7 is a great way to get custom-level features on a unique Ruger handgun without having to head to the custom shop.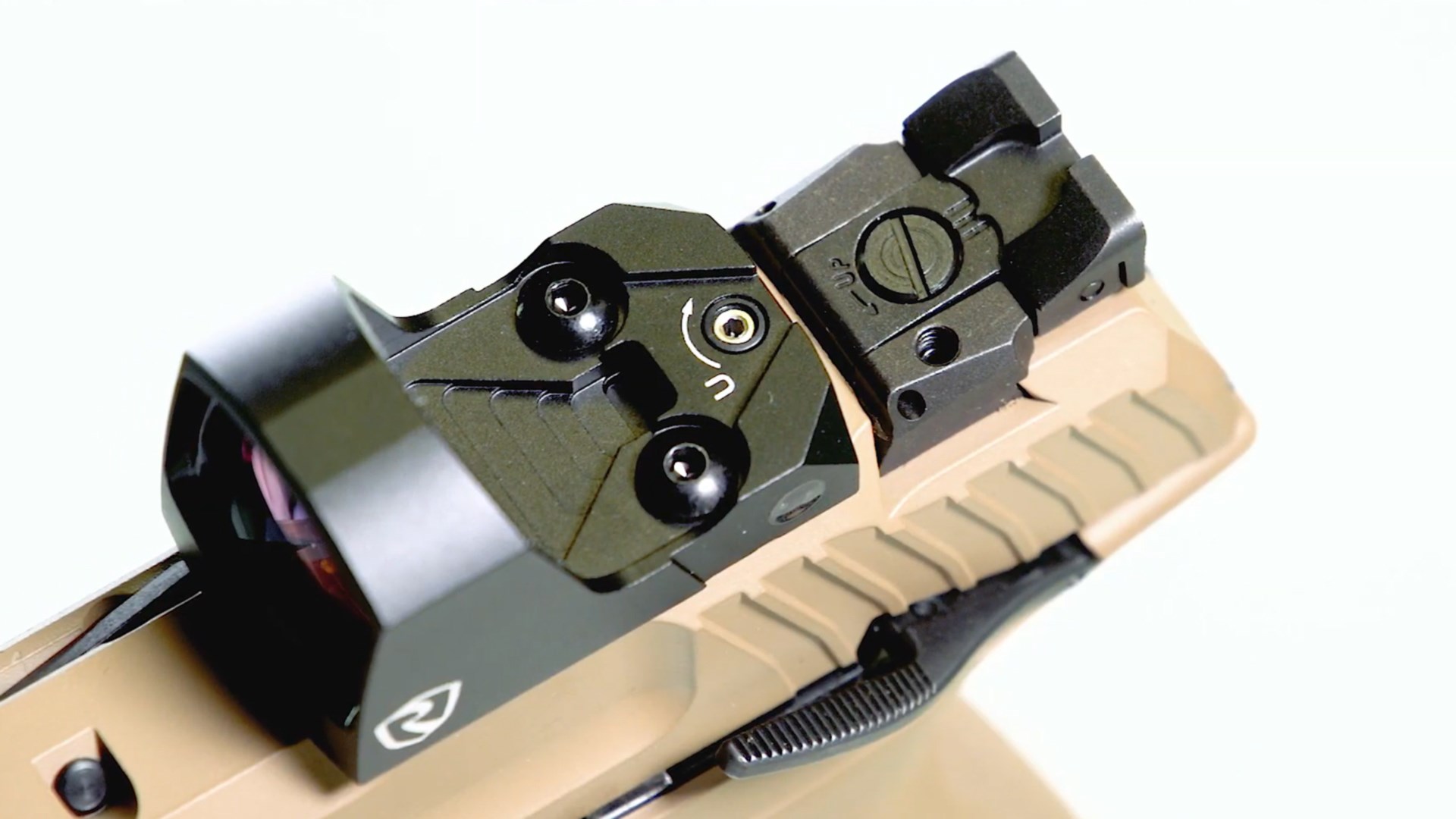 Davidson's Exclusive Ruger-5.7 Red-Dot Specifications
Manufacturer: Sturm, Ruger & Co., Inc.
Distributor: GalleryofGuns.com
Action Type: delayed-blowback-operated, semi-automatic, centerfire pistol
Chambering: 5.7x28 mm FN
Slide: alloy steel
Frame: polymer
Finish: Flat Dark Earth Cerakote
Barrel: 4.9" alloy steel
Sights: fully adjustable, red-dot optic included
Magazine: 20-round detachable box
Overall Length: 8.6"
Width: 1.2"
MSRP: $1,349