posted on October 27, 2014
Support NRA American Rifleman
DONATE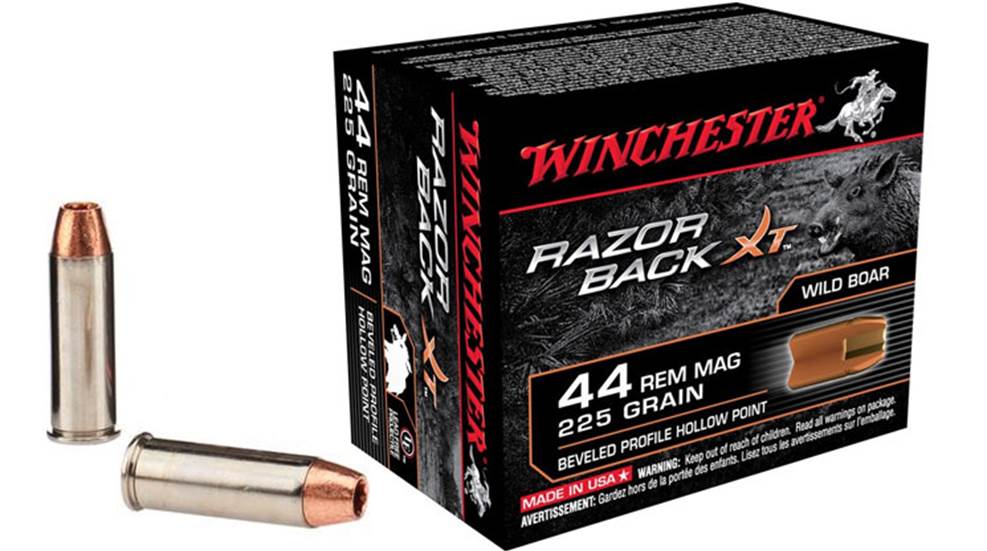 The increasing population of feral hogs, not to mention a lengthy, if not continuous, season and liberal limits (in most states), has contributed to a growth in hunters pursuing the plentiful pigs both as a food source and for nuisance control. Winchester Ammunition was among the first to offer specialty loads with bullets designed specifically for the animal's unique anatomy.
Already available in .223 Rem., .270 Win., .308 Win., .30-'06 Sprg. and 7.62x39 mm, the company recently introduced .44 Rem. Mag. to the Razorback XT line. As with the previous options, the .44 Rem. Mag. features a homogeneous, lead-free, hollow-point bullet with a "beveled" profile; the flats purposefully slow expansion, which is desirable on hogs because their tough hide and much-touted "shield" must be defeated to reach the vital organs. The company suggests that the flats also strengthen the expanded segments. Furthermore, absent a jacket, the 225-gr. bullet retains 100 percent of its pre-expansion weight for deep penetration, and the upset projectile exhibits six sharp petals which aid tissue damage and penetration. Factory numbers maintain the load's velocity as 1250 f.p.s., which results in 780 ft.-lbs. of energy at the muzzle; however, expect an exponential increase in both if employed in a .44 Rem. Mag.-chambered carbine, such as the CVA Hunter or Ruger 77/44.
Lastly, the Razorback XT load features nickel-plated brass cases for corrosion protection, as well as low-flash propellants to maintain visual acuity in compromised lighting—when most hog pursuits take place. MidwayUSA sells 20-count boxes of .44 Rem. Mag. Winchester Razorback XT ammunition for $31. Contact Winchester Ammunition, 600 Powder Mill Road, East Alton, IL 62024; winchester.com.