by
Brian C. Sheetz, Editor In Chief
posted on July 7, 2009
Support NRA American Rifleman
DONATE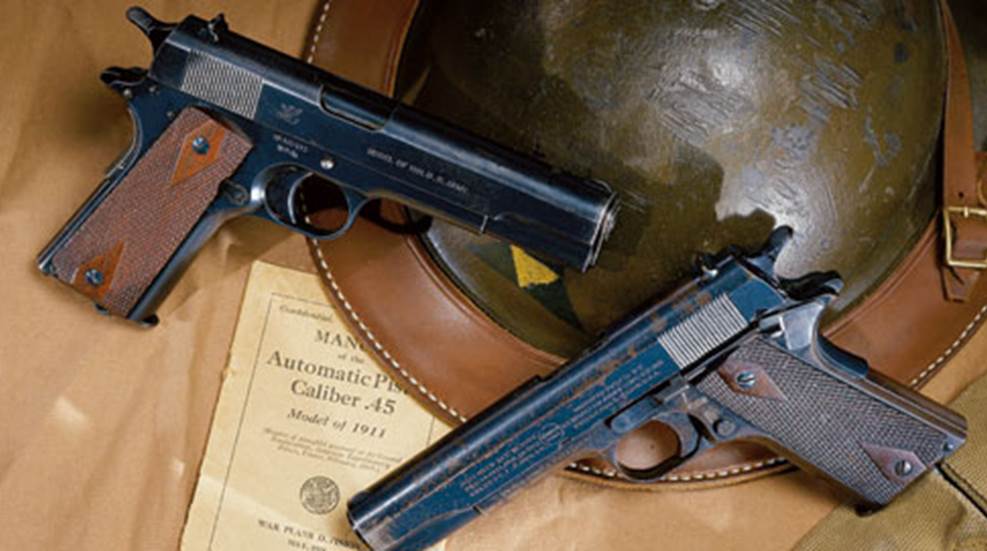 John M. Browning's .45 ACP-cal Model of 1911 established an unprecedented place in history as both the official U.S. service pistol for nearly three-quarters of a century and as a seminal design that have been the basis for innumerable spinoffs.
The final report of the military selection board that convened in 1906-1907 for the purpose of choosing a new U.S.-issue sidearm remarked of the Colt-made Browning design and of its last surviving competitor, a Savage entry: "Of the two pistols, the board was of the opinion that the Colt is superior, because it is more reliable, more enduring, more easily disassembled when there are broken parts to be replaced, and the more accurate." Since then, the .45 and its descendants have achieved a worldwide reputation for serviceability unsurpassed by any other handgun.
The Model of 1911 was updated during the early 1920s with several minor changes designed to improve handling qualities. They included frame scallops near the trigger, an arched mainspring housing, shorter hammer spur, Patridge-type sights, short trigger and longer grip safety horn. The improved model was designated the U.S. Model 1911A1 and was adopted in 1924. Popular, modern-day variations of the basic Browning-Colt design have led to both small-frame, single-stack guns and wide-frame high-capacity models offered by foreign and domestic armsmakers.
The accompanying disassembly instructions are for basic U.S. Model 1911A1-type pistols, but should prove helpful with the disassembly of other M1911-based pistols. Be aware that additional takedown steps are required for Colt Series 70, 80 and 90-type pistols and that specialized parts and features found on many custom and competition pistols require specific tools or knowledge not covered here....