by
posted on August 3, 2009
Support NRA American Rifleman
DONATE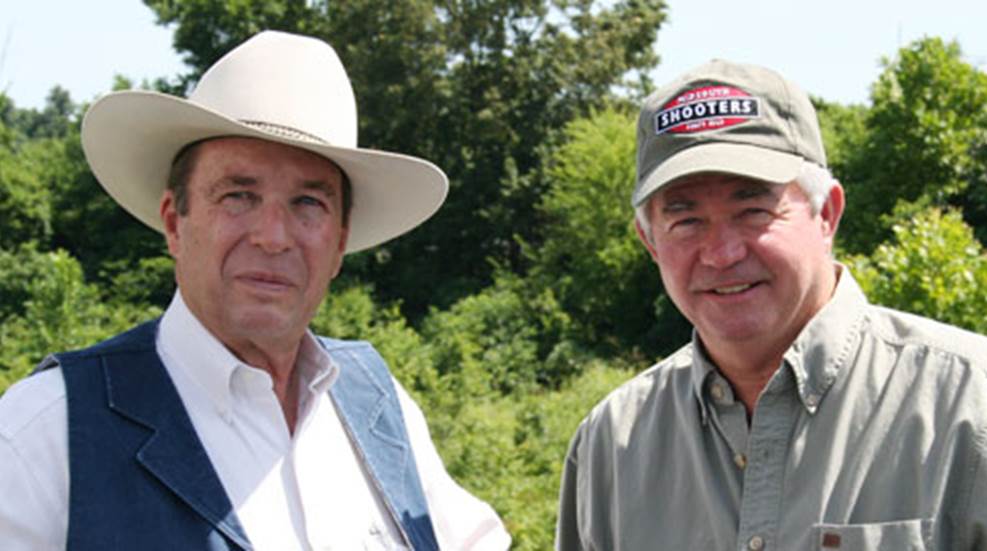 In one of his songs, Merle Haggard wrote, "I live the kind of life that most men only dream of." One of the people in the firearm industry who those lines fit like a glove is David "Dirt" King, head honcho of Midsouth Shooters Supply. Once a professional musician, King is a former hunting and fishing guide, a lifelong hunter and angler, a host of a popular TV hunting show, and a successful businessman. Recently, I traveled to Clarksville, Tenn., home of Midsouth Shooters Supply, to visit with this interesting fellow.
Dirt King was raised near Reelfoot Lake in northwestern Tennessee and always enjoyed the outdoors. As a youngster, he also took up the piano and began playing popular music. Believe it or not, King went on the road for the first time when he was 13 years old, playing in a rock 'n' roll band. For many years after that, he fronted bands all across the South and recorded or performed with the likes of Hank Williams Jr., Carl Perkins and many other great musicians.
King admits that it was pretty heady company for a kid and his keyboard. When I asked him where he got the nickname "Dirt," King just shook his head, grinning in sort of an embarrassed fashion and said, "That's just a name that I got when I was a kid and I've never been able to get loose from it."
Not long after he took up music professionally, King realized that he also enjoyed guiding hunters and anglers on their Tennessee outings. He found that he could work the scheduling of his music gigs so that they didn't interfere with his various hunting and fishing jaunts. In short order, he became one of the go-to guys if you wanted to fish or hunt in Tennessee.
For some years now, King has been involved in hosting, producing and directing outdoor television. A little over seven years ago, he partnered with Charlie Ingram to create the popular Hunting University TV show. The show is still going strong because King has an abiding interest in producing quality outdoor television. King insists that it is important to have the best camera crew available, and to work with outfitters to get good, clean footage of the hunt. King also thinks it is also critical to know what kind of hunting his viewers would like to see, and he wants his shows to indicate the deep, personal respect that he has for the wild game being hunted. Oh, and as you might have suspected, King wrote and performed the show's theme song.
Midsouth Shooters Supply was founded in the summer of 1969, and King bought the company in 1995. They are currently housed in a large warehouse and have more than 30 employees. On my recent tour of the facility, I was pleased to see the quality of name brands that filled the shelves: Products from Hornady, RCBS, Leupold, Zeiss, Swarovski, Mako Tactical Accessories, Case, Streamlight and many others were stocked in quantity so that they could be shipped out to customers as quickly as possible.
One prevailing sales philosophy says that if you know how to sell, you can sell anything. Personally, I don't think that holds water in the shooting and hunting industry, and King agrees. King attributes Midsouth's success to the fact that he employs men and women for whom hunting and the shooting sports are a way of life. King and his staff speak the language of the shooter and hunter. They know what's popular, they know what their customers like, and they make a point to know how to answer a customer's questions, or to find someone who does.
Dirt King's business philosophy encourages his employees to think for themselves and find ways to improve the company's service. "We're all human, and when we're trying to come up with new ideas and better ideas, we are sometimes going to fall," he said. "I just tell my people, 'When you fall, fall forward.' "
Because the Midsouth staff is attuned to shooters and their needs, they have also made sure to have an adequate stock of tactical gear on hand, as that market segment is currently extremely popular. However, in spite of the stockpiling that has been going on, Midsouth has not taken advantage of the situation by increasing prices on hard-to-get items. "That just isn't fair to the loyal customers that we've had over the years," said King.
When you see David "Dirt" King at any of the outdoor industry functions, go say hello. And when you do, be sure to ask him about the time he took Hank Williams Jr. fishing, or about his ideas on what makes an accurate rifle bullet. I guarantee you'll come away entertained and educated.