Support NRA American Rifleman
DONATE
For those unfamiliar, the so-called "Roland Special" was a particular pistol configuration developed for special-forces use, and the concept spread across the shooting community a few years back. Built originally on a Glock 19, the recipe called for an externally mounted compensator, micro red-dot and the installation of a weapon light to create an ultra-capable, and yet still concealable, defensive platform. In its Rapid Defense Package (RDP), built around the popular Hellcat pistol, Springfield Armory now offers a condensed form of this concept, providing added capability in a concealable package.
The gun is built with a 3.68" hammer-forged barrel with a 1/2x28 TPI threaded muzzle topped by a self-indexing compensator machined from 8082 aluminum. The compensator features three ports, one on either side and a third on the top, to reduce muzzle flip. Another optional extra available on the RDP is the Hex Wasp MRD, which is built on a 6061-T6 aluminum housing and features a maximum 65,000-hour battery life at its lowest setting on a single CR2032 battery. The Wasp offers a 3.5-m.o.a. aiming dot that automatically adjusts its brightness to match ambient lighting conditions. Windage and elevation adjustments are available in 1/2-m.o.a. increments and require an Allen wrench for adjustment.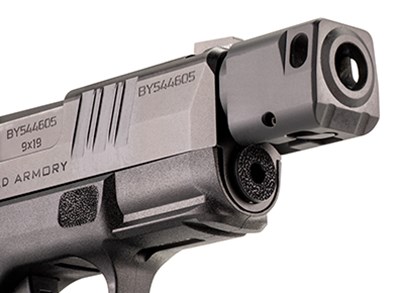 Co-witnessing with the mounted MRD is a set of Springfield's tritium-illuminated U-Dot night sights, providing a back-up sighting option that can be viewed through the optic window. The RDP is available with a manual safety, and bilateral safety levers are located on both sides of the frame. The gun also includes a one-slot Picatinny accessory rail on the forward portion of the frame, enabling users to mount a laser or weapon light to complete the "Roland Special" package.
For those who enjoy the compact package of the original Hellcat but want to take the edge off the muzzle flip and felt recoil, the RDP is an option that softens the impact a bit and still accepts standard Hellcat magazines (including the 15-round Pro magazine) and fits in Hellcat holsters, provided they have an open mouth to accommodate the mounted compensator. From a defensive standpoint, compensators can provide an added level of confidence when it comes to making a fast follow-up shot, due to the quicker shot recovery, and it just looks cool, too. Worth noting, though, is the fact that re-directed propellant gases are a consideration in close-quarters defensive shooting when the gun is deployed tight to a shooter's body. Thanks to the self-indexing compensator, the device can be quickly removed and mounted, allowing users to mount other muzzle devices to their gun. For some extra versatility and ease of shooting in a compact package, the Hellcat RDP is a value-packed platform with all the bells and whistles.