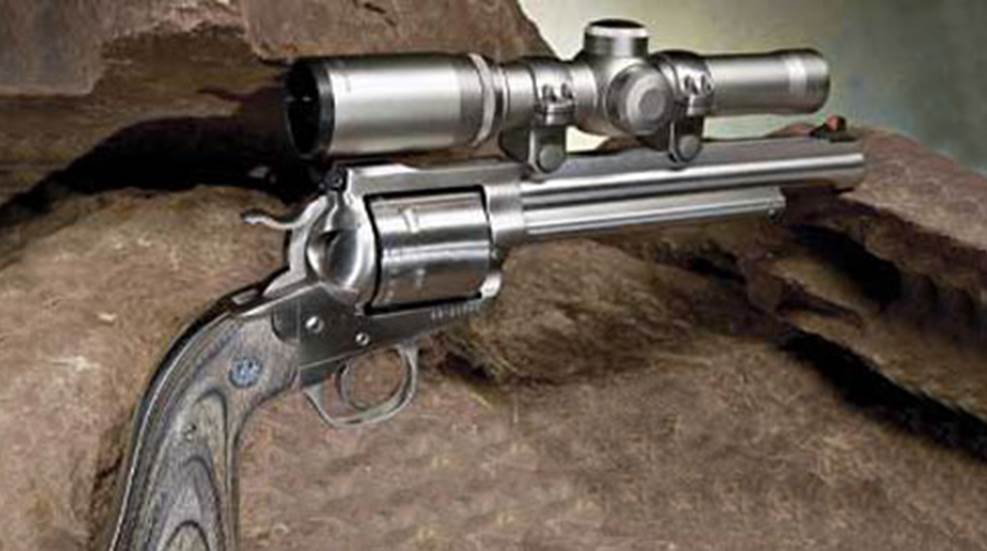 Prejudice is generally regarded as a bad thing, but we must admit that we liked Ruger's Bisley Super Blackhawk Hunter the moment we saw it. In addition to possessing a subtle, understated beauty, it seemed a very well thought out and practical design. It does not rely on new technology or ideas, but it blends established, proven materials and design elements that create an eminently sensible big-game hunting revolver.
It begins with the New Model Super Blackhawk, Ruger's big single-action revolver with the transfer- bar safety that makes it safe to carry fully loaded. This sixgun has been with us for 32 years and has developed an enviable reputation for strength and simplicity.
Why a single-action? Why not? Its strength is intertwined with its simplicity. Because it is uncomplicated, the design is sturdy and reliable. It's really the logical choice in a handgun intended primarily for taking deer. Almost all hunting handgun shots at non-dangerous game are performed in single-action mode. And with the muzzle flip of a big-bore magnum, the shooter isn't going to get off a second aimed shot any faster firing double-action rather than single-action. Also, the humped curve of a single-action backstrap generally causes the gun to rock in the hand upon recoil, which some shooters feel diminishes the kick.
Fashioning the Bisley Super Blackhawk Hunter from stainless steel seems a logical choice for a gun that is going to be out in the elements, frequently under harsh conditions without the chance for careful maintenance.
The real breakthrough here, though, is Ruger's decision to incorporate Bisley elements into a hunting handgun. The Bisley design has long been lauded for its ergonomics while being derided for its aesthetics. Originally used for target guns, the Bisley grip frame, hammer and trigger lend themselves well to hunting. The grip (though it doesn't rock as well as a traditional hogleg) is more comfortable and natural to hold on target, the trigger is more easily leveraged, and the lower hammer spur gives better clearance for scope use. Despite the big wheelgun's size, it balances and handles well, particularly in a two-hand Weaver stance.
It would therefore be easy to say that handsome is as handsome does, but this is a gun that both performs and is quite attractive in its own right. The satin stainless surface is nicely muted, and is combined with eye-catching laminated wood stocks of gray, tan and black. With its unfluted cylinder, the gun is powerfully handsome without being gaudy.
Though making the gun a Bisley was the masterstroke, Ruger didn't stop there. This is a fully conceived hunting tool and, as such, it comes with a practical barrel length of 7.5 inches. Even better, it includes both adjustable iron sights and an integral scope base and pair of 1-inch scope rings. If you like open sights, you're ready to go, right out of the box. If you prefer a scope, you have only to find the optic you want; the rest of the hardware is already included.
We mounted a nickeled, 2X Burris scope to our sample and together they made a pleasing combination. We took it with us on a recent handgun-only hunt at the splendid White Oak Plantation in Alabama. Though we weren't fortunate enough to encounter any shootable bucks during our short stay, we found that the gun carried well in an Uncle Mike's bandolier holster and left our hands free to carry other gear, or climb in and out of tree stands. We sighted it in at 50 yards and the gun's accuracy at the range gave us confidence that it would get the job done on any whitetail out to 100 yards. We did notice a tendency for the scope ring mounting screws to come loose after even brief shooting sessions, but some Loctite quickly solved that problem.
At our test facility we fired the gun for accuracy with .44 Mag. ammunition with impressive results. We also loaded it with 200-gr. Blazer .44 Spl. cartridges. With reduced loads and iron sights, the gun makes a fine plinker and informal target gun for the off season and could even serve as a home protection piece.
Of course, at heart the Ruger Bisley Super Blackhawk Hunter is just that—a hunter, and a very fine one. Rarely have we seen a gun so thoroughly conceived to fulfill a specific role, nor a conception so well executed.
Manufacturer: Sturm, Ruger & Co.; (203) 259-7843; Ruger.com
Caliber: .44 Rem. Mag.
Action Type: single-action revolver
Frame: stainless steel
Receiver: satin nickeled steel
Barrel: 7 1/2"
Rifling: six-groove, 1:20" RH twist
Capacity: six-shot unfluted cylinder
Sights: ramp front, fully adjustable rear; integral scope base
Trigger Pull: single-action; 4 lbs.
Stock: black laminated wood
Overall Length: 13 1/8"
Width: 1 3/4"
Height: 5 3/4"
Weight Empty: 54 ozs.
Accessories: 1" scope rings, hard plastic case, cable lock
Suggested Retail Price: $676