by
Brian C. Sheetz, Editor In Chief
posted on October 19, 2015
Support NRA American Rifleman
DONATE
Benelli Armi SpA of Urbino, Italy, is a relative newcomer to the gun business, having emerged in 1967 from its parent motorcycle manufacturing concern with an idea for a new type of shotgun action. The company promoted the design as Inertia Drive—a form of delayed-blowback operation—but, in a twist of literary serendipity, the "ID" label came to be synonymous with its corporate identity. In fact, Benelli became so well-known for its semi-automatic shotguns that it found itself a bit typecast.
Culminating in the 1993 introduction of the Super Black Eagle, one of the first semi-automatics capable of firing 2¾", 3" and 3½" shells, the Inertia Drive system proved reliable to a fault throughout two-and-a-half decades of service in a series of models. Along the way, it earned the respect of a new generation of hardcore duck and goose hunters beset by the same kind of weather and environmental conditions that had caused their fathers to rely on pump guns.
Recently, in a move unexpected by nearly everyone, Benelli created an all-new, lightweight over-under—the 828U—and, with it, an opportunity to capitalize on its reputation among brand loyalists, waterfowlers and shotgunners in general. The 828U represents a true breakthrough in over-under shotgun design, and Benelli hopes it will also help the company break through with a whole new group of upland and recreational sport shooters.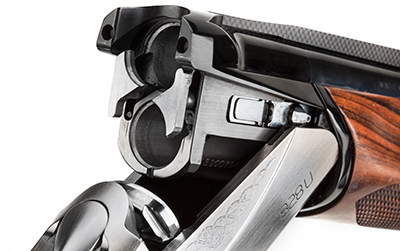 An Over-Under...From Benelli?
There had been no hint that Benelli might venture into more traditional forms such as break-actions. After all, its corporate parent since 2000, Beretta, had been in the gun business 441 years longer and, during that time, had managed to turn out more than a few fine side-by-sides and over-unders. But around 2012, Benelli engineers, spurred by the belief that they could contribute something new to traditional shotgunning, quietly began work on an over-under that would be engineered like none before it.
A few media representatives were let in on the then-secret project during a mid-year 2013 trip to Italy, where they were asked to contribute ideas about what a new and different Benelli should be. One was NRA Publications Editorial Director John Zent, an experienced upland hunter and clays shot. He said company engineers were reserved, not letting on that the gun they were working on was an over-under. But their final question was telling: "What is the proper balance between tradition and innovation?" The group's consensus advice, he said, was that Benelli must stay true to character. Technical innovation must drive it, and function and durability must trump styling, but, ultimately, the styling must be distinctive. 
In 2014, early production samples were unveiled during an upland hunt at Brown's Hunting Ranch near the town of Gettysburg in the pheasant-rich game fields of South Dakota. Hosts Mark and Robin Braaten's comfortable lodge provided an ideal setting in which I was able to discuss the gun's design with the Urbino-based engineer who spearheaded it: Marco Vignaroli. Through a thick Italian accent, the Benelli technical director and 20-year company veteran enthusiastically explained the ins and outs of the 828U's development, but it wasn't long into that conversation that I realized the 828U would require little translation to resonate with certain American shooters.
"We had plenty of semi-automatics, so we wanted to go in a complementary sector by adding a product that would match the needs of other Benelli customers," said Vignaroli. "Plus, there are some markets not open to semi-automatics, such as Australia, that we wanted to enter—to expand and add an additional horse to the team." He said the gun was initially conceived as being less for competitive clays shooters and more for general sporting and hunting customers. As the project progressed, he said, "it moved even more toward a hunting gun," but he added that, "the way it was conceived in terms of separate assemblies"—the stock, the barrels, the trigger—made it a platform that, in time, "might be easily expanded to other sectors."
Vignaroli said the 828U, which was in development for three years and was granted three patents and a revision on a fourth, was the result of every one of the Urbino factory's 270 workers. "Consider that we started from white paper. So especially the beginning was really tough for us—understanding the over-under and its habits and the way the gun moved."
How Different Is It?
Described dispassionately, the 828U is simply a wood-stocked over-under shotgun built around an aluminum receiver. It features a single, selective inertia trigger system with a tang-mounted barrel selector/safety button. A plain top lever lies just ahead of the safety along the left side. Current offerings are in 12 gauge with 3" chambers and 26" or 28" barrels. Two versions are available: one with a black anodized receiver and one with a silver-tone receiver said to be the result of a nickel-based treatment. The latter has laser-cut panels of "fish scale" checkering at its lower rear corners along with floral scroll engraving designs in panels on the top, sides and bottom. Both receivers are sculpted to evoke the wings of a mallard in flight. The stocks exhibit figure and also have fish scale checkering in panels on the fore-end and pistol grip. The cryogenically treated barrels, which are highly polished and blued, do not have side ribs, leaving a gap of approximately 5/16" between them starting 37⁄8" in front of their join at the monobloc to a point 2¼" from the muzzle. A replaceable, solid carbon-fiber vented sighting rib measuring 0.280" wide is topped with an 0.078" red fiber-optic pipe set about 1" back from the muzzle.


While the aforementioned is readily apparent by examining the gun's exterior, it is inside that the Benelli departs from, or, more properly, defies convention. Until now, over-unders have been the province of traditional gunmaking, in which the various mechanical functions were interrelated by mechanisms that had to be finished by hand to ensure reliability. In addition, such guns were usually made with steel receivers that bore the stresses of firing, meaning that their bolting and hinge mechanisms had to be made to account for wear that occurs after repeated use. The 828U differs in a couple of important respects. According to Vignaroli, "The modularity of the design means that the function of the various subassemblies is almost independent." He added that, "Wherever it is needed is strong material; wherever it is not needed is light material." For instance, the aluminum receiver is unstressed, and departs even from other aluminum-receiver shotguns in the sense that its hinge and locking components do not directly bear the brunt of firing stresses. Rather, pressures are contained by way of a 1 1/4" wide by 2 3⁄16" high by 15/16" steel breech block. It is held just forward of the receiver's face by two small springs when the action is open, and, as the gun closes, a lug in the monobloc under the lower barrel engages a recess at the block's bottom, and a groove on the monobloc's upper end engages a lip at the block's top, locking the two together and pressing the block reward against the receiver's face. The design provides steel-on-steel lockup that fully contains the forces of firing. The breech block also contains the spring-loaded firing pins, making them easily replaceable should the need arise. A point of potential mechanical wear, the hinge pins, while relatively small in diameter, are made of steel and serve only to pivot the monobloc on the receiver. The construction of the barrel assembly is fairly unconventional. Each barrel is soldered to protrusions machined over the one-piece, heat-treated monobloc. The chambers are then machined directly into the monobloc to ensure precise chamber alignment and finish. The nearly seamless union is not adorned on its exterior as in many traditional guns. The fore-end iron attaches in such a way that the fore-end itself is nothing more than a cosmetic cover. It is released by pressing a button at its front.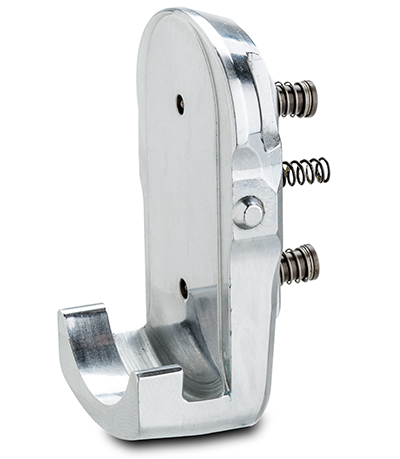 Further isolating the fore-end and barrels from the receiver are what Benelli refers to as "impulse activated" ejectors. A transverse passage in each chamber contains a floating pin that is "bumped" a few thousandths of an inch to actuate sears on the ejector body on either side of the monobloc, causing the extractors to forcefully throw empty hulls free of the gun. Of course, if a barrel does not fire, the plate remains in its extractor-only position, and separate rods gently press back the extractors, allowing manual removal of that unfired shell. At this point, it's worth noting that the 828U was designed for easy access to its breech. Both inserting and withdrawing shells and spent hulls, even with a gloved hand, is noticeably less difficult than with many other over-unders and a real boon in the field when reloading.
Reinforcing the theme of mechanical modularity is a self-contained trigger module that can be removed from the receiver with an included tool. It consists of a cast steel fire control housing pinned to an aluminum trigger guard. A lip at the guard's front engages a groove in front of the receiver well, and a spring-loaded plunger at the housing's rear locks the unit in place. An included tool allows easy removal of the module from the gun. A U-shaped spring steel wire clip attached to the cocking plate automatically activates the safety when the gun is broken open, but can be removed by the user to deactivate that feature.
So, How Does It Handle?
Perhaps more than any other type of firearm platform, a shotgun is designed to function as an extension of the shooter's body. Fit and comfort in the hands and to the body of the user are of critical importance to ensuring success on small, fast-moving targets. Vignaroli used the term "global comfort" to describe the 828U's combination of weight, balance and ergonomics. The 828U is a lightweight gun—important for a long session of upland hunting in which it is likely to be carried much more of the time than it is shot—but it is the distribution of the weight that is key. The 828U does not disappoint in that regard, balancing well directly at the hinge point. That makes bringing it to the target nearly effortless. Citing the gun's operation as part of the global comfort theme, Vignaroli said the 828U's unique breeching system eliminates the need for a close-tolerance fit at the locking catch, making the gun easy to open. And that brings up another major point in describing how the 828U is different from traditional over-unders. There are no cocking rods. Rather, the gun's strikers are cocked by operating the top-mounted opening lever. Pressing it fully through its arc first withdraws two barrel locking pins from their recesses in the monobloc then rotates a lever fitted with a roller within the receiver that presses back a cocking plate in the trigger module to load the striker springs. "So we had to pay particular attention to the right angle and the right ergonomics of this lever through its geometry," Vignaroli said. An added benefit of the lever's graceful design is that the shooting-hand thumb can rest naturally alongside it atop the receiver.
As to the stock, Vignaroli said, "The grip shape and wrist have been developed through studies of different hands and gloves to ensure a better fit and better approach to the trigger." A replaceable polymer cheekpiece allows for changes in comb height, and the Progressive Comfort recoil-mitigation system inside the buttstock—a series of interlocking polymer tines that flex to soften the gun's movement into the shooter's shoulder—is capped with a soft rubber recoil pad radiused at the heel to encourage snag-free mounting of the gun. Phillips-head screws hold the pad in place, which, once removed, allows access to the Progressive Comfort module. Removing two more screws frees it for access to a nut on a stock bolt that fixes one of two metal drop plates. In combination with five drop shims and four cast shims, each of which fits between the receiver and buttstock, a few minutes of tinkering can result in 40 different combinations of stock adjustment. Again, unlike shotguns of old, which required fitting by an expert and labor-intensive, permanent changes to the stock, the Benelli system is relatively simple to customize by the end user simply by referring to a fitting table in the owner's manual.
The solid carbon-fiber rib is another potentially customizable component, requiring only the loosening of a single screw for removal.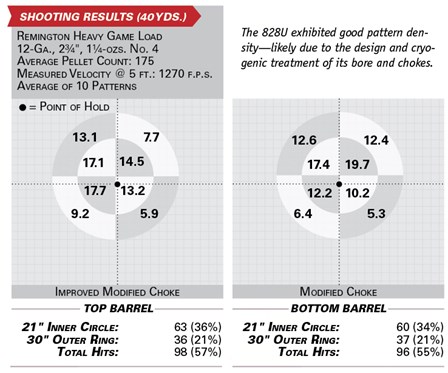 But Is It Really That Good?
Prior to going afield with the 828U in South Dakota, our party of writers had the opportunity to try it on machine-thrown clays launched off a bluff at the ranch, which overlooks the scenic Missouri River Valley. My first impressions of the gun, shooting at quick, going-away presentations, was one of "seamlessness" as it came from the high-ready position to my face. It also exhibited generally neutral handling. In other words, the gun not only didn't get in the way of my shooting—which is, admittedly, not of particularly high order—it carried through the entire process without being in any way disruptive. Once my eye adjusted to the height of its rib and the glow of its fiber-optic bead, I began to routinely connect with clays that were 30 or more yards out and receding rapidly from sight—that's with a gun straight off the rack that had not yet been fit to my particular physique.
In the field, my first shot on a live bird brought a similar, satisfying experience. Realize, too, that this was legitimate wild-bird hunting among wide-open crop fields and across rolling terrain that was as natural as pheasant habitat gets. And the birds we encountered were not only tough and of good size, but wary, running and flushing sometimes hundreds of yards ahead of the dogs. Combine those conditions with several inches of snow on the ground and a temperature that failed to rise above the single digits, and the hunt proved to be the ideal opportunity to test the mettle of a gun that, at that point, still posed far more questions than it answered. Connecting with birds under such conditions can be a challenge, and it requires a gun that points naturally, swings fast and predictably and is capable of shooting tight patterns. The ammunition, too, obviously, plays an important part, and ours was, somewhat appropriately, an Italian-made Fiocchi GPX offering consisting of 2¾" shells carrying 13⁄8 ozs. of No. 4 nickel-plated lead shot at 1485 f.p.s.—not a particularly mild load for a 12 gauge weighing only 6 lbs., 9 ozs.
So, when the first rooster got up quite behind me, I simply turned and swung the gun in its direction, keeping my eye on its beak and firing as soon as I could. By the time the shot connected, he was likely 50 or more yards out, but was hit solidly by the center of the swarm, which sent him unceremoniously into the stubble. "Nice shot!" came a shout of approval from a fellow hunter, at which point I realized that the 828U had just done exactly what it was made to do: serve as a seamless extension of a hunter's body in order to bring game to bag in challenging situations. The surprising part, though, was how nonintrusively it had done so.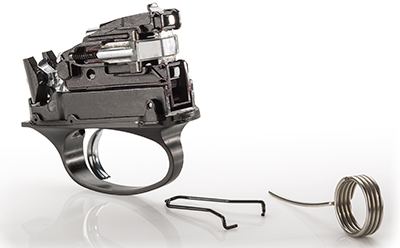 Back at the office, during the course of several weeks' shooting in different settings and throughout several hundred shells worth of varied ammunition—whether plastic- or paper-hulled, having high or low brass heads and in various payload weights and velocities—an informal test group encountered no failures with our nickel-finish, 28"-barreled test sample. True to Vignaroli's characterizations, the 828U proved to be "a very dependable gun" and ejection of spent hulls was in fact "very energetic." Everyone who shot the gun had positive things to say about its neutral balance, ease of pointing and light weight. American Rifleman Assistant Editor Christopher Olsen, a dedicated hunter and clays shooter, described it as "fast-handling" and its balance as "perfect." His sentiments were reinforced by his sister, Samantha, another NRA employee and a collegiate-level trap shooter. She praised the gun's appearance, calling it "nice and light" and adding that it balanced and came to the face well. She appreciated the buttpad for not hanging up on clothing, liked the matte finish of the carbon-fiber rib and pointed out that the removable breech block would make cleaning easier. Her biggest complaint involved the force required to operate the opening lever: Because she had to press on its tip to gain an advantage in leverage, she found that the barrel selector on the safety button could be inadvertently moved to select the bottom barrel. Zent, reflecting on those early discussions about the 828U in Italy, said of the gun that he was finally able to hold and shoot, "I think what we see now is very close to what was on the drawing board then. To whatever extent we guessed where they were headed merely validated the instincts of a company that manages to stay one step ahead of the market." Overall, no major complaints were registered regarding the 828U—a testimony to the gun's overall design.
While some will pan the 828U because it doesn't fit their notion of what an over-under should be, others—particularly fans of Benelli's unique style of engineering—along with those apt to being open-minded about unexpected new offerings, may find the 828U difficult to resist. It is no stretch to suggest that the new gun offers appealing aesthetics, innovative engineering, precise manufacturing, intuitive handling and satisfying shootability. The 828U's price, too, is not out of line considering the quality of the gun's construction and the adaptability that it allows shooters of differing physiques. And if Benelli's track record is any indication, there are likely to be extensions to the new over-under line—a scaled 20 gauge would be a neat trick indeed—in the years ahead.
That the 828U breaks with the tradition of previous over-under shotguns and with all other guns that have come from its family before it is without question. And that it does so confidently and beautifully is difficult to deny. But it's also true that the 828U upholds at least one tradition—that of being a uniquely innovative and distinctive firearm bearing the now-famous marque of a motorcycle-turned-gunmaker named Benelli.