Support NRA American Rifleman
DONATE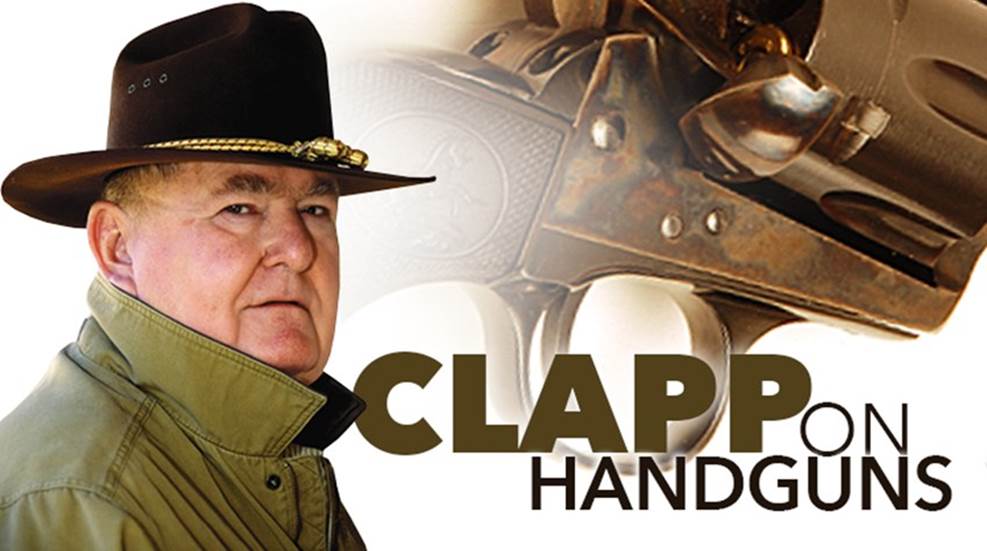 In last few years, we have seen a new form of handgun holster come into common use—the pocket holster. For the purposes of concealed carry, the pocket holster can do a lot.
There are several types and they work as the name implies. They're holsters for small handguns that fit into (usually) trousers pockets. In use, the shooter reaches into the pocket and grabs the butt of the gun, which extends up and out of the holster, but still inside the pocket. When the shooter lifts the gun, the holster stays in the pocket because of an edge, corner or extension on the holster that contacts the upper corner of the pocket and keeps the holster from coming out with the gun.
Some makers also use sticky or coarse material on the outside of the holster to help keep it in place. These little folded-over pockets of cloth, leather or synthetic material work surprisingly well and are usually less expensive than more conventional holsters
Their best single advantage, however, is the efficient way they break up the obvious outline of a gun showing through the thin cloth of a pair of today's lightweight pants. Pocket holsters hold a gun in readiness and they don't allow it to "print" to the world.
Gallery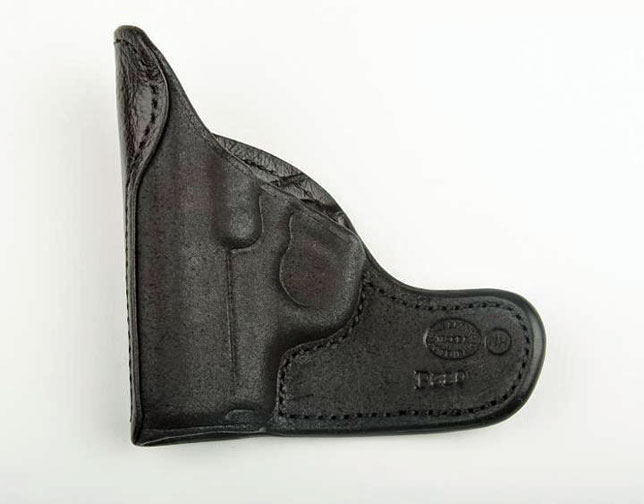 Milt Sparks Pocket Concealment Holster
Milt SparksHolsters Inc. is known for custom holsters made of high-quality leather like the Versa Max II, but it also builds pocket holsters. Built for one hand or the other, the PCH and PCH-RI are designed to conceal small semi-autos and revolvers via molding that breaks the outline of the gun, along with a wire insert that molds the holster for individual guns and comfort. MSRP $79.50 to $84.50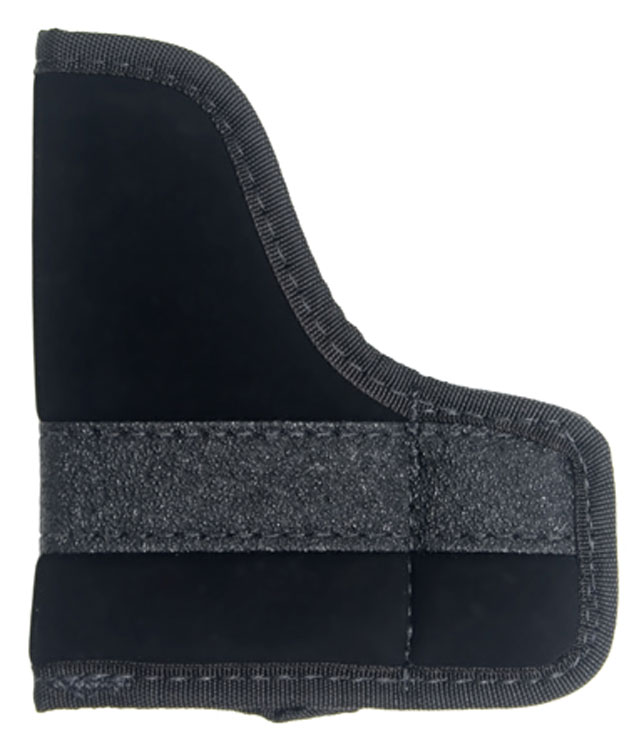 Blackhawk! Sportster
The Sportsteris an inexpensive pocket holster that features suede-like laminate to keep the holster in position, with a smooth nylon lining for an easy draw. It comes in two sizes for carrying a variety of handguns while protecting the gun from debris. MSRP $12.99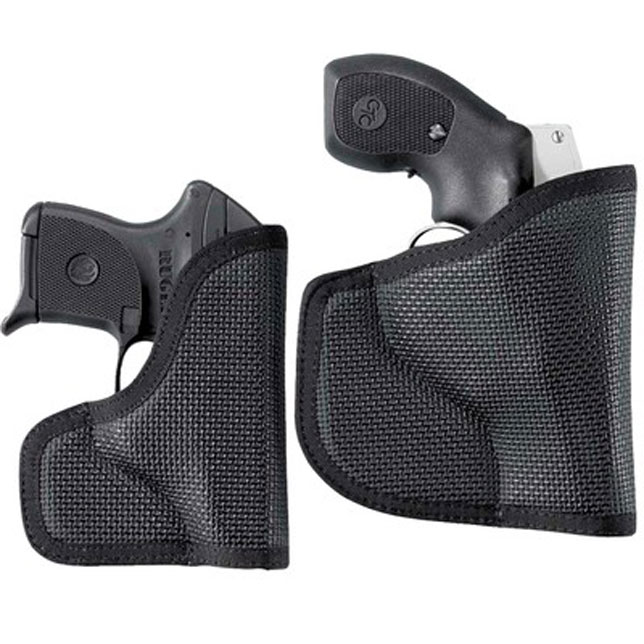 DeSantis Nemesis
DeSantis says that there is no material that is more viscous than the material covering the outside of the Nemesis. The company claims it is like fly paper, meaning it won't ever move out of position. The inside is covered with slick pack cloth to reduce friction in the draw, and the core has foam to break the outline either a revolver or semi-auto. MSRP $24.99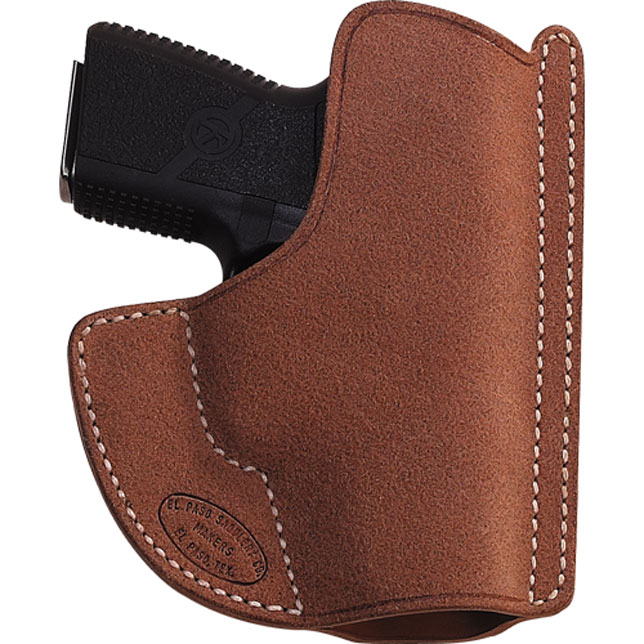 El Paso Saddlery Co. Pocket Max
Some people prefer leather around their guns, regardless of the method of carry. The Pocket Max is made of horsehide for long-lasting use, with a rough outer and a smooth interior for a smooth draw without the holster interfering. It also has a grip tip to catch the top edge of the pocket, ensuring separation. MSRP $48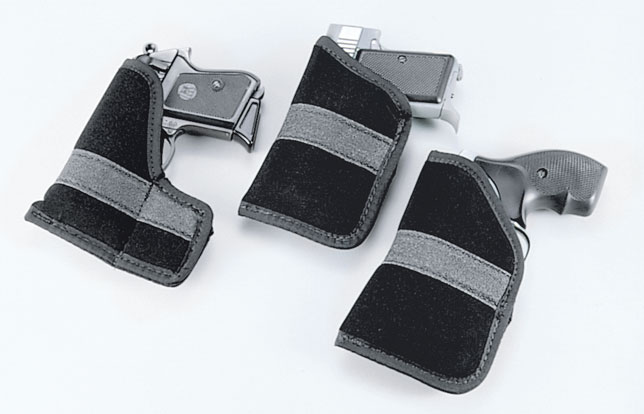 Uncle Mike's Inside-the-Pocket
One of the less-expensive pocket holsters, the Uncle Mike's Inside-the-Pocketuses laminate to lessen printing, and comes with a non-slip band to retain the holster during the draw. It's available for a variety of small handguns, and is designed to ride upright at all times. MSRP $13.95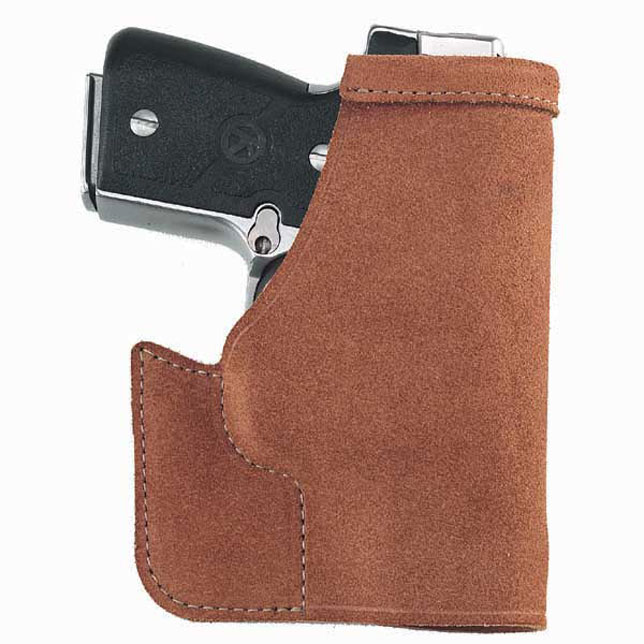 Galco Pocket Protector
Galco is known for producing quality holsters at affordable prices, and the Pocket Protector is no exception. Made of leather, this holster is available for a variety of compact and subcompact handguns with reinforcements at the mouth and triggerguard to provide for a smooth draw and easy reholstering. It also features a small leather hook to prevent the holster from coming out with the gun. MSRP $24.95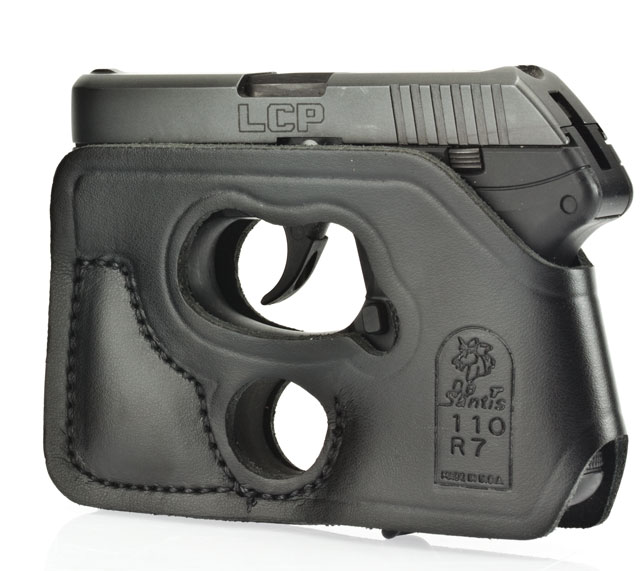 DeSantis Pocket Shot
ThePocket Shot is an interesting way to conceal a small semi-auto pistol. This black leather holster is shaped like a wallet and fits a variety of .380 and .32 caliber pistols. It's also ambidextrous and the gun can be used without removing it from the holster. However, the holster is not legal in California. MSRP $39.99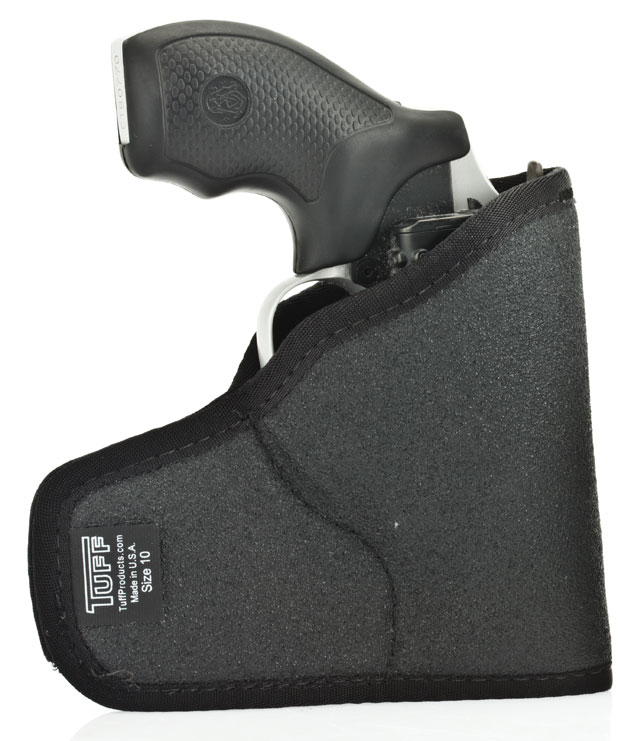 Tuff Products Pocket-Roo
The Pocket-Roo is a non-rigid holster that has an additional pocket for a spare magazine, QuickStrips or a few extra rounds. The holster is angled for an easier draw and to change the shape so it doesn't look like a gun. The outside is covered by an extremely sticky material to ensure the holster stays in the pocket during the draw, while the interior is covered in a slick material to ease the exit. MSRP $24.99