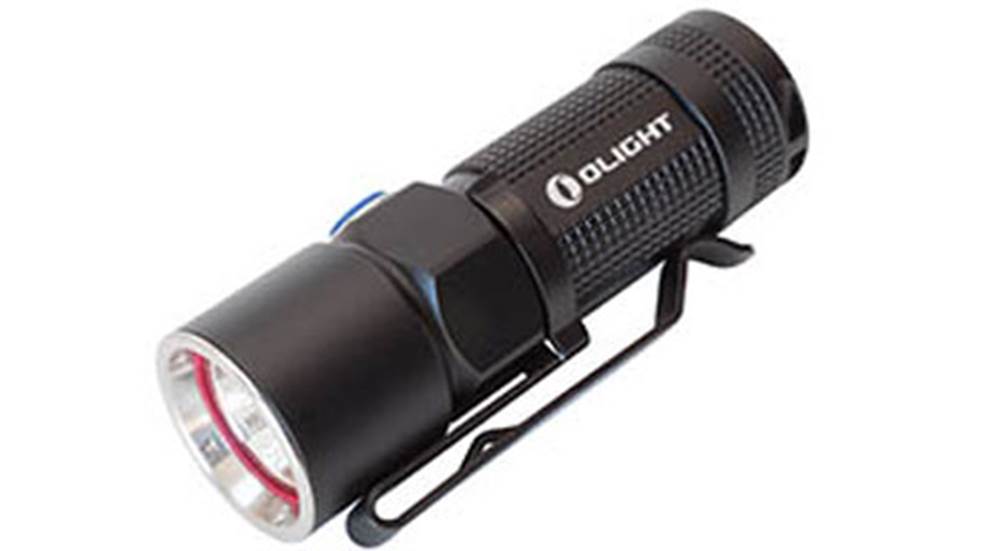 Today's tactical flashlights are technological wonders. Sometimes, however, a company adds a simple feature that forces you to ask, "Why didn't I think of that."
It's probably a safe bet Olight was not the first to put a magnet on the cap of a flashlight so it could stick to fenders, toolboxes, etc., but it is the latest. And the S10-L2 Baton sent for testing has a body that's tough, too.
A flashlight with the ability to hang onto steel offers a couple advantages. For example, I was surprised how well the S10-L2 grabbed onto and held the miniscule lip of metal on the interior of a Dodge minivan's fender, illuminating the tire. It won't replace the headlamp in the glove box, but the price of around $50 makes it one heck of a reliable backup or supplemental lighting source.
Then there's the way it magnetically attaches to a steel key ring in your pocket or purse, not a bad thing at all. Out comes the keys to the house or car, along with a gentle reminder for due diligence, particularly at night.
And, finally, it's easy to stage this flashlight on the refrigerator when a storm is approaching, which is also not a bad spot for a backup in the event of a home invasion. Everyone in the family knows how to locate it, as proven by those daring midnight-snack raids. The diminutive dimensions of the S10-L2 lets it hang onto the fridge, or gun safe, with authority.
With the single CR123 battery installed, it weighs 2.02 ounces (1.48 ounces without power source). It's 2.77 inches long and .91 inches in diameter at its widest point (the bezel). The body is hard-coat anodized aircraft-grade aluminum with a flat-black finish, and the head ring is stainless steel. It comes with a five-year warranty, extra magnet, a pair of spare O-rings and lanyard.
The flat bezel and tailcap allows it to stand up, a decided advantage if you stage a flashlight on your dresser. By the use of a "smart switch," the CREE LED can produce any one of four different, constant-light outputs-.5, 5, 85 and 400 lumens (battery life expectancy is 360, 108, 7.5 and 1.25 hours respectively). If the LED is producing light, regardless of the output, double clicking the switch fast actives a strobe function. Toggling between the power settings is as easy as holding down the power button (on the side of the main body) until you get the desired illumination, then you release.  A lock-off setting precludes inadvertent activation, too.
It is waterproof up to 2 meters and the tested flashlight survived 12 hours in water. It also has a reversible clip for pocket carry.
About the only real drawback I found was that its small size created an unfamiliar balance when trying to use it with my handgun and the Harries technique (not to mention the lack of a tailcap switch). The neck index is fine, so is the modified FBI hold, but I guess I had one too many courses with double-battery flashlights. The muscle memory would come with time, but this flashlight's role isn't as a primary lighting source during an armed confrontation-it's a backup, and at this price it does a splendid job there.
But on the switch, seriously? Blue with a bright chrome ring just isn't tacticool.