by
posted on July 10, 2009
Support NRA American Rifleman
DONATE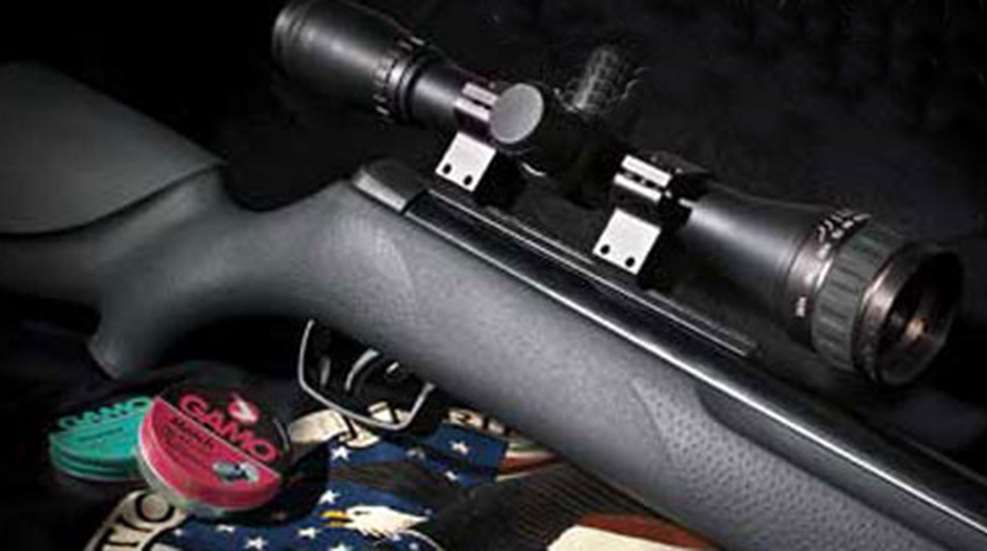 We'd guess that a majority of NRA households possess an airgun of some sort, and it's because airgun shooting can be done practically anywhere. Also, since BBs and pellets are so much cheaper than any other kind of ammunition, the cost to shoot a lot is very low. NRA members now have another great reason for devoting more attention to this user-friendly shooting sport, namely the new Gamo/NRA 1000 Special Edition air rifle.
This joint venture between Gamo USA and your association comes in the form of a high- performance, spring- piston, .177-cal. pellet rifle smartly embellished with NRA markings and a coveted NRA-prefix serial number. This rifle is, by turns, a practical shooting tool, a potential family heirloom and a symbol of pride in belonging to the one organization that truly protects your freedom to own and use guns. Even better, approximately $20 from the purchase price will be remitted to The NRA Foundation and earmarked for training youngsters to shoot safely and responsibly.
To be sure, the Gamo/NRA 1000 is a far cry from the BB and pellet rifles many of us learned to shoot as kids; quite purposely it is geared to adults. Most Gamos are built to deliver 30 to 50 percent more pellet energy than the familiar "kids" air rifles and can attain muzzle velocities as high as 1000 f.p.s. (sometimes even more) with light pellets.
There is a small but dedicated following for European-made, hard-hitting spring-piston airguns, but their popularity was limited by their cost. Ten years ago, Gamo entered the market with comparable guns that cost about half that of their high-end competitors. As a result, the number of American shooters hooked on adult airgunning has skyrocketed.
Because a spring-piston air rifle generates its own power mechanically, it is ready to shoot any time and every time the shooter cocks the action and inserts a pellet. The simplicity of this inherently efficient self-contained system makes it enduringly popular. In essence, the cocking stroke depresses a heavy coil spring coupled to a piston and polymer plunger that tightly fits the gun's air chamber. The assembly is held to the rear by the trigger sear, ready to fire. Pressing the trigger lowers the trigger sear from the piston carrier assembly, thereby decompressing the mainspring and driving the piston forward at high speed. Air compressed by the on-rushing piston is released through an outlet, so compressed air propels the pellet through the bore and out the Gamo's muzzle.
An 11"-long, steel mainspring housed in the piston's carrier assembly powers the gun. The hardened steel piston is fitted with a greased plunger that seals the 1'' air chamber.
The pellet seated in the breechblock is sealed by a rubber O-ring, and it engages the rifling as it is loaded. The Gamo/NRA Special Edition has an 18" barrel with 12-grooves cut to a 1:22'' right-hand twist. The muzzle is fitted with a 4''-long handle that acts as the rifle's cocking lever. Pinned to the breech-block, just ahead of the barrel's pivot point, is a connector attached to a long cocking rod that slides in a track along the bottom of the air chamber and back through the fore-end where it engages the spring-piston assembly.
Pivoting the barrel about 150 degrees fully compresses the mainspring where it engages the trigger linkage. About 26 lbs.of force is required to cock the rifle—making it unsuitable for many children; although the stroke is not as stiff as we have experienced with some spring-piston models of equal power.
The two-stage trigger is adjustable for travel only in the second stage. While breaking consistently and cleanly at 5 1/2 lbs., our test rifle's trigger varied from springy to tacky depending on adjustment. A trigger-blocking safety is conveniently located within the trigger guard.
The stock is a pleasing gray synthetic, with molded stippling on the fore-end and pistol grip. The gun balances and handles very much like a typical big-game rifle. The NRA/Gamo 1000 boasts a full-size 14 1/2'' length of pull and other adult dimensions, and is made with a rollover Monte Carlo comb that gives the rifle ambidextrous versatility.
We tested for accuracy by shooting a variety of pellets at 15 meters. in an indoor range. We usually shoot airguns at 10 meters, but the scope would not focus at the shorter distance. By far the best results were obtained with Gamo Match pellets. Based on our experience with many spring-piston guns, including similar models from Gamo, it can be counted on to be a reliable game-getter. Suffice it to say it delivers devastating hits on pests like starlings, pigeons and rats.
Perhaps just as important to many prospective owners, the rifle proved to be great fun in extended backyard shooting sessions. Firing at paper bullseyes, or even more enjoyably, at reactive targets like swingers, silhouettes and good old- fashioned tin cans, we found it addictive and on several occasions couldn't stop until 100, even 150 shots had gone downrange. The cost for an hour and a half of engrossing sport? Maybe $2 for the pellets.
It would be tough to stretch your shooting sports dollar further than by investing in the distinctive new Gamo/NRA 1000 Special Edition. Hours of convenient shooting and hunting enjoyment await, and every purchase generously supports NRA's efforts to ensure today's youth receive vital gun safety and marksmanship training. For a limited time, Gamo USA is offering to sell these rifles directly to NRA members.
Manufacturer: Gamo Industrias S.A.
Importer: Gamo USA; (800) 725-7024; Gamo-airguns.com
Caliber: .177
Action Type: break-open, single-shot. spring-piston air rifle
Barrel: 18" F-212 matte-blue steel
Rifling: 12-groove 1:22" RH twist
Sights: 4x32 mm scope with 1/4-minute click adjustments, parallax-free at 50 yds.
Trigger Pull: two-stage, 5 1/2 lbs.
Overall Length: 43 3/4"
Weight: 6 lbs., 4 ozs. minus scope; 7 lbs., 4 ozs. with scope
Accessories: NRA minted gold-finish medallion in fore-end, NRA seal embossed on receiver; serial numbers with exclusive NRA-prefix
Suggested Retail Price: $199.95