Support NRA American Rifleman
DONATE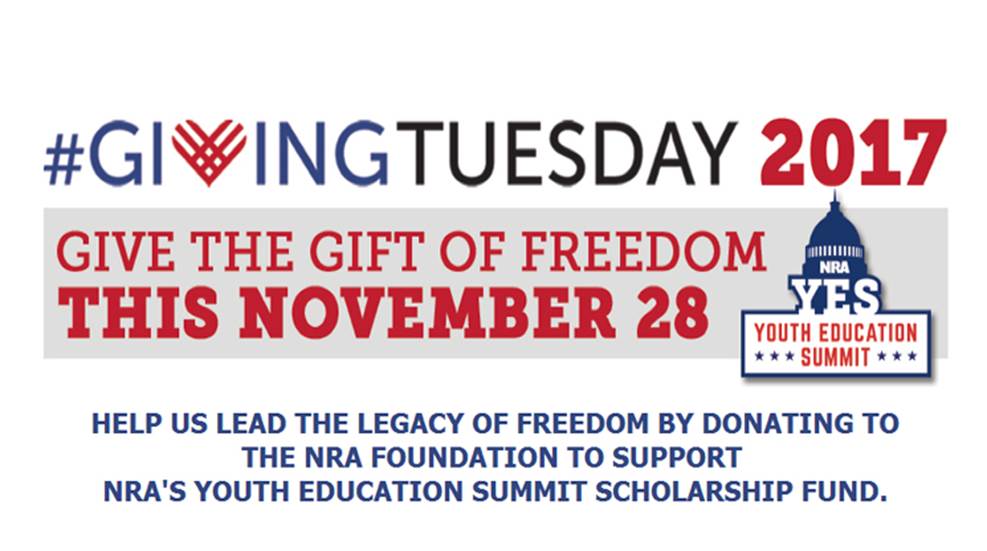 #GivingTuesday—established six years ago as a kickoff to the charitable donation season that traditionally starts after Black Friday's shopping marathon and Cyber Monday's keyboard frenzy—falls on Nov. 28 this year, and the NRA Foundation is asking firearm enthusiasts to consider making a donation to the NRA Youth Education Scholarship Fund.  Money raised on or before that day through a special web page will benefit the fund and support future participants in the NRA Youth Education Summit (Y.E.S.), an expenses-paid, educational experience in Washington, DC, each summer. 
Y.E.S. encourages young adults to become leaders and active citizens by learning about the Constitution and Bill of Rights, along with the inner workings of the federal government and the critical importance of engaging in civic affairs. The beliefs and diverse backgrounds each attendee shares during casual discussion and team debates also fosters a greater understanding for different points of view—yet another valuable commodity for future leaders. They also get a chance to meet with members of Congress, see historic sites, tour NRA headquarters and much more.  
Y.E.S. launched in 1996 and has grown so popular that in 2018 it will expand to two, one-week sessions, which are scheduled for July 9 to 15 and July 23 to 29. The change doubles the number of students who get to experience the life-changing program. They also compete for $55,000 in college scholarships, and more than $540,000 has already been awarded, thanks to the efforts of Friends of NRA fundraising and grants provided by The NRA Foundation. 
The NRA Foundation was established in 1990 and is a 501(c)(3) organization. Contributions to the organization are tax deductible and every dollar raised is an investment in the next generation of Second Amendment champions.