Support NRA American Rifleman
DONATE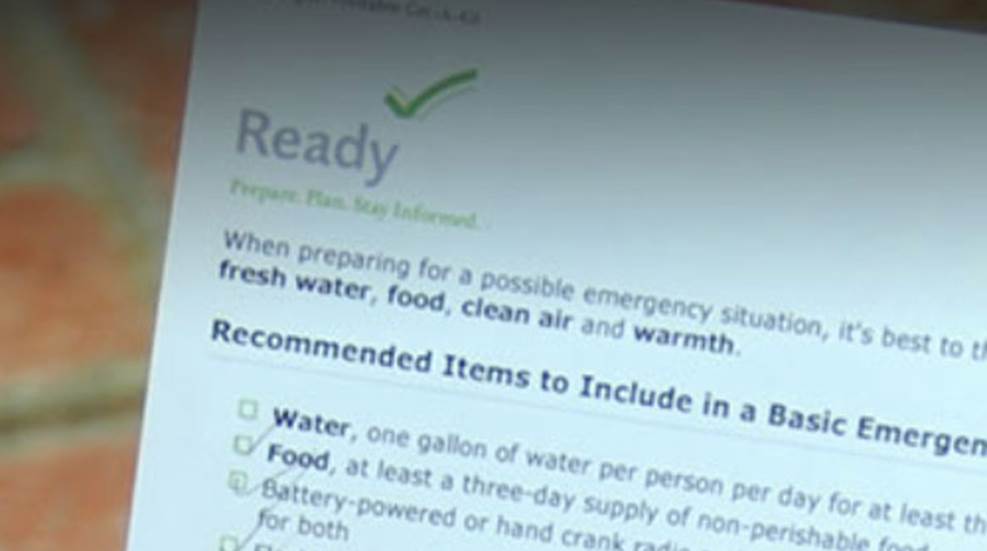 Image courtesy Ready.gov

Hurricane Irma has been upgraded to a category 5 with 175 mph winds. If it makes landfall near you—and it's still uncertain if it will or where—are you ready for the Atlantic's strongest storm in 10 years, one arriving when emergency resources are still working to clean up Hurricane Harvey's devastation?
First and foremost, relax. A strong storm's on the horizon, but there is absolutely nothing to be gained by panic or even losing sleep. Before you say that's advice from the cheap seats, I'm in North Carolina where it could be headed in some form. Just last year I went with no running water for a week after Hurricane Matthew, nearby roads disappeared—permanently in some cases—9-1-1 temporarily went down, power was off and authorities had no way of checking ankle-bracelet-wearing convicted criminals on probation in my county and others nearby.
Panic is not a virtue. In fact, in my dozen years of search and rescue work, I've witnessed how deadly it can be.
However, now's the time to inventory your preparedness for the kind of regional emergency that often leads to a temporary loss of those daily conveniences we take for granted. Do so, even if you're not in the "cone of uncertainty," and review with your loved ones the basic security precautions that can become a high priority in a disaster.
That knock at the door, for example, isn't always a neighbor who needs help. Criminals masquerading as Department of Homeland Security officers after Hurricane Harvey were telling people to evacuate to make their burglaries easier. Don't unlock and open the door instantly. Stay behind that barrier and when in doubt, call to verify it's really law enforcement issuing orders.
Unfortunately, 9-1-1 may be flooded with calls and when towers go down—like they did last month—good luck getting through on that cell phone. In that case, ask for a badge and ID (shown through a window), check for a law enforcement vehicle and use common sense. It goes a long way in an emergency.
Opportunistic criminals take advantage when first responders have their hands full, and that's why a firearm and training should be part of your survival plan. You might be ready, but if you're at work and unable to make it home when the unthinkable happens, how about your spouse?
Make sure your survival kit is stocked and fresh. You do have one, right? If not, Ready.Gov has a great list for building your own and the website offers a lot of other timely tips without headline-grabbing hype.
Common sense can be a lifesaver. Give it some thought and you'll be surprised just how clever you can be without breaking the bank. Fill your BBQ's propane tank before the storm arrives and you'll still be able to grill if the power's out for a week. If it never makes landfall, you haven't wasted a penny because you're probably cooking out sometime this fall.
Clean two-liter soda bottles, fill with water and toss in the freezer. If the power's out for an extended period it'll keep the food frozen longer and provide backup emergency water.
More than 100,000 people in Beaumont, Texas—who had their water supply go down during Hurricane Harvey—wish they'd picked up a case or two of drinking water when it was cheap and readily available. Fill the bathtubs up the night before the storm, too. Even if you have plenty of potable water like I did last year, toss a bucket into the tub and it makes a convenient means of forcing toilets to flush.
Top up every rechargeable battery you own. Check the flashlights and portable radio. Solar lights in your landscaping? Bring a couple inside before the storm, just in case things go long-term dark. Fill the gas tank in the family wagon just in case the evacuation order is legitimate. Today's the day to do it because "out of gas signs" and long lines are guaranteed if the unthinkable happens. While you're at it, don't forget to get a few gallons for the generator (if you have one).
Make and discuss a plan with family members, then methodically accumulate what you need to weather the storm and you'll be surprised how much less "panic" you feel as the storm approaches, even if you're not in the crosshairs until the next one.