Support NRA American Rifleman
DONATE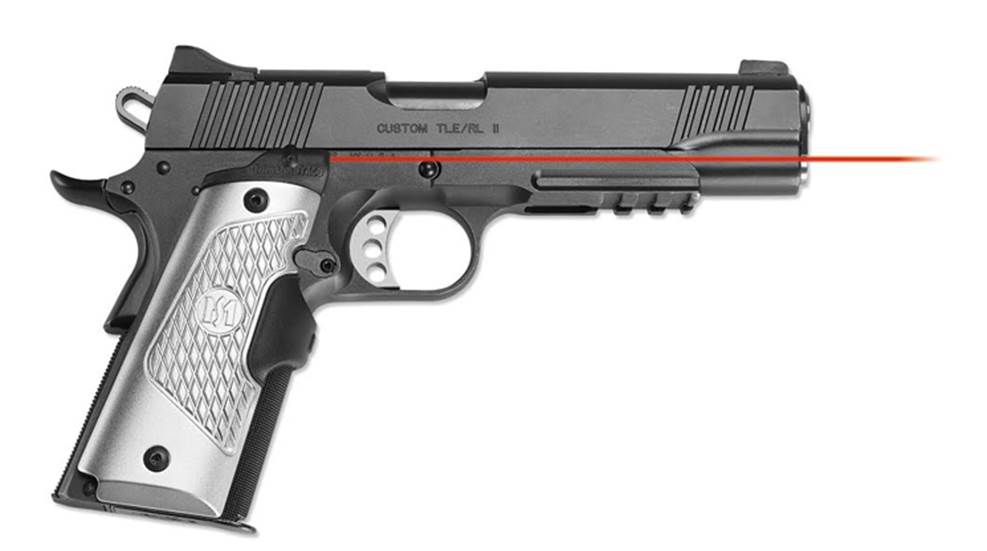 Never a company to rest on its laurels, Crimson Trace is launching an impressive variety of new products for 2016. Here is a quick look at just a few of the sight systems which will be arriving on dealers' shelves soon: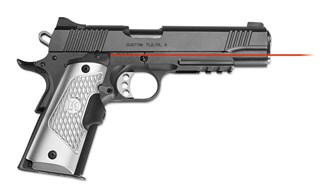 New Finishes for Full-Size 1911 Master Series
Crimson Trace's Master Series laser grips are one of the best laser sight options available for full-size 1911 pistols without accessory rails. Fully compatible with ambidextrous safety levers, these replacement grips have been available in soft rubber, G10 and wood models. This year the company is adding three new finish options available with red or green lasers.
The LG-922 features lightweight textured silver anodized aluminum grip panels. The LG-923 is also aluminum with a matte black anodized finish. For those who prefer grip panels with the appearance of ivory, the LG-926's synthetic panels provide the right look without using any real ivory. This grip will also be available in a smaller version (LG-927) for compact grips. All of these new members of the Master Series feature the patented Instinctive Activation system, a master on/off switch, and user adjustable windage and elevation inset screws. The grips can be quickly installed without the need for gunsmithing or special tools. MSRP: Starting at $399
LG-350G J-Frame Laser Grip
The Smith & Wesson round-butt J-Frame revolvers have long been a popular concealed-carry option for individuals looking for a simple, reliable defensive revolver. Recognizing the need for a lasergrip system that provides a clearly visible sighting option and is comfortable to shoot with, Crimson trace has released the LG-350 with the company's new ShockStop recoil reduction system.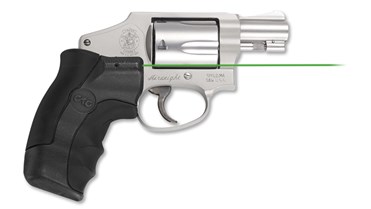 Available with red or green lasers, this grip features anti-vibration material and a cushioned back strap to reduce felt recoil. It's compact in size but still provides plenty of room for all three fingers of the shooting hand to form a firm shooting grip. The LG-350 features a front laser activation button with over 2 hours of run time using four 2016 Lithium button cell batteries. MSRP: LG-350 (Red) $319, LG-350G (Green) $399
Carry 9 Laser & Holster Sets
Putting together a concealed-carry set that includes a pistol, laser sight and holster can sometimes be a tricky business since holsters and lasers are not always compatible. Crimson Trace is striving to make this process much simpler with the new Carry 9 accessory sets.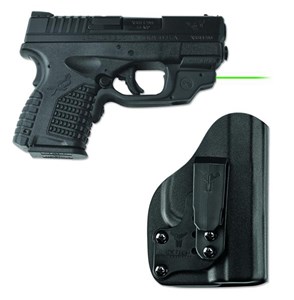 These special sets include a Laserguard sight and a rugged synthetic Blade-Tech holster for popular concealed carry 9 mm single-stack pistols, including the Glock G43, Springfield XD-S, and Smith & Wesson's M&P Shield. The Blade-Tech holster is designed for inside-the-waist-band carry on the left or right side using a reversible heavy-duty belt clip. Buying the holster with the laser from Crimson Trace can shave up to $50 off the holster's suggested retail price. The Carry 9 sets are packaged in easy to recognize Crimson Trace black boxes with the letters BT printed on the label so that customers can easily identify them on dealers' shelves. MSRP: Starting at $249
The LinQ Laser/Light System for AR-15 Rifles
Of all the new products offered by Crimson Trace this year, the unique LinQ (LNQ-100) system for AR platforms is the real game changer. This innovative industry-first sight system was developed to eliminate the need for cumbersome cords and pressure switches to activate rail-mounted laser and light modules. Instead, the LinQ electronic replacement grip and laser/light module communicate using a modified, Bluetooth-like wireless signal that can't be hacked or hijacked.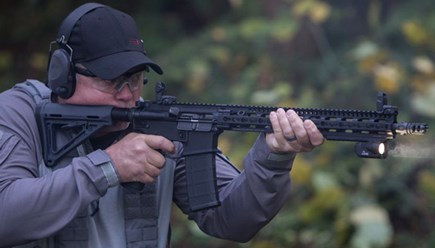 The rail-mounted laser/light module is an upgraded version of the Rail Master Pro module with a green laser, 300-lumen light and a single CR123 battery power source. It can be attached to standard M-1913 Picatinny and Weaver style rails. The black polymer grip is installed in typical AR grip fashion. The grip's electronics, powered by a CR2 battery, are then paired with the module so that the operator can use the grip's controls to activate the light and laser.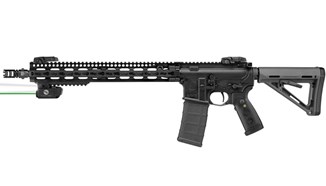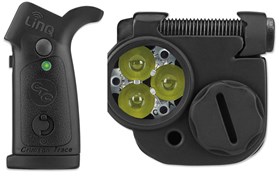 Just like the company's other grips, the LinQ grip features an Instinctive Activation switch to actuate the system when the grip is squeezed by the shooting hand. In addition to this switch is a mode selector button that allows the operator to switch between settings, including light only, laser only, light and laser, strobe light and laser. The LinQ system is waterproof, the software is upgradeable, and it has a sleep mode to extend battery life. The laser/light module can operate independently of the grip in case the grip's battery runs down. The grip can be paired with a new module if the existing unit is lost or damaged. MSRP: $549